Daisies contain flavonoids and vitamin C – even better, they can be picked in the wild and pickled ...
2022-01-13 09:00:00
When I travelled to the UK as an Erasmus student, I was astonished that daisies bloom there even in January. Theses inconspicuous flowers can survive even when the temperature drops slightly below zero.
Read in 3 minutes
Several years later, common daisies (Bellis perennis) would sometimes bloom in winter on lawns in Polish Subcarpathia. I keep seeing them more and more often these days. Whenever I have the occasion, I collect some for cooking. A source of flavonoids and vitamin C, they are a valuable ingredient. Daisies can be eaten whole: both flowers and leaves. However, it is worth scalding them beforehand with boiling water. Since they often grow in places where dogs are walked, they may have parasite eggs on them.
Daisies are a popular ingredient in some European cuisines – for example, in former Yugoslavian countries and in the Czech Republic. According to the Polish ethnographic atlas [Polski atlas etnograficzny], in Poland daisies were used only in the Cieszyn Silesia, clearly due to Czech influence. They were known there under the name gęsie pómpki ('geese navels').
How will gathering culinary ingredients change if winters continue to be mild? Will we be using plant ingredients more often? Poland may benefit if the winter season shortens, because it would become possible to find young sprouts of shepherd's purse, chickweed, red dead-nettle and daisies, while nettles would grow earlier in spring.
What will happen with our forests? Due to climate change, some species may become extinct, such as spruce, which is sensitive to drought and heat. Most trees will cope, but proportions may shift in the perspective of 100 years. New conditions certainly favour hornbeam, sessile and wild cherry. The area where they are commonly encountered extends to the Balkans. Poland may also have optimum conditions for the Turkey oak and the downy oak, which grow as far as southern Slovakia. However, because these species are very rare in Poland, their expansion could take hundreds of years. Climate change may be advantageous to the box elder, black cherry and northern red oak. These three species are highly invasive because they originate from America and do not have natural adversaries. Back there, their range is very impressive, covering territories that are both hotter and colder than Poland.
One problem entailed by climate change will be the spring ground frost. Warm winters accelerate plant growth in spring, but Polish lowlands are exposed to sudden inflows of Arctic air masses, even when the climate warms. Poles will probably have to plant blooming fruit trees later, specifically ones known in North America, where a similar problem persists (flowers of European fruit trees are often damaged by slight frost there).
Before the Polish vegetal landscape changes, ingredients in 'wild cuisine' need to be sought in warmer pockets. In cities, it is sometimes possible to find sheltered spots (like yards) that are separated from busy, polluted streets, and insulated from wind. The urban environment is generally warmer and it is in such areas that we can find daisies, shepherd's purses and nettles in winter.
I am really fond of daisies – my younger daughter is named Daisy.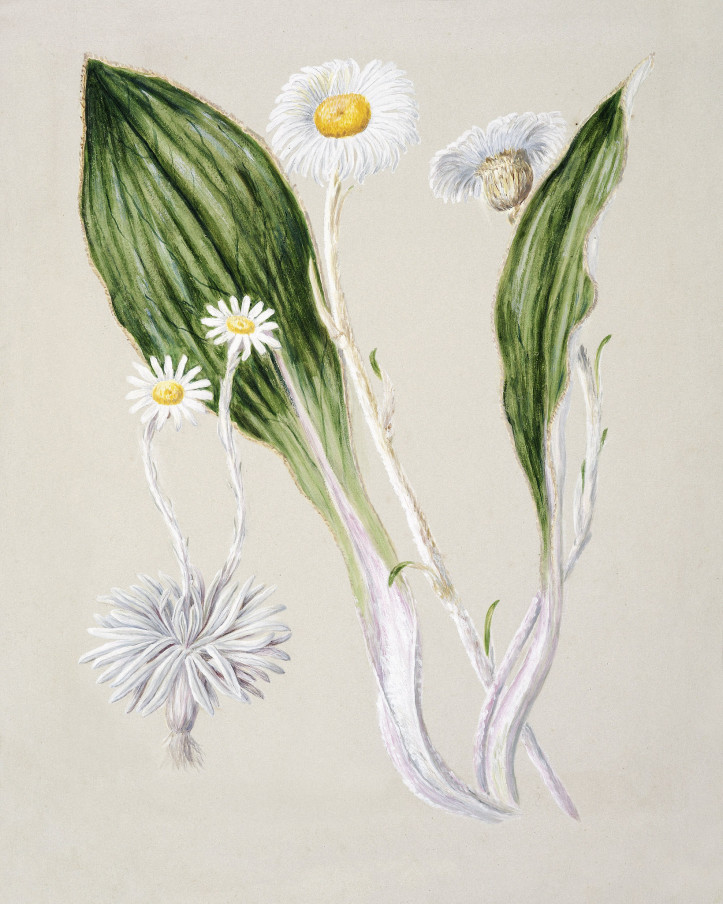 Pickled daisies
Just like cabbage, daisy flowers can be pickled. I was inspired to try this by the herbalist Justyna Pargieła, who first introduced daisies into Polish cuisine several years ago. It is not necessary to collect too many – a small (200-millilitre size) jar will be enough. The daisies need to be thoroughly washed and then soaked for several hours. Place them in the jar, pack down tightly, add salt (one tablespoon for each litre, e.g. half a teaspoon for a 200-millilitre jar) and close the jar. As in the case of pickled cucumbers, it is possible to add a clove of garlic and a small piece of horseradish, which stabilize the bacterial flora. However, the full aroma of daisies can be experienced without these additions. On the next day, add more flowers, because the mass in the jar will fall a little. Repeat the same sequence on the third day. The point is to remove air from inside, as it can cause putrefaction and mildew. If you do not want to have an entire jar of daisies, fill it with hot water on the first day. Leave the jar for two weeks at room temperature.
Translated from the Polish by Grzegorz Czemiel
A high five for "Przekrój"? Or maybe a ten? By supporting PRZEKRÓJ Foundation, you support humour, reliability and charm.
Choose your donation