Three teenage girls from the Indigenous communities of the Americas are raising environmental awareness ...
2021-06-24 09:00:00
Mind the climate
They are teenagers, and just like many of their peers, trying to save the planet. They say that simply growing up in the Indigenous communities of the Americas counts as climate activism. They bring it to a new level: to them, the Earth is sacred. They call water 'blue gold', and learn how to live from other living creatures.
Read in 11 minutes
When eight-year-old Autumn Peltier went to the bathroom during the Water Ceremony she attended with her parents at Serpent River First Nation, she was dismayed. How come it was not possible to drink tap water in an Indigenous reserve? What does it mean that the water is toxic? Autumn pelted her mother with questions. This experience was an utter shock to the little girl who grew up in the Wiikwemkoong community by one of the Great Lakes and was always taught that water is sacred.
Drought, caused by the drying out of a polluted river, was a constant source of trouble for the Xakriabá, the Indigenous peoples of south-eastern Brazil. "All my childhood was just that: planting trees, more trees, and then some more trees," says Artemisa Xakriabá. "I'd never considered it activism, we were just trying to survive."
"Activism? Growing up in an Indigenous community is activism already," commented 19-year-old Helena Gualinga from the small Sarayaku community in the Amazon region of Ecuador.
Mother Earth's youngest daughters
Today, Autumn, Helena and Artemisa are teenagers. Just like thousands of their peers everywhere in the world, they are fighting to save the planet. They have thousands of followers on Instagram, they speak at UN forums and climate summits, calling out politicians and activists from all over the globe. They are proving that Greta Thunberg and the Western activists – with whom they gladly cooperate – are not the only young people fighting the good fight for the climate. These young girls make it clear that the voices that must be heard most urgently are those of the traditional local communities which bear the brunt of deforestation and brutal exploitation of resources.
They bring a new quality to the 'cold' scientific discourse of the West. To these girls, the Earth is their mother, water is their 'blue gold' and wild nature is sacred. "In Native ways of knowing, human people are often referred to as 'the younger brothers of Creation.' We say that humans have the least experience with how to live and thus the most to learn – we must look to our teachers among the other species for guidance," writes Robin Wall Kimmerer, an American botanist and a member of the Potawatomi tribe, in her book Braiding Sweetgrass.
The Indigenous activists bring something else to the climate crisis debate: they cause alarm, calling for immediate change. Their homes and the people who raised them are under threat – very literally – in the here and now.
Between the Amazon and Helsinki
"Each time I left home, I was worried whether I'd get to come back to it at all," said Helena Gualinga in an interview for Latin America Reports. Gualinga's mother is a member of the Sarayaku Indigenous community, while her father is a Finnish professor of biology. The girl seems to be the most famous out of the group, and her activism has the strongest international impact.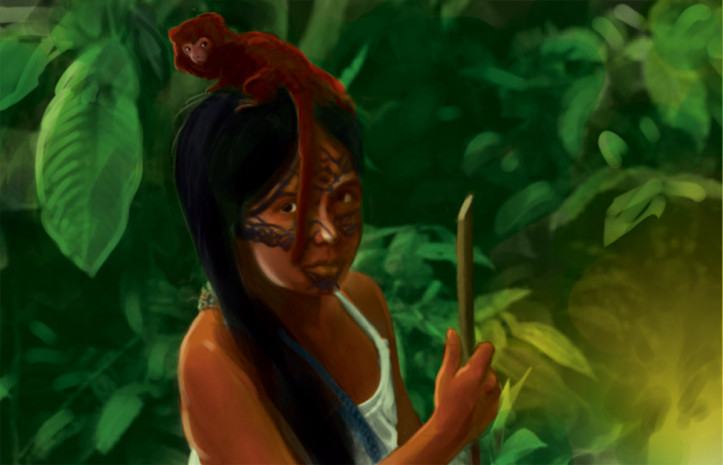 Born and raised in a traditional Sarayaku community of about 1200 people, Helena grew up in the Amazon in Ecuador, in a family of female activists. Her grandmother, mother, aunts and older sisters all fought for the environment and the rights of Amazonian women. The 'gene of activism' in her made itself know in childhood. "The energy I remember from my elders growing up was that my community was always very worried," said Helena in an interview with Associated Press. It couldn't possibly be any different. In the mid-90s, the government of Ecuador broke international treaties, letting major oil companies into Sarayaku land. Explosives used by the companies not only ruined the landscape, but also devastated many of the Sarayaku holy sites. The tribe put up a fight that ended up with Ecuador's government being tried by the Inter-American Commission on Human Rights – and losing to the Sarayaku. On top of the issues caused by heavy industry, the tribe is forced to deal with the tragic results of deforestation and global warming. At the beginning of the pandemic, Sarayaku land suffered from its deadliest flood in decades, bringing famine in tow.
Helena Gualinga is still in high school in Finland, but she often represents the Sarayaku community at international summits. "Indigenous blood, not a single drop more!" she called to the UN, wearing traditional geometric face paint. Helena reminded the audience that the murder of environmentalists in Latin America is a gruesome reality: according to data collected by Front Line Defenders, 263 activists were murdered in 2020 alone (out of 331 victims globally). "As the first line of defence, men used to run into the forest to protect the community from the military," said Gualinga in an interview with Boston's NPR news station WBUR.org.
Helena – fluent in several languages, circling between the Amazon rainforest and Europe – considers herself "more of a voice for what is happening" than an activist. "The people that actually are doing the work are, you know, in the communities, they are in the Amazon. I am only someone who is trying to make people listen to [them]," said the teenager in an interview with Refinery29. "English is a very good tool to have to reach a lot of people – I think I owed this to my people, that's the least I can do to help my people."
The Water Warrior
At the age of 13, Autumn Peltier from Canada delivered her first UN speech to defend clean water. One year earlier, she had met Prime Minister Justin Trudeau at the annual Assembly of First Nations. Wearing traditional jewellery and her hair weaved in two pigtails, she was supposed to present the Prime Minister with a gift. However, when handing Trudeau a ceremonial water cup, she said: "I am very unhappy with the choices you've made," meaning the broken promises and the building of pipelines on First Nations land. Then she started crying. Trudeau must feel at least some guilt at this memory – back then, he told Autumn: "I will protect the water." Despite the promise, he approved the construction of more pipelines.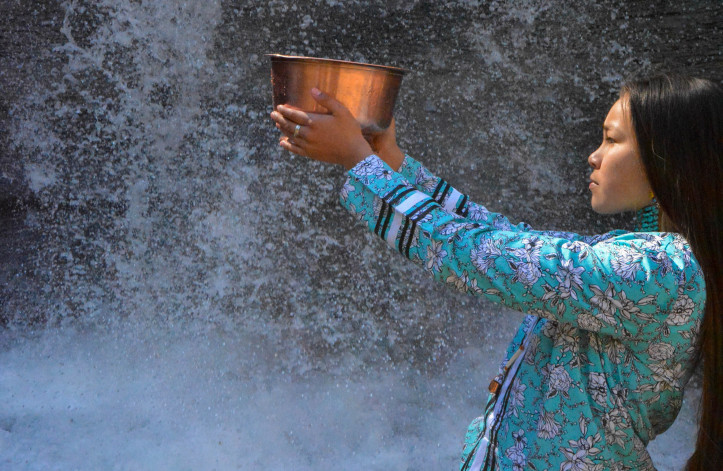 "You know something's wrong when a child speaks up," said Autumn Peltier in an interview for the Canadian TV station CBC. Autumn comes from the Wiikwemkoong tribe – a First Nation of Canada that for centuries has been living by the shores of Lake Huron, one of the Great Lakes of North America. Even though this area is one of the most water-rich in the entire country, not all of the local communities get to access the resources. They are constantly drained by bottled water companies (Nestlé being at the top of the list) and polluted by oil extraction.
"Since she was born, she was always very serious," said Autumn's mother for CBC. "She wouldn't even cry, just look at me. And finally, I asked: Who are you?" Today, Autumn is known as the Water Warrior. Autumn seizes every opportunity to advocate for universal access to clean water. She also condemns the 'environmental racism' affecting many of the Indigenous tribes in Canada. "In one of the wealthiest countries in the world, people are forced to live without any modern infrastructure, in Third-World conditions," says Autumn.
Speaking publicly, she often refers to the wisdom of her ancestors. "I advocate for water because we all came from water," she said in an interview with ETFO Voice. "Without water, everything would die. Nothing can survive without water. Water is one of the most sacred things. When a baby is in a mother's womb for nine months, you are living in water. Our first teaching is water, because we all come from water."
Regardless of whether we consider Autumn a young girl with an old, wise soul (as she was described by one of the newspapers) or a child forced to act by extraordinary circumstances, she has already become a symbol of resistance. Despite her young age and because of her contributions, Autumn was appointed Chief Water Commissioner by the Anishinabek Nation – a group of culturally-related Indigenous peoples that includes the Wiikwemkoong.
Singing for life
Pride of her ancestry and identity is also precious to 20-year-old Artemisa Barbosa Ribeiro, known as Artemisa Xakriabá. At the 2019 climate strike in New York, Artemisa delivered her speech wearing a traditional feather headdress and paint on her face and shoulders. She spoke from the stage, addressing the 400,000 people gathered in the audience: "We, the Indigenous peoples, are the children of nature, so we fight for our Mother Earth because the fight for Mother Earth is the mother of all other fights […] We are fighting for our sacred territory. But we are being persecuted, threatened, murdered, only for protecting our own territories."
"My body is at the frontline of the fight for our rights, space and respect," said the lyrics of the song composed by 19-year-old Artemisa for the Indigenous Women's March in Brasilia in 2019. Xakriabá is one of the native communities living near São João das Missões in Minas Gerais, a state in southeastern Brazil. Jair Bolsonaro – who, at the very start of his presidency, announced there are "too many" protected areas in Brazil – has proven to be a nightmare for the Indigenous peoples of his country. The accomplished Brazilian reporter Eliane Brum spoke about Bolsonaro's actions in an interview with "Przekrój": "The current government has completely dismantled the precious environmental polity that took us years to create. It does nothing to counteract the invasions of grileiros and garimpeiros […] prospectors for gold and minerals, who marched into the lands occupied by the Indigenous tribes." Over the first seven months of 2020 alone, fires – caused almost always by human activity – consumed over 13,000 square kilometres of the Amazon rainforest.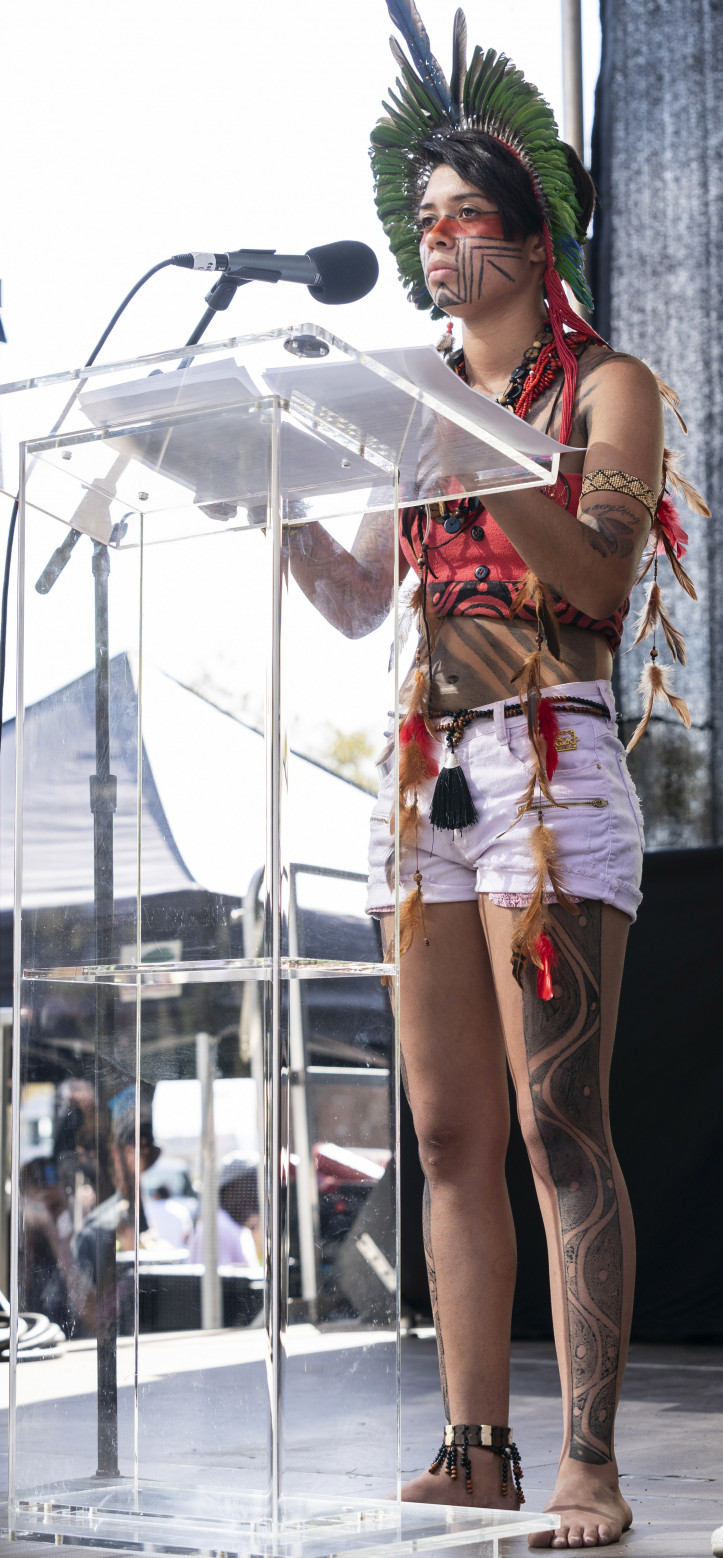 In an interview at the New York summit, Artemisa told The Guardian that the mining companies denied the people of Xakriabá access to the rivers, an act equal to being assassinated. "We need the river and the water for our living and for our spiritual health, our connection to the earth. So access to the river is a big issue for us," the girl explained. She cannot remember when she became an activist. Perhaps it was always a part of her life. "At gatherings, elders debated the issues of our village. We, children, just listened. Once I turned 17, I began speaking about Brazil's problems in my songs," she told the Brazilian edition of Claudia magazine.
Just like Helena, Artemisa also comes from a place in-between two worlds. Before the pandemic, she used to live in Santa Maria in the southern state Rio Grande do Sul, where she studied music and psychology. She uploads her protest songs to Instagram and YouTube, merging elements of her culture with the style of urban youth. Unafraid to break through the stereotypes about Indigenous women, Artemisa speaks openly about being a lesbian.
Her social media profiles also include the things she considers the most important – images and mentions of the people from her village, her grandmothers, aunts and grandfathers, who were and still are her mentors and teachers. "In this place, I find my space and strength, recharge and live my greatest moments. Here, I find myself, my freedom, my identity," she wrote on her Instagram. Artemisa intends to return to her village after graduating – she says that she chose to study psychology with her local community in mind. The constant threat and fight for survival has led to extreme psychological damage, as is shown by the alarmingly high suicide rate among the Xakriabá peoples. "We are fighting for your lives. We are fighting for our lives," said Artemisa in New York.
Guardian of the refuge
Quannah Chasinghorse also proves that Indigenous peoples guard the precious lands that belong to all of humanity. This 17-year-old from Gwich'in First Nations people of Alaska is a defender of the Arctic National Wildlife Refuge, home to polar bears, migrating birds and reindeer. Since the 1980s, the refuge has been the target of politicians and big businesses – energy companies are gunning for opening this part of the Arctic to convert it into an oil and gas extraction site. They intensified those efforts when Donald Trump was in office – the president promised "mass drilling" in the Refuge, which the Gwich'in call The Sacred Place Where Life Begins. "The Arctic is not just sacred to me and my people, but it is a sacred place for all living people," said Quannah in a conversation with Jane Fonda.
How did such young girls decide to start challenging the system so bravely? It was Quannah who answered this question in the most straightforward way. "The reason I am the way I am is because my mom, grandma, and aunties have always taught me not to take sh*t from [any]one. To do the best for our people, sticking up for our rights and our lands. I've learned a lot from the women in my life," she told YES! magazine. Quannah's mother is Jody Potts, a well-known Gwich'in activist.
Generations of women fighting
All the young heroines mentioned in this article stand on the shoulders of giantesses. Helena Gualinga finds inspiration in the work of her relatives who – like her mother Noemí – were involved in the fight for Amazon women's rights while protecting Indigenous land, as was Helena's grandmother Cristina, aunt Patricia, and older sister Nina.
Artemisa Xakriabá often credits her aunt Célia, the first woman in her community to receive higher education and become a teacher. Célia also organized the first Indigenous Women's March in Brazil.
Autumn Peltier's activism could be considered a continuation of the work started by her great-aunt – the legendary Josephine Mandamin, known as the Water Walker. Many years ago, Josephine started walking hundreds of miles around the shorelines of the Great Lakes to draw attention to water not being properly protected.
The fight of today's youth activists is another punch in the decades-long battle, fought mostly by women. The girls from the Amazon, Alaska and the Great Lakes Region who stand up to the existing order have one advantage over their predecessors: nowadays, they can easily reach millions of people all over the globe. Their voices merge with those of Western activists, together weaving a poignant narrative of our common cause that, at the end of the day, matters to each and every one of us.
However, their mission is not one without risk. By coming from various parts of the world where the fight for survival is already in place, they become the bearers of bad news. The truths they speak turn out to be too inconvenient to be heard. "And that often happens with politicians or CEOs of big corporations: they take a picture with us and then they continue their dirty work. And that is really upsetting. We literally are screaming for action and people my age don't have the tools or the knowledge to solve climate change," said Helena Gualinga to Refinery29.
What they do have is a clear picture, sometimes accessible only to children. As 15-year-old Autumn Peltier said to UN diplomats: "We can't eat money, or drink oil."
Translated from the Polish by Aga Zano
Since you read our texts, you know how important the environment is for us. By supporting what we do, you help our reporters access places that we simply cannot live without. We do it the best we can – by writing and taking photos. If you share our concern for the planet, make a donation and support PRZEKRÓJ Foundation.
Choose your donation