The sixth issue
Cena:
14,90 zł
14.90
PLN
http://przekroj.pl/en/shop/products/szosty-numer
InStock
Przekroj
Spring 2018 Issue no. 6 (3561) Publication date: 19.03.2018 Polish-language version only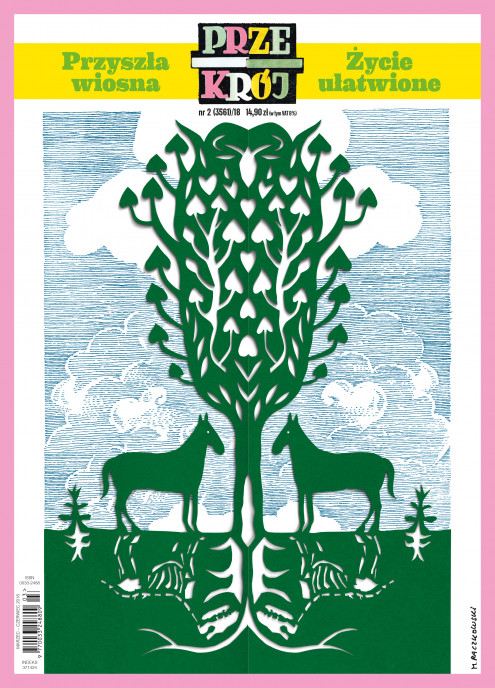 The sixth issue
---
Spring 2018
Issue no. 6 (3561)
Publication date: 19.03.2018

Polish-language version only

We are delighted to report that Spring is coming, bringing the new issue of "Przekrój" with it.
Our correspondent Łukasz Łuczaj reports from a forest that is waking back up to life, while Dino Buzzati and Hans von Trotha reveal the secrets of gardens.
The Everything's Gonna Be Alright collective start growing sea cress, which turns out to be a great success.
Tomasz Stawiszyński flies to New York and even travels in time. Thanks to this turn of events, we get to meet Douglas Rushkoff, who expected the internet to be a game-changer already in 1994, although nobody believed him back then. We also meet the daughter of a Russian prince, Helena Blavatsky, who told fortunes and experienced astral travels a hundred years earlier. And praise be to her! If not for her space visits, we wouldn't have Star Wars.
And if not for Janka Ipohorska, there would be no "Przekrój", which is why we'd like to introduce her to our readers as part of our magazine's 73rd birthday celebrations.
Albert Einstein, known to some of our readers, debuts in his new role of columnist.
Katarzyna Nosowska doesn't sing this time – instead, she writes about the photographs she loves, while Zbigniew Libera pays tribute to the sculptor Henryk Kuna. Janek Koza answers our questions in a cartoon interview, kept in his signature dark-humoured aesthetic. Author Grzegorz Kasdepke shows that dark humour is also the domain of children, sharing some quite traumatic memories from his meetings with little ones.
Jim Carrey talks about the sadness of comedians and his struggles with depression. Wojciech Jagielski describes clan revenge in the Caucasus. We also publish a short story by Tove Jansson with no Moomins in it.
We also write about the post-partitioning stress disorder and of coups de furniture. And what would have happened if Madagascar were a Polish colony? Paulina Wilk describes life on the Indian Ocean, and our special correspondent Olivas Arana writes of the life in the shadow of a melting Peruvian glacier.
There is also no shortage of treasures from the archives, plenty of humour, and Marek Raczkowski's cut-out illustration on the cover. Our Spring issue comes with a healthy dose of distance added for free.