The seventh issue
Cena:
14,90 zł
14.90
PLN
http://przekroj.pl/en/shop/products/siodmy-numer
InStock
Przekroj
Summer 2018 Issue no. 7 (3562) Publication date: 18.06.2018 Polish-language version only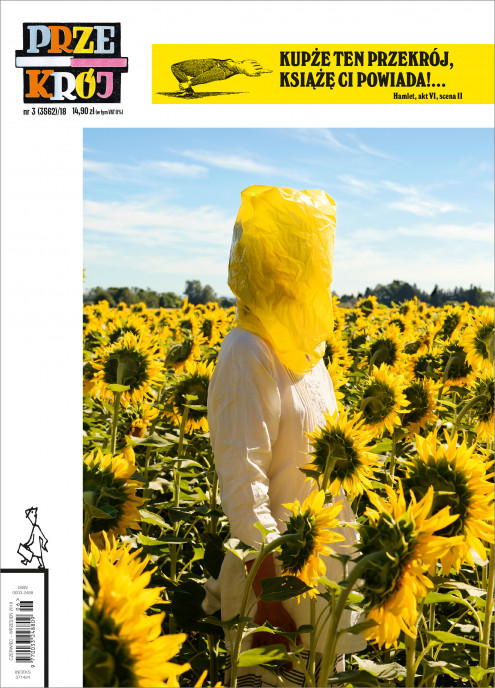 The seventh issue
---
Summer 2018
Issue no. 7 (3562)
Publication date: 18.06.2018

Polish-language version only

"You must be like water, my friend," said the invincible Bruce Lee. "Or at least have some," adds the ever so practical Fafik the Dog. In the latest Summer issue of "Przekrój", our readers can find plenty of tips on how to handle the heat better.
First, a bit of rain on our parade courtesy of the philosopher Noam Chomsky (in an interview with Tomasz Stawiszyński). Then, a new criminal novella by Antonio Manzini to send a chill down your spine. Stanisław Lem's short story from the "Przekrój" archives will give you goosebumps. And our articles on the momentousness of chance in physics and human evolution help us take a fresh look at reality.
But if you prefer a bit of warmth instead, we recommend an interview with Paweł Pawlikowski by Agata Trzebuchowska. We also have some African tales: a roam with Bedouins, the story of lioness Elsa, and the silhouette of a Kenyan woman who put curses on people, planted trees and received a Nobel Peace Prize.
In this issue, we also travel around Poland. Łukasz Łuczaj visits Polish forests, while Eliza Orzeszkowa writes about Polish meadows. Together with researchers from Gdynia, we fish out litter from the depths of Polish sea. Magdalena Grzebałkowska takes us for a treasure hunt around flea markets. We weren't looking for anything in the Sokołowsko sanatorium, but we found quite a few things there.
In our architecture corner, we share some tips on how to build a treehouse and how not to build a house that pretends to be a tree. And instead of a horoscope, we promote an ancient Greek method of fortune-telling with Homer's works.
The Summer issue is packed with spectacular debuts. The mysterious slime mould Physarum murinum makes an appearance in a reportage by Jan Pelczar. Meanwhile, some favourite television characters debut in the new role of childcare gurus. Renata Lis shows us her favourite Greek island, and Goshka Macuga shows us her favourite artwork. Martín Caparrós proves his outstanding knowledge of football.
And if you can't wait for more literary pleasures, you're in luck – there are short stories by Kurt Vonnegut and Lászlo Krasznahorkai, previously unpublished in Poland. There are also some poems, both funny and serious (and two of them were penned by the great Bruce Lee himself.)
As always, there is no shortage of quips and puns from the Everything's Gonna Be Alright collective, cartoons by Marek Raczkowski, and our speciality – the "Przekrój" crossword.
This issue is like water, our friend.