The ninth issue
Cena:
19,90 zł
19.90
PLN
http://przekroj.pl/en/shop/products/dziewiaty-numer
InStock
Przekroj
Winter 2019 Issue no. 9 (3564) Publication date: 07.12.2018 Polish-language version only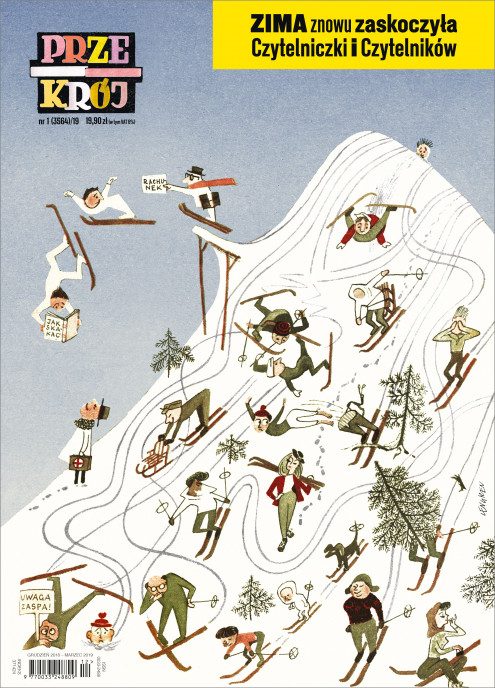 The ninth issue
---
Winter 2019
Issue no. 9 (3564)
Publication date: 07.12.2018

Polish-language version only

The world is getting ready to welcome the New Year, but that's not enough for "Przekrój" – which is why we're announcing the beginning of a New Era. We had the most renowned experts tell us about the upcoming age of change, including Harvard professor Michael Pollan, the mayor of a Spanish utopia Juan Sánchez Gordillo, and children from the 44th Kindergarten in Warsaw. Mikołaj Golachowski presents the wonderful power of symbiosis in nature, while Ewa Pawlak describes her visit to an idyllic Slavic-style settlement. Everything and everyone agrees on one thing: it's going to get better!
Moreover: in our correspondence from Iceland, we write about glaciers and elves. We also present a short crime story about a stolen Christmas tree. And in letters from the Seychelles, we write about strange fruit and happy people. Back to Poland, Urszula Zajączkowska relates her meeting with the Oak Bartek, Zbigniew Libera presents a sketch on sculptor Maria Papa Rostkowska, and Katarzyna Lengren remembers her father, the legendary illustrator of "Przekrój". With Katarzyna's help, we manage the seemingly impossible feat of interviewing Zbigniew Lengren, despite the artist passing away 15 years ago. In the new era, such miracles won't surprise anyone anymore.
Of course, there is more amusement in "Przekrój". Our readers will find pages filled with Marek Raczkowski's cartoons and Jacek Świdziński's illustrations (the latter drew a strip comic based on a true story about the encounters of Polish people with UFOs). There are jests by the Everything's Gonna Be Alright collective, and parcels of nonsense from Marcin Orliński and Tomasz Wiśniewski. In this issue, we also include a true gem – a recently-discovered and previously-unpublished short story by Stanisław Lem. On a more serious note, we recommend an eye-opening interview with one of the most famous satirists in the world, John Oliver. If you are feeling a bit emotional, you will enjoy the Christmas tales by Janette Winterson and Joanna Rudniańska; and readers looking for something a little extra cannot miss the story of the time when Czechoslovakians stuffed themselves with LSD. And finally, we present the final and indisputable interpretation of The Garden of Earthly Delights by Hieronymus Bosch.