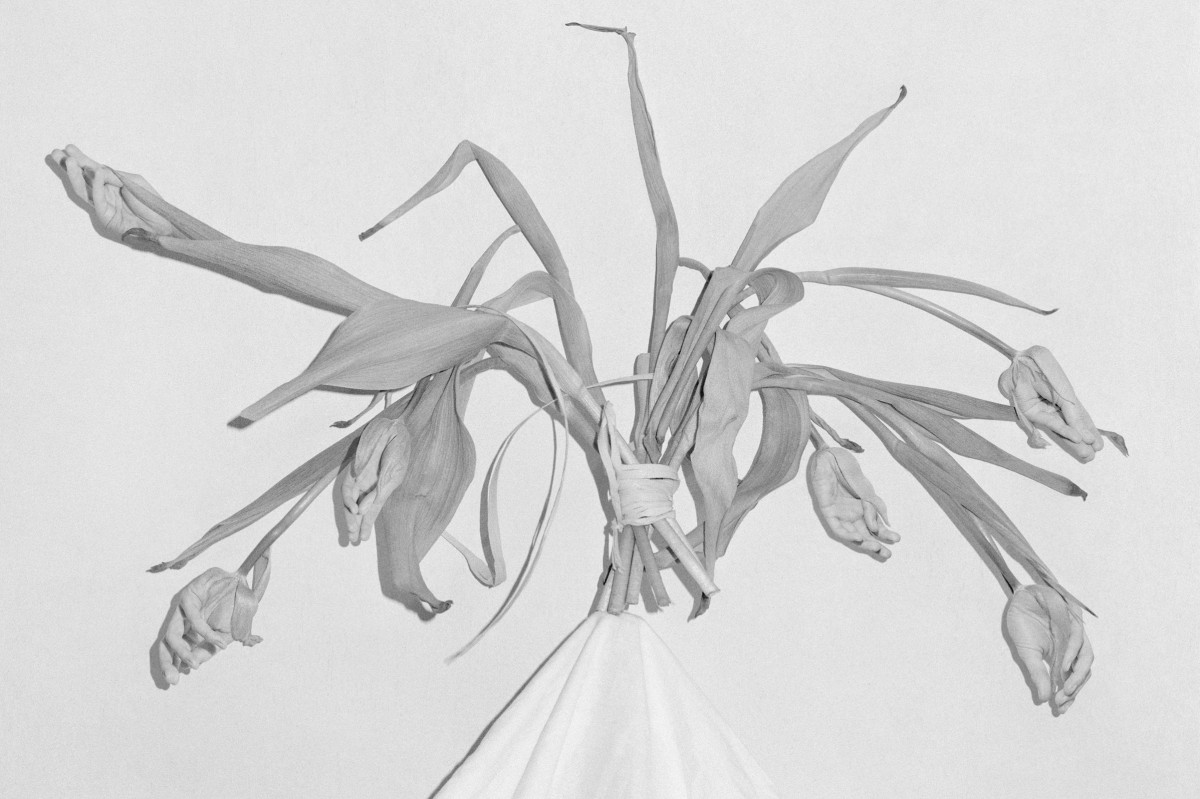 The basis of "Garden" are the photographs of Mateusz Sarełło, illustrating a morbid past relationship with a woman.
The decaying, drying out flowers are bouquets never offered to her, as well as everything that is impossible to name and express. Black-and-white still lifes are traces of a past relationship which, despite fading, will never cease to exist and sting with its presence.
Marta Zgierska (privately Mateusz Sarełło's partner) is trying to inscribe herself into his internal landscape, to find her own subjectivity in it. She replaces flowers with her own body; lips, eyes and ears begin to blossom on the dried out stems. She gives new life to the dead plants though a living, present body. Replacing flowers with her own body, multiplied at numerous instances, is a compulsive attempt at marking her presence.
Marta Zgierska, born in 1987, Lublin, Poland. Visual artist. In her artistic practice she deals with the subject of trauma, liminal experiences and work with the body. In her current works, she explores the canons of feminine beauty and undermines the pressure that contemporary society exerts on the woman's image. She often sets women up as her subject, deepening the intimate aspect of personal work. She holds an MFA in Photography (The Leon Schiller National Film, Television and Theatre School), an MA in Theatre Studies and an MA in Journalism (Maria Curie-Sklodowska University). In 2015, she was named one of Lens Culture's Top 50 Emerging Talents. In 2016, she won one of the most prestigious photography awards – Prix HSBC pour la Photographie – as well as Daylight Photo Awards, Reminders Photography Stronghold Grant, FotoLeggendo Giovanni Tabo Prize and Kolga Tbilisi Photo Award. Her project "Post" was published as a book by Actes Sud in 2016. She was nominated for the ING Unseen Talent Award (2016), Foam Paul Huf Award (2018) and DZ BANK Art Collection Fellowship (2019). In 2019, she was named Artist of the Year at the DongGang International Photo Festival in South Korea. Her works can be found in the collection of HSBC Foundation and in many private collections.

Mateusz Sarełło, born in 1978, Warsaw, Poland. Photographer, author and editor of photo books. Resident of Cite des Arts in Paris in the framework of the City of Paris Grant. His book "Swell" was chosen as a finalist in Pictures of the Year International and also earned a honourable mention in the Best Photography Book from Central and Eastern Europe. He has received awards and distinctions in numerous competitions: Prix Photo La Quatrieme Image, Center Santa Fe Awards, Lucie Foundation Scholarship, Celeste Prize, FotoVisura Grant, Photolucida Critical Mass. Previously associated with the Instytut Kultury Wizualnej in Warsaw. Curator of the ShowOFF section at Kraków Photomonth. Juror of competitions, among others, Grand Press Photo.
Marta Zgierska and Mateusz Sarełło's photographs can be viewed at the 18th edition of the Kraków Photomonth Festival. The works will be shown on the website of Kraków Photomonth and via social media channels as part of the exhibition "I am not sharing with anyone". Find more information at photomonth.com