In this extract from Juliusz Strachota's "A Polish Tourist in the USSR" the protagonist makes ...
2020-11-11 09:00:00
Fiction
In his travels through the most iconic places of the former USSR – from Baku to Samarkand and from Dushanbe to Leninabad – the protagonist of this contemporary Polish novel is led by the memory of a Soviet-era guide book that he browsed as a child. But can these trips to the other side of those guide book pictures heal the incurable nostalgia? Or will they rather become just another addiction to which the protagonist, straight out of detox, is especially susceptible? Can this excursion to the crossroads of memory and fantasy actually be a way of finding a sense of self? And is there anyone there to find at all? An excerpt from a novel by Polish author Juliusz Strachota.
Read in 14 minutes
Russia, August 2015
This guide book has become for me a healing balm for the intermediate state between childhood and today. I'm no longer messing around with plans for my life, because when I come back from a trip I start preparing an excursion to the next page. I'm opening this book on new plans and I'm closing it on further reminiscences.
Between the pieces of faded paper, something is beginning to appear that I thought would never happen. At the cafeteria in Agora, where I eat lunch, I've been meeting for some time with a woman from Żoliborz called Kasia, who has a dachshund, and I tell her about my three or so unusual trips and my heroic struggle with addiction. I'm stretching my stories a bit and that's a little embarrassing, but on the other hand I'm already packing for Russia and that gives me credibility, most of all for myself. I haven't got high or drunk anything for three years now. We have something to talk about, and this talking even starts to brush up against the truth. So I yammer away like it's my job, because this Kasia is incredible: she's the only person I know who can tell Koreans apart from Chinese people. She knows both languages. And two more besides. And Polish too. Soon she'll give up corporate life, to become a seamstress. Never before have I gone for pierogi with a person who's a genius, who in addition has been kicked out of Mensa for not paying her dues.
But it's not all rosy: I've been hit by a strong recurrence of alcohol sickness, because in the company I have an idiot for a manager and I'm at war with his idiocy, yet at the same time, by some miracle, I'm seen as a model employee. Nice, punctual, conscientious, responsible, at war. And I've also published a book about my drugging, and because it was my first book sober, only now do I understand what stress is.
From Solec, where I rent an apartment, I take a bus to catch the plane to Moscow. Then I head to Crimea, where I've lied about being many times. And then will come Mineralnye Vody in the Caucasus, and then I'll move on through the North Caucasus. Kabardino-Balkaria. Ingushetia. North Ossetia. Chechnya. Dagestan. At the moment, only these names can stimulate my dulled imagination.
Moscow
Already on the first night I'm shuffling around the cover photo, seeing the Kremlin, Lenin's Tomb and St. Basil's. It's hard not to be impressed. As I enter Gorky Park the next morning, I'm even humming The Scorpions, but nothing in particular happens. I walk around looking at drunken paratroopers. Earlier they had some kind of gathering on Red Square; it's hot, they're already very tired, and only here does it look like there will be any fisticuffs or afternoon romantic drama. Many of them are in their striped undershirts, looking like the little figurines of Felek the sailor from the Ćmielów porcelain plant. I head toward the gate that's on the photo in the guide, and once I can see it, I turn around. On the grass, right next to the pond, Russian women are doing asanas.
I skirt this recreational area, then one full of piles of Lenin statues, and head to the hotel.
I need Wi-Fi. No connection, no connection. I'm in! I send Kasia a few photos from my EXCURSION and head back out. Moscow is being remodelled and there's dust in the air, whose smell and dryness set off memories. I don't know what kind, but the pleasant kind. Not a day has passed since I left, and there's no trace of the tension. Trips are a perfect component of therapy for alcohol sickness, or a perfect substitute for substances.
The next morning I leave for Crimea. On foot to the Metro station. By Metro to another station. By train to Domodedovo airport.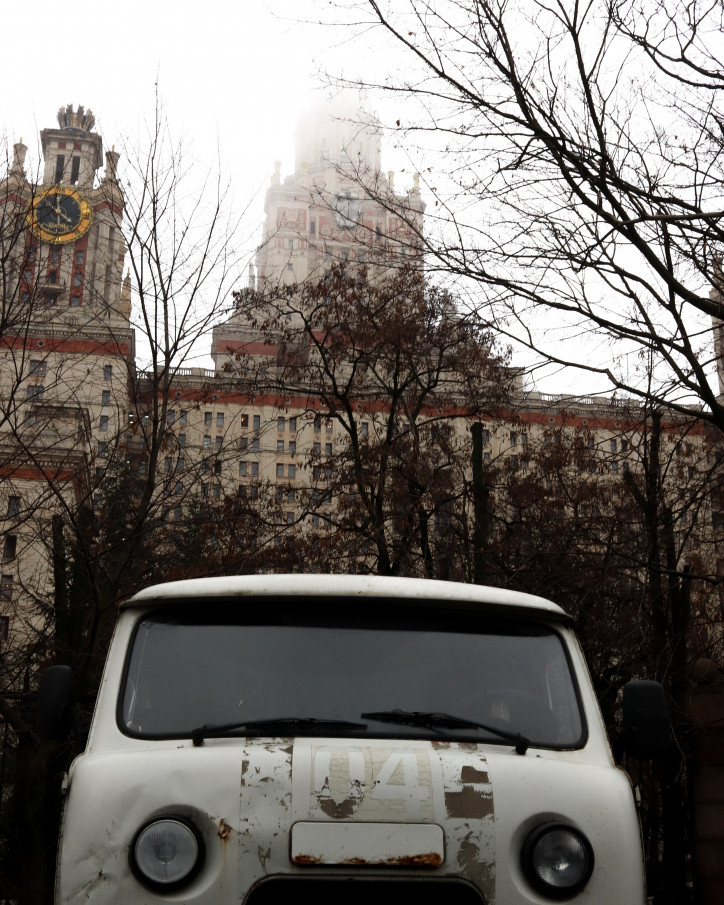 Bakhchysarai
The cabby from Simferopol gets lost, drives into yet another wrong street, calls the owner of the pension, drives into a ditch, asks for help pushing the car, calls again, curses the city (but in reality, probably me), calls his family to say he'll be late, until finally we see a woman waving at us. This is Crimea, but I'm not sure what country I'm in. Since we landed in Simferopol I haven't known who I'm talking to, and so I have no clarity on who I'm supposed to be. If somebody here shows a distaste for Poles, then if there are sudden questions I'll say I'm a Slovak – that's my plan – but the cabby has no interest in who I am.
The owner turns out to be a Ukrainian, so I'm a Pole. She asks why my compatriots have stopped coming, and I reply:
"Well, I don't know… and do the Russians like Slovaks?" I ask just in case, but she doesn't know.
It's after dark, but still hot and humid. In a daze, I walk down Lenin Street, to see the Crimean Khans' palace before I turn in. The Big Khan Mosque too, and I can go back. The cold is creeping in, because rain is also supposed to creep in. The crickets are so loud and so steady that after these few hours I have the impression that here this is the prevailing sound of silence.
On the way I buy two Red Bulls and in the pension I sit back down at my computer. I've got a good review in Polityka for my book about drugs, which pleases me, but also adds to my difficulties in falling asleep. But the feeling of relief still dominates.
I lie there, no hope at all of falling asleep, and not even needing to, but even so I fall asleep. Suddenly I wake up, realizing I'm not alone in the bed. Outside the window there's a storm – pouring rain, thunder, and through the open balcony window a small red-and-white cat has jumped into my bed. I go to the kitchen, find a bowl, pour some water for her and set it by the bed. We go back to sleep.
I get up after a few hours and go look around the city, the little town. Nothing here indicates a change in ownership, at least nothing that would draw the attention of somebody so poorly oriented as I am in everything that's going on here. Perhaps the out of order ATM is a sign; there's a paper stuck to it promoting Amway. I head toward the Assumption Monastery of the Caves, but it's so hot that I'm struggling. I sit down next to a few old women and pretend to be admiring the charms of the monastery, and in fact I'm barely breathing. I didn't bring any water with me, and here they only sell kvass, which I'm afraid to drink, because I associate it with beer. I head out for the Chufut-Kale gorge. Right in front of the main trail to the city of stone are a number of stands selling lavender. It seems I came out too early, because the people selling water haven't set up their wares yet, I think to myself, trying to explain this desperate lack of any water source. I go in, and unfortunately it's very steep. Fortunately, the last bit leads through a forest, so at least there's shade. When I think I've finally made it to this famous gorge and its city of stone, the forest ends and I fall prey to the sun, and though I'm just a few metres from my goal, I decide it has been accomplished, and start to run, semi-conscious, to get to the grocer's on Lenin Street as fast as I can.
Later, to regain my balance, I spend the whole afternoon lying on a carpet in the shadow of an oriental roof and drinking cold Red Bulls. Toward evening I go check the train timetable, and later I sing the praises of these outstanding adventures to Kasia on Messenger.
In the morning, fast: shower, pack, bid farewell to the cat, and hustle to the station for the local train to Simferopol. As recently as yesterday, I was convinced it would be Sevastopol. But I'm hustling to the Simferopol train.
The train is empty. I set my rucksack across from me, my feet next to the rucksack, and look out the window. The train moves off. It travels for an hour. Nothing happens, and in fact everything. Rattle of wheels. Station. Rattle of wheels. Station. Rattle of wheels. Station. I get out in Simferopol and go to the trolleybus stop. Then about an hour and a half on the trolleybus: first through the mountains, a right turn in Alushta and along the coast to Yalta.
Yalta
I have a few pictures to check off here, but also a special assignment, because Kasia's very interested in the Yalta Conference. After getting lost on the way to the pension, which is 200 metres from the stop (a woman selling buns helps me), I install myself in my room and in horror discover that my MacBook cable is torn. Cold fear descends on me, because this could mean a lot of difficulties. I'm so addicted to my computer that it's hard for me to get addicted to my iPhone. I don't know how to use it like the people on the Metro do. And anyway, I'm trying to write something while I'm here. Once I wrote a book on my iPhone, I even published it, but I don't think anybody read it. Including me. I just can't remember what happened in The Factory of the New Man. I wrote it when I was totally wasted on Xanax. I only know the main character, when he got angry, could fly. So he took Xanax so as not to. This still seems to me like a great idea, and I think I could write this book over again.
There are a lot of things I'd like to do over again. In preschool, I would start to learn that my thoughts are not me. Perhaps that would give me a greater feeling of my own value, greater self-worth. I'd do it all one more time, as if I weren't afraid. Already as a small boy, I'd know that acting despite your fear of acting is quite simple, and my peers would hate me for it. So I wouldn't step on the brakes and the gas at the same time (as I did), stuck between fear and interest; I'd decisively plump for the second option. Next, during my parents' divorce, I'd maintain relative neutrality. Nor would I treat the symptoms of irritable bowel syndrome lightly, when they appeared when I was 13, and perhaps that would allow me to avoid a series of unsuccessful suicide attempts around my 30th year (your bowels are a second brain, allegedly).
I'd be in the present, rather than over-blowing my fears of the future. I would believe that 18 is a great age for tracking down the scraps of childhood. I wouldn't be ashamed of that half-baked idea, because I'd be aware that in looking for these scraps I'd find a wealth of joy. I wouldn't be ashamed of anything at all that's true of me, because lying is a huge waste of energy. I'd recognize already then that buying and selling anything is my favourite activity, and wouldn't hope that someday I'd develop an artistic identity, homogenous and financially satisfying. I'd know already in primary school that I can hold a candle to others, which I'd feel good enough about. So I wouldn't wait for any cure. I'd realize relatively quickly that it's not waiting for me around the corner. That so-called things around the corner don't exist. I'd study hard already during my first stay in the psychiatric hospital, and possibly avoid others. I'd work on paying attention to the feelings and needs of my loved ones. I'd remember the lives and funerals of those who are no longer with us, and who most likely loved me very much. I'd make a good impression. I'd remember the moment that started my daily thinking about approaching death. I'd locate or recreate it, and develop the habit of thinking about something completely opposite.
I'd do less wondering what if?
I go to the sea and look around for something like an Apple store, but there's nothing like that. There's no phone connection to Poland from here, but the ATMs seem to be working. Of course: working for Russians, of whom there are a whole bunch. Many guys have T-shirts bearing the inscription 'Russia', and if they don't, they look even more like chavs from Władysławowo. They arouse my fear more as potential murderers than as Russians.
I take a seat by Lenin, but the music blasting from the speakers doesn't permit a long stay. I walk on, and there's now a cool breeze coming from the sea. I shiver. But I keep walking until the sun disappears.
In the morning, at the station, I get on a bus and I go where the Polish comic-book monkey Tytus de Zoo has gone before me. At first it seems to me that there are only soldiers there, but as I walk down toward the sea, I see more and more kids. No longer pioneers. Maybe now they're called scouts? A lot of cars. Next to one of the gates there's a huge map of exercises: it shows the children the places where adventure begins. I pretend to be an ageing pioneer, but the guards don't want to let me in. So I hang around by the map, but decide to change my strategy. I pretend to be a father. I join a group of parents dropping off their offspring and manage to get to a place that carries my senses, thoughts, emotions back in time: crinkled asphalt, low walls and rubbish bins with mosaics, a star that was once red, and next to it the hammer and sickle. Agaves in pots. It's the picture from the guide, just without the pioneers. The sea shimmers between the agaves. Giving off a cool breeze. Roar of the waves. You can hear seagulls. Sun right in your eyes. Senses, thoughts, emotions – really quite a lot can be carried back into the past, if only the rest weren't rushing relentlessly in the opposite direction.
In this afterimage, I notice a cafeteria in light blue tiles. I sensed its presence before I saw it, because it's lunchtime. The cook is smoking a cigarette and looking at me as if I've done something wrong. I want to ask whether I have correctly sniffed out that it's kluski leniwe for lunch today, but she throws her cigarette down and calls somebody who must be back in the shadows of these non-today spaces, so I simply set off toward the exit gate. I don't want to check whether there's something to be afraid of. This habit is still out of control, and what's more, I have the feeling that I'm still not quite capable of pretending to be a Slovak. I see a bus pulling up to the stop, so 'bye, so long, and off I run. I fly through the gate, shouting at the guard about the bus, the bus, and I get on, and it goes straight to the Livadia Palace, where, with a feeling of having accomplished yet another adventure, I sprawl out on a bench and look around. In front of me a pearl of architecture, a historic site; to the left a view of the Black Sea, and to my right a very nice apparatus for sprinkling tourists who are worn down by the heat. After thinking a bit, I buy tickets and with my rickety iPhone I photograph every element of the exhibition, so that in the evening I can send out numerous pictures and describe my great sacrifices.
I've never used the Yalta Conference as a chat-up line before.
Moscow Metro. Photo by Juliusz Strachota

Kaliningrad. Photo by Juliusz Strachota

Almaty. Photo by Juliusz Strachota

Sukhumi. Photo by Juliusz Strachota
This is an excerpt from the novel "Turysta polski w ZSRR" [A Polish Tourist in the USSR] by Juliusz Strachota, published in 2018 by Korporacja Ha!art.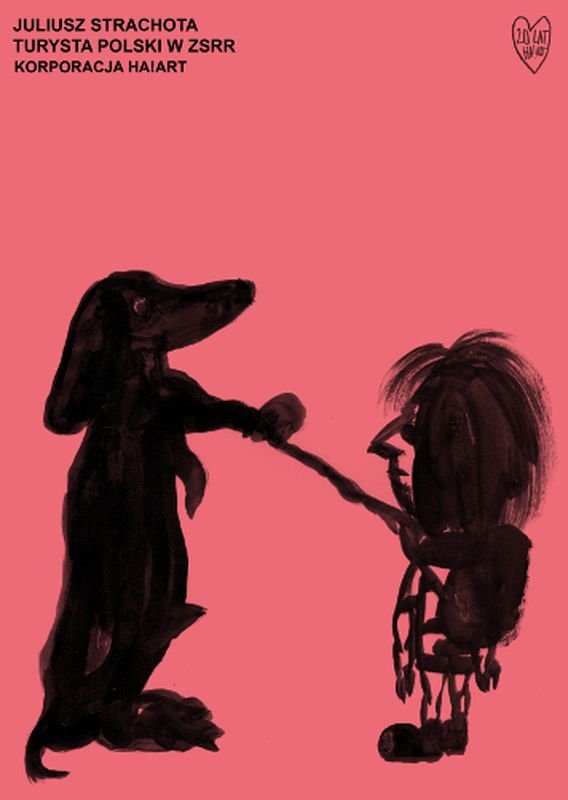 Translated from the Polish by Nathaniel Espino
A high five for "Przekrój"? Or maybe a ten? By supporting PRZEKRÓJ Foundation, you support humour, reliability and charm.
Choose your donation