On the anniversary of Tove Jansson's first book, "The Moomins and the Great Flood", we take a ...
2020-12-11 09:00:00
On the anniversary of Tove Jansson's first book, The Moomins and the Great Flood, we take a look back on her wartime creations and why they continue to resonate.
Read in 5 minutes
Even those unfamiliar with Tove Jansson's internationally beloved comic strip know the Moomins. Like the iconic characters from Winnie the Pooh or Peanuts, you've seen them – plump, upright hippo-horse hybrids with kind, curious eyes – on book covers, cards and bed sheets, on television. But the chances are better, if you're reading this, that you know the Moomins – Moomintroll, Moominmamma, and Moominpappa, the family of creatures (trolls?) who inhabit the whimsical, serene Moominvalley alongside a host of other critters like the Hattifatteners, Mymbles and Whompers – more intimately.
Jansson was a prolific artist, creating paintings, novels, children's books and much more during her lifetime, but it's her Moomin creations, beloved by children and adults alike the world over, that have most captivated audiences. While Jansson's Moominvalley can occasionally reflect the world's danger, most often it offers a natural world brimming with optimism and adherent to a moral code that can feel like a balm for anyone experiencing the sometimes overwhelming uncertainty of the real world.
And no wonder. When Jansson, the Finnish daughter of a sculptor father and illustrator mother, first conceived of the Moomins, she was looking for that balm. She had been struggling for years to find her artistic footing: she briefly studied at the École des Beaux-Arts in Paris before dropping out, disappointed with the school's "superficial" methods, and her first art show ended with bad reviews. She was 25 when the Second World War began, a period that doubly compounded her misery: she was anxious not just that her brother might not return from the war, but that her creativity might not survive it, either.
The Moomin characters came to her, she once wrote, "when I was feeling depressed and scared of the bombing and wanted to get away from my gloomy thoughts to something else entirely… I crept into an unbelievable world where everything was natural and benign – and possible."
By the end of the war, a friend convinced her to publish a book collecting her paintings and stories of the Moomins; the result was 1945's The Moomins and the Great Flood. It was from that first Moomin book that Jansson's career took flight. After two beloved books, Jansson published her third book, 1951's Finn Family Moomintroll, in English. A daily comic strip was commissioned. By the mid-1950s, the strip was in over 100 newspapers worldwide; the Moomin Boom (or 'muumibuumi' in Finnish) had begun.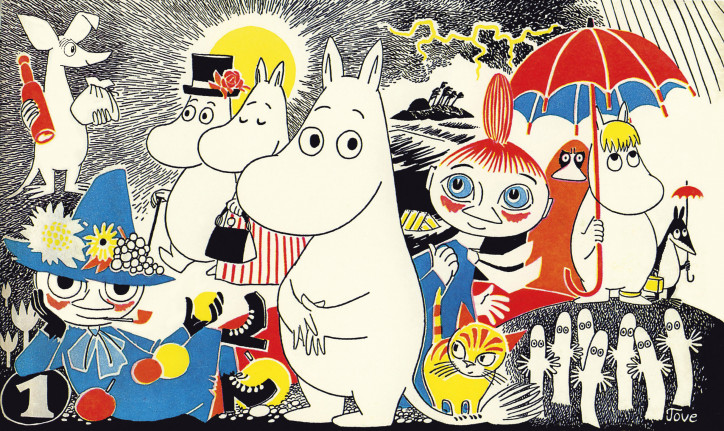 This year marks the 75th anniversary of The Moomins and the Great Flood, and Jansson's creations have never been more popular; besides Moomin theme parks and museums, the books have been published in 50 languages, and continue to be celebrated around the world. Yet, though the last Moomin strip was drawn in 1975, and Jansson passed away in 2001, the heart of Moomin remains more or less unchanged – even as the characters continue to be reprinted in new stories, in new countries around the world.
A huge part of that is because the characters are no longer drawn by anyone outside of the Jansson family. In fact, offers Lucy Wiseman – Design Manager at Puffin Books, tasked with bringing Moomin to a younger audience while preserving its original spirit – nobody draws them at all.
"The artwork for every piece of publishing we create today was actually drawn by Tove herself. For each new book, we draw from her vast catalogue of black and white cartoon strips to create new Moomin stories using Tove's beautiful art. A bit like collage, we find the poses and content we want to tell our story, we cut them out, compose the illustration and colour them."
Wiseman says that although the colour palette occasionally changes in order to appeal to different audiences – a book for babies titled Words Tummy Time Concertina Book features slightly brighter colours for the younger age group ­– "All of it is from Tove's own line drawings. It's a time-consuming but rewarding process."
The Janssons have long been protective of the Moomins. Tove once famously turned down the Walt Disney company's commercial advances, and after her brother Lars took over the strip briefly in the 1970s, his daughter and Tove's niece, Sophia, now holds the artistic control reins. But it's all still in service of Tove's original drawings.
"Because the illustrations are all Tove's own," offers Wiseman, "our creative ideas for new stories are actually led by what artwork is available. It's incredibly inspiring to peruse Tove's cartoon strips and original paperback illustrations for ideas about what new stories we might be able to tell."
And those stories still provide the same relief from the real world that Tove herself sought in the 1930s and 40s. Asked about Moomin's continued relevance in what can seem like an increasingly volatile world, Olivia Edwards, Commissioning Editor for Puffin, offers that the peaceful, natural characteristics of Moominvalley are as enticing as ever.
"The Moomins are a wonderful escape, but they also stand for family, friendship, tolerance, respect for nature, love, braveness. I think there is huge comfort in Tove's stories because when we are facing challenges in life, they remind us of the incredible kindness, compassion, fortitude and love that we are all capable of."
"Since 1945, the Moomins have come a long way," she says, "yet their strong values and Tove's stunning artwork is unchanged, and has always remained central to what makes the Moomins so special."
The article that you've just read was originally published in a different magazine and we decided that we wanted to share it with you. Would you like to read more re-prints on our website? Please support PRZEKRÓJ Foundation and help us bring the best of global writing to your screen.
Choose your donation