In a small Slovakian village lived a local cobbler, József Balogh. He was a seemingly unremarkable ...
2020-04-28 09:00:00
Back in the 1990s, in a small village in the south-eastern corner of Slovakia, there stood a strange house on Main Street. As a kid, I used to walk past it daily, on my way to school. As a matter of fact, there were two buildings: a peasant house and a small workshop beside it. Decorated with all sorts of weird and wonderful art, they were the highlight of my childhood mornings.
Read in 6 minutes
Why, exactly? Well, it was the 90s and I was a child. But besides that, it was simply exciting to see something new. It's true that I was less fascinated by the colourful mosaics, cut plastic bottles filled with plastic flowers, pinwheels, mutilated dolls and who knows what else, than I was by the posters of muscular action heroes – the likes of Rambo, Bruce Lee and Chuck Norris – but I always quickly ran my eyes past the walls as I moved my tiny legs, not to be late for class.
The house and the workshop belonged to József Balogh, a local cobbler. He was a big, strong man, but already old; missing a few teeth and with long, pearly-curly hair. He was born in Vojka (present-day Slovakia) on 3rd January 1920 into a peasant family. He had six siblings. I don't know much about his brothers and sisters, but József always aimed at doing something everyone would be in awe of. He learned the trade of cobbling and started to work in the surrounding area, in three (or four, depending on how you look at it) different countries: Hungary, Czechoslovakia (and then Slovakia) and Ukraine. He made his own clothes in his own distinct style. With great boldness and a bit of extravagant flare, he started to wear shorts – at the time, an act of exuberant metropolitanism, which allegedly shocked the villagers. When he had the time, he would go fishing after work. That was the activity that he enjoyed the longest, and the fish motif stuck as a motif for his entire life.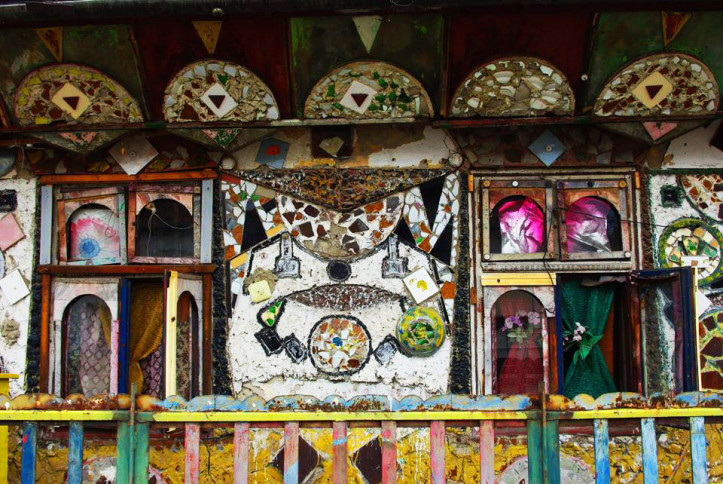 He was usually cruising on one of his two, heavily-modified bicycles. He rode slowly, the bike weighed some 30 kilograms, and its tires were always flat. This is how I saw him most of the time, as a 70-something-year-old man. My father always greeted him with práci mesterúr! I liked that, and after some time, I started to greet him in this way too. This expression is a Slovakian-Hungarian mosaic phrase, meaning 'Work well, Sir craftsman!' Even though he was still working as a cobbler then, I knew that József was being greeted by my father in reference to the other work; the work on his house. It certainly kept him busy. He was roaming the region for 40 years, collecting trash to make poetry from. He was excited by what blind chance brought before him, and by the idea that he could find something he'd never even considered before and then magically make something valuable out of it. We have a saying here: 'Making an iron ring out of wood'. He strongly believed in this.
He would compose his ready-made and assemblage works from junk. Colourful pinwheels and mutilated dolls hacked onto thrown out bicycle wheels, resembling some sort of strange Eastern European dreamcatcher from a long forgotten tradition. Plastic flasks cut in half and filled with flamboyantly-coloured plastic flowers, placed carefully on this ever-growing body of art. He constantly re-invented the random objects he found, placing them in relation to each other, giving value to the worthless. His desire for expansion never stopped. József did not think that it could ever be finished. It will just come to an end one day through death, he used to say.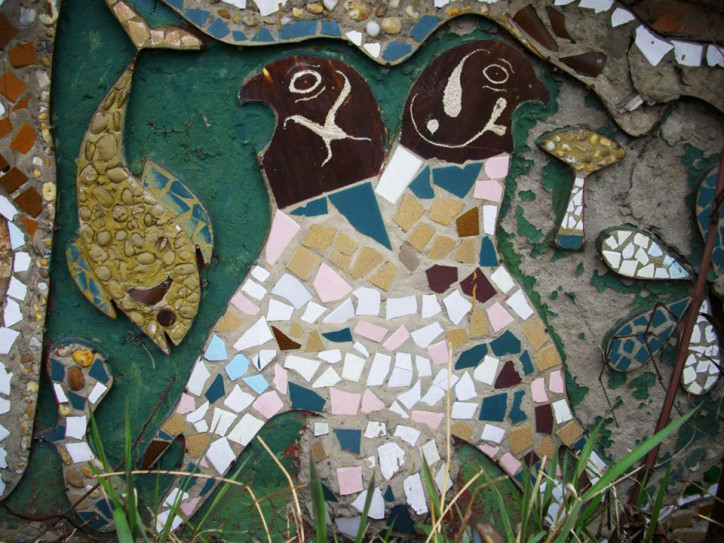 Using smashed pottery, thrown-out glass and porcelain waste, he created untold fairy-tales, born as mosaics on the walls of his house. Tales about a shattered creature with the head of a buffalo and an elephant; in its body, two intertwined, swallow-like birds, alongside flowers, mushrooms and fish. I cannot tell whether the two-headed beast devoured them, or those were the ones that entered its body with aggressive force, thus making the fabled creature the victim. Somehow, either explanation is credible. Another mosaic concerned the fish above the porch. It was made from white shards of porcelain, with red eyes. It is said that it flew over to another similar-looking fish, further away on the porch, so that they could go to the afterlife together. It is hard not to think about this work as him and his wife, Margit.
More than 50 years before I started to pass by his house as a curious child, József was enlisted to the Hungarian Army – on 13th October 1941, to be precise. After overcoming the shock of losing his famed pearly hair to a military buzzcut, he was sent to the Soviet front, before ending up in a Soviet POW camp. Perhaps it was there that he saw the vividly decorated peasant houses, typical of Russia. He got through his time in the camp without any serious consequences, returning home after the war and starting his life anew.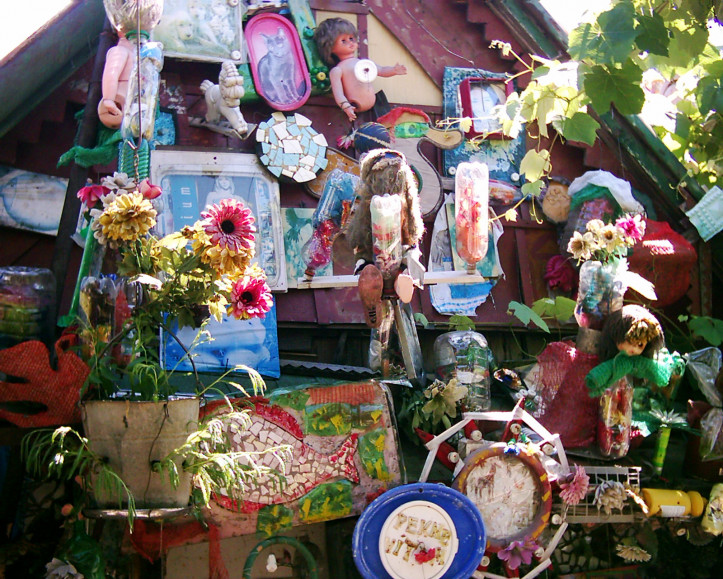 After some Thursdays, Fridays and Sundays spent wooing (for a Calvinist, the other days were inappropriate!), he got married to Margit. They had four children, but only their twins survived into adulthood. When the twins left home in the 1970s, József started to work – on decorating the house. The result may, at first glance, have seemed out of place: the building was densely ingrown with grapevines, populated with animals of all sorts and clothed in whatever garbage the community threw out. It was well and truly alive.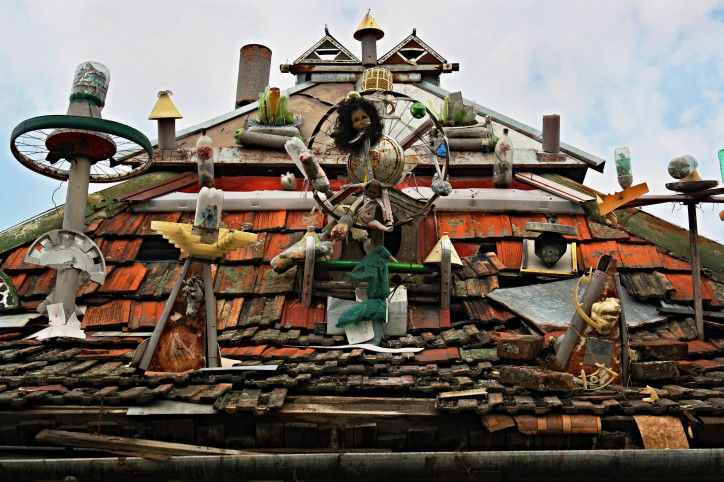 The Slovakian-Hungarian filmmaker Peter Kerekes shot a fantastic short film about József back in 1996, entitled Balog József Pribeník 66 (the title refers to the name of the village where he lived and the street number where his house stood). I have watched it countless times. In the film, József rolls on his bike, grabs something, talks about life, makes some mosaics then talks again, about flying, poetry and death. At the end of the film, he declares himself a happy man, because he thought out this house and managed to bring it to life "with good taste, I think".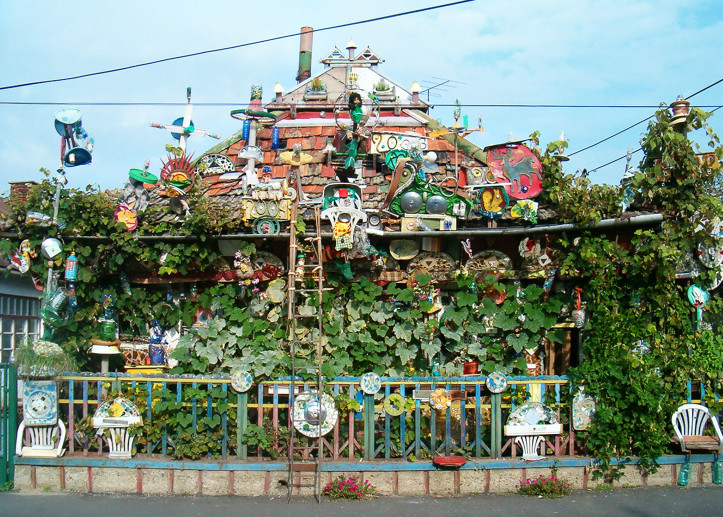 József's house was sold by his children, and was demolished by the new owner– without any effort from the civil community or village council to save it, there was nothing left to do. It was in bad shape. Without substantial restoration work, it would have probably collapsed upon itself in no time, as I was told by his granddaughter. József and his wife had a so-called 'back-neighbour', with whom they shared the property. It was he who bought it. If I walk past the property now, I see a nicely reconstructed brown house with a Mediterranean roof, on a spacious lot with a big, remote-controlled wrought iron gate. That is the current style in this corner of the world for those who can afford it.
Although I never forgot that the man and his house had existed, it was around half a year ago that I rediscovered the value of József's work. For me – an artist who runs an exhibition space where I seek to deconstruct contemporary attitudes towards art – József represents a breath of fresh air. This man had very few material riches and at times went through hardships, yet he did not pursue wealth or fame through his works. József was able to see value in things that weren't valued by others; he was able to find fulfilment, precisely because he focused on those small pleasures that brought him joy. At a time when it might feel like the world is collapsing, perhaps we can all learn something from József and seek solace in simplicity.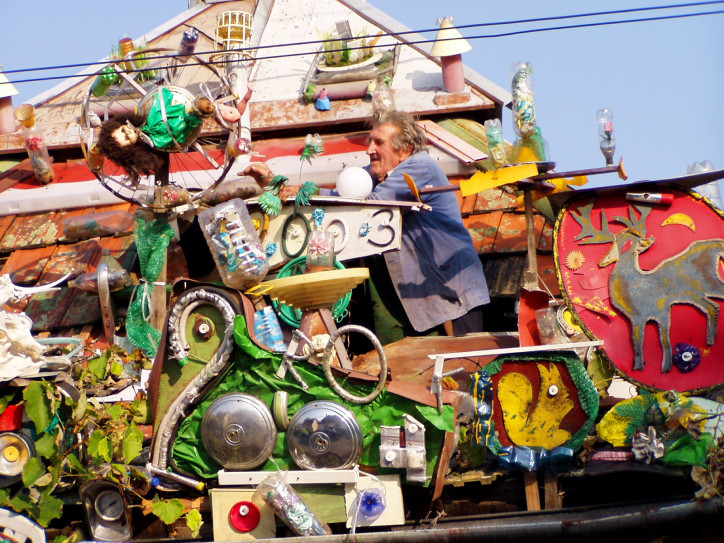 The author runs an underground gallery in Budapest called Kavics (meaning 'Pebble' in English). In order to commemorate József Balogh, the author recently presented an exhibition of József's works at his gallery.
A high five for "Przekrój"? Or maybe a ten? By supporting PRZEKRÓJ Foundation, you support humour, reliability and charm.
Choose your donation