Director Burhan Qurbani talks about his latest film "Berlin Alexanderplatz" and the mirror it holds ...
2021-01-03 09:00:00
It's been 40 years since Rainer Werner Fassbinder adapted Berlin Alexanderplatz for television. It took a lot of time before another film-maker found the courage to tackle this canonical German novel.
Read in 10 minutes
Director Burhan Qurbani was born the year that Fassbinder's series came out. His three-hour-long movie premiered during this year's Berlin Film Festival. Qurbani's next project will be an adaptation of Krzysztof Kieślowski's Three Colours trilogy, this time using the black, red and yellow of the German flag, which symbolize the themes of unity, justice and freedom. Part one will be a musical.
Jan Pelczar: Your adaptation of Alfred Döblin's Berlin Alexanderplatz is set in the present day. Was it your intention to update it?
Burhan Qurbani: I grew up with this novel. I was 16 or 17 when I first read Berlin Alexanderplatz. I finished high school with it. And I completely failed. I was supposed to become a doctor, but because my high school diploma was not so good, I ended up making movies. That was all because of Berlin Alexanderplatz, really. So I had a certain bitterness towards Döblin's novel. When I moved to Berlin, I decided to re-read it. At that point, I had already become a writer and I realized how much beauty there is in the novel, how much poetry, how complex the language is. I was able to appreciate it at a much deeper level. The novel stuck with me. But that's just one of the motivating factors for the adaptation.
The other thing was the place I moved to. I ended up close to Volkspark Hasenheide, which is a very middle-class, bourgeois park where you have everything: a petting zoo, an outdoor cinema, a lot of playgrounds. White middle-class people hang around there all the time. However, it's also a drug park. And the drug business is done mostly by Black Sub-Saharan African people. I was watching this place and I felt appalled by the way those drug dealers were perceived by society, by all those bourgeois, well-educated, well-earning people. For them, Black equals a drug dealer. Black equals a criminal. It was weird and extremely frustrating. Seeing all this made me very angry. Therefore I decided to retaliate, to take a piece of bourgeois literature, a novel that belongs to the high canon of Germany, to take their Franz Biberkopf and turn him into Francis, who is a Black guy. And that's how it all came together.
At first, it was just a simple thought: "What would happen if…" I kept thinking about it, finding parallels that completely intrigued me, convinced me it could become something good. In the novel, Franz Biberkopf is an outsider from society, a criminal released from jail. He lives one day at a time, one job at a time. There's basically no chance that he'll be received back by the community. He is a part of the daily life of Berlin, but he's invisible. He has daily jobs, but nobody cares for him. Just like with these boys in the park. They also are stranded in their new world. They face various obstacles and won't ever be included in society. They are being pushed outside. So they spend all their days in the park, they meet their clients there, but they remain completely invisible. And from that, we started to develop the story.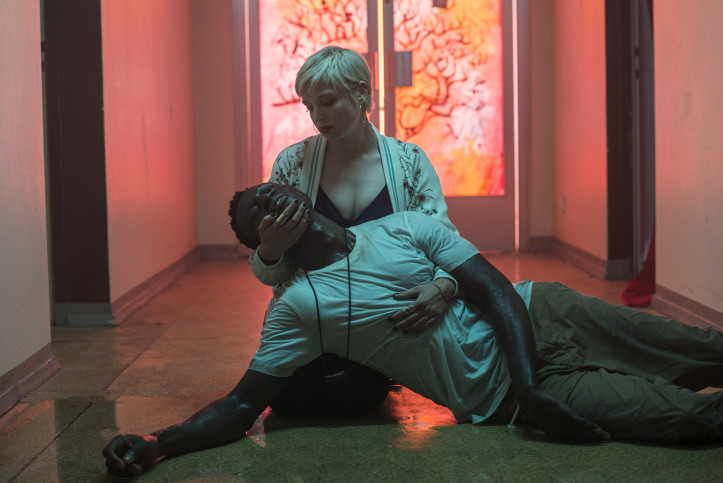 Present-day Berlin is also the main character of your film, but you tell a very universal story. Yes, it takes place in Alexanderplatz and Hasenheide Park, but it could have been set in any big metropolis around the world.
I hope so. We didn't want to make it too German-specific or even too Berlin-specific. The goal of every film-maker or storyteller is to tell a narrative that touches people's unconscious, no matter which culture they're coming from. When I started working on the film, I didn't see Döblin's titular Berlin Alexanderplatz as referring to any particular location. It is not about the tower, which, by the way, didn't exist at the time he wrote the novel. In the 1920s, Berlin was the centre of Germany and Alexanderplatz was the centre of Berlin. And so it is today – for me, it represents the centre of society.
What does my character want? What did Alfred Döblin's character want? They come from the outskirts of society and they strive to get inside. In a way, they want to become middle class. I see that same hunger in any outsider community, whether in Warsaw or Amsterdam, Paris or Lisbon. In that sense, Alexanderplatz is everywhere. It's the hub of a community, of a society. My character has a hubristic desire to reach it as quickly as possible.
The underground world is shown in a very detailed way. We see what goes on in the park, how the drug dealers work, etc. To what extent is this real, a document of today's Berlin? Did you have contact with people from the underworld?
In order to write a story like that, you have to be in conversation with people from the park. You also have to talk to the police, you have to check with one side whether the other side is telling you the truth. And then we talked with NGOs, we got to know political and non-political refugees, we tried to collect as many stories as possible. Because at first, a story idea for a film is only a projection. You have to fill it with some content. The more stories we were told, the richer our story got. In the first two drafts, the refugee story was much more central to the narrative. The movie started on a boat. A boat would sink, the people would end up in the water. Then we moved to land. We also had the refugees' arrival in Germany and the whole bureaucratic system at work. But finally, we realized we could not do both: we could not give all our attention to the novel if we wanted to tell the story of the refugees. We would simply end up with a clumsy narrative. Anyway, there are films that handle the subject of refugees much, much better than we would be able to – for example, Ladj Ly's Les Miserables, a tough, realistic study of a social milieu that goes deep, has style and wants to tell its story in a certain way. Because films like that already exist, we were able to take a chance and do something completely different; to make use of Döblin's novel, which is full of poetry, full of eccentricity and biblical imagery. We wanted to focus on the novel and turn it into a parable, instead of treating it as the basis for a strictly realistic movie.
Was the key to your adaptation to send your main character on Dante's path through modern hell? Even though there is also heaven in the form of his lover's apartment, as well as purgatory in the park and the hostel for refugees. Still, all roads lead to the hell that is the night club.
It wasn't our intention to divide the locations into hell, purgatory and heaven. And there are actually two night clubs in the movie. Die Alte Sehnsucht is a strip-club for men only. It is a place of highly concentrated toxic masculinity, of machoism. And then you have the Neue Welt run by a trans woman – a place of freedom, of free expression. She even has a speech in which she says: "We are the new Germans." There are different colour palettes for different locations – and also for different characters. We were trying to find a way to express the spirit of the novel visually. Our adaptation was also shaped narratively by the way our actors play their characters. And, when we made the decision to have a Black protagonist and a white protagonist, we, by chance, turned our movie into a postcolonial story; a story about the structures of racism in the developed and the developing world.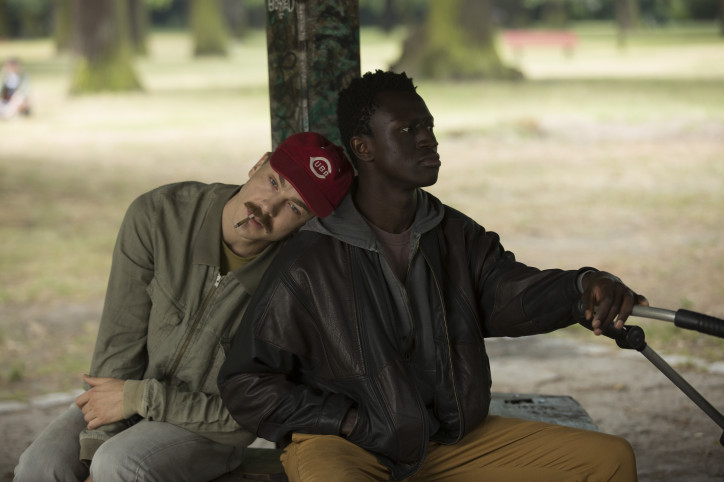 There's one important element of the novel that you kind of discard: the smallness of one man in a big city.
It is because we discarded many things. We had to focus on the things that were important for our narrative. That meant cutting away a lot of the richness, a lot of the dialogue between the individual and the city.
The city in the novel is always 'under construction', like a personality in flux. At a very early stage of adapting the novel, we realized we could not contribute to that. Otherwise, we would have to make another TV series instead of a film. Anyway, even Rainer Werner Fassbinder – who made the previous television adaptation – didn't manage to encompass the entirety of Döblin's work.
Therefore, we focused on a character who is burdened by guilt. He makes an oath to become better, and then by failing, failing, failing, dying and being reborn, he fully becomes a human being and regains his dignity. That's what we thought important. And then within that, you have this weird ménage à trois, this toxic love story between two men and a woman with Reinhold and Mieze tearing apart Francis' soul.
During the Berlin Film Festival, I saw the movie for the first time with an audience and for the first time, I thought: maybe it's also the story of a guy with post-traumatic stress disorder? He arrives in Germany having gone through the worst and having done the worst thing. Francis saved his own life by destroying another one, and he wants to be punished. So he finds someone who will punish him over and over again, until he is ready to say: "It's enough, I've suffered enough, my deed is repaid and now I can be born again." On the other hand, Mieze is telling Francis from the beginning: "I forgive you, it's OK. I'm not afraid of you, don't be afraid of yourself." Only at the very end, when he loses her, when he loses everything, is he able to understand what she meant by that. Working on the screenplay, I was much more intrigued by the devil's part – by which I mean Reinhold. Creating a character like him gives one much joy. But then I realized he, too, wants to love, and his inability to do so makes him destructive.
How do you work with your actors? Do you talk to them about their characters' motivations?
We worked with the novel. With any movie I make, I always ask my actors to write at least three pages on their characters' backstories, including their parents and grandparents, because I think we all inherit our neuroses from our ancestors. When you have this kind of foundation, you really have the character in your hands and you can play with them, you can shape them, go deeper and deeper into their emotion. The three main actors in Berlin Alexanderplatz put great trust in me; they bared their souls in front of the camera. I can imagine that for some viewers Reinhold can seem over the top and too theatrical, but I don't give a damn, because we made this decision together. Albrecht Schuch trusted me. In this weird neon world with those motifs of purgatory, heaven and hell, he truly shines and his performance works perfectly.
Albrecht is truly terrific and a demonic presence. Welket Bungué, who plays Francis, has the charisma of a blockbuster star. And there's Jella Haase, a supreme talent. How did you assemble such a great cast?
The first one I saw was Jella. I remembered her from the film Lollipop Monster. I also saw her in Kriegerin and thought she was the hidden star of that movie. Then she became famous due to some comedies and genre pictures. I wanted to work with her for a long time, she impresses me very much. Albrecht was more difficult. He was invited to audition, but it took a while to approach him. I think he was afraid to play this part because he thought he wouldn't ever get rid of it, that he would be stuck with this character. We tried to remedy that by giving him this physical deformation so that he could just shake it all off after the filming wrapped and move on with his career.
Welket was yet another story. We were casting the part of Francis for two years: we did a lot of research, we auditioned people in Germany, in the UK, in France, we even went to South Africa. In the beginning, we considered choosing some non-professional actor, someone who really worked with drug dealers, or was a refugee himself. But we soon realized this part was too complex. It would suffocate a person who was not a professional performer, because it would require grappling with too many complex and difficult emotions. Also, we needed somebody with a spark, someone the audience would care about from the start. Maybe Welket is too beautiful. But he's also intriguing. In a white world, it's good to have such a character: everyone wants to look at him, everyone falls in love with him. We found him through a Brazilian film called Joaquin, which premiered at the Berlin Film Festival in 2017. As luck would have it, Welket came to Berlin at the time we were casting, so we invited him to audition and we started talking to each other. Finally, we decided to give him the part.
The score and the music by Dascha Dauenhauer will also be a revelation to viewers.
Dascha was one of my students at the film school. I saw her talent and I gave her this project. She was extremely humble and scared, but she found the courage to do it, despite it being a huge challenge – for we are talking about an expensive movie and the burden of many expectations. She abandoned her studies. We worked with those Wagnerian leitmotifs: every character has his or her own theme. Michel Schöpping, the mixer and sound designer, turned out to be extremely helpful. He encouraged me to go harder on the mix. Some critics and viewers say that the music suffocates the movie and Dascha got some grief because of that, but I want to defend her. Everybody is entitled to their opinions, but we consciously decided to take creative risks. Dascha is extremely sensitive and inventive, she asks many musical questions without ever providing us with easy answers. To do so at her age – she's only 31 – just leaves me speechless.
Would you deal better today with Berlin Alexanderplatz and your school diploma?
Yes, now I wouldn't screw up my high school studies. But in the end that's not a tragedy. The real tragedy is the story in the movie.
Parts of this interview have been edited and condensed for clarity and brevity.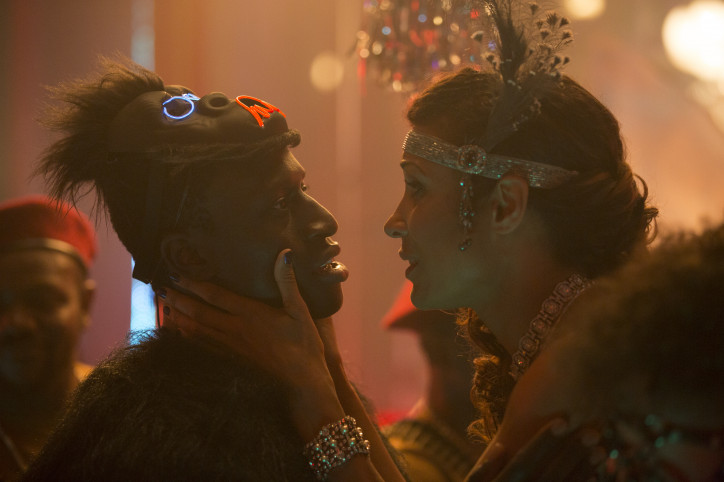 Introduction translated by Jan Dziergowski
Arranging an interview equals dozens of phone calls, hours of preparation and lots of stress. Ultimately, though, more often than not the conversations we have with our interviewees are immensely enjoyable. We hope you've also enjoyed reading this interview. Thank you for visiting our website! Please support PRZEKRÓJ Foundation.
Choose your donation