This year's Venice Biennale Golden Lion winner came from the Lithuanian pavilion. The piece in question ...
2019-09-30 09:00:00
This year's Venice Biennale Golden Lion winner came from the Lithuanian pavilion. The piece in question – an opera-performance on an artificial beach – encapsulates all the empathy and emotion that each of us might feel towards a world on its way to disaster.
Read in 10 minutes
"Sun & Sea (Marina)". The Venice Biennale 2019 Golden Lion winner, opera-performance by Lina Lapelytė (composer), Vaiva Grainytė (libretto), Rugilė Barzdžiukaitė (scenography). Curator: Lucia Pietroiusti. Comissioner: Rasa Antanavičiūtė.
In July, I go to Venice purely for the purpose of seeing Sun & Sea (Marina), as the commissioner of the pavilion, Rasa Antanavičiūtė, is a friend and my former colleague from Vilnius Academy of Fine Arts. I also know, socially, the composer Lina Lapelytė – no wonder I was curious to see their winning work. Lithuania has a rather fine track record at the Biennale, though it is only the 11th time it takes part. The magnificent Tube by Žilvinas Kempinas at the Scuola Grande della Misericordia (2009) enjoyed the international art world's praise 10 years ago, and Lithuanians altogether have won four Jury Special Mentions across the country's 11 appearances at the Biennale: for Jonas Mekas (2005), Nomeda and Gediminas Urbonas (2007), Darius Mikšys (2011) and the group project Oo (2013). But winning the main prize, the Golden Lion, one must agree, is something else.
With a few keyboard clicks, the minor discomfort of a couple hours on a budget airline flight and a delightful motoscafo ride through the lagoon, I am in sunny Venice, transported from a cloudy, pre-Brexit, anxiety-ridden London. La Serenissima is getting ready for the Festa Il Redentore – that evening the Patriarch of Venice will walk for the 427th time on a temporarily built bridge of barges from San Marco to Il Giudecca island, and there will be a tremendous street party and fireworks to celebrate the end of the plague that tormented the city until 1576 and killed around 50,000 people, including Titian.
Today, Venice is plagued by another kind of pandemic: the over-tourism, unusual even for a city that has lived off travellers and their vices for centuries. The posters promoting Venice's art treasures bear the slogan: 'Just turn around'. Someone has sprayed graffiti above this catchphrase: 'No cruise ships!', making it into: No cruise ships, just turn around. Just leave. I hate the cruise ships too, but I do not delude myself. Today I am also one of the deadly bacteria of tourism that threatens the daily life of Venice.
In the Lithuanian pavilion, there are lots of us, the art tourists. Already for several months, the Sun & Sea (Marina) opera has taken place twice a week for several hours of on-the-loop performance, but there is still a long queue. I enter the upstairs gallery that runs through the perimeter lined with observers (due to safety, their number has to be limited to 70 at a time). Beneath our feet there's a beach – under the artificial lights there is golden sand and people in bathing suits. Children play, dogs bark, women and men of all ages and shapes apply lotion, read, listen to the music, talk, eat grapes, watermelon slices and sandwiches. Life is a beach. And they break into a mesmerizing, siren-like chorus of indescribable beauty worshipping the sun. And the sea.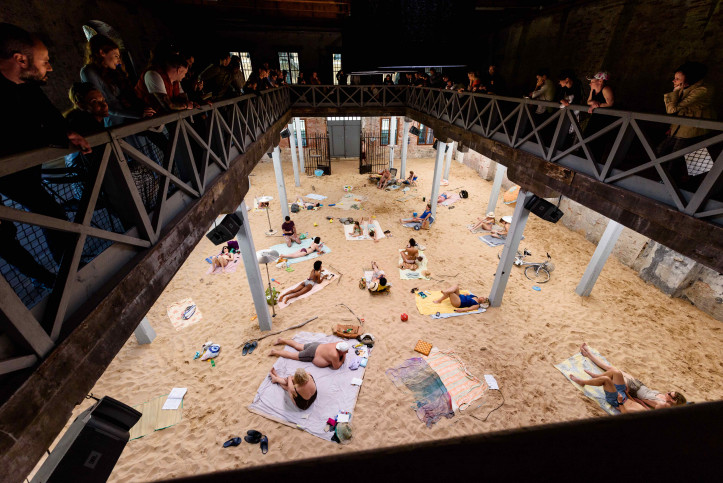 Except there is no sea. The sea, the lagoon, is behind the thick concrete walls of the Marina Militare arsenal near Celestia, where the pavilion is located. The sand is imported from Lithuania, all two truckloads, 35 tonnes of it. This was cheaper than locally sourcing Italian sand, which was coarse, grey and expensive. And there is no sun: only artificial overhead light that casts absolutely no shadows on the people on the 'beach'. One after another, the beach-goers start their solo arias.
10 minutes into the performance, I start crying and I cannot stop. I cannot stop because I see beneath me a scene that bears all the power of a Caravaggio painting; human life undressed to its very nakedness, to its very essence. It is even more naked than a Caravaggio painting – there are absolutely no shadows that could mercifully clothe the bodies. Instead, it is a mini biopsy of human existence, under a bright light like on a petri-dish; a sample of human species, unaware that that they are being observed, mistaking the microscope's light for a sun. Each aria is a micro-story. And there is an aria for each of us: for cancer patients, for philosophers, for same-sex long distance couples and for divorced embittered women, for overworked husbands and their money-spending trophy wives, for those who have ever been betrayed by a loved one (haven't we all?), for elfine adolescents and fridge-and-telly routine dependent old spouses who start to mirror each other in their habits and shape, as well as for beachbodies in love with their muscles and leathery tan. They all sing about nature, and most of us at the upper gallery tearfully sniff – probably each of us for all sorts of different reasons. I cry, because this is a mourning lament: for our life, our bodies, our world, our nature, our dust and sand, and sun, and sea, and the beach.
The elderly businessman starts his aria, Exhaustion, confessing his suppression – of emotions, of feelings and truth. He sings how all of it later, in a most inconvenient moment, erupts like lava. Like lava, like lava, like lava – goes on the chorus in a tune of ethereal beauty, contemplating all that has gone wrong with our world, beautifully, softly and gently probing the open nerve of our anxieties. Of our fear that we have exhausted nature to the extent that it will soon erupt in revenge with something terrible. A middle-aged woman in a bathing suit sings in an almost hysterical tone about emptying the house of a deceased grandmother in a village, and finding chanterelles in December in the village forest. Chanterelles! In December! Like my grandmother used to say: the end of the world – she finishes in an impatient staccato on global warming.
Like all outstanding works of art, this one is both earthly and metaphysical, intellectual, tangible and impalpable at the same time. Like many of the Old Master works, you look at it, and then you suddenly realize that it is about so much more than you thought at the first glance.
And it is full of something that contemporary art for many years was sort of ashamed of. Revered and prize-winning works of art had to be cool, perfectly calculated, engineered, rational and striking with their refined message.
Sun and Sea (Marina) is, of course, all of the above.
But it is also full of the thing that many artists deliberately avoid nowadays: emotion.
It is full of raw emotion, but it is not sentimental at all.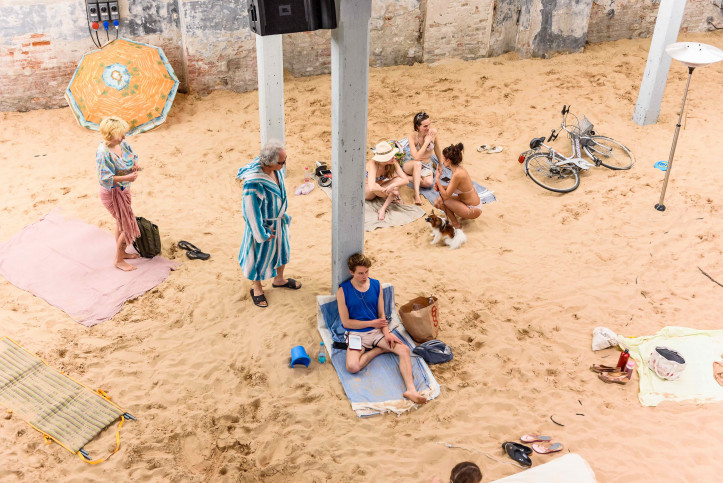 When I meet Lina Lapelytė after the performance and we sit down holding coffee cups under a tree chirping with cicadas, with a huge black submarine in the background, she tells me of the trio's teamwork, which started in 2009. The method for the composer, writer and scenographer (though they are all polymaths) is always a lengthy debate – all three of them have to unanimously agree on absolutely every aspect of the work, to be completely sure ("And, believe me, it was by no means a smooth process," sighs the comissioner Rasa Antanavičiūtė rather tellingly later on, as she rolls her eyes). "The theme of the beach was chosen because it is still a place where the most different people come to experience something equal – to enjoy the sun. In a swimsuit, they are stripped of their status. In a way, it is like – imagine – meeting your professor on a nudist beach. There is this strange tension when the status signs are stripped off. The beach itself is like a blank canvas, in a way," explains Lina Lapelytė.
This trio of polymath women took to a blank canvas. Rugilė Barzdžiukaitė (who studied as a cinema operator and theatre director, but is now known for her films, notably 2018's Acid Forest), Vaiva Grainytė has a diploma in theatre criticism, but is widely known as a poet, travelogue writer and synologist (her Peking Diaries was shortlisted for the Book of the Year in Lithuania; her poetry book, released this year, is already making waves), and composer Lina Lapelytė says that the visual element in her music is as important as the sound (no wonder she was creating music for Marina while participating in an art residence at Ujazdów Centre of Contemporary Art in Warsaw). Has the fact that all of them are women had any impact on the result?
"I can only speak for myself," says Lina, "and I strongly believe that alternative forms of coexistence in society are possible. Coexistence that is not based on hierarchy or power, but on collaboration and embracing the differences. And this is not possible without empathy. Possibly this way of thinking is a female trait."
Unabashed empathy and emotion has resulted in the Lithuanian pavilion – which during the first opening week was often performing to a near empty audience – soon bursting with visitors. Word of mouth has spread and queues have formed. The most fiery art critics have been wiping their eyes. "The work that made the art world cry"; "Our ticket to the end of the world […] this astonishing performance slides into almost unbearable pathos and pain," wrote The Guardian. "The opera often twists its metaphorical knife," concluded The New York Times.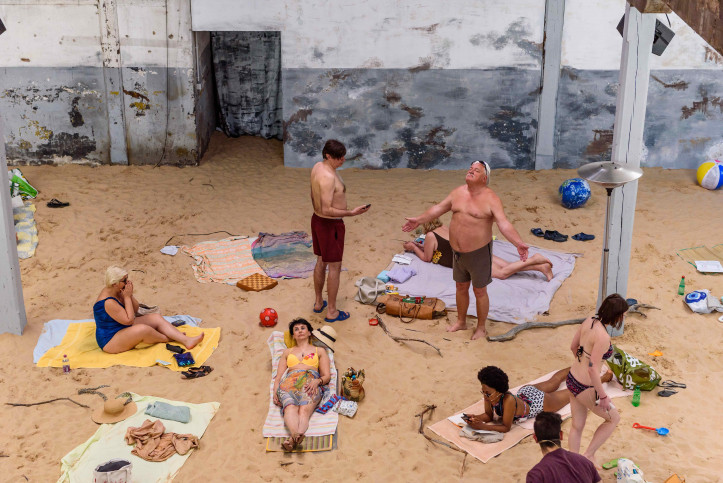 When I meet the comissioner Rasa Antanavičiūtė several weeks later in Vilnius, she talks about making it happen – down to the minuscule details that had to be implemented on foreign soil, on the Adriatic shore. And how the sudden fame, the prize and the focus of the whole world presented an acute problem of funds: how to carry on with the performances until the very end of October; how to still make the work available for visitors from the whole world. How they had to engage with unplanned, nerve-racking fundraising, how they still struggle, and how they are going to resolve the recycling of the imported pristine Lithuanian sand, all 35 tonnes of it (it will most likely end up filling children's sandpits in Italy). As we speak in our native Vilnius, the Lithuanian news headlines feature a different main topic: the Astravets nuclear plant, built in Belarus, 50 kilometres from the UNESCO World Heritage listed Lithuanian capital, which, if things go wrong, could create another Chernobyl-scale (if not larger) disaster that would require the evacuation of the whole of Vilnius, turning it into a ghost town. How the Belarusian authorities decline to comply with international safety checks and to fix the faults identified by the European Nuclear Safety Regulators Group (ENSREG). How the safety issues might be so fundamental, that the question of an accident happening is 'when' rather than 'if'. The news soon follows that the Lithuanian government has bought four million iodine tablets to give to citizens in case of a nuclear accident at the nearby Astravets. I catch myself thinking about the Italian children's sandpits and of Rasa's children, and of the water of the river Neris (Viliya) that will be used to cool the reactors, silently flowing afterwards through the centre of Vilnius.
While I do so, some other international news headlines pop up on my mobile phone, informing me that from autumn 2019 cruise ships will be diverted from Venice to other ports. What a relief. Plagues subside, ships can be diverted and over-tourism controlled, some environmental damage can possibly be reverted, our carbon print and our recycling sins can be repented and reduced. But what an irony, that the beautiful capital of Lithuania – the country that gave this year's Venice Biennale Golden Lion winners; the artists that made the art world cry and gave them 'the ticket to the end of the world' – is at the very real risk of becoming extinct too. Will it have to be printed in 3D, like the extinct corals that one of the opera arias mentions?
Sun and Sea (Marina) is on until the end of October 2019. The launch of the nuclear plant in Astravets is scheduled in autumn 2019, 50 kilometres away from Vilnius. Hurry to see them both – the Lithuanian pavilion at the Venice Biennale and the capital of Lithuania – while you can. You have got a ticket to the end of the world, after all.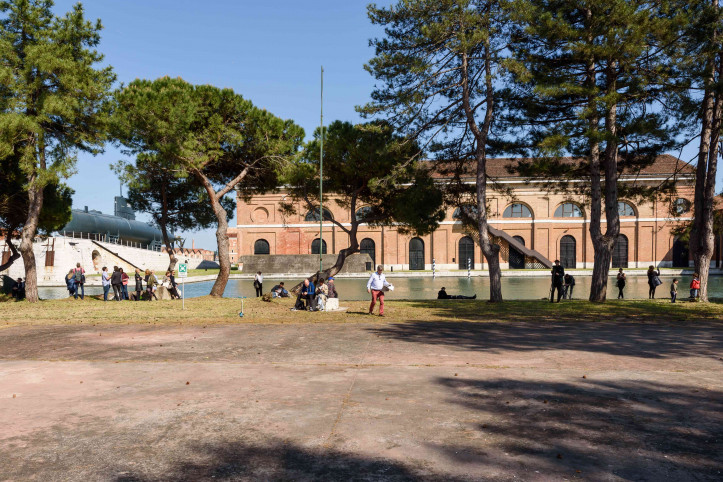 © Kristina Sabaliauskaitė, 2019
A high five for "Przekrój"? Or maybe a ten? By supporting PRZEKRÓJ Foundation, you support humour, reliability and charm.
Choose your donation