Artur Kornel
is a Silesian who was born in 1987 in Chorzów, and now lives in Warsaw. He travels, reads a lot, and has lately been doing more and more writing. He's an anarchist who loves garage concerts and stormy discussions that last until dawn. From 2013 to 2017 he was on the editorial staff at "Gazeta Mysłowicka", where he wrote a column about Upper Silesia. His personal interests include the impact of technology on society, and issues affecting the future, such as artificial intelligence, cyborgization, and transhumanism in the widest sense.
Czytaj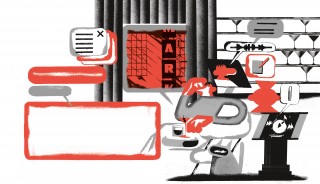 short story
The Model Worker
Reading / literature
In the near future, work has become fully automated. Humans spend their days doing whatever they like, helped by robots. Nonetheless, for Wili, something is missing… A short story set in Warsaw.