Michał Woroch talks about his plans to trek the Himalayas in a wheelchair, his previous adventures ...
2020-01-10 09:00:00
sports
Michał Woroch is a traveller, photographer and motivational speaker. He has visited Mongolia, India, Spitsbergen, and driven from South America to Alaska in an off-road car. Currently, he is preparing for a trekking trip to the Himalayas. Michał suffers from spinal muscular atrophy and is a wheelchair user.
Read in 8 minutes
Wojtek Antonów: You have recently returned from Zakopane, where you tested an all-terrain vehicle, designed especially for your trek 'Wheelchairtrip Himalayas Challenge 2020'. How did it go?
Michał Woroch: I went there with my heart in my throat. I have been thinking about this expedition for a long time, and I wasn't sure if I would really be able to use this kind of vehicle. But after having spent all day out there, driving on the uneven terrain, hills and fields around Zakopane, I felt confident that the vehicle is reliable enough to make a trip possible like the one I'm planning! The vehicle opens up completely new possibilities of independent movement for disabled people in the mountainous terrain, making our plan actually feasible.
The vehicles we have been testing are prototypes. The machines we will take for the Himalayan trip will be based on them. The construction was designed by Bartosz Mrozek from Zakopane, who wants to use electric vehicles to make it possible for disabled people to go on at least some of the mountain trails. Bartosz is an incredibly energetic person. His greatest passion used to be paragliding, but after an accident, he ended up in a wheelchair. But it didn't dampen his love for extreme sports. Every winter, Bartosz goes skiing on a special ski, and in the summer, he flies gliders and rides four-wheeled bicycles.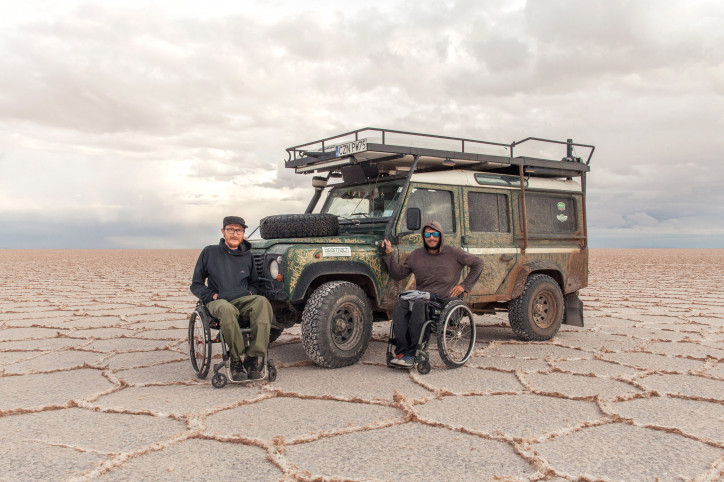 You also invent your own tools and devices to help you make your dreams come true.
When I was invited for an expedition to Mongolia in 2008, I found out that the last stage of the trip would require me to ride a horse. I had to learn how to do it. The first attempts were an absolute disaster. I needed two people to put me on a horse's back, and there was no way I could sit in the saddle on my own. So I started thinking about designing some kind of harness to fasten myself to the saddle. The prototype was made out of car seatbelts, nautical ropes and an old fire hose. In theory, everything was supposed to work. I say 'in theory' because I didn't have the time to test the harness before the trip. It was going to be my first proper expedition, so I wasn't going to give up.
To reach our goal and reach the Caatan people about whom we were going to make a documentary, we had to travel on the Trans-Siberian Railway for five days, then another five days driving, and after that, three more days on horseback. Luckily, the harness worked, and I was able to spend almost 10 hours a day in the saddle. Of course, there were some inconveniences I only discovered later; after all, the proof is in the pudding. It turned out I hadn't taken into account that there would be no way for me to control my legs, and they would just hang loosely on both sides. This resulted in very painful groin strains, but on my way back, I corrected the harness setup, making the inbound journey much more manageable. The fact that I got to participate in this project and managed to reach an extraordinary tribe of people living in a desolate corner of Mongolia made me believe in a lot of things. However, I didn't even realize it until several months after I got back home.
When you wrote on an online forum that you want to travel across South America, everyone thought it was crazy. Impossible for a disabled person.
The classic Land Rover Defender 110 was my idea of a perfect off-road car for us to cross the continent. But I did not realize the amount of work it would require to prepare it for this kind of expedition. We had a limited budget, so I had to buy a second-hand car. To say it wasn't in great shape would be a bit of an understatement. When I published a post about our plans in one of the Defender fan groups, the online community reacted with a complete lack of understanding. Dozens of comments appeared under my original posts, almost all of them adamantly insisting we had no idea what we were getting ourselves into. When reading them, I just wanted to switch off my computer and forget all about the project.
But step by step, I kept gaining the knowledge we needed, and most importantly, I met amazing people who made it possible to prepare our car for the trip. And even though it took a long time, our weary and battered Land Rover finally got transformed into a vehicle to take us on the journey of our lives, equipped with all the facilities two disabled madmen might need on their way across two Americas.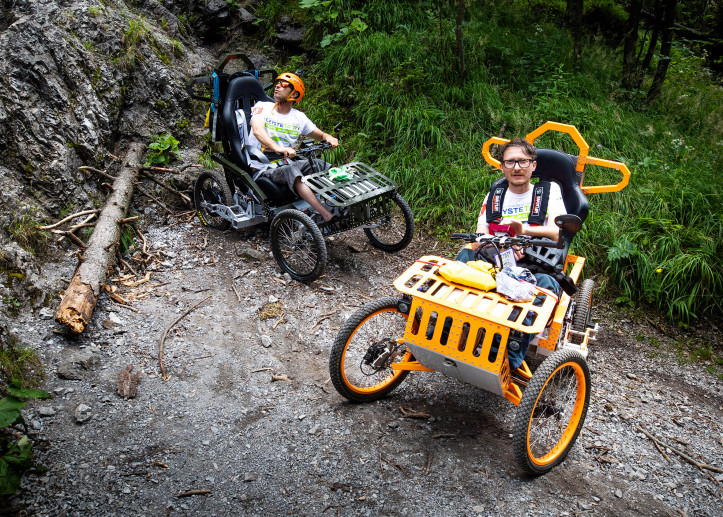 You spent almost a year on the road. How did you manage to find a partner who would agree to such lunacy?
I have known Maciej since we both ended up in hospital. I was there because of my progressing spinal muscular atrophy, and he ended up on a wheelchair suddenly, after having had a tumour removed surgically from his spine. We were both 17 at the time, and we met at the most challenging moment of our lives. We were negative about everything. And this shared difficult experience became a starting point for a unique friendship. Before we knew it, we were already swapping ideas for our future projects together.
For our first trip, we travelled around Europe. We crossed almost the whole continent in our old van and… well, it was hard. Instead of enjoying the trip, we kept beating ourselves up, thinking of all those things we could not do: going down to the beach, partying with other young people. Only after we came back, I realized we'd had the wrong attitude. Because after all, it was an amazing adventure – two guys on wheelchairs, driving across Europe on their own. I wanted to experience this feeling again, to be on the road. That's when, together with Maciej, we conjured up this new idea – Land Rover, America – and off we went again.
The trip across the Americas brought you a Kolos, the most prestigious Polish travellers' award. How did you feel about receiving such an accolade?
When you travel, you don't think about awards. The most important thing is to have the right feeling in your heart, to see your goal clearly, and the rest is just the road. Our trip was a cure for the soul. Despite spending most of our time inside a car, we felt free. Those 371 days were our grand adventure, our pursuit of a goal we set for ourselves, despite our physical limitations. It was the only way for us to achieve absolute freedom. I was happy to see the jury appreciated our effort, even if I was not strong enough to pick up the statuette.
You wrote about your trip, your adventures, the moments of wonder and the challenges in a book Krok po kroku. Z Ziemi Ognistej na Alaskę [Step by Step: From Tierra del Fuego to Alaska]. Was it your next independent project?
I decided to publish my book without a publishing house, and I found it to be a very interesting experience. It gave me full control over the final version of the book. Of course, I did have editors, but I did the lion's share of the work by myself. The book can be bought on my website at www.wheelchairtrip.com, or received in exchange for a bag of litter. The 'Book For Litter' initiative is a fantastic project by Ania Jaklewicz. The rules are very plain: take part in your local litter-picking campaign and exchange the rubbish you've collected for a book of your choice. Mine is one of the books on offer.
Your disease is progressing. Is there any way to stop it?
Before the trip, I was warned that if I increased my level of physical activity, it would accelerate the process of muscular atrophy, which is happening anyway. The difference is noticeable. I used to be able to do certain things on my own, such as getting on my wheelchair without help. Now, it's no longer possible. But I don't regret it. The trip gave me so much joy and freedom; it was worth the price I had to pay.
Since recently, a new medication is available that prevents the disease from progressing. It is on the list of drugs subsidized by the public healthcare system in Poland, which makes it much cheaper to buy than it would have been otherwise. I have been involved in the campaign to make this drug available to every person in Poland suffering from spinal muscular atrophy. There are no more than a thousand of us in the country. The process of receiving a subsidy is very complex and takes a lot of time, and time is a vital resource in our fight with this disease. Right now, I will have to wait for two and a half years to receive the medication, even after the national health service officials decide to subsidize it for me. Unfortunately, it's a long time during which my disease can become even more severe, which is why I believe there is still a chance for the regulations to be changed for the better.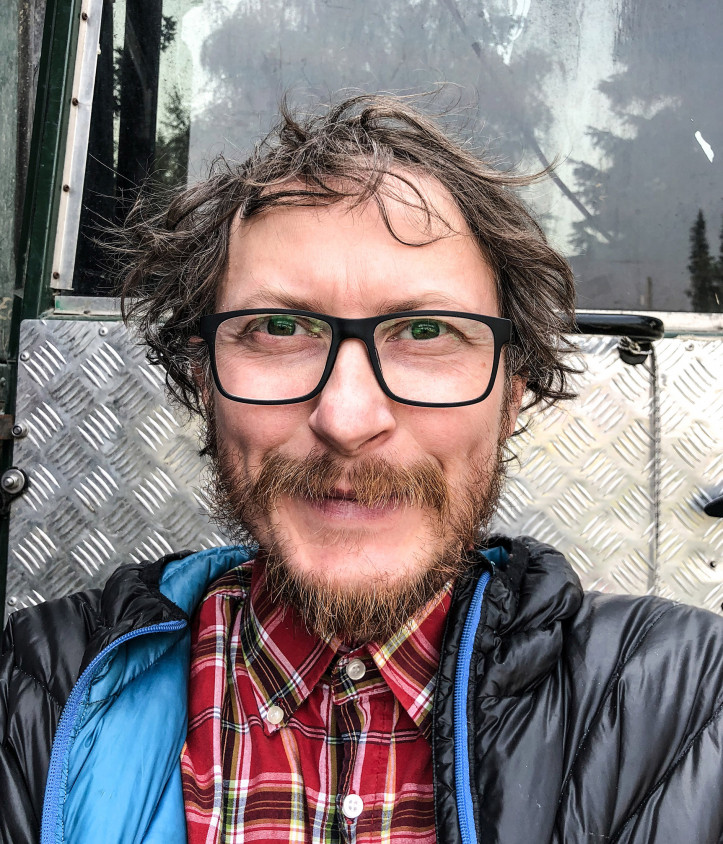 What kind of challenges await you in the Himalayas?
We are planning to complete a trekking route around Annapurna, called the Annapurna Circuit. The highest place we are going to climb is the Thorong La pass, 5416m above sea level. It's about a 200-kilometre journey that takes an experienced hiker 18 days to complete. How long it takes us, we will have to see. As far as I'm aware, no wheelchair user has even tried to do it before. Groups of disabled hikers who went on to complete this route always had sherpas with them to help. Of course, it is impossible to cross such terrain in a wheelchair. The Land Rover won't be able to get up there either. Our special all-terrain vehicles are our only hope. If we can have them made exactly the way we want them to work, we will try to make the entire trip without any help, even though it surely won't be easy. Physical exertion at such a height can be strenuous even for a healthy person, but of course, I expect Bartosz and I to handle all the obstacles on our way.
Right now, it's still a long way before we get to Annapurna, and trekking in the Himalayas will be the very last part of that journey.
A high five for "Przekrój"? Or maybe a ten? By supporting PRZEKRÓJ Foundation, you support humour, reliability and charm.
Choose your donation