In the 1960s, an attempt was made to create the perfect children's home in Amsterdam. Today, there ...
2020-03-17 09:00:00
"What I expect of you, sir? Perhaps I should rather tell you what I don't," said the headmaster to the architect. "I do not want a large, oppressive building, whose size and form would make children feel locked up and separated from the world. I wish for the exact opposite!"
Read in 8 minutes
The word 'orphan' evokes sympathy. 'Orphanage' and 'group home' ring even sadder in our ears, as our imagination conjures visions of a big gloomy house with long, dark corridors and dull, institutionalized discipline. However, there are some exceptions. In mid-20th century Amsterdam, two visionaries – progressive educational psychologist Frans van Meurs and unconventional architect Aldo van Eyck – created a home for children that was revolutionary in its difference from the orphanages that came before it. Both gentlemen believed that nobody deserved a careless and happy life as much as children did, and they decided it was necessary to do everything in their might to create such an environment for the young ones.
The wisdom and principles embedded in the building's structure forever secured its place in the chronicles of world architecture, but also made it clear that design for children requires us grown-ups to approach the whole process differently. But let's start from the beginning.
From a playground…
In Dutch culture, children appeared as an artistic motif as early as in the 16th century. Great painters portrayed their games and pastimes, but also included little ones in many genre scenes as participants in their own right. Pieter Bruegel's Children's Games and Winter Landscape are great examples. This genius loci didn't seem to leave the Dutch over the centuries: World War II had barely ended when Amsterdam's city council decided not only to invest in the rebuilding of the city, but also in quite original (for those times) accommodation in the wasteland areas, turning them into playgrounds. It was Aldo van Eyck who came up with the idea. The architect had just got a job in the city office, and over the course of the next 30 years, helped to create over 740 such playgrounds! The idea was as straightforward as it was revolutionary: use unconventional yet simple materials and uncomplicated structures to revamp unkempt patches of land. He went for installations made of steel pipes, sometimes in the shape of an igloo or a cone, plain geometric sandboxes, pyramids made of concrete steps…
Viewed from today's perspective, van Eyck's playgrounds might seem unrefined, if not ascetic in their design. However, the architect believed children need not be overly relieved of their imagination: "An aluminium elephant is not real; an elephant should move, and when it's just a street object, it becomes unnatural," he insisted. And that's not all. A decade after the war, van Eyck once again went for the most basic forms to design a building that would be considered the best in his entire career.
…through a certain headmaster's visit…
One day in 1954, Aldo van Eyck came back home to meet a stranger talking to his children. It was Frans van Meurs, headmaster of an Amsterdam orphanage; van Meurs came from a working-class background and was an orphan himself. He paid van Eyck a visit in the hope of convincing him to build a new home for his pupils; after a careful inspection of van Eyck's playgrounds, the headmaster was certain he would not find a better candidate. "What I demand of you, sir? Perhaps I should rather tell you what I don't," said van Meurs to the architect. "I do not want a large, oppressive building, whose size and form would make children feel locked up and separated from the world. I wish for the exact opposite. A friendly, open house with whimsical outside form and cosy, thoughtfully designed interiors to make the children feel at home, safe and sound. No endless corridors for my little ones to get lost in!" he exclaimed.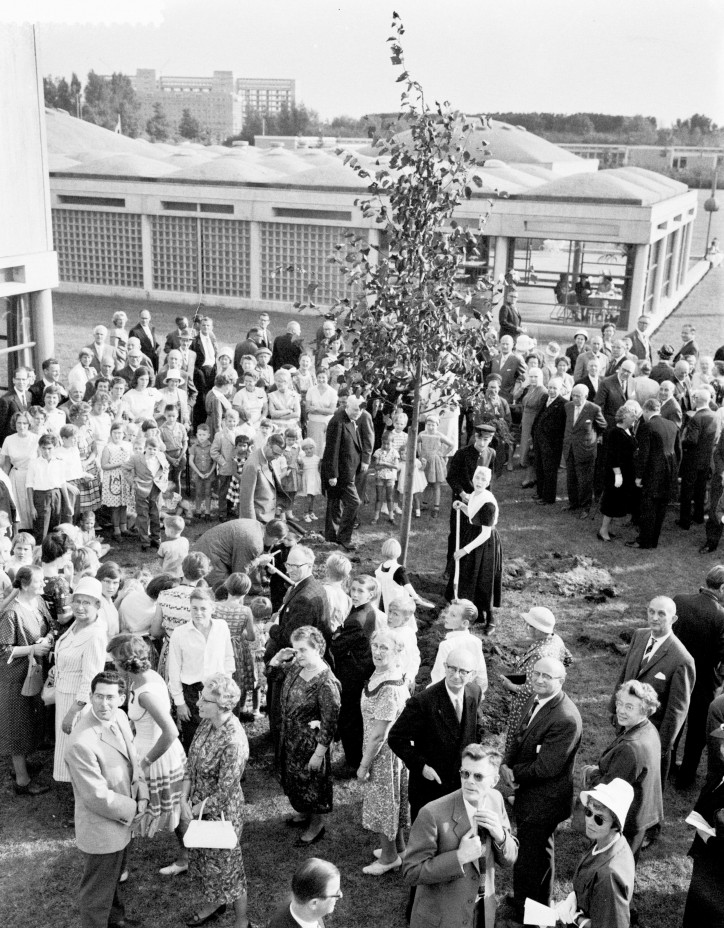 The house was supposed to be made of different parts, separate for each age group, but still making a whole. For van Eyck, such requirements were a perfect challenge. He came from a generation of subversive young architects who, after 1945, openly criticized the post-war city restoration model based on modernist dogmas. In their opinion, such an extremely functionalist and mechanistic approach was devoid of humanist values, as well as boring, repetitive, and unable to give people a sense of belonging to the place. No community could grow in a place like that, and no child could ever feel welcome there. Van Eyck wanted to design architecture that didn't care as much for buildings as it did for the relationships made within their walls.
…to a house like an American pueblo…
Five years later, van Eyck's job was done: he created a building of utmost innovation. It had no front, no back, no centre. No hierarchy whatsoever. A tiny settlement for the youngest citizens. The building had just one floor in most parts, and was so horizontal that it seemed to go on and on, forever. Viewed from above, it looks like a geometric bunch of grapes, made of Tetris blocks. That's because the whole design was rigorously based on a modular square grid made of units measuring 3.3×3.3 metres. The architect multiplied the squares until he had 327 of them, grouped them into clusters, created segments of various forms and shapes, setting them up in such way to fashion yards, paths and crossroads between them. In order to connect all the segments of the building, van Eyck came up with two main arteries inside the building that ran through it diagonally. He set up small benches on the side of each path, set up wall lights, and paved the floor with stone tiles. Look at that, a proper corso for children!
The outside of the building is no less interesting. Van Eyck finished each square with a small dome, flattened at the top. Thickly clustered, the squares look exotic, almost like small sand dunes. This makes the whole building reminiscent of an Arab casbah from North Africa. That's no coincidence, either. Ever since he was a student, Aldo van Eyck had been interested in the settlements of African tribes and in American pueblos. He considered those thickly-built spaces incredibly valuable, with their tiny narrow alleys and squares thrumming with social life. The architect believed – just like the Renaissance architect and theorist Leon Battista Alberti – that a house should work as a small city, while a city should function just like a large house. He believed in merging the qualities of small and large spaces, narrow and wide, private and public, cosy and representative.
…full of secret corners and hidden passageways…
According to van Eyck's project, the building was supposed to house 125 children in eight age groups. Each group had a separate segment of the building to inhabit. The segments of the youngest groups had closed yards and bedrooms located near the playrooms. In order to provide older children with more privacy, their segments had an extra floor, and the yards opened to a vast common lawn. It's also worth mentioning that van Eyck went for an absolutely innovative solution and designed different equipment for each age group. And so the oldest girls (14–18 years old) had their own cooking table, while boys received a puppet theatre. In the common room for the youngest children stood a small pyramid made of stairs, so the little ones could climb it and see the world from a different perspective.
The house was also full of various custom-made structures and furniture, all based on the primary geometric shapes, just like van Eyck's playground equipment. He went so far as to design some doors small enough only for children to pass through. On top of that, the house was full of hidden places and secret passages.
The man was crazy about details like that; it was further confirmed by Georges Candilis, a French architect of Greek descent, whom van Eyck took there for a tour on one occasion. To Candilis's perplexity, instead of discussing the building's main concept and plans, van Eyck kept pointing out completely different features. "See this?" van Eyck exclaimed, "It's a very important place. The boys can hide here and smoke cigarettes!" A bit further down the corridor, he pointed at several mirrors, placed on the floor. He installed them there so the boys could look up the girls' skirts…
…that is, everything in one place!
When the orphanage opened, modernism triumphed, and glass skyscrapers were sprouting everywhere around – those symbols of the new capitalist dominance of big concerns. And yet, van Eyck's building turned out to be a sensation, and its pictures took architecture magazines by storm. And for more than just one reason.
First of all, the world of architecture finally noticed its youngest users. Never before had anyone committed to such a feat of creating a space meant specifically for children, in which they could live and play, rather than just struggle to survive. Second, the orphanage was a meeting place for a number of various philosophies of space-shaping and construction. The base squares, made of pylons and beam structures, could be analysed from the perspective of classic proportions. Many parts of the buildings were prefabricated, which shows that despite his criticism of modernism, van Eyck did not mind using the technological advantages it offered.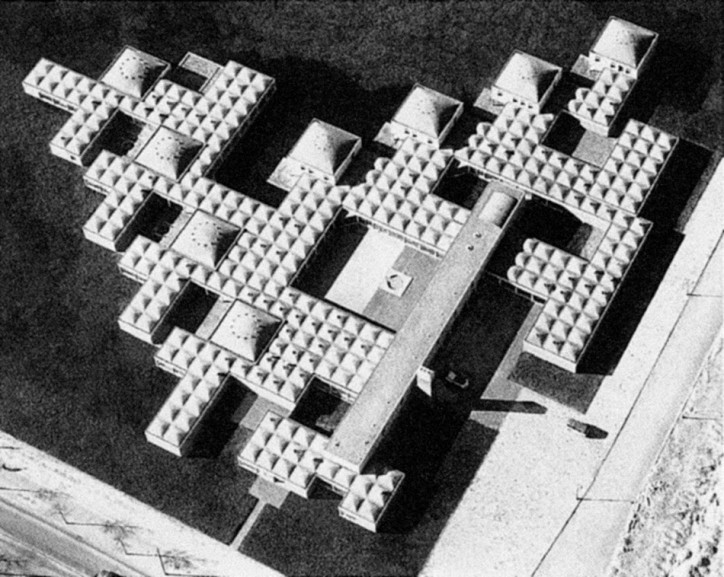 It was also noted that the lack of hierarchy in van Eyck's space and the blueprint itself brings to mind linear compositions of the Dutch avant-garde from the turn of the century. Another important source of inspiration were historical settlements and towns, built by indigenous peoples. In a world where Western technology was becoming prevalent and ruthlessly dominant, there was a man capable of seeing how much we can still learn from a legion of nameless architects from the past. And the result was not some historical pastiche, but a thoroughly innovative amalgam of styles, in which mutually exclusive canons found harmony and became a syncretic entity. All in one!
Children grew up, the idea remained
I visited the building in early autumn. I learned that the orphanage stopped fulfilling its former role in the late 1980s. The children grew up, and the orphanage system in the Netherlands was gradually brought to an end. Today, abandoned children go straight to adoption or foster families. The home was closed, and developers soon caught wind of a great opportunity to take over the very attractive plot of land. But when a decision was made to demolish the building in the early 1990s, an avalanche of protests soon arrived, signed by architects from all over the globe. Eventually, the city council gave in and entered the orphanage in the register of historical monuments, but for the next decade, parts of the building were rented to various companies that did not take proper care of it. The house was decaying. Interestingly, some of the interiors were already destroyed after 1968, when the new generation of educators took over the orphanage and decided some of the equipment and decorations were too authoritarian and go too far in defining the children's future social roles.
Only in 2014, the whole building was rented out by one company to set up its office here; a developer company, no less, as coincidence would have it. Still, the house was renovated with utmost care for detail, leaving one room to serve the initial idea of the edifice. It features models of various segments and designs that were impossible or pointless to restore since the building serves a completely different purpose today. But despite the change, the orphanage remains impressive thanks to its innovative approach. Perhaps the idea of creating homes as little cities for children is so universal it could work for adults, too?
During my work on this article, I used the following books: Aldo van Eyck: Humanist Rebel by Liane Lefaivre and Alexander Tzonis; Aldo van Eyck's Orphanage, and Aldo van Eyck: The Shape of Relativity by Francis Strauven, and Aldo van Eyck by Robert McCarter.
Translated from the Polish by Aga Zano
A high five for "Przekrój"? Or maybe a ten? By supporting PRZEKRÓJ Foundation, you support humour, reliability and charm.
Choose your donation