In 2019, a Nepalese man set off on 'Project Possible' – a plan to ascend all 14 eight-thousander ...
2020-02-15 09:00:00
Even the Chinese regime had to give in when faced with the power of his dreams. Beaming optimism, the Nepalese man was the only person allowed to climb Shishapangma in Tibet. This mountain was the last to surrender, and he conquered all the 14 eight-thousanders of the world, in record time at that.
Read in 12 minutes
The conditions were far from perfect until suddenly, the weather turned gorgeous. Through the early hours of Wednesday 22nd May 2019, the weather cleared around Everest, the highest mountain in the world. Gentle wind, snow falling lightly, clear skies. Everyone wanted to climb it at once. Everyone meaning the 200 climbers holding Nepalese permits, and the more than 100 guides and Sherpas who were assisting them. All these people had been waiting for more than a dozen days for such a chance. To many, it was their life's dream, one that cost them dearly. Nobody was going to give up, and there was nobody on Everest to control such a large crowd, driven by a dream this powerful. Out of 59 connecting officers (appointed by the Nepalese government for obligatory positions in order to control the traffic and situation on the mountain), only five arrived at the base. None of them wanted to go any higher. They were unacclimatized government officials who struggled with heights and had only theoretical skills at their disposal. And they were the ones who were supposed to stop some groups from going up and to clear the traffic on the vertical route.
Not many experienced hikers were climbing Everest that day. Most of them were amateurs with varying levels of mountaineering experience, and guides – an increasing number of whom were ill-prepared and not familiar with conditions in the death zone. The fierce competition between travel companies that help the tourists go up has lowered the standards for safety and organization alike. At 8000 metres and above, helping people is extremely difficult, if not impossible.
In May each year, sports and commercial climbers rush to Everest, but this last season was a record-breaker, with a total of 381 permits issued, each costing $11,000. This means 807 people reached the summit, including Sherpas and guides. And 11 of those people – twice as many as in the previous years – never came back down.
Clogged Everest
After several days of snow and wind – which had made earlier departures impossible – on Tuesday 21st May, Sherpas managed to reinstall handrail ropes, previously torn down by strong gusts of wind. Good conditions were supposed to last for a day or two.
They left before dawn. Among others was Nirmal Purja, a 30-year-old Nepalese man, now known as Nims; a tireless superman, always smiling and ready for the toughest challenges. However, back in May, almost nobody knew about the daredevil dreamer who had decided to climb 14 eight-thousanders in seven months. Unthinkable. The fastest previous successful attempt took seven years, ten months, and six days (shattering the previous record of Kim Chang-ho from South Korea; the Pole Jerzy Kukuczka took a month and a week longer than that).
On that fateful May morning, Nims got stuck in the line just below the Everest summit, along with many others – in the place where the air contains just one-third of the oxygen humans need to survive. As mountaineers often say, in that place, "everything is out to kill you", and "primal fear" is trying to drag you back down. The climbers spend as little time at 8000 metres as possible, including just a few minutes on the very top. But on 22nd May, there was no chance for a fast descent. The path got clogged by a vertical obstacle at the so-called Hillary Step, and the line was so long that people had to wait for as long as several hours – queuing for their dream in the death zone.
Nims reached the summit at 5.30am. During his descent, he stopped, turned around and snapped a photo that went from his Instagram straight to the first pages of the New York Times, Washington Post, and all influential media outlets in the world. It was a view towards the queue that was crawling up, all the way to the 8848-metre summit. The stream of red and orange jackets contrasted sharply with the snowy mountain crest. Nims estimated that there were about 320 people up there, surrounded by the blue sky and just a bit of snowy mist carried by the wind.
It was a photo of the last-stage intemperance of the Homo sapiens species. The image was particularly well-timed, too, since Nims took it in the same year as when a certain teenage girl from Sweden helped to awaken global awareness about the climate crisis. While millions of people across the world were out on the streets protesting against the destruction of our planet, thousands were assaulting the most inaccessible and pristine areas of the globe. In his photograph, Nims managed to capture the spirit of our times – we are entering the third decade of the 21st century as a species that has no self-control. We consume objects, phenomena and experiences greedily and with no regard for common sense, to our own demise. On 22nd and 23rd of May, five people died while climbing Mount Everest. The mountain was not picky in choosing its victims. An American pensioner, a young Irishman, a Hindu couple, and an experienced Nepalese guide all lost their lives.
Three summits in 48 hours
Later, in an interview with the New York Times one of the climbers described the conditions by the summit as "zoo-like" and "chaotic", people urging each other to go ahead, pushing through the crowd. Nims had his own reasons for watching the clock. The first stage of his dream, which he called 'Project Possible', involved ascending three neighbouring eight-thousanders: Everest, Lhotse and Makalu, in just two days. Despite his tight deadline, seeing the traffic grow Nims stayed on the mountain with his Nepalese companions, and spent an hour and a half directing traffic by the summit. He controlled the people and their emotions. And while he was there, nobody died.
The disruption did not stop him from crossing the South Col and reaching the top of Lhotse on the same day at 3.45pm, before flying to Makalu base by helicopter. From there, he climbed the mountain in one go, without camping. All of it took less than 48 hours from his departure at the Everest base. This way, Purja managed to beat his own record; previously, he had climbed those three summits in five days. Makalu was the sixth eight-thousander Nims had taken on since 27th April when he started Project Possible. First, he climbed those considered more difficult: Annapurna, Dhaulagiri and Kangchenjunga.
In order to reach the top of the world, Nims sold everything he owned and took a massive loan. When he descended to the Makalu base and safely completed the first phase of his project, he did not have a single rupee to continue his adventure. The dream was hanging by a thread. And most likely, we would have never heard of it if not for the fame he suddenly gained thanks to his photograph of the besieged Everest summit. Everyone wanted to know who took it.
Ghurkha turned mountaineer
It's not easy to explain who Nirmal "Nims" Purja really is. First, because a dozen or so years of his life remain shrouded in mystery; second, because he has some superhuman qualities. But let's start at the beginning.
Nims was born in Nepal, but not in the heights, like many courageous Sherpas who help visitors to climb the mountains of the Himalayas and the Karakoram. As if by irony, his life began in the low-lying town of Narayanghat, just over 300 metres above sea level. Since childhood, Nims had dreamt of following in the footsteps of his father and two older brothers by joining the elite Ghurkhas – the special military forces of Nepalese soldiers, formed by the British Empire back in colonial times. In 1814, the British tried to colonize Nepal and, having failed, were so impressed that they invited the local fighters to join them as irregular forces. To this day, Ghurkas are respected and admired not only for their gallantry, courage and skills, but also for their exceptional ethos. They come from long lines of north-Indian brahmins and aristocratic clans of Rajputs. During both world wars, they fought on the British side in Asia, the Middle and Far East, and Africa. Once the British armies left the subcontinent, some of the units joined the Indian army, but many preferred to serve in the Ghurkha unit of the British Army, stationing in British Malaya, Singapore and Great Britain. They fought in the Falklands and the Balkans, and secured the transition of Hong Kong under Beijing rule in 1997. According to international law, Ghurkhas are considered soldiers and not mercenaries.
Nirmal Purja joined the Ghurkhas in 2003. The recruitment process took a year. He was one of 350 people accepted out of 30,000 candidates. Purja often says that he is immensely proud of his service in the Ghurkha army. Six years later, Nims transferred to the Special Boat Service, a British special marine unit, where he spent another decade. Over that time, he took part not only in combat but also in rescue missions. His experience in rescue operations would prove exceptionally important for his later accomplishments, for Purja does more than just climb one summit after another – he is also known for following an immaculate moral code in the high mountains.
When retired, follow your heart
Nims had dreamt of climbing Mount Everest for years, but he knew nothing of mountaineering. He flew back to Nepal for every holiday to see his family. During one trip, he went to Namche Bazaar, the largest town in Khumbu Pasanglhamu, where trekking and climbing routes for the highest mountains begin. Nims was walking with a Sherpa when suddenly he saw the imposing outline of Ama Dablam (6812 metres above sea level). Ignoring his guide's protests, he decided to climb it. He bought crampons, took a quick lesson in using them correctly, and less than 24 hours later, he was on top of the mountain. Overwhelmed and happy, he did not yet expect that soon, mountains would become his entire life.
Two years later, he attempted to ascend Dhaulagiri (8167 metres). During that trek, he discovered that his body has some particular qualities, adapting to heights very quickly and easily, with no loss of endurance and strength. This was a breakthrough. From that moment onwards, he would spend every moment outside army service in the mountains. In 2017, Nims climbed Everest, Lhotse and Makalu, after which he retired, deservedly so, and with a generous pension package to see him off.
And yet, the man was restless. He cleared his bank account to pay for plane tickets, equipment, permissions and Nepalese companions to climb with him. He sold his house in the UK, took a loan, and began preparations for Project Possible. Asked what was driving him, he said: "I went into the army not for the money, but purely because I wanted to serve in an elite unit. Now, I follow the same rule; I go where my heart tells me to go." This is how Nims always talks: simply, joyfully, with pure intentions and a smile on his face. It's impossible not to root for this lovely man who undertakes unbelievable efforts in the name of his madman dream, unafraid to fail as long as he can help others.
Can't go higher, can't go faster
On 23rd April, during the ascent of his first eight-thousander, Annapurna (at 8091 metres high, it is often called the 'killer mountain' because of the death toll it harvests every year), Nims and his companions tried to save a 49-year-old Malaysian climber. They walked the man down to the third camp, where a helicopter collected him. Despite their best efforts, the man died after being transported to a hospital in Singapore. The tragedy was caused by poor coordination between the agencies, insurance companies and helicopter pilots that overlook commercial climbing trips. The Malaysian man – an anaesthesiologist who had previously ascended seven other eight-thousanders – had to wait over 40 hours before help came. If not for Nims, he would have died alone, high in the mountains.
Purja ascended his second summit, Dhaulagiri, in difficult weather conditions, with wind speeds of 85 kilometres per hour. Other groups gave up, but theirs reached the mountain top very late, around 6pm. Right after they came down to a lower camp, a helicopter took them to the foot of Kangchenjunga (8586 metres).
During his descent from Kangchenjunga on 15th May, our Nepalese special-forces man met a couple of Indian climbers who had run out of oxygen. He gave them his own bottle (during Project Possible, Nims used additional oxygen), and then, with the help of his companions, led them down to a lower camp. Before they reached it, they came across another climber in dire need of oxygen. Despite their many calls for help, the rescue team never came, and the man died. After five days and nights of climbing and with hardly any sleep under their belt, everyone in Nims' team had symptoms of altitude sickness, except Nims himself. In the photos and short films he posts on Instagram, Purja never looks tired. In his posts, he makes some short, enigmatic comments about the sacrifices and hard work it takes, but always keeps it neutral, with no heroics and no complaints, either. Only once, after climbing Nanga Parbat (8126 metres), and descending in an avalanche, did he let his frustration get the better of him. "Not you, not you, not you, not you, not you, and certainly not you KNOW… No one knows what I have been through; so fricking leave me alone for a bit," he wrote on his Instagram in early August 2019. But just a few days later, he was dancing with his team in a K2 base.
Time is money; money is time
His appeals for help were also filled with determination and the joy of pushing forward against all the odds. Nims needed money and sponsors. Soon, he found a luxury watch brand – the perfect partner for a trip where time is the deciding factor. The routes chosen by Nims had been taken by many other mountaineers before him, but never at such a pace, often in one go from the base to the top. Even once he found a sponsor and gained thousands of fans across the globe, money was still running low. Between one climb and another, you need funds for diplomacy, negotiations and self-promotion. When Purja – completely unknown and inexistent in mountaineer circles – unveiled his plan, he had almost no supporters. People laughed at his bravado. But from the very beginning, he was cheered on by Reinhold Messner, the first lone climber of Mount Everest and all the other eight-thousanders. Messner's authority and connections were priceless. And yet, even money and networking become useless in the face of bureaucracy. By the end of September, Nims had climbed 13 out of 14 eight-thousanders, with no serious obstacles, while keeping up the expected pace (not to mention the whole thing taking him just 158 days).
And suddenly, just before the completion of his dream, everything ground to a halt. This season, the Chinese officials refused to issue any permits for climbing Shishapangma, a Tibetan mountain measuring, according to various sources, between 8013 and 8027 metres above sea level, and therefore being the lowest out of all the tallest mountains in the world. Purja called for help everywhere he could, asking people to write letters, e-mails and appeals to China. He had diplomatic support, and perhaps the media pressure, along with his by then huge popularity, also did the job. The climbers waited for the decision while celebrating Nepalese religious festivals with his family. Gods and Chinese dignitaries listened to his pleas, and Nims received his permit. On 21st October, he was greeting the world from the base at the bottom of Shishapangma. The next stage of the journey was difficult – many hours of climbing with a wind blowing 75 kilometres per hour, an avalanche… But after reaching the first camp base, the rest went smoothly. On 29th October, Nirmal and his team reached the 14th summit. The whole project took six months and six days, instead of seven months as initially expected.
The Himalayas belong to Sherpas again
Of course, Nirmal's attitude and the message of his project can be disputed. After all, he was part of the crowd of Everest climbers, and he came there with the same goal in mind as the rest of them; he wanted to make his dream come true. And his feat once again raises the bar for what is possible for humans to achieve. One could ask: Why the rush? Why climb the mountains at such pace, and what does it have to do with admiring nature? One could doubt the logic behind Purja's actions, but it's hard not to admire him.
By the way, a Polish mountaineer came up with a similar idea – of an express ascent on all 14 summits – some years ago. The daredevil in question was Artur Hajzer, who also set up the Polish Winter Himalayan Mountaineering programme. Hajzer's climbing partner, Jerzy Kukuczka, deemed the idea mad and refused to join him. Eventually, they both met their end in the mountains, where it's no longer possible to draw a clear line between dreams and lunacy.
One thing about Nirmal Purja's endeavour deserves special attention. The hero in question is a Nepalese man – a guy from a country whose summits had, until now, belonged to wealthy Westerners, even though many of them would have never succeeded without the help of Sherpas, the Himalayan tribe from Nepal and India. Yes, the first name in the great history of mountaineering belongs to Tenzing Norgay who, together with Edmund Hillary, was the first to reach the summit of the previously-unconquered Everest. But Nims is the first Nepalese to climb the eight-thousanders with the Western luxury of proper technical backup, money and global media attention. Perhaps his rush was worth it, if only to reclaim the decades-belated appreciation for Asian mountain climbers.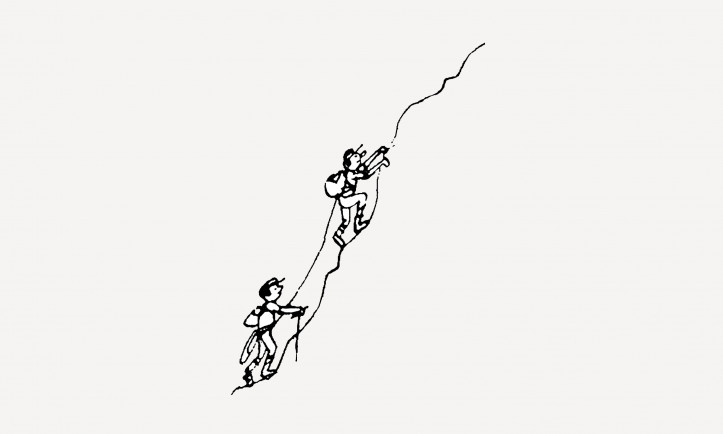 A high five for "Przekrój"? Or maybe a ten? By supporting PRZEKRÓJ Foundation, you support humour, reliability and charm.
Choose your donation