In this edition of 'Miracle Diet', we look at how to cook with the fruit of the rowan tree, the ...
2020-02-10 14:00:00
Read in 7 minutes
The miracle of tartness
The fruit of rowans (or mountain ashes) – tart, sour, slightly bitter. I add a tablespoon of orange-coloured preserve to the steaming tea. I need to sweeten it because the tartness and bitterness dominate the taste.
First, there are pinnate leaves, then foam-like flowers, and between summer and winter – red, beady fruit hangs on the branches. Apart from rowan with its scarlet berries, loved by birds, there are other varieties of this species. The fruit of the mountain ash found in Moravia contains a lot of vitamin C and is less bitter than other rowans. For gourmets, the tastiest variety is S. aucuparia Edulis, with larger and sweeter fruits that grow in heavy clusters.
Their quality improves after the first frost. Due to their high sorbine content, which is responsible for the bitter and tart taste of the fruit, they are not eaten raw, but need to be processed. Parasorbic acid is toxic – it can cause food poisoning in the form of diarrhoea and vomiting. Once cooked, mountain ash is our local source of vitamin C (35–45 milligrams per 100 grams, which is comparable to citrus) and beta-carotene. It also contains B vitamins, Vitamin K, niacin, potassium, sodium, magnesium and copper, as well as organic acids, anthocyanins and flavonoids. During periods of hunger, dried and ground berries were eaten instead of bread. Recently, it has been proven that in this form the fruit has healing properties for kidney and liver diseases.
Rowan jelly is a great addition to dishes. To prepare it, boil the cleaned fruit for about an hour in a small amount of water, strain and combine with sugar. Stir on low heat until the sugar dissolves, then boil quickly until the jelly begins to cut. With a spoon, collect the foam from the top. Transfer the jelly to jars.
The fruit can also be used for compotes, syrups and preserves. Sometimes it is added to dishes containing apples to turn up their flavour
Rowan is our export product. For a gala dinner organized by the Polish Institute during the Gastronomy Days event, the experimental chef Aleksander Baron served, among other dishes, a cold soup of crayfish, salmon marinated in beetroot and fruit vodka, smoked goose breast with rowan, followed by honeydew honey with sour cream and cottage cheese for dessert.
The Polish culinary heritage resulting from the cool autumns and winters is the richness of marinades, dried herbs, pickled cucumbers and saffron milk caps, rowan and blackthorn jam, smoked plums, and sea buckthorn and elderberry tinctures. "How many enflamed, scorching words can sleep on a branch of an autumn tree / perhaps the rowan, perhaps the wind," wrote Halina Poświatowska.
Enclose the red beads in a jar and hide them in the pantry, so that in the winter, licking a tart spoon, you'll be able to think only of silly birds.
The 'white carrot'
Figa z makiem, z pasternakiem (literally, a fig with poppy seed and parsnip) is a Polish saying describing some kind of a failed matter or futile intentions. The dish itself is a Christmas Eve recipe known since the 18th century. And parsnip is its proud and tasty main character.
Parsnip (Pastinaca sativa) – a root plant with medicinal properties, which resembles a white carrot – has been known since antiquity, when it was consumed before the main dishes to stimulate the appetite, and was used as 'medical food' owing to its comprehensive therapeutic effects (including the supposed ability to cure colds and pulmonary ailments when mulled with wine). Today, the beneficial effects of the vegetable have been confirmed – parsnip is used as a diuretic, for stomach problems and stimulating appetite. It is also used to treat kidney stones. Parsnip-based tinctures are administered prophylactically for angina pectoris and cardiac neurosis.
Parsnip was present in Poland already during the Jagiellonian times; back then it was eaten as often as cereal. In the 18th century, it was supplanted by potatoes and carrots, although not entirely. It became popular in Germany, and then spread to the Netherlands, Great Britain, France, Belgium, the US, Ireland and Hungary.
The vegetable is resistant to weather conditions, even frost. Harvesting takes place in autumn, but if the soil doesn't freeze, parsnips can be harvested in winter. When 'buried' it lasts, like carrots, even until April.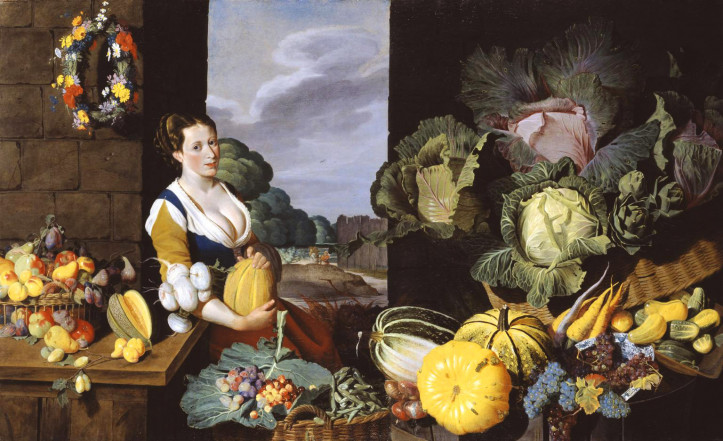 The edible part is the root. On stalls and in stores in Poland, Pastinaca sativa is sometimes mixed with parsley root, although it is quite easy to distinguish the two. Like parsley root, it has grey-white skin and white flesh, but it is much larger. It is most easily recognized by its root – not as stratified as in parsley root, but smooth, with characteristic brown edges. The taste resembles regular parsley, although it is more delicate, with a little sweetness and a smell that resembles carrot, with a hint of spiciness.
When choosing parsnip, make sure the root is hard and firm. There is no need to peel it, just scour thoroughly. According to Maria Norkowska's advice in Najnowszej kuchni wytwornej i gospodarnej [The Latest Refined and Thrifty Cuisine]: "Cook the scrubbed parsnip whole in lightly-salted water. Once soft, slice it and stew in butter, before serving with croutons fried in butter."
A vegetable patch in the city
Winter sleep, hibernation and death. Nothing happens on the allotments, "and if anything does happen, it is usually some kind of a breakdown." Nature is asleep. Henryk Ulman lives on an allotment. And runs a blog called "The life of a minimalist and outsider on a ROD allotment". He began writing because he was looking for something to do, something to anchor him to reality. Life has not been kind to him. He declares: "I will write about how I live here. How I manage that. Perhaps it is worth showing people that not every homeless man living on an allotment is a drunk."
For him, minimalism is living with only what is absolutely needed, an "approach to objects, not their quantity." A simple concept, running counter to our civilization, in which you do not get rid of excess possessions – once you arrive at an allotment from the street you have nothing, and once you settle, you only accumulate what is necessary. On the allotment one can also gather possessions – found in the trash, acquired from friends, or bought – Henryk has a TV, a tablet, a cell phone, an e-reader. He wants to be online. "Does minimalism mean the freedom from the compulsion to possess or a compulsion to not possess? In my view, minimalism is a path to personal freedom, not another enslavement. My minimalism is simply anti-consumerism. It's not getting rid of things for the sake of an idea. So I'm not going to reduce the number of items at all costs. However, I try to be selective so I don't end up having too much stuff."
Throughout the season he grows food for his own needs: he sows spinach and radishes between rows of beetroots, he has crops growing in a plastic tunnel ("Part of the onion has grown well; a large part, which I bought in bulk, has not yet released chives"); he then sells part of his produce. Here, nothing goes to waste – a neighbour makes moonshine from potato peels, and Henryk makes soup improvising from any ingredients he might have. He spends the winters in his cottage (a living room – three by two square metres). He reads, listens to the radio, and walks. His meals are monotonous.
"Soup and some porridge with the soup. Groats with greaves. It's practically my everyday winter dinner. I come back from my walk and start a fire. I cook dinner on the stove right away. I start a fire in the morning too. Not too much though. After all, I'm going out, why would I? Just a little, to make a coffee and warm the house up a bit. All in all, this is my daily routine in the winter. During the day, I go walking. Then, dinner. After dinner, if I have no other activities, I read. What other activities? Sharpen the spade, or fix and preserve another tool. Go get raspberry leaves or some fruit tree sprigs for my tea. Sometimes, a crossword puzzle, if I manage to buy crosswords in the autumn. And if there's snow, I take it home and melt it to have usable water."
He rarely goes to the shops: "Every few months, however, you have to do some shopping. Then, I go early in the morning. After all, I have to buy groats, lard, bacon, seeds, fertilizer, soap and razors. Go to the barbers. I go to church in Bierków every Sunday and on holidays." After a few years, he installed electricity – until then he had gone without. In the winter, his freezer is outside: "Every now and then I can buy a few portions of meat for stock and hang it outside while the temperatures are below zero."
Other than that, Henryk meditates and prays. On Sundays, he visits the church and cemetery: "There, everyone is already living eternal life. Well, sorry, but no one will ever convince me that physical death ends my existence." For now, during the winter, the allotment monk awaits the spring among the stillness of nature.
P.S.: In response to my interview request, I received the following answer: "Good morning. Unfortunately, I don't give interviews by phone or in person. Of course, I can answer some questions via Messenger. If it is somehow useful, please use my blog entries to your heart's content."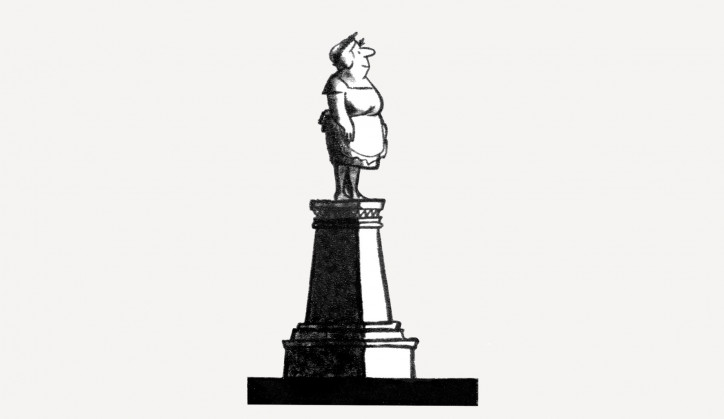 A high five for "Przekrój"? Or maybe a ten? By supporting PRZEKRÓJ Foundation, you support humour, reliability and charm.
Choose your donation