Minsk, the capital of Belarus, is ranked among the top three cleanest cities worldwide. On the surface, ...
2020-05-08 14:00:00
Public plazas, beaches, playgrounds, restaurants, theatres, tourist meccas – all of it, once bustling, feels dead or drastically slowed down. We know it is a disruption to our usual pattern. Not for the Belarusian capital, which has always lived as if in quarantine.
Read in 13 minutes
A few months ago, when we talked with friends, life was not shut down to restrain a global pandemic and cities had not become ghost towns yet. Except for one.
"The only thing I don't like about Minsk is this meticulous cleanliness," she says, sipping her tea. "It makes me so nervous that whenever I see uncollected trash on streets, I stop in surprise and take a picture." She smiles, but I could hear a little annoyance in her voice.
Meet Lena, a freshman at Belarus's leading national university. She is young and rebellious, and wants to change everything, even her place of residence. She talks about the teeming streets of Manhattan (now deserted), the Eiffel Tower (presently closed), and the Milanese who sip their apéros while looking at the landmark Duomo di Milano (people are currently confined to their homes).
"Don't get me wrong, I love Minsk. It is a comfortable city," she confides, suddenly serious. "But I feel trapped in this aseptic environment. Washed, polished, cleansed, scrubbed."
We met at an iconic dive bar called Centralny (which means 'central') on the main avenue in Minsk. Housed on the first floor of a grandiose Soviet-style supermarket, it is perhaps the most democratic place on Earth: it's cheap and welcomes people of all walks of life. Famous artists, local musicians, university professors and their students, city officials, homeless people and drunkards – they all appear at the long bar counter. It is informal and may seem dirty and unpleasant, but the bar has a long history and transforms into the most public spot, familiar to every person in town.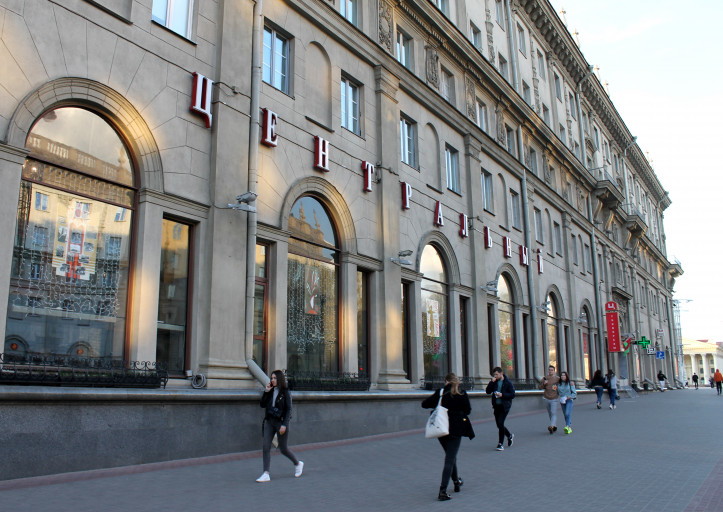 This place is nowhere near being lifeless. But Lena is right. Many young Belarusians describe their capital as motionless and peopleless. Minsk is too clean, too sterile, too deserted. There's an unsettling irony to it: images of Western cities that suddenly turned quiet evoke a sense of apocalyptic films and the end of days. And yet, this is the very notion of Minsk. It made me wonder why and when it became the Great Empty. Where is our impulse to congregate? Do we not actually litter? And – most importantly – what effect does this have on us?
So, hang on and fasten your seat belt: we are landing in Minsk, the city where the voluntary lockdown began decades ago.
The cult of cleanliness
When you step off a plane at the recently renovated Minsk airport, you won't be met with massive lines and crowds. The major transport hub feels abandoned. But who likes waiting for hours before passing through customs anyway?
The highway you take to get to the city centre is modern and well-maintained. Our roads are the first reason to boast. Our spotless streets are the second. Minsk was once said to be among the world's cleanest cities. This is thanks to its army of street cleaners who, equipped with besoms, sweep incessantly between dusk and dawn.
Perhaps once in all human history, New York was compared to Minsk. Not pleasantly though. The Russian Soviet poet Vladimir Mayakovsky found that in New York, "the filth is worse than in Minsk." Writing as he toured America in the 1920s, he continued: "It is extremely dirty in Minsk."
A lot has changed since then. This cleanliness has become almost a sacrament for Alexander Lukashenko, the former collective farm director who became president of Belarus in 1994. He personally inspects farms in regional towns and villages. Once he became so angry that cows were kept in poor conditions at a local farm that he fired a governor. "I will never accept a mess in my country," Lukashenko keeps saying. Indeed, "Minsk is so clean that it makes Vienna look a bit dingy," as the historian Timothy Snyder once noted.
This cult of cleanliness that emerges in Maksim Shved's recent film, Pure Art (which premiered in May 2019), is both melancholic and funny. It tells the story of an endless fight with graffiti, tags and marks on buildings. Instead of removing them, special workers employed by communal services – which is a state body that essentially organizes the maintenance of housing facilities – paint them over and over again. As a result, all sorts of bold geometric patterns add visual jolt to the walls. Essentially, it only draws attention to the fact that something appeared on the wall and was subsequently covered.
In Maksim Shved's words, it is like a wound covered with a bandage. "It is more than cleanliness. It is discipline and order, which seem to be our national idea," says Shved. "We don't just keep our stuff, our dwellings, and our personal space hygienic and uncluttered. We want to show that it is clean," he explains. Because a well-maintained and provisioned place indicates there is a responsible and thoughtful owner who takes care of it. It is the role Lukashenko has put on himself.
The main protagonist in the movie, a young artist Zakhar Kudzin, copies these geometric shapes to his large canvas, which transforms inept efforts to hide wall writing into a masterpiece. His presence and influence carries a notion of self-awareness: the struggle for cleanliness has imprinted itself upon the nation's psyche. The artist plays with it, explains and laughs it off.
So, the first answer: Belarusians do litter. But a visit from the cleaners every couple of hours should suffice to keep the city centre sanitary. That's the easy part. Here's the hard part: once you rip the Band-Aid off, you see that this cleanliness is fictional.
The Great Empty
Minsk, a city of 1.9 million people, has a long history, but it was largely destroyed during World War II. Back then, the Soviet government didn't care much about historic preservation, and ruined anything that did not fit its socialist vision, such as churches and old neighbourhoods. In his book Minsk: History of Post-War Reconstruction, researcher Vitaly Kirychenka quoted the famous Belarusian architect, Ivan Valadzko, who considered it "reckless" to recognize every historic building as architectural heritage "only because it existed for several centuries." Minsk was seen as a clean slate, on top of which a new country, both physically and ideologically, could be built. Newer, better, stronger!
That future never happened. The once multinational city, which before the war used four languages – Belarusian, Polish, Russian and Yiddish – lost its historic character. With the collapse of the Soviet Union, the status of a socialist city disappeared as well. A new narrative, which is not associated with politics or ideology, has not been produced yet.
Today Minsk has something of a Soviet theme park about it. More than a dozen Lenin statues and busts justify the impression. The seven-metres-tall Lenin-in-chief still asks "What is to be done?" atop his pedestal on a city-centre square, where the House of Government is located. Down the main street, Independence Avenue, a bust of Felix Dzerzhinsky, who was the founder of the secret police and a symbol of bloody Soviet repression, monitors the KGB building. As if this was not surreal enough, there is a McDonald's, that garish symbol of global capitalism, a short stroll away.
People love theme parks. Aren't they supposed to gather there and enjoy, talk and walk? No, there is never a crowd in Minsk, not even for a second. The heart of the city feels dead. Why? I ask Igor Fedjushkin, a sociologist and urbanist, who is a co-founder of the Minsk Urban platform, a research and education community in Belarus.
"There is a problem with public spaces in Minsk," says Fedjushkin. "Their openness diminishes privacy and solitude, so people don't feel comfortable using those locations." It feels like a panopticon that allows a watchman to observe occupants without the occupants knowing whether or not they are being watched. The Minsk central neighbourhoods do not permit the possibility to interact and engage with them. They are used to commute and remain empty.
The most striking example is October Square, a spectacular, enormous plaza. Intended as the heart of the city, it is completely peopleless. The highlight of the square is the Palace of the Republic, which Minsk residents often call a sarcophagus for its brutal and simplistic design. The construction of the building started in the 1980s, but it was not finished until 2001.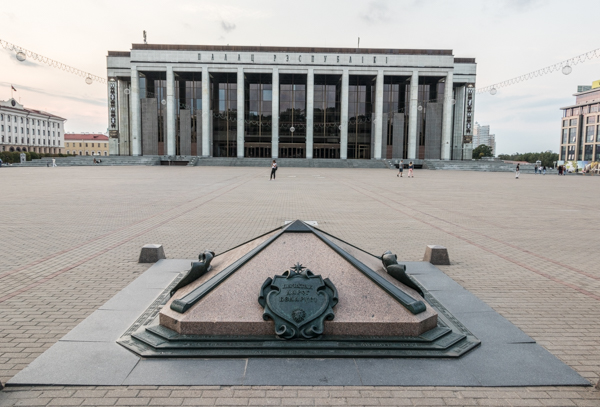 "It was the first major project for Lukashenko," says Dimitrij Zadorin, an architect and historian, who in 2018 published an architectural guide to Minsk. He explains that the square itself is too large, and its composition was never finished. It is where officially sanctioned concerts and events are currently held, including three out of five presidential inauguration ceremonies. "The square with its palace was meant to play a representative function. But it's not really clear how this amount of space should be used," Zadorin says.
And so it is not used. What is meant to be an agora – a cherished gathering site, a public space as we think of it today – is the opposite. The square is also extremely politicized, with rare opposition rallies being dispersed immediately.
The right to the city
If not the central squares, maybe the Minsk suburbs motivate local residents to gather together? These are 'sleeping districts', unusually placid places, where good citizens should return to right after completing their daily business. Lizaveta Shylichava, an architect based in Minsk, explains that "the suburbs are even less comfortable and lively." If anything, she says, life can be brought into the Soviet central architecture, but the new, modern projects of the high-rise buildings in the suburbs aren't sociable at all. Almost nothing is happening there; these are not much more than spaces to sleep.
Paradoxically, Minsk residents are largely left with no place to congregate. That's why the city may not look that vibrant. There are some exceptions though. Such as a former industrial neighbourhood that was turned into a chic cultural heaven and is now a house for the most impressive urban festival in the country, called Vulica Brasil (pronounced voo-lee-tsa, which means 'street' in Belarusian). Every summer, Brazilian and Belarusian street artists cover the walls of abandoned factories with their colourful murals. It gathers thousands of visitors, who interact with each other, meet, share, explore and engage.
"It seems like it was easy, but it wasn't," Mila Kotka laughs, the festival co-organizer. A former journalist, she fell in love with Brazilian culture when she first visited the country. In 2014, she teamed up with Danilo Costa, the first secretary of the Brazilian embassy in Minsk, to organize the festival.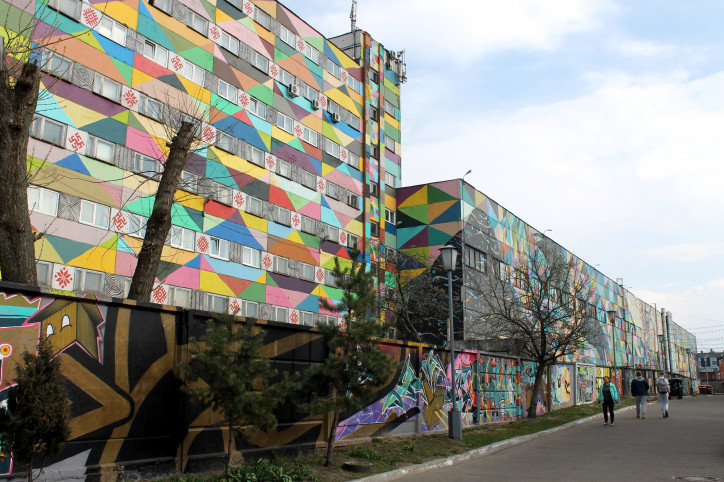 "Literally, Danilo and I had to explain our idea to Lukashenko's administration, not mentioning city and district executives, because street art festivals had never happened in Belarus before," Kotka tells me over the phone. Her voice sounds joyful and optimistic – she believes that dialogue and communication were instrumental in convincing the authorities. In a neat irony, the power of foreign diplomacy – the Brazilian embassy – was also needed to disrupt the established way of thinking about what's allowed and forbidden in Minsk.
Each of the 53 projects that have appeared at the Vulica Brasil festival since 2014 – whether murals or sculptures – were meticulously checked by the authorities. In two cases, they didn't get approved. One such case was a harmless quote by Svetlana Alexievich, the Belarusian Nobel laureate. This celebrity writer, known for her criticism of Lukashenko, is an 'unperson' for state officials. In the second case, the style and location of a prospective mural were not accepted.
The joy of dirt
Vulica Brasil has certainly transformed the neighbourhood and become a sort of modern agora. A successful example of exercising citizens' right to the city, it inspired others to start similar initiatives. But the festival doesn't engage with critical conversations – otherwise, it wouldn't be allowed, clearly. What comes with it is self-censorship. Mila Kotka acknowledges this by saying that there is always a choice between radicalism and effectiveness, even when the latter does not produce political effects.
Any political graffiti on a wall in any city in Belarus will disappear after a day or two, and its author may be prosecuted. This happened to Aleh Larychau, the curator of the street art project Signal, who in 2017 raised money for a series of political street murals mocking high-level politicians in Belarus. He was severely beaten near his flat by two unidentified men who took neither his phone nor his money. He was also punished by five days of arrest and fined, after which he announced the closure of the Signal project. However, Larychau is still involved in another street art festival, which brings foreign street artists to paint their murals on apartment buildings in sleeping districts in Minsk. Similarly to Vulica Brasil, each mural has to be pre-approved by local administrations.
The need to soglasovat', which is the Russian word for 'approve', can act as a deterrent for a street artist. Mitya Pisliak, who created a mural for the 2017 edition of the festival (a still life that mixes plants with parts of human body), told me that he self-censored his work while in Minsk, but that his upbringing and environment also influenced his art. "I now feel that I am lacking a more explicit and frank language in my projects," he told me. Pisliak recently moved to New York, and says he wants to be "more free and open."
Sticking to the rules is part of the game in Belarus. Think as you like, but behave like others. Be a good citizen who abides by all the rules and laws. Whenever there is a protest in Minsk, crowds of people stop at every traffic light and wait for the green light. At a rally last year against integration with Russia, protesters tore apart portraits of Vladimir Putin, but then collected the pieces and put them into a trash can. That moment went viral.
Don't get me wrong. There's nothing shameful about having a clean and well-maintained city. It might be a sign of safety, as one of the most influential theories of crime and policing in America – the so-called 'broken windows theory' – suggests. Cleanliness is next to godliness, after all. But in Minsk, cleanliness is confused with sterility. "The city's cultural life is mostly deprived of spontaneity, improvisation, internal freedom," explains Maksim Zhbankou, a philosopher and cultural expert. "Sterility is not the absence of trash. It is when we strike out what we don't consider appropriate, remove the unnecessary, declare it garbage, error, the enemy of the people."
It doesn't go far from the language of Soviet propaganda that demonized ideological opponents as parasites, germs, rubbish. The political opposition is also regarded as dirt that should be avoided. In the most totalitarian way, modern Minsk also excludes the most vulnerable – the homeless and people with disabilities – from its streets. Activists say rough sleepers and beggars are often detained and moved out of central neighbourhoods so that they are not visible.
There is a glimpse of hope in what is probably the most notable song about Minsk. The distinguished rock musician Lavon Volski, whose concerts for years were banned in Belarus, sings that we are living in two cities at the same time. One is official, oppressive and monolithic. The other is underground, cozy and diverse, and cannot be destroyed, because it is inside us. Once you land in the Belarusian capital, be sure to experience the latter. It is less sterile, and it brims with life.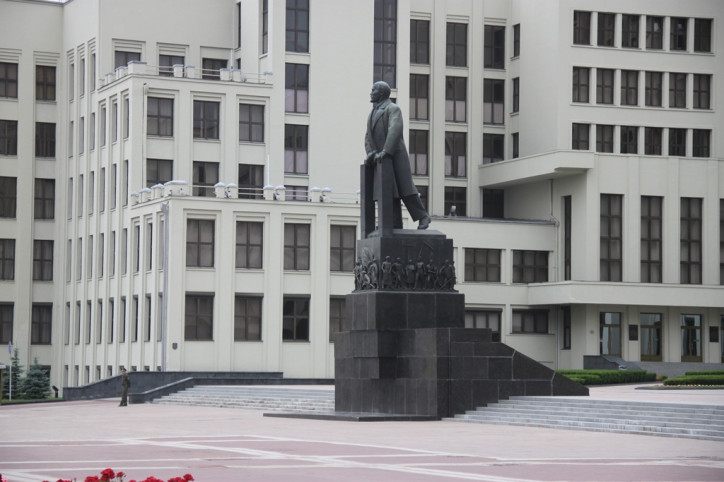 A high five for "Przekrój"? Or maybe a ten? By supporting PRZEKRÓJ Foundation, you support humour, reliability and charm.
Choose your donation