After a year of the pandemic, how might we change our travel and tourism habits going forward? Is this ...
2021-03-05 09:00:00
Mat Schulz – the artistic director and co-founder of Unsound Festival, as well as a long-term resident of Kraków's Kazimierz district – reflects on a year of COVID-19 and how we might reappraise our approach to travel and tourism in light of the pandemic and incessant gentrification.
Read in 19 minutes
In May 2020, when most commercial flights were grounded, planes full of people began taking to the skies – and returning to their point of origin. These 'flights to nowhere' were a strange side effect of the pandemic. A Qantas plane took off from Sydney, then made a gigantic seven-hour joyride loop over the Gold Coast and Great Barrier Reef, flying low over Uluru and Bondi Beach. Tickets sold out in 10 minutes, a Qantas record. Needless to say, there was something very off about flying people in a long, pointless circle over the continent, while simultaneously tens of thousands of Australians were stranded abroad, and the national carrier had entirely given up on flying them back.
Shorter 'flights to nowhere' were organized by Royal Brunei, Air Taiwan and All Nippon Airways. Taking things a step further – or, rather, backwards – Singapore Airlines offered customers an airline dinner service aboard a grounded Airbus at Singapore's Changi Airport. This was not simply a journey without a destination – it was a journey without a journey.
Not that that would have mattered to 'travellers' eager to project their trips through the prism of a smartphone. For some time now social media has not only documented but shaped our travels. And during a pandemic, when people are grounded, the classic window shot of a jetliner wing tip, blue sky and fluffy clouds gains far greater currency.
In February, in China, in the middle of the world's first COVID-19 lockdown, people began using objects and smartphones to film the illusory vantage point of a passenger as a plane was taking off. Later, as the virus spread around the globe, so did the viral challenge. Using toilet seats and chairs for windows, hairdryers for sound and pages from magazines, people simulated the perfect Instagram travel video, pointing to the empty heart of both 21st-century tourism and social media.
Still on the ground, consumers nostalgic for air travel have bought airline meals offered by Garuda Airlines, Thai Airlines and Cathay Pacific. Qantas Airlines have even offered 'care packs' online, containing a business class 'sleeper suit', amenity kit, Tim Tam biscuits and smoked almonds – they sold out in just a few hours. This is nostalgia for the blandest of signifiers of erased holidays, deleted business trips, lost weekend getaways. For things as they were.
Before the pandemic blew up in its face, the International Air Transport Association calculated that 4.3 billion passengers flew in 2018, and estimated the number would reach 10 billion by 2040. The film Koyaanisqatsi – Life Out of Balance features time-lapse footage cut together, showing masses of people working, commuting and engaging in leisure activity, driven by a relentless Philip Glass score. In recent years, I'd begun thinking of tourism at that speed and volume: people moving through airports and museums, across monuments, nature reserves and beaches, like a wave of ants, tirelessly creating and uploading billions of images, of locations already photographed an almost infinite number of times, all these activities burning enormous amounts of carbon.
I was one of them.
A Talking Heads song keeps running through my head. "We're on a ride to nowhere / Come on inside / Taking that ride to nowhere / We'll take that ride / Maybe you wonder where you are / I don't care / Here is where time is on our side / Take you there, take you there," David Byrne sings, the words bloated with new layers of meaning.
***
When I first moved to Kraków in 1995, the city's Old Town had taken its first steps towards becoming a Disneyland of renovated buildings, bars, nightclubs, restaurants, souvenir stands and clothes shops. Just a 10-minute walk away, the historic Jewish district of Kazimierz was a vivid contrast. Buildings were shut up and vacant, boards nailed across doorways and windows. Others had decaying courtyards strewn with rubbish, wooden stairways leading up into dense darkness. There was a silence so deep it seemed to emanate from the very walls, as if broadcasting the district's mournful history.
Polish workers – many left unemployed by the collapse of communism – had lived in Kazimierz since the end of the war, but evidence of the neighbourhood's Jewish past was everywhere. During communism, the district's synagogues had been used as warehouses and workshops. In 1995, most were closed, or under renovation. Only one synagogue was functioning, and to enter it was to step into a vacant heart of memory, trauma and longing. I remember visiting for the first time. An old Polish Jewish man gave me a yarmulke from a battered cardboard box, pointed me toward the mediaeval cemetery. Surrounded by sycamore trees and ancient stone walls, the headstones bore inscriptions worn away by time. Many appeared about to fall over, into the long grass. There were no other tourists. I was alone.
In the years that followed, Kazimierz attracted artists and students. Cafés appeared, alongside drinking holes and a soup kitchen, on Plac Nowy – also then known then as Plac Żydowski, or Jewish Square – where by day, farmers from outlying villages sold fruit, vegetables and plucked chickens killed in backyards.
Today, that square is covered in fast-food booths. The soup kitchen is gone. Spiralling outwards are mediaeval streets densely packed with bars, restaurants, strip clubs, gift shops, galleries, tourist agencies, hotels and new or renovated tenement houses. Up until the pandemic, the streets had been clogged with tourists, cabs, Ubers and golf buggies broadcasting guided tours.
Each evening during Kraków's first lockdown, in late March, I walked the empty streets at night, looking up at the windows, fascinated by how most were dark. Over the years, almost all my friends in the area have been pushed out, a sense of community obliterated. Above all else, it was Airbnb that had reconfigured the district, with investors buying and slicing old apartments into hotel-room sized portions for weekend breaks. Others, lower on the short-term rental hierarchy, had sublet real estate, creating precarious pyramids.
The Nazis had occupied apartments from which Jews had been forcibly evicted, then murdered. After the war, the communist government had filled those apartments with workers, who were replaced by artists and students, then replaced by tourists – and now there was darkness, silence.
Starting with an act of the very darkest violence, each displacement had involved an erasure of collective memory. Only tourists have no collective memory. The pandemic has merely pressed pause on their habitual consumption.
***
"Now's the time to travel," a friend told me. "It's like the 1950s" – the era when Paul Bowles wrote, in The Sheltering Sky, "Whereas the tourist generally hurries back home at the end of a few weeks or months, the traveller, belonging no more to one place than to the next, moves slowly over periods of years, from one part of the earth to another." [1]
There is something appealing in the idea that you could have cities, museums and antiquities all to yourself, but the statement isn't accurate. Travellers in the 1950s – who were mainly wealthy – visited countries that had not yet been engulfed by tourism, their journeys often part of a colonial dynamic. Locals looked upon tourists as exotic beings, then gradually as a source of income, an interplay of power dynamics that the traveller often romanticized. (Indeed, when I look back into the 1990s, when I first began travelling the world, I'm also prone to regard it as a golden age of few tourists, but if I consider that my adventures on a Lonely Planet 'shoestring' largely took place in poverty-stricken countries in Central America and Central-Eastern Europe, there's a different story to be told. It's worth noting that The Sheltering Sky is about two aimless, ignorant American travellers with way too much luggage, whose romantic ideas of travel are their undoing.)
To travel in 2020 is to move through a shell of mass tourism. Walking in Kraków in early autumn, months on from the initial lockdown, you can feel the desperation of the hawkers outside restaurants, cafés and strip clubs, who approach with menus and free drink tickets. Looking at their faces, I think of David Foster-Wallace's description of the Professional Smile: "the smile that doesn't quite reach the smiler's eyes and that signifies nothing more than a calculated attempt to advance the smiler's own interests by pretending to like the smilee." [2]
As soon as you shake your head, the hawker turns away. It's not so much Wallace's Professional Scowl as a look of defeat. In late autumn, when the government introduces tighter measures, the smiles are covered in masks, and the situation feels even bleaker: all you can see is the eyes and the upper half of the face. You have to guess at the shape of the mouth.
Across Europe, in districts gentrified and commodified for tourism, a similar choreography is playing out between the hawkers and pedestrians. Until further lockdowns occur, of course, and then the interactions abruptly disappear altogether.
Still, earlier, in the European summer of 2020, there was a moment when some of us tried to engage in the collective delusion that things were returning to some semblance of normality. My partner and I trawled Skyscanner for deals, which were easy to find, since airlines were also desperate. In August we purchased flights to stay with friends who live on the Balearic island of Menorca.
The simplest moments were those of sitting on our friends' porch, listening to music, drinking coffee or wine, eating, talking. We tried to ignore the rising coronavirus statistics in Spain and the island – caused by the movement of tourists like us – as well as the possibility of being stranded as the Polish government threatened to cut flights.
On our daily visits to spectacular beaches, faced with the therapeutic beauty of the sea, we reached for our smartphones. We photographed, but then struggled with the question of whether or not to post to Instagram. It felt somehow shameful in the midst of the pandemic, to say nothing of the protests and turmoil that the summer had brought. Beyond a question of aesthetics, good or bad taste, was our holiday unethical? Would posting images normalize travelling during a pandemic, for those whose financial position allowed it amidst layoffs and cutbacks? What would happen if everyone who could afford it travelled? The pandemic would explode. How, then, could we justify our own actions, let alone posting an image?
Jean Baudrillard wrote in 1990: "Travel was once a means of being elsewhere, or of being nowhere. Today it is the only way we have of feeling that we are somewhere. At home, surrounded by information, by screens, I am no longer anywhere, but rather everywhere in the world at once, in the midst of a universal banality – a banality that is the same in every country. To arrive in a new city, or in a new language, is suddenly to find oneself here and nowhere else. The body rediscovers how to look. Delivered from images, it rediscovers the imagination." [3]
30 years on, we are never delivered from images. Apart from the fact we routinely carry our screens with us, in our pockets or hands, we are always searching for images, and the desire to share them has become ingrained, automatic; many of us wrestle with the implications of the images we've taken – their meaning, their distribution, whether they need to be made at all.
I think, now, of my father, reaching for his super-8 camera when we were on holidays in the late 1970s. The only decision he had to make was whether the scene before him was worth the cost of the film, nothing more.
***
For years now, Unsound has attracted tourists to Kraków from around the world. Mainly staying in Airbnb apartments, they come – and return – for the experience of the city as well as the festival, patronizing its cafés, bars and restaurants.
The festival amounts to a tour through Kraków's architecture and history as well as its music, and has involved a Gothic church, sumptuous synagogue, former tram depot, philharmonic hall, 19th-century opera house and more. These venues are placed alongside adapted raw spaces, abandoned during the economic transition from communism, which we continually search for in the drive to bring freshness to the festival. In this way, Unsound has been a small part of the city's gentrification, as well as its transition into a tourist city.
In 2010, we used the Miraculum Cosmetics Factory; soulless, generic blocks of flats now stand in the place where Demdike Stare, Oneohtrix Point Never, Shackleton, Raime, Actress, James Blake and Oni Ayhun blew minds. There's a sprawling former tobacco factory where in 2015 Tim Hecker and visual artist MFO performed Ephemera Live, an immersive show in which the audience was held in a cloud of music, scent and pulsating coloured light, and where drummer Greg Fox also played a blistering three-hour set with unannounced musicians. Afterwards, this factory became a complex of bars and restaurants set amongst post-industrial ruins, now also slated for redevelopment as flats. With every new redevelopment, another material trace of the festival's own collective memory also disappears.
Hotel Forum is a brutalist communist-era hotel that lay empty for a decade at the side of the river, grey and monolithic, like a cruiseliner beached by the Anthropocene, weeds sprouting from between concrete construction joints. Behind the Iron Curtain, the building had briefly housed Kraków's most modern five-star hotel, but by 2012 its only function was to hang the nation's largest advertising banners, directed towards the river, variously promoting beer, condoms and energy drinks to the new Poland.
The hotel's interior was remarkably intact, with a reception counter, phone booths, original carpeting, bars, marble floors, wood panel walls, chandeliers and thousands of tiny glass bulbs on the enormous main room's ceiling, which refracted light and rattled furiously in response to thunderous sub bass. Over the years, Hotel Forum became the festival's permanent headliner, featuring artists from around the globe.
Throughout that period, the body of the hotel changed. A café opened in the corner, with hundreds of deckchairs spread around the hotel in the summer, pointed towards Wawel Castle across the river; then came a barber shop, vaping store and design studio. The construction of a sauna cut into the main hall, and with the installation of Titanic: The Artifact Exhibition, the hotel's original light fittings, ceiling and carpeting were torn out. There was no outcry – this wondrous piece of architecture was not listed as a heritage site. Still, Hotel Forum retained its essential shape, and at each Unsound it felt unique. This was really one of Europe's great venues, all the more so as it rarely came fully to life, with four stages across several rooms – an experimental club-music funfair.
Unlikely as it sounds, in the year of the biggest pandemic in a century, amidst the collapse of Kraków's hospitality industry, a deal was made to transform Hotel Forum into HALA FORUM, a food and beer hall, testimony to our misguided yet infinite belief in capitalism.
A week before Unsound's 2020 edition was to start – this year, to be held entirely online, instead of in our usual array of venues – I went to take a look. There was a hand sanitizer at the entrance to The Ballroom, where some of the most iconic Unsound shows had occurred, including Jlin and RP Boo's European premieres, as well as SOPHIE's experimental laser show; The Bug pummelling a jammed crowd with bass; Moor Mother's ferocious, politicized lyrics; Linn da Quebrada's wild blend of Brazilian funk, samba, trap and rap; Dean Blunt blasting the room with stark light as Babyfather; Marcus Schmickler's brief but blinding surprise show involving four spotlights – I could go on and on.
Instead of a packed audience, people were sitting at tables, drinking beer and eating food. Bored barmen stood in front of a wall of liquor bottles at cheaply built bars. Attempting to fill the cavernous space, generic-looking potted plants hung from the ceiling. A cold, dark space beside the Chandelier Room featured a child's playground in a square cage, which was locked, presumably due to coronavirus. Even more depressing was the stage located in the ruins of the hotel's former kitchen, where artists from across the globe had repeatedly gathered. Now the original fittings had been removed, replaced with a series of booths, and instead of music, there were culinary offerings from Tres Amigos, AKUMA Sushi & Ramen, Curry Up, Wiệtnam and Mazaya Falafel – approximations of food from afar.
The experience of producing Unsound 2020 felt, at times, like the flights to nowhere. Usually, the months of preparation for the festival, tethered to a laptop, lead to a euphoric moment of catharsis when Unsound begins. You find yourself physically in a room packed with other people, artists and audience. With an online festival, the curtain rises only virtually, and you only go deeper into your screen.
In this context, Hotel Forum's demise felt even more depressing, and as I stood there looking around, I thought of how I wouldn't be surrounded by people in this space this year, and perhaps never again. I thought of a day to come, probably not far away, when the property developers who own Hotel Forum would knock it down and replace it with apartment or office buildings. This will not only change the cityscape forever, it will also erase collective memory, always an outcome of gentrification.
***
In 2016, cultural theorist Christopher Schaberg wrote of how our capacity to appreciate airports as dynamic and forward-looking diminished long ago, that we now recognize them as grim, unromantic zones where "we are subjected to screening, scrutiny, alienated labor, and inhumane treatment." [4] He wrote:
The end of airports has to do with our everyday technologies – especially the ones that exist in our pockets – that so radically outmode and outpace (even as they coexist with) the routines and rhythms of air travel. Simply consider the bumbling, sometimes chaotic, boarding procedures and departure operations that occur at an airport while at the same time passengers quietly use their smartphones to communicate and connect instantaneously at the delicate and precise taps of their thumbs. It's incredible to me that these two phenomena exist in the same historical moment: the slim lines of digital media, and the herding of bodies into airborne, dented metal tubes. [5]
Many airports remain closed, others partly function, and hundreds lie on the brink of bankruptcy. Because we are largely immobile – in lockdown, many of us are unable even to leave our homes – the 'slim lines of digital media' have widened, engulfing us almost entirely. This creates a feeling of freedom, as well as entrapment.
The ecological unsustainability of mass plane travel was increasingly evident even before the pandemic, alongside the gutting of cities by Airbnb. Now, with tourism suddenly unprofitable, will cities be reshaped?
In the pandemic's European summer, the Kraków City Council signed an agreement with Airbnb in which the two parties agreed to exchange "aggregated data" and work together to "promote responsible and sustainable tourism". On the part of the city of Kraków, this feels not just tone deaf but deeply unwise. Partnering with Airbnb on urban development is a little like letting the fox guard the henhouse.
No agreement with Airbnb will answer the question of what, and who, cities are for. Who, now, do airports serve? What is their purpose? How should travel, cities and digital media feed off one another, after the pandemic passes? Can a festival like Unsound exist in a city like Kraków? If so, what shape should it take in the new reality?
Brian Eno composed Music For Airports in 1978, to create calm, the feeling that "you were sort of suspended in the universe and your life or death wasn't so important." Eno thought of the idea behind this music whilst sitting at an airport in Cologne, about to board a plane, forced to listen to cheery music designed to make those about to fly feel at ease.
At a time when we aren't flying, Music for Airports also fits the moment, a formless, ambient soundtrack for our current sense of suspension. The single piano notes, stretched out almost into nothingness, the repetition and silence in which time appears to dissolve – apart from calm, this also evokes a sense of longing, and perhaps even grief. In 2020, this is music for shuttered food courts and weed-covered tarmacs, a soundtrack for our immobility.
There will be a time after the pandemic, though, in which choices need to be made regarding the effects that travel and tourism have on cities and the climate emergency. This is part of a nest of questions that lies at the heart of our collective desire for things to 'get back to normal' – understandable, but at best misplaced, at worst deluded. Being conscious of the implications of our actions will allow us to take the opportunity to make something of a horrific situation, and that includes deciding how to reinvent the heart of cities that were lost to tourism.
When we finally emerge from multiple lockdowns, there's a chance that we rediscover how to look at the places where we live, seeing them afresh as a result of what we've been through. Rather than constantly pursue travel as a reward, as many of us have been taught, we might get better at feeling that we are somewhere without moving great distances, at locating meaning in the local. It's not a version of the world that squares with flying 10 billion passengers a year by 2040 – but was that ever a good idea?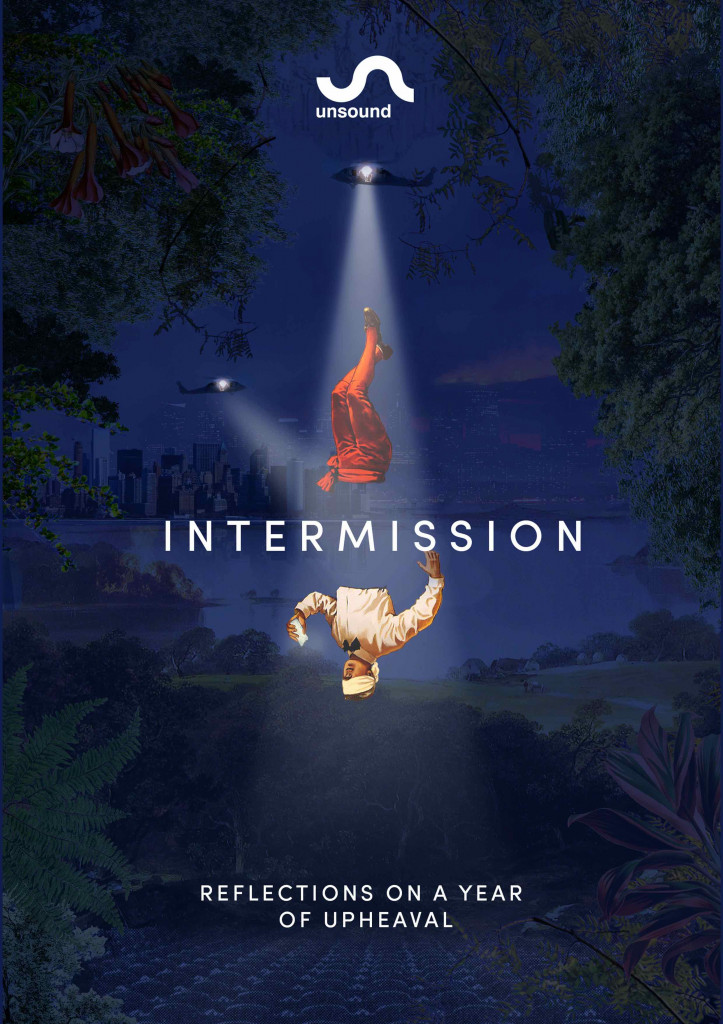 [1] Paul Bowles, The Sheltering Sky, (Penguin Books, New York, 2004), 5
[2] David Foster-Wallace, A Supposedly Fun Thing I'll Never Do Again (Little, Brown and Co. 1997), 289
[3] Jean Baudrillard, The Transparency of Evil: Essays of Extreme Phenomena (Verso, London, 1993), 151
[4] Christopher Schaberg, The End of Airports (Bloomsbury Academic, London, 2016), 3
[5] Ibid.
This text is part of the book Intermission, published in English by the organizers of the Unsound music festival. The book premieres on 5th March 2021, alongside a downloadable music album.