William Morris was a man of many talents – among which he revived traditional British textile arts ...
2020-11-21 09:00:00
A man of many talents. A textile, wallpaper and furniture designer; a poet, thinker, translator, publisher, entrepreneur and socialist activist. A husband rebelling against Victorian customs who believed that women should be faithful to their desires. An opponent of capitalist exploitation and extoller of labour understood as freedom and pleasure. We present: William Morris.
Read in 8 minutes
Mid-19th century Britain, the main turbine of the global industrial revolution. Mass industrialization changes everything: the way of production, consumption, relationships between people, even the landscape. One by one, industrial cities emerge, and in them rows of similar, red brick houses quickly become covered with a black layer of thick smog.
In 1854, Charles Dickens writes Hard Times, a novel whose title aptly captures the mood of the period. The pace of labour is determined by steam engines – people work 10 hours a day in deafening noise and cannot hesitate or stop even for a short break. As a result of this, relatively cheap goods are widely available and this makes the wealthy even richer. Meanwhile, the poor are getting increasingly poorer. Society is polarizing rapidly. One of the signs of a man's material status is the fact that his wife does not have to work. While working-class women and children labour in factories, middle-class women are doomed to idleness by Victorian morals. They sit bored in the front rooms of their grand houses, decorated for show in one of the then fashionable neo-styles.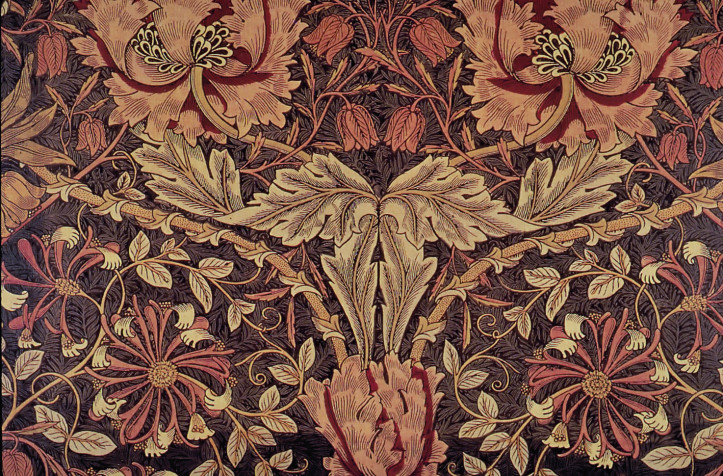 A matter of taste
Born in 1834, William Morris grows up in a wealthy family of Welsh origin. He is raised in Walthamstow (now part of North East London), in a house that is far enough from the city that young William can enjoy the fresh air and hiking in the surrounding woodland. The boy's taste is shaped by his sensitivity to nature and a love of Walter Scott's literature. When, as a 17-year-old, he travels with his family to London, where The Great Exhibition of the Works of Industry of All Nations is held at the Crystal Palace (1851), he refuses to visit it, explaining his decision as "a matter of taste".
Morris's father dies while he is still a child. He leaves his son a fortune, thanks to which the artist is guaranteed an existence and freedom to make life decisions. At first, following his mother's wishes, he begins reading theology at Exeter College, Oxford. There he meets Edward Burne-Jones, with whom he becomes friends for life. They both savour the writings of John Ruskin – an art critic, artist and social visionary. Ruskin is tormented by the ugliness of industrial England; he is in love with the architecture of Venice, as well as French Gothic cathedrals. He romanticizes the Middle Ages, turning a blind eye to the feudalism of that era, but emphasizes the role of guilds and craftsmen's associations, seeing the essence of art in a community of labour and freedom of expression.
Ruskin contrasts individual creative activities and the possibility of expressing oneself through one's work with what he sees around him – dehumanization and mechanization in factories. His charity The Guild of Saint George and books, especially The Nature of Gothic, are an inspiration to Morris and Burne-Jones. Together they go on a journey through Europe in the footsteps of Ruskin's writings. Stunned by the beauty of Gothic architecture, on the last night before returning to England, they make a decision. While walking down the waterfront in Le Havre, they decide to abandon theological studies and pursue art. Morris intends to become an architect, and Burne-Jones, a painter.
The muse
Ruskin's views also inspire Pre-Raphaelite artists, including John Everett Millais and Dante Gabriel Rossetti. They want to restore art by returning to the patterns and work ethic of the late Middle Ages and the early Renaissance (before Raphael). They discredit later authors as "entrepreneurs" who cared more about the profits from selling their works than about improving the world through art. For the Pre-Raphaelites, community, teamwork, mutual inspiration and developing their talents are particularly important. Edward Burne-Jones and William Morris join them.
Stunners. This is what the Pre-Raphaelites call women who embody their canon of beauty: tall, slim, with lush hair, full, sensual lips and expressive eyebrows. This is what their muses – young girls who pose for them – look like. They often come from poor families, and so does Jane Burden, the daughter of a groom and laundress. Enchanted by her hypnotic beauty, Rossetti asks Burden to become his model. He paints her many times; one of his most famous canvasses depicts Jane as Proserpine – she poses with a pomegranate, an attribute of the goddess. At the time, Rossetti is married to the artist and model Elizabeth Siddal. Morris falls in love with the beautiful Jane. Rossetti is a handsome and charming womanizer, while the overweight Morris looks rather scruffy. Victorian morality dictates marrying within one's own social class, but for the rebellious Morris, this is not an issue. Jane accepts his proposal. She passionately makes up for shortcomings in her education, learns languages and the piano. It is Jane Burden-Morris who inspires George Bernard Shaw's Eliza Doolittle in Pygmalion.
The Red House
"Have nothing in your house that you do not know to be useful, or believe to be beautiful." These words of William Morris are often remembered, and with time perhaps become more meaningful. After marrying Jane, he invests a large part of his wealth and energy in building a family home. The Red House (from the colour of brick) is intended not only for Morris and his wife, but also for their friends and associates – Rossetti and Burne-Jones – along with their families. Philip Webb, an architect with whom William often collaborates, designs the Gothic-inspired building. Morris himself recognizes that he has no talent for architecture, but he can design furniture, wallpaper, textiles, stained glass, and even embroider!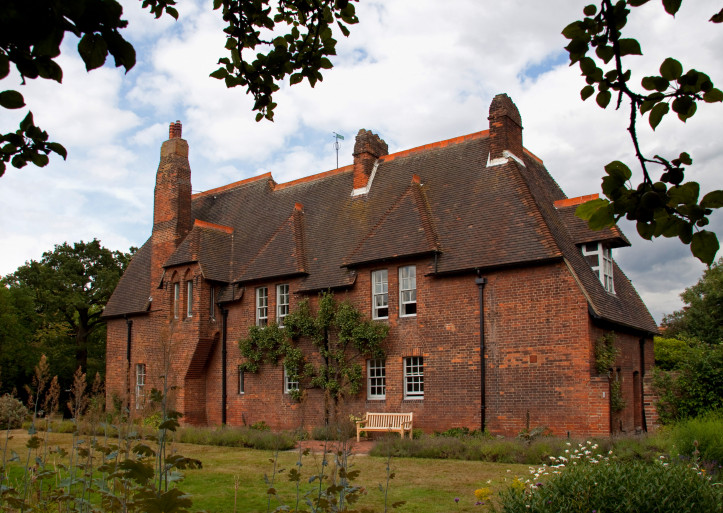 Surrounded by an apple orchard, the Red House embodies William's ideas about how architecture can remind people of their relationship with nature, and how it can make them feel 'at home' in nature. It also embodies faith in the creative community – Morris and his artist friends create most of the home's furnishings. The home will become their artistic credo. Ingrid Hanson of the University of Manchester says that through the Red House, Morris "shows us what the present can take from the past and carry into the future." The nature surrounding the house inspires new projects, for example, two very famous patterns of wallpapers and textiles: 'Strawberry Thief' (inspired by observing birds stealing strawberries from Morris's garden) and 'Trellis' (it shows a climbing rose stretched on a wooden pergola and birds perching on it).
Morris & Co.
The dream of the Red House as a haven for family and friends collapses, because living there is too expensive. The Morris family returns to London (later they will live in another house outside the city). Importantly, the collaborative work on home furnishings and the joy it brings inspire Morris and his friends to set up a company that offers high-quality, hand-made, beautiful everyday objects. The company initially operates under the name of Morris, Marshall, Faulkner & Co. (later, under Morris & Co.). One of its specialities is stained glass, often ordered by churches. The female figures on these stained glass windows usually have Jane Morris's features. Two prestigious contracts are particularly significant for the company: for the construction of the dining room at the South Kensington Museum (today, the Victoria and Albert Museum; the dining room designed by Morris is now one of the restaurant's museum rooms), and for the renovation of the interior of St. James's Palace. Apart from friends, the company also employs Jane and their two daughters. Mary "May" Morris, the author of many beautiful patterns, turns out to be especially talented.
William's wildly innovative approach to composition is situated halfway between the French-style illusionist floral wallpapers and geometric patterns. Plants are stylized, adapted to a two-dimensional representation, like the pattern 'Willow Boughs', which is still very popular today. Morris believes that good design should combine order, message, meaning and beauty. However, critics often remind him of the economic aspect of the company's operation. Morris, dreaming of a world where everyone deserves a rest in a beautiful home, among the items made by rested and happy employees, forgets one thing – the things he produces are available only to wealthy clients.
Heaven on Earth?
Morris is a man of many talents. He establishes Kelmscott Press and designs the exquisite Kelmscott Golden font to print the works of Geoffrey Chaucer, a mediaeval English poet and diplomat. The Canterbury Tales inspires William to create the monumental poetry work, The Earthly Paradise. Interestingly, Morris's contemporaries know him best as a poet, and The Earthly Paradise is widely read.
Fascinated by Iceland and the Icelandic sagas, Morris travels to the country twice. He even learns the language and translates the sagas into English. He appreciates the values found in these texts: courage, hope and obligation, as well as masculinity understood as a defence of these values; a readiness to fight in their name. Besides his fascination with Iceland, a "tragic and beautiful country", William finds yet another motivation to undertake a long journey: Jane and Rossetti have an affair, and ever since Rossetti's wife's death they have been living in a ménage a trois under the same roof. It has to be emotionally exhausting, even if Morris adheres to the principle that women should be free in their feelings and desires, rather than restrained by rigid Victorian morals.
The artist describes his views on the relationship between man and woman in the utopian News from Nowhere (1890). The narrator, after an argument in a Socialist League meeting, walks through the city, eager to see the future. When he wakes up the next day, it's the 21st century, and he sails down the Thames and sees a world in which people live in communities, are free in their feelings, get pleasure from work, while nature, which they respect, gives them inspiration and rest.
Utopia and territory
"Almost no one knows William Morris," says Michel Houellebecq in his novel The Map and the Territory (the author made himself one of its protagonists). It is my favourite book by this writer, an insightful treatise on the role of art and beauty.
William Morris is mentioned several times in the book. As one who believes that beauty elevates awareness and is the result of labour, as long as working conditions are good and healthy. As a devoted socialist, convinced that socialism is the only path towards life in an equal and egalitarian community. "Also right until the end," writes Houellebecq, "he fought Victorian prudishness, he campaigned for free love." When Jed Martin, the main protagonist, a painter, asks: "Do you think he was a utopian?" Houellebecq replies: "In a sense, yes, for undoubtedly. He wanted to abolish school, believing that children would learn better in an atmosphere of total freedom; he wanted to abolish prisons, thinking that remorse would be sufficient punishment for the criminal. It's difficult to read all those absurdities without a mixture of compassion and dismay. And yet, and yet... – Houellebecq hesitated, searching for his words – 'Paradoxically, he had a certain success on the practical level.'"
As Houellebecq's protagonist puts it, we can only say for certain that if all people were like William Morris, his model of society would not be utopian.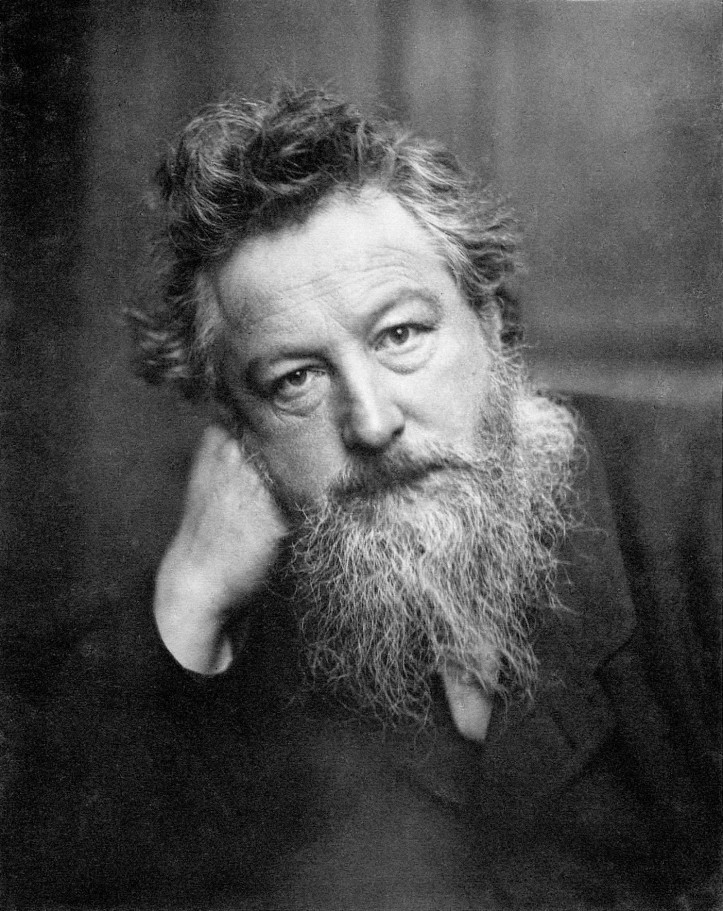 A high five for "Przekrój"? Or maybe a ten? By supporting PRZEKRÓJ Foundation, you support humour, reliability and charm.
Choose your donation