The Swiss psychiatrist Elisabeth Kübler-Ross was a pioneer in the study of dying and grief, paving ...
2021-02-06 09:00:00
"Dying is nothing to fear. It can be the most wonderful experience of your life," said Elisabeth Kübler-Ross. And though you may not share that opinion, what she accomplished on behalf of the dying remains immortal.
Read in 19 minutes
She didn't expect this kind of life even in her wildest dreams. And those dreams were already quite bold. Elisabeth Kübler enters the world in Zurich on 8th July 1926, the first of a set of triplets. Her father is a serious, severe man, deputy director of the city's largest office-supply distributor. He loves music and the mountains. Her mother is an outstanding homemaker, who cooks, knits, gardens.
Elisabeth weighs just under one kilogram. The doctor says she showed her sisters the way, and that as a result her mother will never have to worry about her. But for her entire life, Elisabeth feels that as a nobody weighing just a kilogram, one of three entities that blur into one another, she constantly has to prove that she has the right to live. The girls' names all start with E; they receive the same presents, sleep in the same beds, wear the same clothing. Even on her potty chair, Elisabeth has to sit until her sisters finish (her older brother stands guard). In her autobiography, she confesses: "While I was growing up as a triplet, one of three identical girls, my whole life had been a struggle for my own identity."
She creates one very quickly.
I will be leaving
A few years later, the Küblers move from Zürich to the village of Meilen, on the lake, to a house on a hilltop. Elisabeth spends her childhood close to nature, which will always be important for her. As a young child, she discovers a book about life in an African village. From that time onwards, she stubbornly dreams of having a black doll. So much so that she loses interest in the entire collection she has shared with her sisters.
One time she and her father go to a horse race, and to see better, she sits in front on the wet grass. She ends up in the hospital with pneumonia. She shares her room with a frail girl who never gets any visitors. One day, as Elisabeth describes in her autobiography, The Wheel of Life, "My little porcelain friend told me that she would be leaving later that night." Yet the girl reassures her: "It's okay […] There are angels waiting for me." When Elisabeth sees the empty bed the next day, in the depths of her soul she smiles at the thought that only she knew the mysterious girl – and knows that she has gone to a better place.
She returns home to recover, now with a black doll under her arm, the first doll that's all her own. She's happy, even though she has to spend whole days on the couch. As she writes, the best medicines in the world are working on her: care, concern, love. And, of course, a few chocolates.
At first her family calls her Meisli, little sparrow, and later Museli, little mouse. At home they speak Schweizerdeutsch, the Swiss variety of German. Both nicknames refer to her character – the girl can't sit still.
Her next two encounters with death are very different. First a new classmate, Suzy, who's paralysed, dies. Soon after that, a farmer she knows falls from an apple tree. He lies for several days in a room filled with flowers and family members; from his bed he can see his fields and trees out the window. She realizes that if there is some kind of choice involved, death doesn't seem so terrible.
The Kübler family spends almost every evening in the music room. The father, an active member of the skiing club, teaches the children ballads – and survival. Every year he takes them on a ritual outing to the mountain: harsh conditions, little food. One year, one of Elisabeth's sisters ends up in hospital paralysed, and in one of her letters to the patient, Elisabeth resolves that one day she'll become a caring doctor.
But her father has other plans for her: bureaucratic work in his office. Elisabeth replies: "No thank you." Upset, he suggests that in that case she should become a servant, and slams the door. After a few days, she starts work as a maid. In the house of a fairy-tale evil mistress, every day at 6.30am she has to wax the floors, and serve tea at midnight. When after a few months the owner doesn't let her look at the Christmas tree, which is "only for the family", the emaciated Elisabeth boards a train for home.
She makes it into an internship in a hospital laboratory. She's overjoyed; every day she breathes "the most sacred, holy, most wonderful smell in the whole wide world." Unlike others, she has no problem collecting blood from prostitutes suffering from venereal diseases, who at the time caused the same fear as HIV victims later would. After the procedure, she sits down on their beds and listens to the women's stories for hours. She sees them as nice, warm people.
Death and butterflies
After World War II, Kübler joins the International Voluntary Service for Peace. First she travels to help rebuild the destroyed French town of Écurcey, and then to Poland, because she had promised this once to a supervisor, Professor Weitz, who lost his whole family in the crematoria. She arrives by a roundabout route through Sweden; in post-war Europe, transport is a challenge. To pay for the trip, she mows grass and milks cows for a Swedish farmer. It's 1947. She ends up in the village of Lucimia, in Mazovia province. In a two-room hut, she sets up an improvised clinic. Elisabeth still doesn't have her high-school diploma, and yet with two nurses, Hanka and Danka, she removes shrapnel, amputates, delivers babies.
One night, a woman arrives with a three-year-old boy who's feverish with typhus. He keeps losing consciousness. That night Elisabeth is working in the clinic alone, and there are no medicines. The boy is the 13th child of a Jewish mother: she lost all the rest, along with her husband, in Majdanek. The closest hospital is in Lublin. They walk the entire night. There's no room; the doctor doesn't want to admit the boy. Elisabeth persuades him. Three weeks later, she finds a bundle containing soil. It's blessed soil – a gesture of thanks from the mother for saving her last child. The bundle goes back to Switzerland with Elisabeth.
But before she sets out for home, where she'll arrive exhausted, weighing 38 kilos, she wants to see a concentration camp for herself. To somehow understand. She goes to Majdanek. She enters the barracks and looks at the initials carved there – with fingernails? Stones? And then she notices the butterflies on the walls. None of them has been preserved until today; some people doubt their existence. Elisabeth remembers them clearly:
"They were everywhere I looked. Some were crude. Others were quite detailed. I could not imagine butterflies in horrible places like Maidanek, Buchenwald or Dachau. However, the barracks were full of them. Each barracks I entered. Butterflies."
For the next 25 years, she'll ask herself: why butterflies? And she finds her answer.
In Majdanek, Elisabeth meets Gołda, a woman her same age, who escaped the gas chamber by a miracle. The door couldn't shut because there were too many people; she was ordered to come out, and because she was on the list of the dead, nobody ever looked for her. Gołda decided to forgive, and to love. She says: "If I can change one person's life from hatred and revenge to love and compassion, then I deserved to [survive]." Elisabeth is greatly impressed.
A psychiatrist? Never!
She goes back to Switzerland. Over her father's objections, she leaves on another mission to Poland, to reunite children with their parents. When she gets home, he opens the door, asks "Who are you?" and shuts it again. Freezing, she goes to a restaurant, where she meets a friend. They live together. She reconciles with her father only a few months later.
Elisabeth finally gets her diploma and is accepted to the medical studies she's dreamed of. On the shores of Lake Zürich, she often sees Carl Jung taking the air. She admires him, but never works up the courage to approach him. She's convinced that after speaking with him she'd become a psychiatrist, and that specialization is at the bottom of her list of aspirations. During her mandatory internship in a village, she discovers that she gets the greatest satisfaction from visiting patients who need comfort and friendly companionship. And she notices that medical school has its limitations. "A fact not taught there: a compassionate heart can heal almost anything."
During her studies, Elisabeth meets Emanuel ("Manny") Ross, an American Jew. She marries him and they move to the US, though at first she had wanted to go to India, where her brother was working, for a few months.
It's July 1959 when Elisabeth starts work in the psychiatry department at Manhattan State Hospital – there happened to be an open spot for a residency. She's shocked at how the patients are treated, particularly the so-called hopeless cases: the schizophrenics, who have been living on the ward for years. They're beaten with clubs, given electric shocks, packed with high doses of medications. She still has no idea about psychiatry, but she feels that this is cruel, and fights for change. After two years the ward ends the most sadistic punishments, and most of the 'hopeless' patients are already leading independent lives outside the hospital. Elisabeth becomes a psychiatrist, though she feels that classical psychiatry isn't for her.
She and her husband move to Chicago, where she finds work in the laboratory of psychiatrist and psychoanalyst Sydney Margolin. One time he leaves and assigns her to fill in at a lecture for his students. Elisabeth panics; the professor is a spellbinding speaker. She wants to choose a subject that affects everyone, so she picks death. During the first part of the lecture, the bored students chew gum. After the break she invites to the podium 16-year-old Linda, who is dying of leukaemia. Elisabeth encourages the students to ask her questions. They don't know about what. So Linda helps them – she asks and answers the questions she wishes her caregivers had asked her. "What was it like not to be able to dream about the high school prom? Or go on a date?"
After the lecture, silence descends. When Elisabeth initiates a discussion, the students talk about how moved they are, how they keep putting themselves in Linda's shoes. "Now you are reacting like human beings instead of scientists," Elisabeth summarizes. She adds that in that case, perhaps they'll be able to treat patients with the same sympathy they'd want for themselves. She doesn't even notice that she's just started a breakthrough.
The most painful lesson
In the winter of 1965, four theology students knock on her door. They've heard about the lecture and want to talk with patients about the experience of death. But it's not so easy to persuade doctors to allow them to speak with the dying. They resist, saying the patients don't have the strength for that kind of conversation. In the end, one doctor decides that for one patient, nothing would do any harm anymore. When Elisabeth approaches the dying man, he eagerly agrees to talk. She ensures him that she'll come tomorrow, with the students. By then he's already too weak. He dies an hour later, without getting to share what he wanted to say. It was her first and most painful lesson.
They find more patients, word spreads, and many people volunteer. The formula emerges for some unusual seminars, during which in the presence of the seminarians, Elisabeth speaks with dying patients about their experiences. The conversations are intimate, but with the patients' consent, they're recorded. Behind a one-way mirror sit the spectators, who listen to them but don't add to the patients' stress. Soon the seminarians are joined by doctors, nurses, paramedics, rabbis, therapists with various specializations. The participants include Cicely Saunders, the nurse who in 1969 will found the first holistic hospice for the dying: St Christopher's in London. For many participants, the seminar is a watershed moment. This is how Elisabeth describes it:
The lessons each individual taught us boiled down to the same message:
Live so that you don't look back and regret that you've wasted your life.
Live so you don't regret the things you have done or wish that you had acted differently.
Live life honestly and fully.
Live.
At the seminars, Elisabeth speaks with more than 200 patients. She notices that many of the subjects keep recurring. In two months, she writes her book On Death and Dying, where she describes the five phases of coming to terms with death, through which all of the dying seem to pass – as do the grieving. Published in 1969, it is subtitled What the dying have to teach doctors, nurses, clergy, and their own families. Elisabeth breaks the taboo that surrounds death, both in the field of medicine and outside it.
"The more we are making advancements in science, the more we seem to fear and deny the reality of death. How is that possible?"
She notes that patients may beg for rest and dignity, and instead they get IVs, transfusions and tracheotomies; they want even a single person to stop by their bedside, but there are a dozen bustling around them, more concerned about their heart rhythm and lung function than about them as a person. And she asks: "Is our concentration on equipment, on blood pressure, our desperate attempt to deny the impending end, which is so frightening and discomforting to us that we displace all our knowledge onto machines, since they are less close to us than the suffering face of another human being, which would remind us once more of our lack of omnipotence, our own limitations and fallibility and, last but not least perhaps, our own mortality?"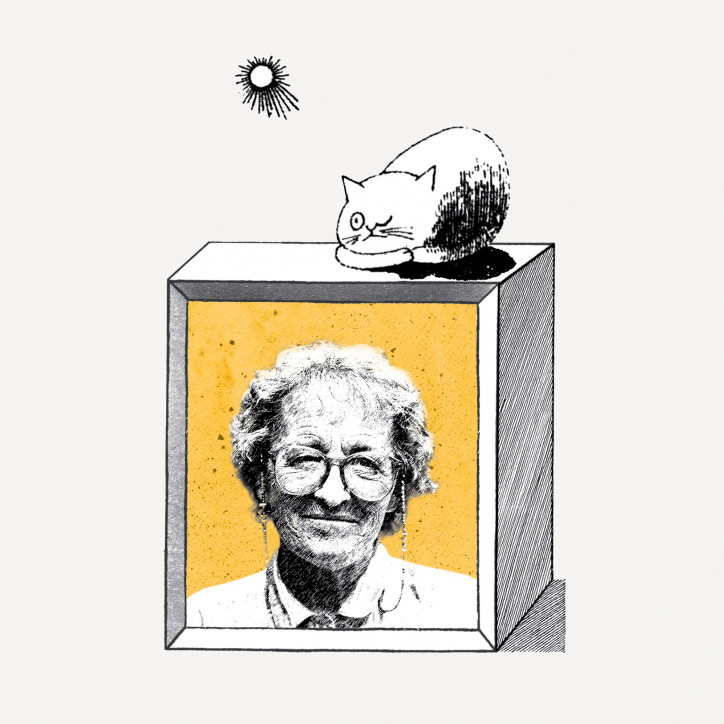 On Death becomes a bestseller; by now 10 million copies have been sold, and the book has been translated into 37 languages. It's in almost every hospital and care home, and the five stages of coming to terms with death – one's own and others' – is an axiom that has permanently changed our approach to the dying.
Kübler-Ross's theory has its critics; they say it's intuitive, based on descriptions of patients' experiences rather than a scientific model. Professor of gerontology Robert J. Kastenbaum believes it's the product of a particular culture at a particular time, which may not apply in other contexts. He accuses Kübler-Ross of failing to take into account resources and pressure from surroundings, which can make a huge difference in how death is experienced. Another scientist, George Bonanno, denies the existence of any stages of grief, and believes that holding on to them is harmful: the conviction that they can be distinguished means that people who don't go through them according to the plan, or in the right order, may feel they're doing something wrong.
Many argue that the stages shouldn't be treated as dogma. But Elisabeth herself also distanced herself from this idea: "Just be you! If you feel like screaming, you scream. If you feel like crying, you cry. Don't try to follow a textbook or have somebody else tell you what do. Trust yourself, your own natural emotions," she said on a local TV show in Baltimore in 1980.
It's hard to disagree with some of her observations. It might be helpful if more people would talk about death and dying as an intrinsic part of life, just as they do not hesitate to mention when someone is expecting a new baby, she writes in On Death.
Voices from the afterlife
Elisabeth becomes a pioneer of hospice care, which starts to develop in the US in the 1970s. At that time, she also travels extensively around the world, delivering lectures for which there's a two-year waiting list. She receives tens of thousands of letters each month. She meets with ordinary people and great ones. A photo from that time shows her sitting on a couch, smiling and drinking tea with Mother Teresa.
Soon after the publication of the book, Mrs Schwartz comes to Elisabeth. She's one of her earlier interlocutors – she ended up in a hospital on the brink of death. She says that she saw from above the doctors fighting for her life. One time she was even declared dead, and covered with a sheet. When a nurse came into the room three hours later to take the body away, it turned out that Mrs Schwartz was in fact alive. As Kübler-Ross notes, the woman is mentally healthy. This story haunts her.
Nevertheless, in the end Schwartz dies. But 10 months later she opens the door to Elisabeth's office and asks to talk. Somewhat disoriented, the doctor follows the apparition. She asks her to provide evidence of her presence by writing greetings to a clergy friend on a piece of paper. Schwartz does, and urges the doctor to continue her work on dying, pointing out that it has only begun. "We'll help you," she says, and disappears.
From that time on, Elisabeth is convinced that "If you are ready for mystical experiences, you have them. If you are open, you will have your own spiritual encounters." She decides to hold a series of conversations with people who found themselves in the borderland between life and death. With her colleagues she finds 20,000 such individuals, from various cultures, aged from 2 to 99. On the basis of their experience she creates a description of various phases of the process of dying. Her actions and observations are taken by some as a revelation; for others, it's a sign that "the Death and Dying Lady" has lost touch with reality. Meanwhile, Elisabeth writes the book Death: The Final Stage of Growth. A couple from San Diego invites her to meet ghosts.
Jay and Martha Barham (described in the book as the B's) are in touch with another world. Jay is a medium – he calls up spirits and recently founded the Church of the Facet of Divinity. Interested in the couple's experiences, Elisabeth shows up at their home in Escondido, California. Through Jay she meets her 'brother soul' from the afterlife, Salem, who takes her to the times of Jesus, when he was one of the disciples, named Isabel. He also brings her the news that her now-dead father knows how far his daughter has gone. Elisabeth returns home fascinated.
Her husband Manny, a scientist, can't listen to this chatter about life after death. Her daughter Barbara is also sceptical; only her son Kenneth expresses interest. Manny is convinced that the B's are taking advantage of his wife. In the end he and Elisabeth divorce. He keeps the children and the house, and she goes to Escondido with the B's. Her spirit guide Salem helps her find land there, which she buys with her ex-husband's help in 1977. Among eucalyptus trees, in a place that a tropical butterfly showed her, she sets up the Shanti Nilaya Healing Center, the Home of Peace, a treatment centre for the dying and their families, for whom she leads workshops. Through another medium, the husband of a friend, she is entrusted with this mission: "Death does not exist." The voice from the afterlife says that she's the right person for this, because she belongs to the world of medicine and science, and the representatives of religion unfortunately haven't fulfilled the hopes placed in them. So Elisabeth begins to proclaim that death doesn't exist, and more and more people want to listen. She achieves what she calls "my cosmic consciousness", which allows her to perceive the life pulsating in every creature.
Her centre expands, hires people. But her relationship with the B's suddenly ends in an atmosphere of scandal: Jay Barham is accused of sexual molestation of participants in a seance in a dark room. Their relationship had already soured. Elisabeth wonders whether he tampered with the brakes on her car and tried to kill her with a poisonous spider. One day when she's on a walk with Barbara, a fire breaks out on the farm – most likely not by accident – simultaneously in the kitchen and in a woodpile in front of the house. Workers and volunteers help her clean up the site; it's still possible to live in the partly built home, but the flames have left behind them a longing and an emptiness.
There is no joy without hardship
Elisabeth hears rumours about a new kind of cancer that gay people are catching. Nobody knows any more than that all of a sudden active, healthy men are dying at a frightful rate. Somebody calls and asks whether she accepts AIDS patients at her seminars. Elisabeth agrees, of course, unaware that she's choosing the direction for the next years of her life.
She's 57 years old when she finds a new location for her dream farm: the village of Head Waters, Virginia. The farm has cows and sheep; with time there appear chickens, turkeys, geese, donkeys and llamas. With the help of her workers and 40 volunteers, buildings also go up, which will be designated for a new therapy centre, which she'll call Healing Waters.
One day she gets a letter from the mother of a three-year-old child suffering from AIDS. The woman admits that she can't care for her child anymore. More letters arrive. The doctor is moved by how HIV-positive children are treated. In a book, she tells the story of a girl who from her birth has been kept in a cage in a hospital in Boston. She's never touched. At the age of two, she couldn't even crawl.
She decides to found a hospice for children with the virus. When she announces it at a lecture, the local residents protest, indignant that she wants to bring a deadly disease to their homes. Threatening letters arrive for years. Informational meetings about what she wants to do, what AIDS is, don't help. In 1994, her dream farm is set on fire. This time the flames take all of her papers, her and her father's memoirs, pictures, descriptions of thousands of patients' cases. At first she's devastated, but she's back on her feet fast. In one of her books she writes: "There is no joy without hardship […] Adversity only makes you stronger. People always ask me what death is like. I tell them it is glorious. It is the easiest thing they will ever do. Life is hard. Life is a struggle. […] As I am fond of saying: 'Should you shield the canyons from the windstorms, you would never see the beauty of their carvings.'"
Someday, Elisabeth will say the fires were a blessing. She was a hoarder, and the fires mean she never had to pack. Sometimes she missed her photos, but again, that's not so important. For the children with HIV she finds homes through the Shanti Nilaya newsletter, which has 25,000 subscribers. 350 families take in HIV-positive children.
I have truly lived
At her son's urging, she moves to live near him, in Scottsdale, Arizona. The house stands in a desert wilderness. In the evenings, Elisabeth lies in her bath and listens to the howls of the coyotes, looking up at the stars. She feels the infinity of time. Snakes live under the stones; rabbits hop across the road.
For a long time now, she's understood why concentration-camp prisoners drew butterflies on the walls. She's convinced that when we die, we discard our bodies like butterflies emerging from their cocoons, and then we pass through successive stages of life after death.
"It's a very beautiful experience if [people] are finished with their unfinished business, they just take off and the person is no longer there. And then you can actually see with your eyes, it's like butterflies taking off. [...] The body is left. It doesn't matter what you do with it. People make such a fuss about it: Should we cremate? Should we bury them? It makes no difference at all."
She's opposed to stubbornly holding on to life, but also to euthanasia: years ago, when her mother asked for this kind of help if she became a 'vegetable', Elisabeth refused. (A week after that conversation, her mother had a serious stroke and spent her last four years in a care home, but not connected to life support; Elisabeth wonders for a long time why life taught her mother such a lesson, but in the end she understands this, too.)
Her own death also comes to her in stages, in a series of strokes. Against her doctors' advice she doesn't stop smoking, drinking coffee or eating chocolate. Her stroke in 1995 is extensive. The following year is a fight with ceaseless pain and the limitations resulting from partial paralysis. Elisabeth requires 24-hour care. After years of complete independence, she can't use the toilet by herself. "What kind of life is this? A miserable one," she concludes.
"By January 1997, the time of this writing, I can honestly say that I am anxious to graduate," she writes in her autobiography. She believes death isn't coming to her because she's still too stubborn and intractable and still has to learn her final lesson, get rid of regret and bitterness. Then she'll be able to depart. "Right now I am learning patience and submission. […] Our only purpose in life is growth. There are no accidents".
She plans her funeral: "My family and friends will arrive from all parts of the world, wind away through the desert and until they come upon a tiny white sign planted into the dirt road that says 'Elisabeth' and then drive until they've reached the Indian tipi and the Swiss flag that stands high above my Scottsdale home. Some will be grieving. Others will know how relieved and happy I finally am. They will eat, trade stories, laugh, cry, and at some point release dozens of helium-filled balloons that look like E.T. into the blue sky. Of course, I will be dead." Then she adds: "At 71 years all I can say is that I have truly lived."
On the last page of her book, she writes that death is only a transition from this life to existence in a different world – one without suffering.
Oprah Winfrey reads the autobiography and flies to Scottsdale to talk about dying with "the Death and Dying Lady", the specialist in coming to terms with the inevitable. Elisabeth, in a shirt and floral-print skirt, lies in an easy chair, raising her legs again and again. She speaks slowly, with a certain difficulty, her accent strong as always. She's calm, a bit playful. She admits that after the last stroke, when she sat in a chair "like a zombie" for 15 hours a day, each day and each minute she wished for death.
"I was angry, angry, and enraged. […] Depression came after it. I accepted to die, but then now I have to start from scratch and that I'm very lazy about. It's much harder [to live] when you're ready to take off. It's like you've boarded a plane and they don't take off from the seat and you don't know if they are going or not."
"What are the greatest lessons you've learnt here?" Oprah asks. "Do what feels right to you, not to other people. Learn to say no early", Elisabeth replies.
---
Article prepared based on materials including On Death and Dying; The Wheel of Life Oprah Winfrey's interview with Kübler-Ross, available on YouTube; Paul K. Maciejewski, Baohui Zhang, Susan D. Block, "An Empirical Examination of the Stage Theory of Grief", JAMA Network; as well as information on the website ekrfoundation.org.
Translated from the Polish by Nathaniel Espino
This text was translated from Polish, thanks to which we can reach readers outside of Poland. If you enjoy what we do and would like to keep accessing journalism from Central and Eastern Europe, please support PRZEKRÓJ Foundation and help us develop the English version of our website.
Choose your donation