Ben Pascoe, the Canadian founder of 'Next Apache', a cult café and second-hand book store in Bratislava, ...
2020-06-25 09:00:00
"The Slovaks are prouder of who they are. They belong to the European Union and to NATO. They are part of Europe. We're in a real golden era for Slovak culture," says Ben Pascoe, a Canadian who has lived in Slovakia for 20 years. He runs the cult Bratislava cafe and second-hand book store 'Next Apache'.
Read in 11 minutes
Łukasz Grzesiczak: My friend from high school moved to Canada and I should think half the class envied him. Why did you, a Canadian, choose Bratislava?
Ben Pascoe: I found myself in Bratislava slightly by accident. I trained as a teacher, but in Ontario – where I studied – the situation in education was really tough; there were very few jobs, low pay, and strikes every five minutes. The opportunity came up to go to Prague to teach English and I decided to take it. But I didn't last long there.
Why? Almost everyone in Poland loves Prague.
It's a beautiful city, but huge. I found it overwhelming both in size and in the pace of life. On top of that, it's full of tourists; you hear English there every day. I wanted to try something else. The language school where I was working also had a branch in Bratislava and they suggested I move there for the following year. I agreed.
What I immediately liked about Bratislava is that it is so small; you can get almost anywhere on foot. I have a car, but I don't really use it. In a way, it's also simpler that less is going on here. In Prague, you have 100 different options every day to choose from, but in Bratislava just two or three. It's easier to decide what to do. At first, I was only meant to spend a year here; but I'm still here today.
You speak excellent Slovak. Was it difficult to learn?
Yes. For me, it's a difficult language. The declinations, the cases – a nightmare. An additional problem here is that many people also speak Czech to each other, and for me that's a completely different language that I don't understand.
Did it take you long to learn Slovak?
I've been learning for 18 years now and my Slovak still isn't that good... Of course, I am already at a level where I can communicate and discuss things, but I still make mistakes and use English grammar, so I feel more comfortable talking with people I know.
You come from a town called Waterloo in Canada. How does your hometown differ from Bratislava?
From Bratislava? Everything's different. Waterloo is a relatively small place with a population of about 100,000. Bratislava is a capital city, full of life and with several hundred years of history. Yet it's still small enough that you can bump into the Prime Minister or some famous actor on the street.
In Waterloo, I guess that was pretty unlikely?
Exactly. The Canadian prime minister doesn't turn up in Waterloo too often.
Can you remember your first day in Bratislava?
I came by train from Prague with a group of American teachers and we were looking for our school. Later, they were meant to take us to our accommodation and it took ages. It was chucking it down with rain and we thought they were dragging us to the ends of the Earth.
In the evening, a bigger group of us returned to the city, looking for a restaurant. We got lost, because we didn't know our way around. Later, two of us went to find a bar. We found some dive full of bald guys; Britney Spears on the speakers. It was an interesting experience. However, we slowly got to know the city and on the next day we even managed to find the city centre – a great success!
As a Canadian, what did you know about Eastern Europe before you moved here?
Very little. When I was younger, I did some backpacking with my mates around Europe – but in Western Europe. We knew that there were countries like Poland or Czechoslovakia, and that they eat slightly different things than we do back home. I also have Jewish roots and I knew that my family came from somewhere in the east of Europe. But it was only after I moved to Prague that I realized that this part of Europe is also very beautiful and that it has an amazing history. I'm a bit embarrassed that I only appreciated this then.
But I also remember from my Canada days that Czechoslovakia and Russia cheated in the Hockey World Championships, playing professionals, pretending they were amateurs and easily beating our amateur players…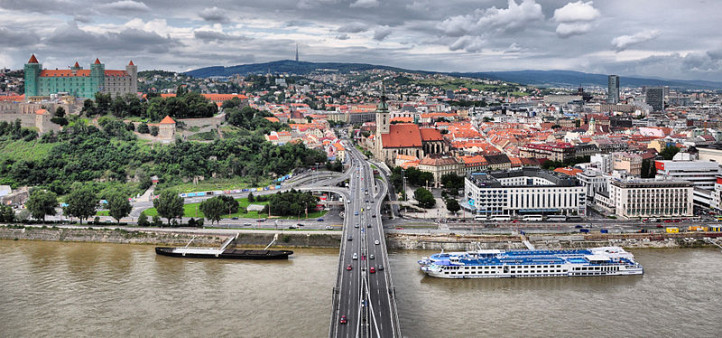 Do you go to the hockey in Slovakia?
I follow what's going on, but I boycotted Slovan Bratislava's matches when they took part in the KHL [the Russian equivalent of the National Hockey League (NHL), which brings together teams from Russia, Belarus, Latvia, Kazakhstan, Finland and China. Slovan Bratislava, the best club in Slovakia, played in this hockey league from 2012-2019 – ed. note]. The KHL is a Russian propaganda machine. It was meant to help Slovak hockey, but only a handful of Slovak players took part. Slovak hockey needs space to develop. A strong sports league also unites the nation. When some Slovak artist has an exhibition at Tate Modern, or a Slovak opera singer appears at the Austrian opera, it doesn't really register with people. But when Sagan [the cyclist Peter Sagan – ed. note] takes part in the Tour de France or Cibulková [the tennis player Dominika Cibulková – ed. note] wins an important match, the whole country supports them. It connects people. In my opinion, sport is very important and is part of national culture.
Tell me how 'Next Apache' got started? Today it's a cult Bratislava café and second-hand book store frequented by almost all the cultural elite of the city.
15 years or so ago, three or four years after I moved to Bratislava, I started to think about a second-hand book store specifically for English books with a friend of mine. At the time, it was really hard to buy books in English. When learning Slovak, we used various techniques to help us remember things, for example, na zdravie ('cheers'), which was hard for us to say, sounded like 'nice driveway'. Then we realized that nech sa páči ('there you go' / 'you're welcome') sounds like 'next apache'. And that's where the name came from. People don't immediately clock it, but when they start repeating the name out loud, they work it out.
Later my friend and I went our separate ways. We didn't completely agree on the vision for the place, so in the end I created it myself. I was lucky that the Evangelical Church, which owns this building, was getting rid of some of its property. I agreed to rent it from them and that's how I found the place.
I thought it would mainly be foreigners that would come here, but because this street, Panenská, is a little out of the way, lots of Slovaks who know the city also came here. We have foreign tourists, expats living in Bratislava, and Slovaks, including artists, film-makers and architects. From the beginning, all sorts of different people met here and that made me very happy.
For you, is it more café or book store?
We survive thanks to the café; without the coffee and beer it would be tough. Lots of fashionable cafes now have shelves of books on their walls; here, it's just that they are all in English. It's convenient for me, because I've always got something to read.
You also organize various events, book signings and concerts. Was that the idea all along?
We were lucky that when we started up, there weren't so many interesting places to organize things like this. That's why cultural people and the organizers of these types of events noticed us, and to this day lots of events happen here.
Once we had a barbecue which spontaneously morphed into a huge Paneńska street party; there were probably around 100 people in the end. We've even had a wedding reception here. There are people who want to celebrate important moments in their lives here, because they feel at home here and feel it is their place. We have many regulars who I know so well that I don't even have to ask what they want to order.
You say that you like Slovak music and literature. Could you recommend some artists or authors for our readers?
We've got some truly great musicians in Slovakia. I really like the band Modré Hory [meaning 'Blue Mountain' in English – ed. note] or Jana Kirschner who records beautiful stuff with her partner Eddie Stevens. There is also the band of the current mayor of Bratislava, Matúš Vallo. The public love it. It's called Para, and Vallo plays bass guitar.
If we're talking literature, I'm still not really able to read in Slovak. I mainly read English translations, but the best book I've read so far is Rivers of Babylon by Peter Pišt'anek. There are also authors like Daniela Kapitáňová or the brilliant Monika Kompaníková; they've even made a film of her book Piata lod [The Fifth Boat].
We know The Fifth Boat and Rivers of Babylon; they've been translated into Polish. Daniela Kapitáňová is also available in Polish. Do you think Slovakia's literature might appeal to Western readers?
Slovakia is a tiny country and people in the West often don't even really know it exists; many of them are still stuck at 'Czechoslovakia'. There are a few Slovak writers translated into German, like Michal Hvorecký, [a collection of his stories appeared in Poland as Misji idealnej czystości (Strong Sense of Cleanliness), published by Fa-art of Katowice – ed. note] or Peter Krištúfek, who died tragically two years ago [his novel House of the Deaf Man was published under the title Dom głuchego by Książkowe Klimaty in Poland – ed. note]. But it's really hard to break into the American market. You can try through Amazon, but then again, there are thousands of books there.
Do you think that, if they managed to break through, Hvorecký or Krištúfek's books would be interesting for American or Canadian audiences?
Of course. It's the same for films made in Slovakia, like Peter Bebjak's The Line or Juraj Nvota's films Muzyka [Music] and Zakladnik [Hostage]. Rivers of Babylon even came out in English, but unfortunately got lost in a flood of other titles. I didn't live through the 1990s in Slovakia, so I don't know what it was all like then, nor under communism. Neither did other Canadians or Americans, and that's why reading about it all is an amazing experience for us.
In Poland, a lot is written about corruption in Slovakia? Is it really so bad?
Definitely there's corruption here, but personally I have not run into it much; there have never been any problems with the café either. Apparently at one time drivers always carried some extra cash with them for the police. But today this isn't the norm; there are no scenes like in Rivers of Babylon… Corruption is certainly still a problem, but it's no longer visible every day.
What's it like running your own business in Slovakia? Is it difficult?
A bit, because the government doesn't particularly help entrepreneurs. Unemployment fell, because many large international companies came to Slovakia, but if you set up your own business, you have to deal with difficulties and the enormous bureaucracy. However, things are improving. There are growing numbers of small, local companies producing, for example, foodstuffs. Beyond this, we've got start-ups that are famous the world over. Slovak people can be very ambitious and hard-working and don't give up despite the obstacles. And the more companies like this there are, the more visible we will be to the authorities.
How do you think Slovakia has changed during the dozen or so years you have been here?
Completely. I see this in the number of things that I bring with me when returning from Canada. I always used to come loaded down with stuff, but today I can get almost everything here; there are products from all over the world.
And the people? How have they changed?
Above all, many of those who left for work have come back. And that's brilliant because they've brought with them new energy and new ideas. I also think that the Slovaks are prouder of who they are. They belong to the European Union and to NATO. They are part of Europe. We're also in a real golden era for Slovak culture. Since I've lived here, there have never been so many good Slovak films made, so much good music and books. And these books are really popular; there are writers who sell over 100,000 copies!
Of course, not everything works like it should. Education and the health service don't work very effectively, but that's a problem for other countries too. So, Slovakia is a cool place to live in and a country that the people are proud of. I'm obviously talking here about intelligent patriotism, not nationalism.
Is nationalism in Slovakia a problem?
In my opinion, the problem of nationalism in Slovakia is no greater than in other countries. There are extremists everywhere. Thanks to the internet, they have greater opportunities to make an impact, but mainly they are supported by people who are unhappy with their standard of living and are bitter. They're not racists. One of my students, who supports one of the extremist parties, was shocked at the suggestion that it's a fascist party. He didn't see it like that at all; quite simply he saw people there with new and alternative ideas.
I argue a bit with my Slovak friends about this, but I just don't think Slovakia is a xenophobic country. You could say, for example, that in Canada we are more open, but Canada is a country built on immigrants. In a country like Slovakia, with its bitter experience of being invaded, it is completely natural to fear foreigners. That's understandable.
Would you say this is your home now?
Yes, I feel at home here. I can't imagine moving back to Canada. I still go there to visit my parents and gladly do so, but I am happy to get back home. It's fantastic that I'm here, where so much is going on; that I can live in a changing country and observe it all.
Have you had the chance to visit Poland?
Yes, I've been to Kraków, but I'd very much like to go again. I plan to take the whole family, by train, when the kids are a bit older. I'm looking forward to it! I'd like to treat the children to a trip like this, because of my Jewish roots as well; it's the best possible history lesson.
To conclude, can I ask you to turn tour guide for us? Polish people are increasingly travelling here. What places in Bratislava would you recommend they visit?
Bratislava castle; above all, for the view from the castle hill, which is exceptional. On the way, you can see the prettiest buildings in the whole city; it's worth losing yourself in those little streets. Right in the centre of town there are quite a lot of interesting places with delicious food. One of my favourites is the 'Pinot u Bruna' wine bar. For fans of Chinese cuisine, I'd recommend 'Jasmin', under the castle, which has a fantastic view of St. Martin's Cathedral. Apart from that, there's also the 'Bratislavský Meštiansky Pivovar' pub which serves home-brewed beer and, in the city centre, they have two enormous restaurants with large terraces.
For those who like green spaces, I'd recommend Koliba district, where you'll find lots of nice restaurants and cafes. We've also got great art galleries; the Slovak National Gallery (Slovenská národná galéria) of course and, from among the smaller ones, I'd recommend Nedbalka.
Bratislava also has the advantage that you can hop on a train and be in Vienna inside 45 minutes. There are also beautiful towns like Piešťany or Modra nearby. I really don't have a bad life here.
Translated from the Polish by Annie Jaroszewicz