The thirteenth issue
Cena:
19,90 zł
19.90
PLN
http://przekroj.pl/en/shop/products/trzynasty-numer
InStock
Przekroj
Winter 2020 Issue no. 13 (3568) Publication date: 06.12.2019 Polish-language version only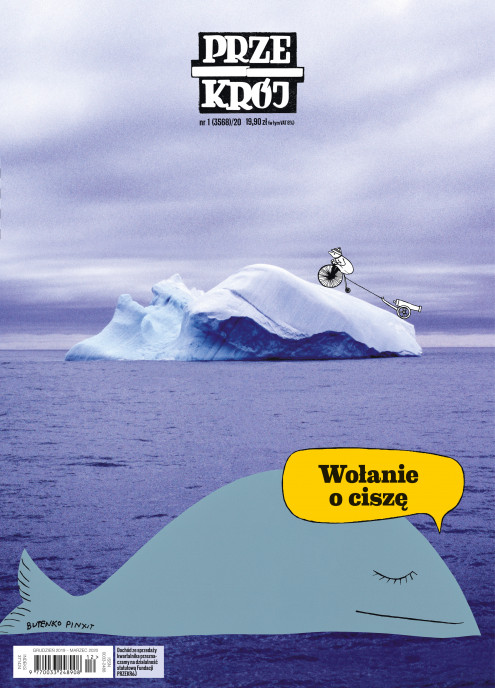 The thirteenth issue
---
Winter 2020
Issue no. 13 (3568)
Publication date: 06.12.2019

Polish-language version only
Silence, please! The new winter issue of "Przekrój" is here.
On the cover, Bohdan Butenko's whale is swimming across Tomek Niewiadomski's photograph. And inside, we take off with a previously-unpublished short story by Olga Tokarczuk. Yes, the same one who received the Nobel Prize!
Once we have paid our respects to the great illustrator and the Nobel laureate, it's time to talk. First, about education. Aleksandra Pezda invites experts from Finland, France and Poland, to take part in a discussion. Meanwhile, Ewa Pawlik asks children for their opinion on this matter.
We also include a dispute on empathy, praised by the famous zoologist Frans de Waal (in an interview with Agnieszka Fiedorowicz) and cautioned against by the equally renowned psychologist Paul Bloom (in an interview with Tomasz Stawiszyński.) To better understand compassion and empathy, we take a closer look at the figure of Jesus of Nazareth. Representatives of Islam and Judaism express their views on this topic, as well as a Christian historian, two yogis and Sauron of Mordor (the last one commented only jokingly, of course.) We also present nine heroes and heroines from all over the world, who exhibited extraordinary levels of love and compassion for others.
Having visited the heart, we travel upwards to the brain. Neuroscientist Paweł Boguszewski explains the functioning of this one organ to rule them all. Magdalena Sali gives some advice on how to keep it at peace, while psychologist Bartłomiej Dobroczyński helps us learn to think less. Apparently, a bit of noise can help, as long as it is of the right kind. Paulina Wilk writes about the less suitable, even harmful types of noise. And Marcin Napiórkowski tells us about booms and bangs.
Now that we've heard enough, we shall go looking for silence – with the help of Gordon Hempton, who records silence all over the world, calling himself an acoustic ecologist. We also write about quietude in ancient cultures and about the children who set up a shop with silence. Finally, Tomek Niewiadomski shows silence in the photographs he took in Antarctica.
Zoologist and polar explorer Mikołaj Golachowski also expresses his love for the frosty beauty of Antarctica. Adam Vaughan describes the agony of an Alpine glacier. Tomasz Sitarz explains why snowflakes are hexagonal and unique. Łukasz Lamża proves that everything is snow. And poet Marcin Orliński invents some literary games to play in snowy weather.
Those are not the only poems in our Winter issue. There are poems by Jan Twardowski, Grzegorz Uzdański, Rabindranath Tagore, Jacek Dehnel, Anthony de Mello, and haikus penned by several different authors. As for prose, apart from Tokarczuk, you can find a Christmas tale by Sarah Hall and a crime story by Ricardo Piglia.
Among many other treats, you'll discover a feature by Paulina Wilk about life in the Ganges Delta, and Joanna Nikodemska tells you about a mysterious whitener. Paweł Kafarski writes about copying nature. Zygmunt Borawski describes a perfect orphanage, Łukasz Stępnik writes about buildings that evoke all kinds of emotions, and Morgan Freeman talks about God in a conversation with Artur Zaborski. Anna Arno explores the most romantic of paintings. Zbigniew Libera talks about Teofil Ociepka, and Kacha Kowalczyk talks about local photography. Tomasz Wichrowski looks at photographs straight from Paris. Wojtek Antonów writes about a hockey player who was also a bank robber. Sebastian Frąckiewicz pays tribute to the unparalleled, late Bohdan Butenko.
You will also learn how it feels to be a dolphin, a crow and a plant. How does one sew the most beautiful quilted jacket in the world? What vegan treats will Marta Dymek serve for Christmas Eve dinner? What is Daniel de Latour thinking about? What did Marek Raczkowski draw this time, what has Tomasz Wiśniewski prepared for us, and what jokes can we expect from the Everything's Gonna Be Alright collective? And will the crossword turn out to be any easier this time? (It won't.)