The third issue
Cena:
14,90 zł
14.90
PLN
http://przekroj.pl/en/shop/products/trzeci-numer
InStock
Przekroj
Summer 2017 Issue no. 3 (3558) Publication date: 20.06.2017 Polish-language version only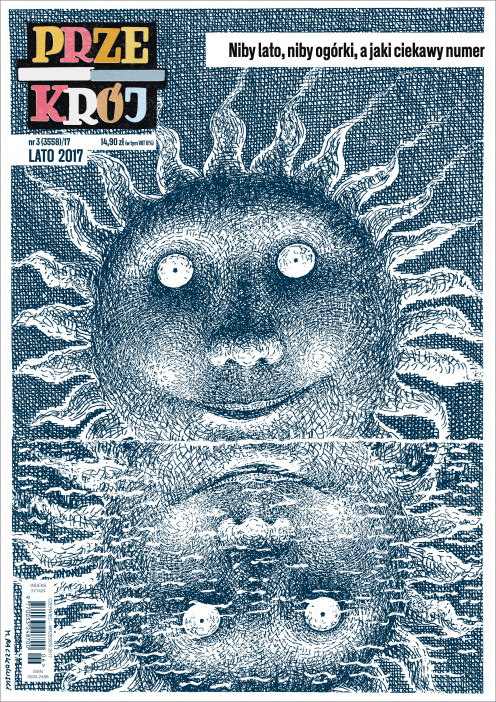 The third issue
---
Summer 2017
Issue no. 3 (3558)
Publication date: 20.06.2017

Polish-language version only

The Summer issue of "Przekrój" is 164 pages long, has plenty of interesting articles to read and lots of pictures for you to enjoy. Our journalists talk to the writers Ursula Le Guin and Szczepan Twardoch, psychologist Carl Strenger and philosopher Wilhelm Schmid, as well as to the doctor of souls Gabor Maté. We also interview Józef Wilkoń, and the artist answers our questions with drawings. We also have lots of cartoons by Marek Raczkowski (who drew the sun on the cover!) We also recommend the latest cartoon adventures of time-travelling librarian Miss Angst.
Literature lovers can enjoy short stories by Stanisław Lem, Romain Gary, Johan Theorin, Jakub Małecki, Stefania Grodzieńska, and a real gem: a previously-unpublished short story by Francis Scott Fitzgerald, translated into Polish by Jacek Dehnel.
In this issue, we pay a lot of attention to bees, and to the art of beekeeping that is coming back to life in Poland. We also talk about trees that were cut down, and those that survived despite their sentence already being pronounced.
We also explore the wonders of spending summer holidays in a van, see what happens when you combine boxing with chess, and explore the ritual meaning of patterns that adorn jumpers in Africa. We also share some advice on how to fast without harmful side-effects, how to release the creative powers of mess, and how to build a clay bread oven.