The fifteenth issue
Cena:
19,90 zł
19.90
PLN
http://przekroj.pl/en/shop/products/pietnasty-numer
InStock
Przekroj
Summer 2020 Issue no. 15 (3570) Publication date: 19.06.2020 Polish-language version only. Free shipping in Poland!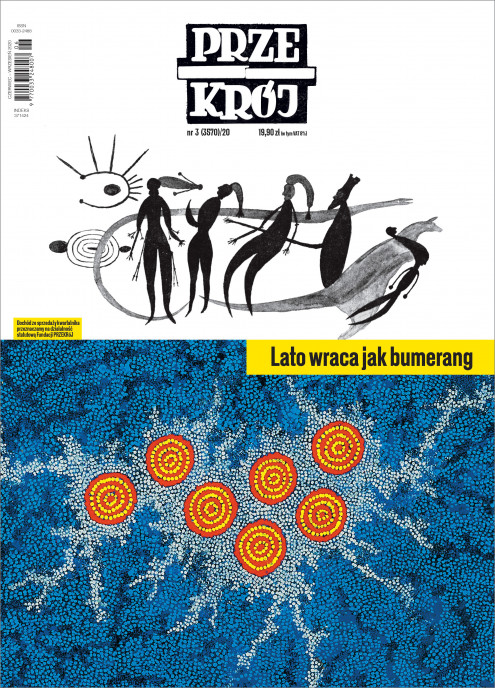 The fifteenth issue
---
Summer 2020
Issue no. 15 (3570)
Publication date: 19.06.2020

Polish-language version only.

Free shipping in Poland!
The summer is back like a boomerang! All we need to do is catch it, which might not be that easy with the wind of history blowing hard and rough. In the latest issue of "Przekrój", Kamil Bałuk talks to the Dominican priest Maciej Zięba about the challenges of these strange times we live in, and Julia Fiedorczuk discusses the same topic with the poet Forrest Gander. Naomi Klein and Jonathan Safran Foer give us some advice on how to find a way out of the crisis through solidarity and imagination. Paulina Wilk seeks the new ethics of gentleness, Maria Hawranek presents examples of teenagers who are changing the world, and Marcin Popkiewicz tells us about the new era that might still come upon us (if we don't botch it all up completely.) Of course, in "Przekrój" we also make space for laughs. This time, on top of Marek Raczkowski's cartoons (a man who can make a single dot look funny) and the absurd jokes of the Everything's Gonna Be Alright collective, we examine the idea of humour from various angles. We talk to Sebastian Gendry, popularizer of laughter therapy; and to Marcin Napiórkowski, the anthropologist of culture who proved that a good joke is worth researching. And we chase the summer! We hunt some wild vegetables with Łukasz Łuczaj. Anna Berestecka takes us for a barefooted walk. Then, we do some yoga with Marshall Govindan and meditate with Aleksandra Reszelska. It is also a great time to visit some rivers: artists Ewa Ciepielewska and Agnieszka Brzeżańska take us for a trip down the Wisła river, and activist Daniel Parol shows us how to clean the Bug river. Together with Monika Kucia and Renata Lis, we go after life-giving and dangerous springs, and worship the sun with Paweł Janiszewski. Szymon Drobniak tells us about the tricks animals and plants have for handling the heat. We also visit Australia several times: Karol Sienkiewicz writes about Aboriginal art, Aleksandra Reszelska about Uluru (with photographs by Tomek Niewiadomski), Maciej Świetlik explores pre-colonization farming, Bartosz Twaróg shares the history of Palm Island, also called the Australian Alcatraz, and Zygmunt Borawski examines architecture referring to the traditions of the Indigenous Australians. As for literature, we encourage you to start with an excerpt from the Pulitzer-winning novel The Overstory by Richard Powers, nibble on a bit of Natalio Grueso's book La Soledad, and finish with Michael Crummey's magnificent short story. We also present a dark short story by H.P. Lovecraft (not for the faint-hearted!), and an assortment of more or less solemn poems by Carol Ann Duffy, Reiner Kunze, Marcin Orliński, Grzegorz Uzdański, Jarosław Mikołajewski, Jacek Napiórkowski and Jarek Westermark.
What else? Zbigniew Libera remembers Andrzej Partum. Mikołaj Łoziński in the role of a 40-year-old. Marek Górlikowski pays tribute to Józef Rotblat, and Mikołaj Golachowski praises beavers. January Weiner describes the complex workings of our immune system, and Jacek Świdziński travels the labyrinthine paths of Nikola Tesla's mind. The cartoon collective Psie sucharki tell all about canine worries big and small, and Malcolm Harris complains about the capitalist dog-eat-dog world we live in. Artur Zaborski interviews Zach Woods, and Tomasz Sitarz is interrogated by viruses. Maciej Wesołowski admires the mayors of Bogota, while Michał Książek describes an old vase and a tree. Tomasz Wiśniewski takes a closer look at rites of passage. Marcin Kozłowski writes about fasciae. Miss Angst saves Schopenhauer. Aleksandra Kozłowska saves herself with fasting. Anna Arno examines the idea of illusion in art, while Andrzej Krajewski examines fears of nuclear power. Władysław Tatarkiewicz is not afraid of solitude, and Leszek Kolankiewicz won't bow to youth. Stach Szabłowski discusses Russian performance art, and Maciej Stroiński talks about Russian playwriting. There is also be plenty of trivia, a crossword, puzzles, an interview with children, and plenty of surprises tucked away here and there. The summer is back, and so is "Przekrój", returning like a boomerang.
The latest issue of our magazine is just 19.90 PLN – and if you order it now, we will cover domestic shipping costs.
If you purchase the Spring issue, the Summer issue is just 1 PLN (20.90 PLN total.)
Free shipping in Poland!
You can also read and listen to "Przekrój" articles on our website przekroj.pl/en.
By purchasing "Przekrój", you support the PRZEKRÓJ Foundation. Thank you!