The first issue
Cena:
14,90 zł
14.90
PLN
http://przekroj.pl/en/shop/products/pierwszy-numer
InStock
Przekroj
Winter 2017 Issue no. 1 (3556) Publication date: 19.12.2016 Polish-language version only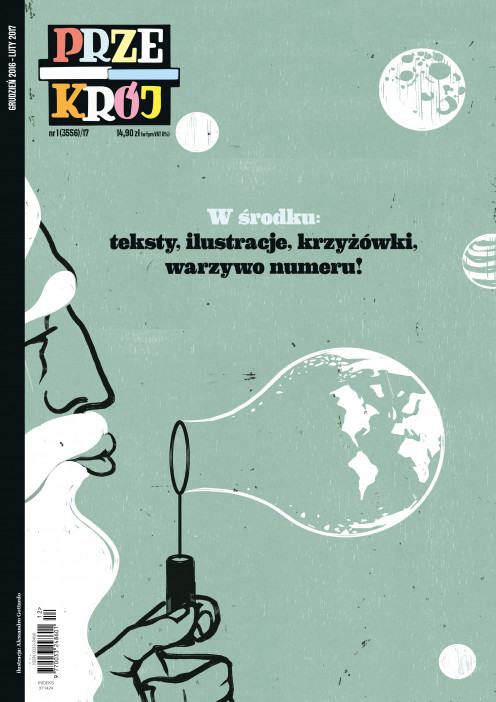 The first issue
---
Winter 2017
Issue no. 1 (3556)
Publication date: 19.12.2016

Polish-language version only

In our first issue, we try to find out more about Marian Eile and what the legendary founder of "Przekrój" was really like. There is also an extensive interview with the illustrious American philosopher Martha Nussbaum; an excerpt from William Finnegan's autobiographical novel Barbarian Days (the winner of the 2016 Pulitzer Prize); a reportage on the musical life of Mława; an illustrated interview with Marek Raczkowski, in which the artist answers our questions with drawings; a comparison of the biographies and personalities of the two famous secret agents Betty Pack and Jeanne Vertefeuille; a conversation between two war correspondents, Miłada Jędrysik and Ed Vulliamy; a story on how robots dominated the largest stock markets in the world; philosophical advice from Marcin Fabijański; a selection of untranslatable words from various languages; a comparison of the laws of quantum mechanics and the New Age; an analysis of Andrzej Bargiel's success – the man who created his own style of climbing mountain summits; a photo essay about winter surfing on the Baltic Sea; Barbara Hoff's confession on why she loves fashion (even though fashion is not so easy to love). On top of that, you can find crosswords old and new, and a trivia corner with classic cartoons about Professor Filutek and the new adventures of Stanisław from Łódź.