The eighth issue
Cena:
14,90 zł
14.90
PLN
http://przekroj.pl/en/shop/products/osmy-numer
InStock
Przekroj
Autumn 2018 Issue no. 8 (3563) Publication date: 14.09.2018 Polish-language version only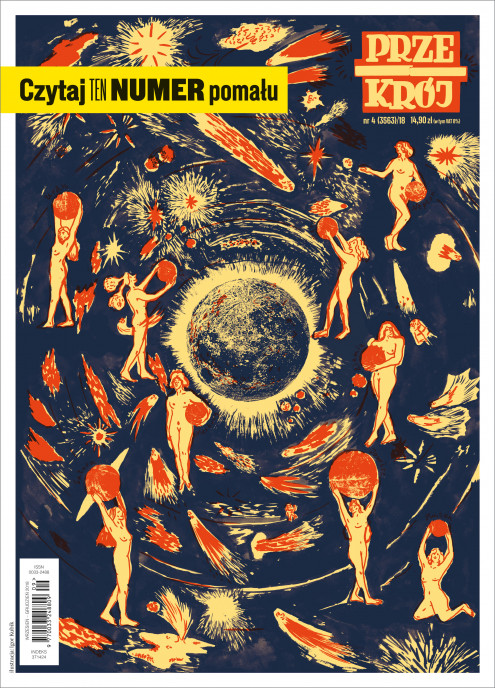 The eighth issue
---
Autumn 2018
Issue no. 8 (3563)
Publication date: 14.09.2018

Polish-language version only

While our fields and parks are basking in the warmth of the Indian summer, women are taking over this issue of "Przekrój". Famous women, unknown women, average ones and those who are very unique. We introduce you to the Witch Choir and to an old clan of Kashubian witches. We present features on Galina Balashova, the architect who designed a Soviet space station, and Temple Grandin, who was responsible for designing American slaughterhouses. Maria Sibylla Merian was a German naturalist who discovered where butterflies come from, and Marianna Dembińska was a Polish soldier known for her unbreakable spirit. We also meet a clan of female chimpanzees who introduced matriarchal order in their troop in Warsaw Zoo – a chilling tale of a matriarchal gang if ever we heard one.
Our heroines are dutifully accompanied by the moon. We look at the Earth's satellite from every angle, and more importantly, we share the extraordinary tale of how living creatures were discovered there in 1835. Compared to this story, all modern fake news looks bland, pale and pedestrian, to say the least.
As usual, our journalists travel the world far and wide to bring us spectacular stories from distant continents. We talk to Steven Pinker – the man who believes that the world is a good place and that things will only keep getting better. In order to talk to someone with such an unusual worldview, Tomasz Stawiszyński flew all the way to the US. Meanwhile, Paulina Wilk goes to India to tell us about the monsoon season, the magical time of abundance for the senses, when life is ruled by rainfall.
In the Autumn issue of "Przekrój", there is no shortage of humour. Marek Raczkowski is in such magnificent form that we're starting to worry about him. Jacek Świdziński is also in great shape, and so is Mrożek (we no longer worry about his wellbeing, though.) Marcin Orliński presents the new asanas of his linguistic yoga, and the Everything's Gonna Be Alright jesters are brimming with ideas – apart from handfuls of made-up sayings and trivia, they invite us for a blind date with the heroes of the independence movement.
And speaking of independence, you cannot miss Ewa Pawlik's unusual encounter with kindergarten kids who explain to her why the stork isn't featured in Poland's coat of arms (it's because it eats frogs.)
Of course, there are also plenty of more serious reads to choose from: we debate whether or not we should eat meat, and what came first: speech or singing. Translator Ireneusz Kania explains how language affects our perception of the world, and our philosopher-on-duty Tomasz Stawiszyński explores the nature of human intuition.
As for literature, our dear readers better prepare for a feast with many dishes to choose from and several puddings to finish. We start with a frightening short story by Mariana Enríquez, then move on to a slightly less shocking story by Ray Bradbury. This cocktail is balanced by Michel Piquemal's philosophic fairy tales and Joanna Rudniańska's absurd short story, with a crime story by Wojciech Chmielarz to finish. Finally, there is a selection of poetry by Iwaszkiewicz, Machej, Uzdański and Adamowicz (whose poems took the form of a comic strip).