The eleventh issue
Cena:
19,90 zł
19.90
PLN
http://przekroj.pl/en/shop/products/jedenasty-numer
InStock
Przekroj
Summer 2019 Issue no. 11 (3566) Publication date: 17.06.2019 Polish-language version only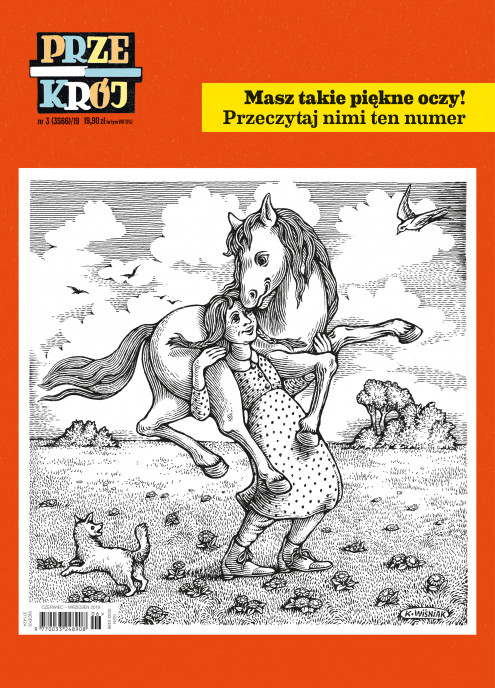 The eleventh issue
---
Summer 2019
Issue no. 11 (3566)
Publication date: 17.06.2019

Polish-language version only
In the cover picture, a laughing Pippi carries a horse, while inside the relentless Greta Thunberg tells us that we can still stop global heating. We also present profiles of other teenagers who took it upon themselves to save the world. "Przekrój" is on their side; we might be 74 years old, but nobody can accuse us of a lack of youthful spirit. Let's be gentle to the Earth, and it will repay us with kindness!
To take a closer look at our dear planet, we are taking you for a trip. For a start, Filip Springer takes you to Bełchatów. Next, it's time to visit three rivers: Renata Senktas explores the Świder, Andreas Weber writes about the Rhine, and Paulina Wilk takes us to the Nile. We also spend some time in Hawaii, and once we grasp the real meaning of aloha, we fly off to Tasmania with Emilia Dłużewska. Next, Ross Andersen shows us around a bird hospital in India, and Stefan Schlumpf takes us to the Alps, where glaciers are covered with enormous canvas sheets over the summer. Finally, we visit the inventors of instruments for Aphex Twin in Olsztyn with Kamil Bałuk.
There is no better way to pass some time than an interesting conversation: Eva Illouz talks about love in the times of capitalism, Clive Owen discusses Brexit (and more), and many kindergarten-aged experts on everything speculate on the future of our planet. And our special guest, the Great Basin bristlecone pine (Pinus longaeva) talks to us about longevity.
We didn't forget to include the sort of good advice that no self-respecting magazine would omit. Aleksandra Reszelska shares some tips on taking washtub baths the Japanese way. Marta Dymek and Monika Kucia tell us what to eat (and what to skip), while Paramahansa Yogananda is ready to take our readers towards cosmic vitality. Gilles Clément and Łukasz Łuczaj explain how to make nature become our gardener. Finally, the plagues of Egypt reveal some secrets on health and beauty.
In the new issue of "Przekrój", you'll also find plenty of gossip and anecdotes, mainly relating to the animal world. Mikołaj Golachowski tells us why whales and dolphins went back into the water, having already emerged onto dry land. Once in the sea, we take a closer look at the octopus, and then meet some bees back on dry land. Michał Książek presents the latest news from the life of the forest and its inhabitants. And when it comes to inanimate parts of nature, Łukasz Lamża explains the nature of fire and then helps us decipher the murmurs of volcanoes.
We explore the world of visual arts with Zbigniew Libera, Anna Arno, Kasia Redzisz, Łukasz Chmielewski, Stach Szabłowski and the author of this issue's cover, Kazimierz Wiśniak. Maciej Stroiński talks about theatre. Marek Raczkowski, Jacek Świdziński, Alecos Papadatos (with Marcin Fabjański), Bohdan Butenko and Zbigniew Lengren dazzle us with their witty cartoons. The unparalleled fantasists from the Everything's Gonna Be Alright collective share another portion of made-up folk wisdom, and Marcin Orliński showcases some poetic acrobatics.
There is also some sport. And the crossword. And some puzzles. And, obviously, literature: Italo Calvino, Jerzy Szaniawski, Michel Déon, Astrid Lindgren, Joanna Rudniańska, Stefan Grabiński and Leye Adenle, the author of a Nigerian crime story.
And as if that was not enough, the Summer issue of "Przekrój" is buzzing with devils, fiends, demons and sprites. But don't be afraid! Our philosopher-on-duty Tomasz Stawiszyński exorcized them all. Did he also manage to fend off the printer's devil? That's for you to decide.
The digital edition of the Summer issue of "Przekrój" premieres on 17th June.