The tenth issue
Cena:
19,90 zł
19.90
PLN
http://przekroj.pl/en/shop/products/dziesiaty-numer
InStock
Przekroj
Spring 2019 Issue no. 10 (3565) Publication date: 22.03.2019 Polish-language version only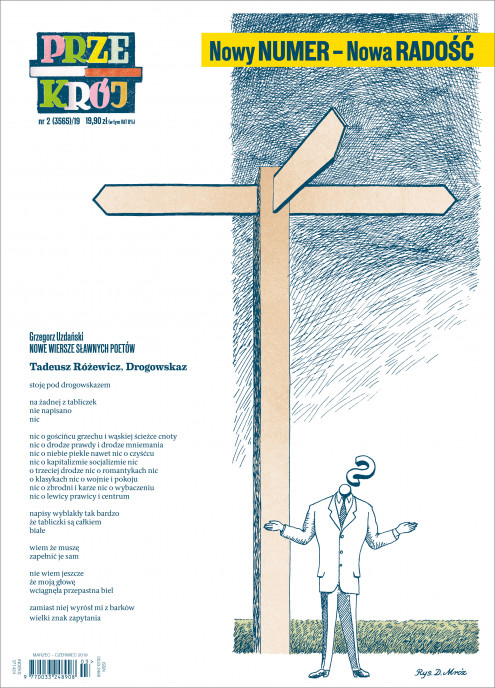 The tenth issue
---
Spring 2019
Issue no. 10 (3565)
Publication date: 22.03.2019

Polish-language version only

The spring is here, and just like that, "Przekrój" is in love again! We are proud to present previously-unpublished love letters written by Jeremi Przybora. We commiserate with the suffering robot in love from Ian McEwan's latest novel. Then, we listen to Maurycy Gomulicki's emotional tales of Raymond Peynet's lyrical drawings. And to keep some balance, we will meditate. This spring, "Przekrój" booms: Om!
Paulina Wilk tells the story of Yogananda, the man who brought yoga to the US. Tomek Niewiadomski interviewes yogi Satchidananda. The British psychologist Bruce Hood explains to Tomasz Stawiszyński why the sense of self is just an illusion.
It's not easy to tell what is or isn't an illusion, which is why we recommend Miłada Jędrysik's article on cognitive fallacies, while January Weiner discusses placebo effect and Ben Ambridge explains why humans and birds fall for the same misconceptions. Speaking of birds, in the Spring issue of "Przekrój", a number of authors write about these avian creatures, including Olga Drenda, Michał Książek, Marek Pióro and Adam Węgłowski. Renata Lis introduces us to Axel Munthe, a psychiatrist who loved all kinds of birds, and Katarzyna Sroczyńska presents Christopher Hitchens, a writer who was indeed free like a bird.
There are just as many birds in the new issue of "Przekrój" as there are sun rays outside, if not more! Artist Olafur Eliasson and astronomer Paweł Preś tell us how they see the sun, while Urszula Zajączkowska observes the sun just like plants do: through leaves. Zbigniew Libera spins yarns about the photographer and archaeologist of light Jerzy Lewczyński. And Agnieszka Fiedorowicz misses the darkness.
We also have plenty of reportages. Paulina Wilk travels to Amazon forests ruined by gold-diggers. Meanwhile, Berenika Steinberg goes to Brodnica to explore some exemplary ecological farms. Agata Romaniuk visits a giant automated warehouse of household appliances in Wronki, operated by just one person. We also have a lot of practical knowledge to share: how to live in harmony with a cat and dog; how to take out our rubbish without littering; how to practice sun salutation – those skills are useful to anyone, and not just in the spring. For those interested in poetry, Marcin Orliński and Izabela "Czajka" Stachowicz talk about Konstanty Idefons Gałczyński, and Mikołaj Gliński remembers the life of Tadeusz Peiper. Joanna Łańcucka draws a comic story to illustrate a poem by Antonina Tosiek.
As for prose, our readers can enjoy the writings of Jorge Luis Borges, Dino Buzzati and Claude Klotz from our archives, as well as excerpts from the very contemporary, unknown in Poland (which is a shame) Austrian writer Elias Hirschl. When it comes to visual arts, there is a feast for the eyes: Czeczot, Mrożek, Mróz, Lengren, Grochocka, Butenko, Rayski and Świdziński. We even have some cartoons by Raczkowski (yes, the Raczkowski!), and plenty of those at that. Among other works, our head illustrator prepared a puzzle that requires the reader to find 10 ways in which two adjacent pictures are not different from one another. This spring, let's search for similarities. Om!