The twelfth issue
Cena:
19,90 zł
19.90
PLN
http://przekroj.pl/en/shop/products/dwunasty-numer
InStock
Przekroj
Autumn 2019 no. 12 (issue no. 3567 since 1945) Issue date: 13 September 2019 Polish-language version only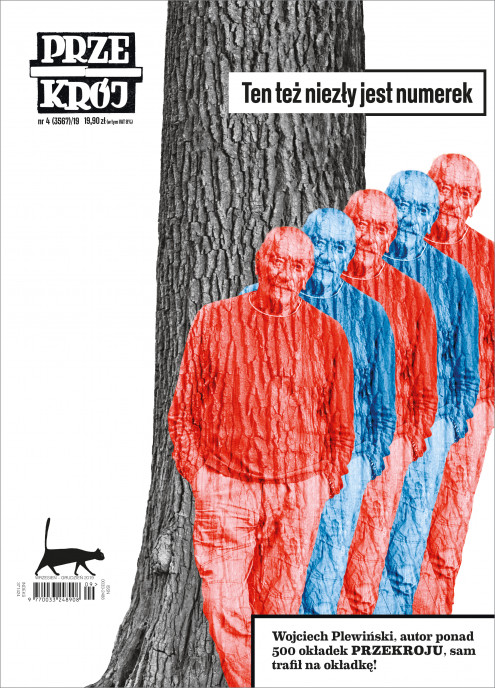 The twelfth issue
---
Autumn 2019
no. 12 (issue no. 3567 since 1945)
Issue date: 13 September 2019

Polish-language version only
Autumn finds Przekrójenjoying life while discussing death. This issue reminds us of a forest, dense with multicoloured trees. Heródek, a folk artist and village eccentric, gives us an example of a life worth living, while Chilean songstress Violeta Parra praises the gifts of life. You will also find some information on microorganisms that can live forever, and about the history of life on Earth and some of the most intriguing theories of its beginning. As for death –we will learn more about it from Tiziano Terzani, a journalist and author of the book The End Is My Beginning. Some apt observations have also been shared by Frank Ostaseski, a Buddhist master who helps people die well. Ukrainian writer Tanya Malarchuk explains the challenges of preparing a eulogy, while poet Marcin Orliński will introduce us to the art of epitaph writing. You can also read Kinga Zemła's report from her visit to the most beautiful cemetery in the world, located in a forest. And this is not the only forest our readers will encounter in this issue of Przekrój– the autumn edition of our magazine is like a walk through the woods, rich with colour. The arboreal theme reverberates in the lovingly-narrated texts of Henry Thoreau and Hermann Hesse. Adam Węgłowski tells us about the trees that witnessed history, and Michał Książek spins a yarn about spruce that grew on an oak. The deeper you wander into the new Przekrój, the more fascinating stories will start winding in all directions: Aleksandra Kardaś and Anna Arno explain where clouds actually come from, in nature and art. Tomasz Wiśniewski and Paramahansa Yoganandadiscuss reincarnation, as both are very familiar with the subjects. Aleksandra Kędziorek writes about floating cities, while Marcin Szczodry tells the story of an algae-powered building in Hamburg. Zbigniew Libera presents the painter who called herself Mewa, and Izabela "Czajka" Stachowicz remembers Witkacy. Finally, Paulina Wilk takes a trip down Mekong, a river of nine outlets, preyed on by the sea. Our in-house philosopher Tomasz Stawiszyński wonders where does the human need for inner transformation come from, and whether it ever leads us astray. Italian physicist Carlo Rovelli pulls us closer to the world of quantum gravity. Urszula Kaczorowska and Aleksandra Kozłowska give our readers some advice on producing less waste. Eckhart Tolle explains what one can learn from experiencing loss. Kacper Pobłocki foretells the upcoming doom of Western civilization. Renata Lis throws in a few words on the wind. Agata Romaniuk takes us to a trip around an astronaut base at a desert in Oman, while Michał Szadkowski and Piotr Żelazny write about precision flying – a sport in which no-one soars higher than Polish pilots. And finally, Virginia Woolf (with a little help from Grzegorz Uzdański) presents her favourite painting. Literature lovers will get to read the latest short story by Jacek Dehnel, as well as some prose by Alberto Vanasco, Lore Segal and Jorge Luis Borges. And a poem by Ida Dzik. The latest issue of our DIY fashion corner we propose a classic tied dress pattern. Made of thick knitwear, it will keep you toasty and safe from the autumn rains and winter frosts! Of course, the new Przekrójalso has pictures (some of them funny), and comics: Jacek Świdziński shows us what life in Poland will look like by the end of the 21st century, Miss Angst meets Buddha, and Marek Raczkowski presents the forest adventures of a certain jogger. Comments, columns, prophecies and precautions, minor literary mischiefs, a killer crossword, sophisticated haikus, words of wisdom and facetious rib-ticklers, all growing in a thicket tangle one can get lost in for a while. And on the cover, there is none other than Wojciech Plewiński, a photographer and author of hundreds of Przekrójfront covers –in front of a tree, of course.