The fourth issue
Cena:
14,90 zł
14.90
PLN
http://przekroj.pl/en/shop/products/biezacy-jesienny-numer
InStock
Przekroj
Autumn 2017 Issue no. 4 (3559) Publication date: 19.09.2017 Polish-language version only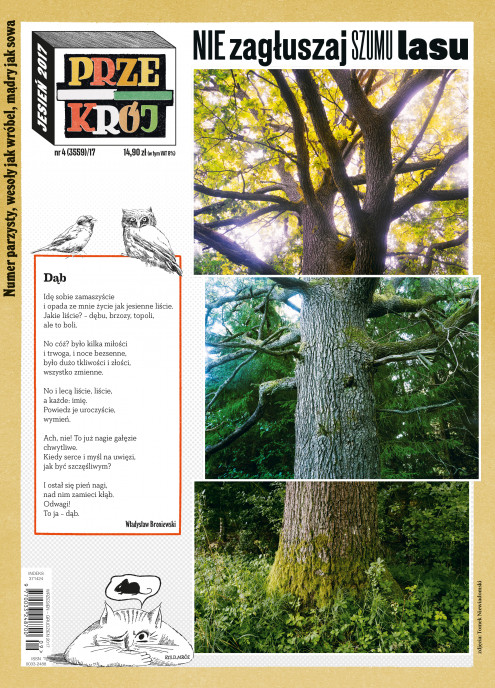 The fourth issue
---
Autumn 2017
Issue no. 4 (3559)
Publication date: 19.09.2017

Polish-language version only

Autumn brings ripe fruit, and "Przekrój" is full of ripe ideas, courtesy of Fafik the Dog as well as our tireless editors and authors. We interview astronaut Chris Hadfield, photographer Wojtek Plewiński and anthropologist Tanya Luhrmann. We talk to Russian Pythagoreans on a Greek island, and to a Masurian enthusiast of samurai swords. With us, you can also learn more about the lives of Prussian naturalist Alexander von Humboldt and Swedish painter Hilma af Klint. We also look into the controversial views of physicist Roger Penrose and encounter monsters born out of the mind of Bolesław Leśmian. Marcin Wicha writes about Oskar Hansen, Tomasz Stawiszyński writes about aliens, and Zbigniew Libera simply describes what he likes best. Marek Raczkowski also wrote quite a bit (in his cartoons, that is), and for the first time he gave our readers a chance to do the same – you simply must see it! For literature lovers, we have Jaroslav's Hašek's short story on post-truth, previously unpublished in Poland and translated especially for us by Zbigniew Machej. We also unearth H.P. Lovecraft's frightening story on immortality, and share our enthusiasm over Lucia Berlin's masterful short story on friendship. Marcin Wroński lends us his vintage police superintendent Zyga Maciejewski to help us uncover an inter-war gold scam. And while we're on the topic, our golden boys from the Everything's Gonna Be Alright collective would like to remind you that: "When served a raw mushroom, just get up and leave the room!" This time, our cover is adorned by a photograph of a several-centuries-old oak from the Białowieża Forest, captured on camera by Tomek Niewiadomski. And next to it a poem, just like it used to be in the good old times of "Przekrój". By Władysław Broniewski – about an oak, of course.