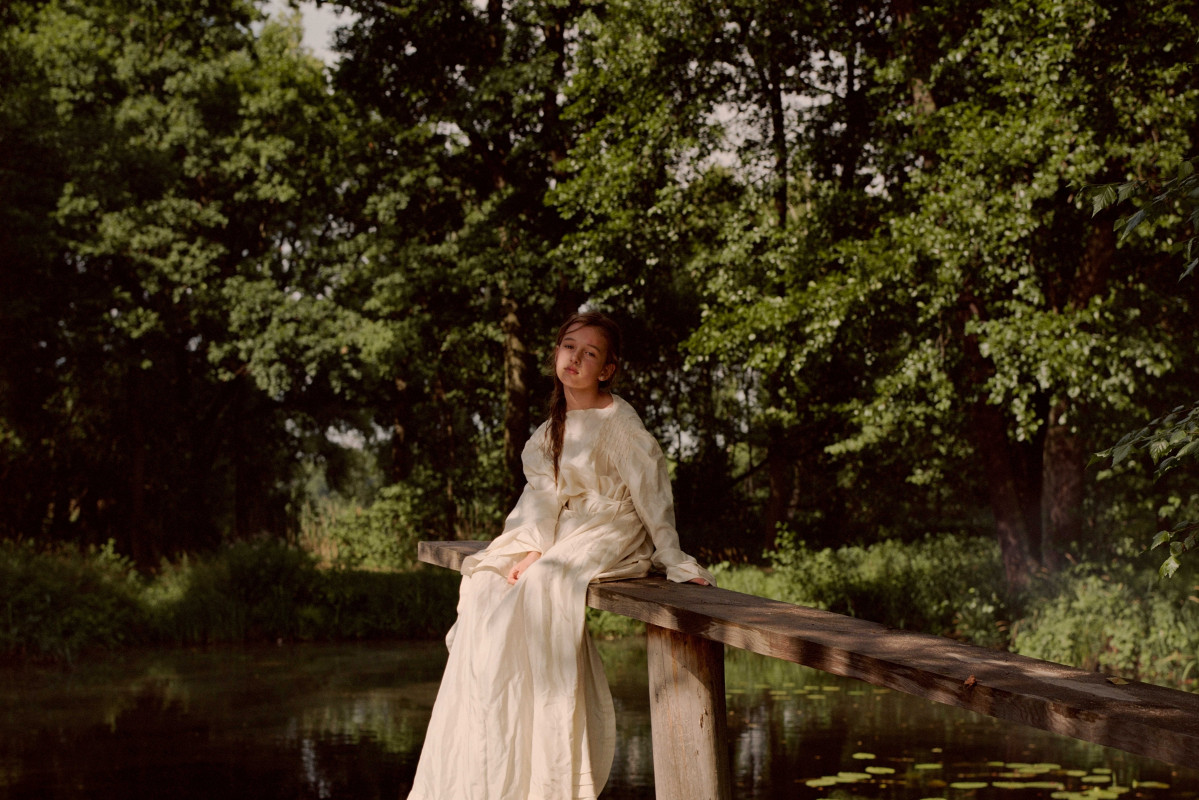 A Silesian treasure, a panorama of the region, an extinct volcano, a sacred place for Catholics, the territory of an uprising, a performance space. One could go on for a long time listing the faces and nuances of St Anne's Mountain. Its namesake, Anna Orłowska, weaves intimate and familial threads into her complex story.
The Sankt Anna series includes two plans. The first refers to the mountain, its rich material and spiritual culture, intertwining conflicting symbolic orders; the second concerns the family, represented mainly by the artist's immediate female line. In this part, Orłowska also reaches into her home archives and transfers selected photographs onto photographic objects, subjecting them at the same time to various operations: cutting and stitching, starching, dyeing in a nearby spring with a huge concentration of iron.A special place in this symbolic order is occupied by the statue of the matron, St Anne accompanied by the Virgin Mary and the Child Jesus, not visible in any of the photographs, yet resonating with the whole representation. It is the archetype of the grandmother, the exchange of generations, a force calculated to last a long time. But also transience, invisible reproductive work, tenderness and knowledge from experience. St Anne is only known from the apocrypha, dating from the early Christian underworld. In Silesia, she has been worshipped for centuries, which is reflected in specific rituals on the mountain dedicated to her, such as crowning or dressing the statue in gowns.
Orłowska takes up the gesture and dresses some of her works in textiles, made by local women. They create white, festive, semi-transparent dresses, props for rites of passage. The image shines through them, and their role is ambiguous. The control of the gaze here takes the subtle form of a cover which, like a curtain, can be both a refined decoration, an attempt to protect against intrusive vision, and a perfect vantage point.
The history of the mountain and personal motifs are intertwined in one story that stretches beyond linear time. We are in a place where road signs in two languages, Polish and German, mark the borders of its spectrum; for the identity of the area is a specific gradient. It is made up of events recorded in the pages of history, but also of discrete micro-histories, realised in the everyday lives of people who have lived in the area for generations. New images and connections precipitate from their intersection, forming a continuum, which in turn contains the idiom of this place.
Anna Orłowska, Sankt Anna
Gunia Nowik Gallery
Bracka 18/62
Warsaw