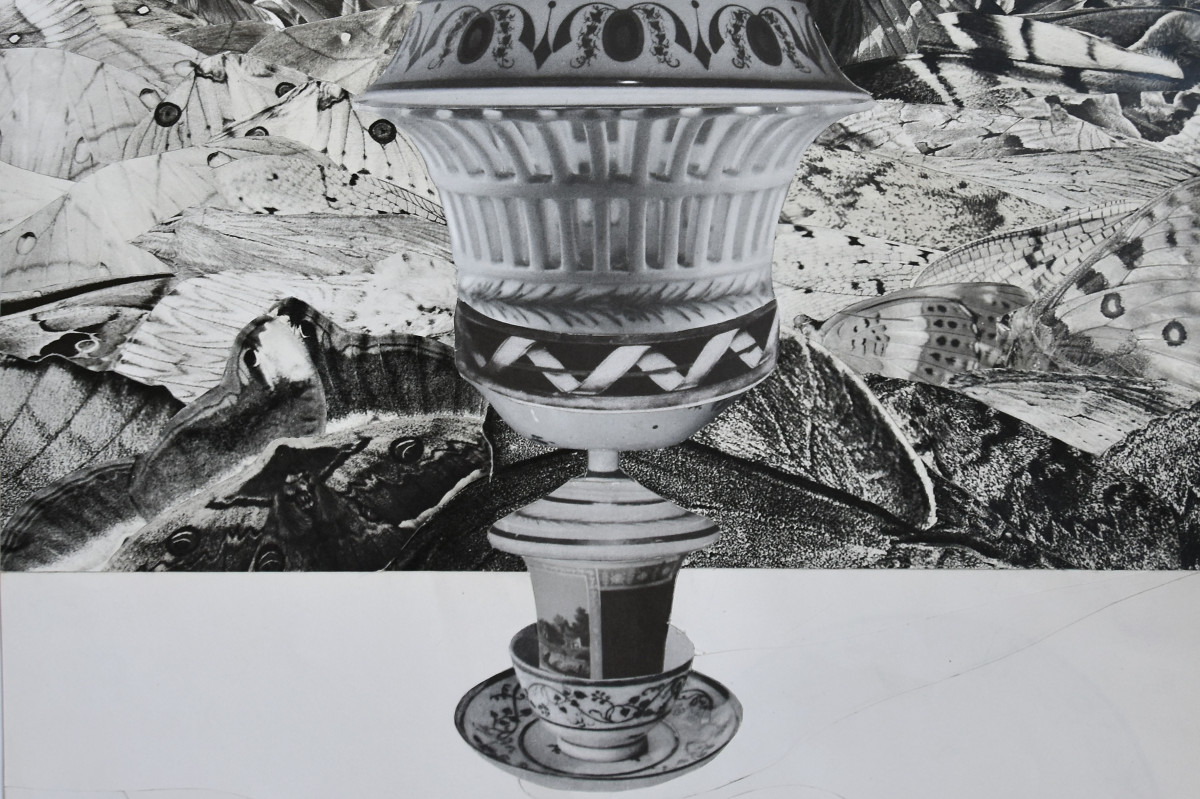 The series of seven collages – created by Wojciech Ireneusz Sobczyk as part of the Hungarian residency programme organized by the Viennese gallery Krinzinger Projekte – is part of a larger artistic project by Sobczyk, titled Nimfea. The key to understanding and reading these works is the Voynich manuscript, one of the most mysterious and peculiar medieval scripts. The document owes its name to the Polish antiquarian Michał Wilfrid Voynich.
The purpose, language, authorship and authenticity of the document remain intensely researched and debated to this day, although there have been no unambiguous conclusions so far.
The manuscript's date of creation is estimated to be the first half of the 15th century. The original document was made of 136 vellum pages, covered thickly with illustrations, and writings in unknown languages.
Many hypotheses on its contents have been drawn, from alleged forgery to various cryptological theories, based on largely unknown, forgotten, or even artificial languages.
The visual aspect of the manuscript also doesn't allow for a clear interpretation for its purpose. The author included illustrations of still-unidentified plants, along with mysterious astronomical and cosmological diagrams and charts. Further pages include drawings of nude women, immersed in complex systems of pipes and vessels filled with green or blue liquids, here and there we come across alchemical formulas and pharmaceutical jars that look like fountains.
It was those bizarre alchemical vessels that inspired Sobczyk to create a series of collages, made of photograph cutouts from old albums. Various shapes made of ceramic and china make for peculiar jars and amphoras, placed on the backdrop of landscapes which, upon closer inspection, turn out to be crowded with living creatures – fish, larvae, birds, bats, snakes, or butterflies.
Translated by Aga Zano

Wojciech Ireneusz Sobczyk (born 1985), lives and works in Krakow.
Studied graphic art at the Academy of Fine Arts in Krakow, where he received his doctorate under the mentorship of Professor Dariusz Vasiny. He holds an adjunct position at the Pedagogical University in Krakow. In his artworks, he creates sculptures, installation, animation, music and graphic illustration. Wojciech Ireneusz Sobczyk is an artist who's decidedly un-contemporary. His interests are focused on a broadly understood concept of humanism, while his artistic practice draws from traditional, oftentimes even archaic, techniques, topics and iconographies. Sobczyk reaches back to the fundamental questions on the nature of Mankind, the existence of Good and Evil, the essence of Beauty and Art. His isn't, however, a strictly elementary return to the ideas and craft of a Renaissance artist. Sobczyk's affinities amid the values of the humanities take on a characteristically material dimension. Through an obsessive manual dexterity and a passion for uncanny details, he builds his own moral corpus. Sobczyk's fetish with regard to ideas and matter come together in an immutable and sophisticated tangle, which translates into a nostalgic search for one's own spiritual formula. He collaborates with Warsaw's LETO Gallery.