In this extract from Tania Skarynkina's "A Large Czesław Miłosz With A Dash of Elvis Presley", ...
2020-03-04 09:00:00
Non-Fiction
Winter Camp
A Soviet pioneer with his international guests from Somalia and Hungary at the Artek International Children's Centre, 1977. Photo by Valery Khristoforov and Alexander Obukhovsky/TASS
Belarusian author Tania Skarynkina remembers a winter trip from icy Minsk to sun-bathed Crimea, where for decades the international children's health resort in Artek hosted 'young pioneers' from all over the Soviet bloc.
Read in 9 minutes
'Sit yourself down!' My mother had come back home from her job one December evening quite clearly bearing the kind of news that was supposed to make me fall down in amazement, never to rise again. I perched myself right on the edge of the small chest of drawers that we kept in the corridor.
'You're going to Artek!'
'Mum, if you managed to wangle the trip through your contacts I'm not going.' This was her high-principled daughter's response. Mum was threateningly silent. Off to Artek I duly went. Whenever Mum is exasperated with something she displays such a talent for eloquent silence that it's really frightening.
Before the trip I used to think that Artek operated only in the summer months. Our home encyclopedia What's What, Who's Who makes Artek look like some kind of paradise where suntanned young pioneers in starched shirts and blue shorts blow golden trumpets, and seagulls of a startling white, aroused by the sounds of reveille, wheel overhead, above green palm trees and a warm sea, 'where the water is blue like the cornflowers, and clear as pure glass'. On this occasion Artek was going to host a contingent of 'junior journalists'; I counted as one because I had thought up some poems for the school wall newspaper, painted some snowflakes as a New Year decoration on the windows of the school canteen, and labelled the school nurse's little medicine bottles. So maybe mum hadn't needed to wangle the trip, but to this very day she still hasn't admitted just how I found myself in the international children's health resort at the foot of Ayu-Dag (Bear Mountain) in Crimea.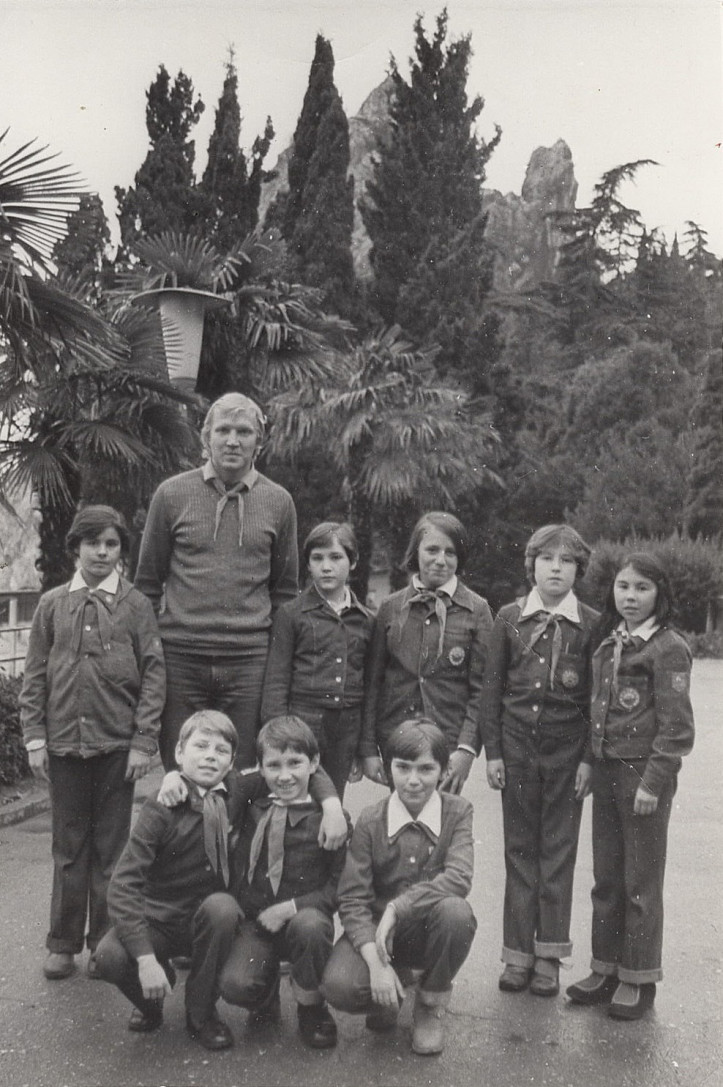 There were two full carriage-loads of Belarusian young pioneers travelling by train from Minsk. For the two-day journey each one of us was handed four one-litre jars of cold chicken for breakfast and supper. In addition we all had something to eat that our mothers had given us, and we were taken to the dining car for lunch. That explains why chickens started flying out of the train windows as if they were real live birds. After all, once young pioneers gather together anywhere, they start messing around. What kind of active games can you play within the narrow confines of a railway carriage, apart from chucking chicken out of the windows to see who can hurl it the furthest? There aren't any.
Crimea was enjoying halcyon days; it felt like spring. The almond trees were in bud. Our furs and felt boots made us look like crazy people from the Arctic as we walked from the train through sunny Simferopol. The uniforms for spring and autumn that were handed out to us immediately after our arrival did nothing to improve matters. We newly-fledged Artek campers were very soon convinced that the locals – especially the children of course – looked down their noses at the 'camp folk' and called us 'chicklets', precisely because of the uniform.
There was almost nothing in Artek that looked anything like what the home encyclopedia said about the place – apart from the natural surroundings, that is. I have to say that they did feed us well. This was in stark contrast to the Belarusian equivalent of Artek, Zubrania ('little bison'). I found myself there some years later, also in a contingent of 'junior journalists'. It must have been my lot in life. In Zubrania we starved like homeless waifs and strays. Hunger drove us to extremes: we stole bread from the camp canteen, running the risk of being humiliated publicly in front of the whole troop of young pioneer campers – there were always prefects on guard at the exit. We would shove pieces of bread down the side of our boots and chew them at night beneath our thin blankets. I remember that an uncle of mine came to see me once – mum had given him some clean underwear to hand over to me. He had some business to do near Lake Narač (the camp is situated on the shores of this famous Belarusian lake). In a weak voice I asked him: 'Uncle Edzik, do you have any pork fat with you by any chance?'
'Oh, Lord, I'm so sorry! I didn't bring any food with me.'
My uncle was really surprised, because among family members his niece was renowned for her almost complete absence of appetite. He offered me some money, but apart from plain Kroket biscuits and jaw-breaking toffee called 'Goal!' there was nothing to buy for actual cash in the local food shop. What I wanted was something really savoury, like meat cutlets or meat-stuffed dumplings. It would be OK if we had enough potato, but all we were given was a couple of spoons of mash that was so thin and watery you could see the bottom of your plate through it.
It was quite the opposite in Artek; we were fed better than at home, but there was absolutely no free time. We were kept occupied from dawn till dusk, with hobby groups, dances, games and sports events. Even when we were simply standing, waiting for the bus to take us on yet another excursion we had to sing. An accordion player was employed just for this. He would be with us all the time when we were in the open air. We learned a whole load of special Artek songs. Even now I can still remember them. Here's an example, the 'Hymn of the Junior Journalists':
Junior journalists!
Cub reporters!
Hold your pens steady! Be ready!
Knights of the pen, they call us,
It's a name we're going to honour!
Somehow I cannot recall that in all the twenty-four days of our stay there we did anything remotely connected with being budding journalists.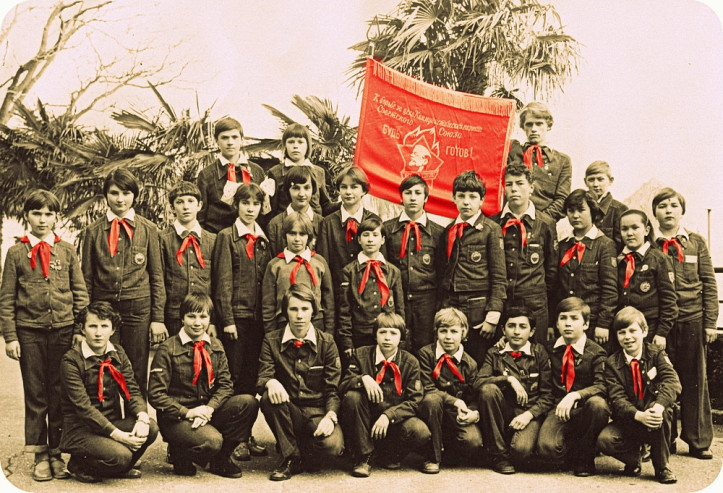 In Artek lots of things happened to me for the first time. For example, I found a boy I liked, in white trainers. All my life I've been fond of white trainers in honour of that lad.
I learned to sew cuddly fur toys in Artek. For a long time after that I had no problem with friends' and relatives' birthdays, because I stitched the presents myself. Besides, I was lucky that my aunt Jania – mum's oldest sister – worked in a dressmaker's studio. I would often go and see her for the sole purpose of getting hold of some colourful fabric off-cuts to see what I could sew from them. All the women there laughed when one of them bought a piece of ginger faux fur to make car seat covers, and I shrieked in a scarcely audible voice:
'Just think how many foxes I could cut out of that material!'
When I was in Artek it came as a complete revelation to me that Pushkin's dictum 'Reading is the best form of learning' was not always correct. Whenever I got ready to spend some time quietly with a book during 'active games practice', our group leader – a blond hulk of a man with cornflower-blue eyes – would tear the book out of my hands and unceremoniously push me with his knee in my backside in the direction of the general melee on the sports field.
It was there that for the first and last time in my life I went swimming in winter in an open-air swimming pool. On the next day I ended up in a ward all to myself with a temperature near 40C right at the end of my stay. It began to look threateningly like I would be unable to go home for New Year. I more or less had to flee the hospital. I remember almost nothing of the journey home, except for one single moment that has stuck in my memory: I regained consciousness at some point in the night and felt as light as a butterfly. I must have been given some kind of tablet to get the temperature down. The carriage hurtled along, swaying and rocking like a cradle, and we let ourselves be lulled by its comforting motion. Through the windows I could see little lights flashing past like disappearing festivals. I'm smiling at what I mistakenly believed to be my good state of health: I had an attack of flu that lasted for two weeks after the Artek trip. I also brought back from the seaside a head full of lice. All the junior journalists wore identical caps, and they inevitably got mixed up. On the other hand it was quite surprising, because all our heads had been checked when we assembled in Minsk before the trip to the camp. They didn't let one girl go because of one wretched nit.
When I left the carriage on a snowy December night and my mother called out to me, I called back but did not recognise my own voice – sickness had altered it. There I was, looking like a refugee – dressed in a long fur coat, with a half-empty travelling bag (the sick girl had packed in a hurry and some of her things stayed behind in Crimea) and a hoarse, bass voice. I had left an almost new pair of leather shoes with ankle straps for the next contingent of campers. Mum didn't yell at me: after all, the girl had to be rescued from the health resort.
There was only one thing I regretted – no, not missing school for such a long period (and here I must let you in on a secret: the camp didn't place much value on education) – because of Artek I had missed a wedding in a village with the expressive name White Water. For those who don't know – this is another name for moonshine. There were no problems in getting hold of home-brewed strong liquor in White Water. Even now legends are told in our family about the wedding there that our distant relatives celebrated. My ample-bodied aunts thought up a game: the young lads who invited them for a dance would find themselves being tossed upwards to the balloons that were floating near the ceiling.
Initially a boy had thrown his girl up so she could burst a balloon. Auntie Ira – my mum's youngest sister – quickly turned the joke around in an original way. She took hold of her partner and threw him up to the balloons. Then mum did the same, and she was followed by Auntie Maryja. What wouldn't I give to have seen these three still quite young and strong but slightly tipsy women throw their men to the ceiling and roar with laughter. I would also like to see the Northern Lights, and goodness knows what else besides.
This is a chapter from the book "A Large Czesław Miłosz With A Dash of Elvis Presley" (2019) by Tania Skarynkina, published in English by Scotland Street Press, translated from the Belarusian by Jim Dingley.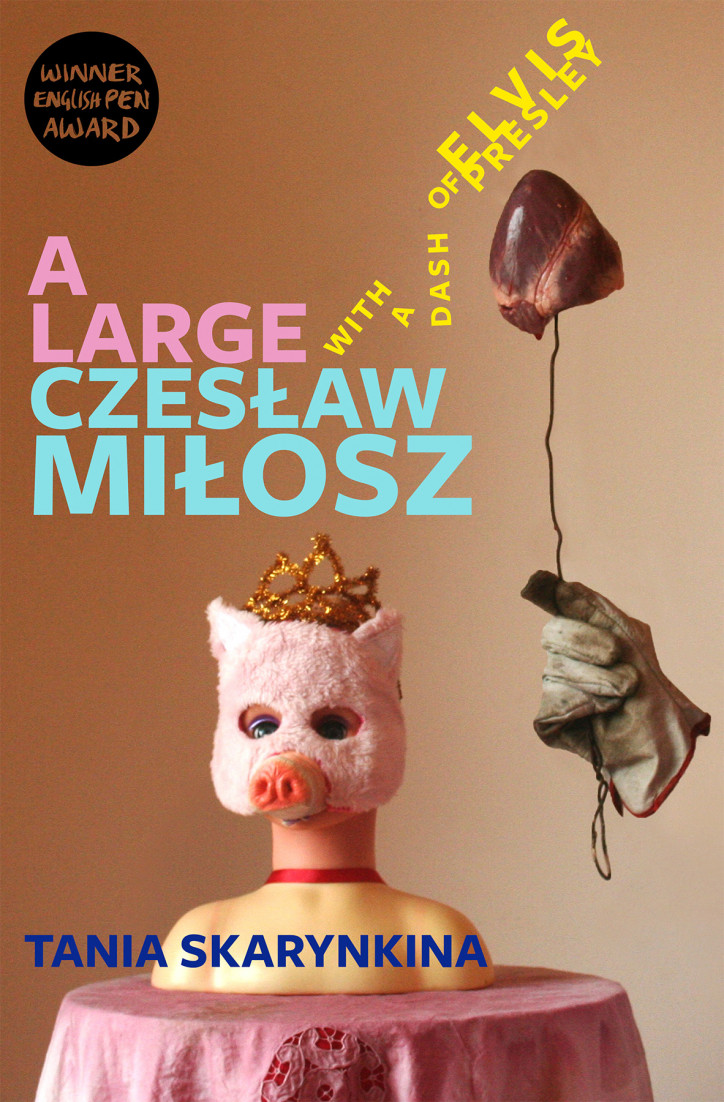 You can read our interview with Jim Dingley here.
Did you like what you've just read? Here at "Przekrój" Magazine, we are fans of brilliant literature from our region. Support us so that we can bring you more short stories, poems and excerpts from books from the 'New East'.
Choose your donation