In this extract from Artem Chekh's book "Absolute Zero", the author gives an account of his experiences ...
2020-09-23 09:00:00
Non-Fiction
Boys
An Excerpt from "Absolute Zero"
Kharkiv, Ukraine. Photo by Maria Savenko (CC BY-SA 2.0)
An excerpt from a new book by a Ukrainian author, capturing his daily experiences as a soldier in the war in Donbas. Five years on, the war still divides Eastern Ukraine.
Read in 4 minutes
The locals call us "boys." We are all "boys" in their eyes. I don't know what they call us in their private kitchens – cartels, robbers, pirates, invaders, liberators, armed forces, combatants, ATOs, heroes, westerners, these same ones, those same ones, simply military and soldiers, maybe even young soldiers, but to our face they all call us "boys."
"Boys, have some water."
"So there the boys stood, saw everything."
"Come on, boys, help me with the stroller."
They come up to us in a businesslike way and ask for money, and they also always ask, "When will it all end?" Loudly they remind us about our "parents and kids who are waiting at home." And they lecture us about something from their high and mighty Donbas point of view. In these circumstances the word "boys" is neutral, not yours, not theirs, in it there is something Cossack or Kuban. As if "boys" is a Ukrainian word in essence even when it is pronounced with a Russian accent. This is how Russians cite Ukrainian songs or proverbs, "bridle those horses, boys" or "when granny gets off the wagon the horse's load is lighter." And they typically use the same word when talking about those who are fighting on the other side. "Well, when the boys on the 14th of June were here" or "And the boys from Pervomaisk are freezing just like you?"
All of us – the Armed Forces of Ukraine and the separatists – we're all the same to them. Right now, we are here, and so we are – their bread, their sausage, and their made-in-Turkey jeans. No tenderness, sympathy, or gratitude – only pragmatism, only business. We aren't bad off and we leave a considerable amount of money in their stores and cafés, we pay for rides in their taxis, we leave tips at the local market. One taxi driver told us that today he makes two times more than before the war. Pizza parlors and coffee shops serve soldiers from morning to night without a break and the soldiers leave generous tips. There are hardly ever conflicts, and if there are, then they are usually between the socially unstable ones of the local front. It's changed into a provincial place where tourists go in their free time – to see the same church and to be in the same canyon. A new post office, an old post office, the loud sounds of the train station, the branches of banks, the delivery of humanitarian aid, acquaintances in the commander's office, friendly National guards on duty, trips to Artemivsk, and of course, soldiers – it seems that they were always there. It's just that here instead of coffee shops we have army headquarters. The price of apartments in the suburb of Cheryomushka dropped and at night, you can hear how some of the boys shoot at the other ones.
One popular restaurant where a lot of soldiers eat has the Wi-Fi password "crimeaisours." And for several months we were trying to figure out the owner's sympathies, what meaning did they imbue in this password, what cultural, historical, and psychological code is hidden in these Latin letters? Whose is Crimea? "Ours," Ukrainian or "ours," Russian? If we consider the fact that most of her clients were soldiers, and she was always warm and smiling, it is likely that she was on our side, and that "crimeaisours" was nothing more than some creative patriotic word play.
On the other hand, couldn't this be evil trolling or a totally hardened position, invincible, and stoic? Like that of the separatists. Anyway, somehow we provoked her and she became hostile. It seemed that she was suffering from some unresolved mental conflict.
"Boys," she yelled, "Listen to me, I am a Crimean, I am for Crimea. And it will always be ours. While you're lounging around here, the separatists are digging more trenches. Crimea is Russian. Kyiv is Russian. And who are you? It would be better if you defended us." Her unwavering use of boys didn't annoy me as much as it outraged me. And I couldn't do anything about it. I got used to it. We are all "boys" to them. I'm a "boy" for the taxi drivers whose convictions are hidden deeper than the pharmacists' or firefighter's. I'm a "boy" for the post office clerks who should have already gotten used to the fact that we, these "cartel boys," are regular guys, simple, naive, and kind. And I am a "boy" for the women in the market, who cannot get over their surprise at the military presence, as if war is something that belongs in the distant past, and we – we are something along the lines of a Soviet military force occupying Germany.
We went with Vlad to the post office and on the way we met an old woman. Very old, in a gray tattered scarf, pulling a sled with some discarded Christmas trees on it. She stopped us and said quietly and sincerely, in Ukrainian, unlike the others we meet in this city: "Dear boys, thank you. Thank you for being here. I am picking up the trees, taking them home – we don't have any wood. Thank you, dear boys."
This is an excerpt from Artem Chekh's "Absolute Zero", published by Glagoslav Publications, in July 2020.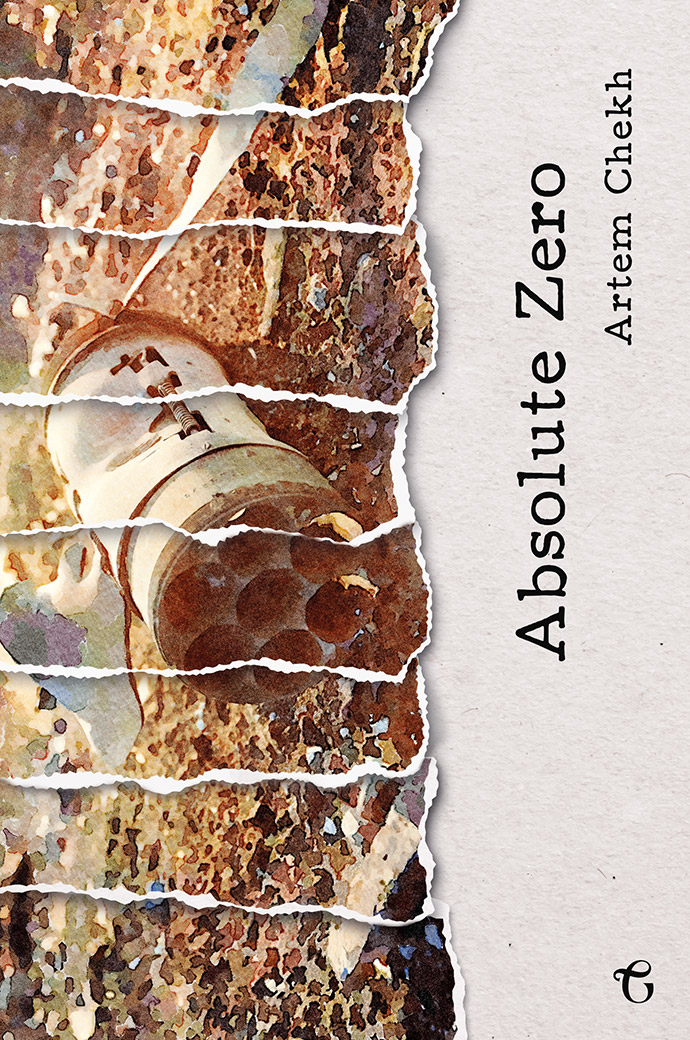 Translated from the Ukrainian by Olena Jennings and Oksana Lutsyshyna
Do you like to take things slowly? So do we! We believe that hurried journalists create sloppy work. By supporting PRZEKRÓJ Foundation, you support the thorough and meticulous work of our journalists, editors and proofreaders.
Choose your donation