In this excerpt from an autobiographical novel by Wioletta Greg, we time-travel to Poland in the 1990s, ...
2019-12-31 09:00:00
Fiction
Accommodations (2019) is the second novel by Polish author Wioletta Greg (aka Wioletta Grzegorzewska) and the follow-up to her award-winning debut novel Swallowing Mercury. In Accommodations, we follow the young woman Wiola as she leaves her childhood village for the nearby provincial city of Częstochowa. Here, she enrolls at the university. Unable to secure a spot in the student dorms, she very soon finds herself all on her own, navigating between a series of makeshift living arrangements on her way to discovering her own path in life.
Read in 7 minutes
New year's eve jingles take over the snack bar radio. The new year—1995, a time of privatization, acquisitions, cable TV, securities, the issuing of bonds, companies, investment firms, pyramid schemes and predicting the end of the world—bursts over Biegański Square. I retreat from all that, escape into the station's passageways, check out the waiting room, where I sit in a row of wooden benches and slip into a drowsy lethargy. Through the openwork backs of the benches seep spots of light that dart along the floor like tadpoles. The passengers' breaths condense in the air. For the second time since I arrived in Częstochowa I think about dropping out of college, which—aside from a couple of lectures in my class on Old Polish literature—I haven't gotten anything out of so far, think about not trying to find Kamil anymore, about going back to Hektary.
"What could you be doing all alone at the train station at this time of night?" says an older, rather hefty woman with a pageboy haircut. She's come out of nowhere; in astonishment I stare at her a moment: each element of her outfit appears to hail from its own individual era, from the faded maroon waterproof coat to the black combat boots to the plaid scarf to the ornate felt hat with the feather in it, worn aslant; and she smells like lavender soap, like my grandma. "Aren't you afraid to roam around all alone like this, at night?"
Her solicitous tone feels artificial. There is something about her I find unsettling, and yet, I answer.
"It just sort of happened this way, Ma'am." I hide my hands, which are scraped up by blackberry bushes, in my pockets.
"You must be hungry," she says and proffers a sandwich wrapped in gray paper. "Did you just arrive in Częstochowa?"
"I've been in Częstochowa since the end of September. I just moved out of my previous accommodations in Sabinów, Ma'mmm," I try to say as I devour a slice of Mortadella: I've barely eaten all day, just wandering around since parting with Scurvy outside.
"Sabinów? Where the Russkies are stationed?"
"They're not stationed there anymore, it's just civilians who come to Poland for business."
"But how could you have ended up there?"
"I didn't get a spot in the dorms because my village is too close to Częstochowa, but since I wasn't going to be able to get cheap passes to take the train in every day, I rented those accommodations in a workers' residence."
I want to tell her about the Vega, about Natka, Waldek, Adelka, the Russians, but instead I merely mutter something about the workers' housing being so terriby cold, since there wasn't any heating.
"Good thing you got out of there, my dear!" She gives a sweeping wave: the wind is howling outside.
A spirited band of teens jolts down the passageway, toting half-full bottles of cheap sweet wine under their jackets, boasting of their recent heist of the contents of the alms box at the monastery in Jasna Góra. One of them, dressed up as an elf, leans out over the railing at the top of the stairs. His white pom-pom dangles over the precipice like a snowball.
"I'll fucking jump, I'll jump, and can't nobody stop me! Daria! Daria!" he screams out across all the station's premises, but when a city guard looks up from behind a partition, the teen shuts up, covers his face with the corner of his cap.
"I think we had better get out of here," the woman whispers.
"It's just . . . I don't have anywhere to go, Ma'am. I have to wait for my train here, till dawn."
"I can rent you a room in the attic of where we live."
I look at her intrigued, but without saying anything, knowing I've only got a few cents in my wallet.
"Listen, child, you can't wait in here all night alone. It isn't safe. I'm Mother Stanisława, an oblate from the Congregation of the Sisters in Christ's Heart."
"Like a nun, but without the habit," she says in a more familiar tone. "Just think, for some time I've been looking for a female student who might, in exchange for her accommodations, help me out with a few small domestic tasks." She reaches inside the pocket of her coat and hands me an apple covered in communion wafer crumbs, and then, without waiting for a response, she takes my suitcase and drags it out along the sidewalk towards a stand where, since it's New Year's Eve, there are no taxis.
New year's night is astonishingly warm, and also rainy and windy. The street lamps dissolve into the mist like pears in the midst of leaves. In half-curtained windows, the twinkle of television screens. Paving stones glisten in the drizzle like snakeskin. Drunk girls clad in sequins clack along the sidewalk, inadvertently invoking the echoes of the city as it once was, when the streets were given rhythm by the trolleys and by horses' hooves. The wind ruffles the Fiat Punto ads stapled to the fence, lifts aloft the flyers for phone sex hotlines, those soaked to crumbling Xeroxes of virgins driven mad by passion, eager-to-please police ladies, cleverly treacherous wives.
We're standing near the stalls that sell French fries on Piłsudski Street, where even the tree bark has soaked up the scent of the frying oil. Finally our taxi drives up and squeals to a halt. A seemingly drunk driver squeezes out of it. He has the sloppy posture of Kokosz and after situating my suitcase in the trunk, he hurls himself onto the front seat with such force that the car literally sinks down to the cobbles. Glancing at us with his bloodshot eyes in the rear-view mirror, which also shows our own exhausted faces, he switches on the radio and starts singing, or more accurately, howling the latest hit by Varius Manx: "Don't be afraid to be afraid. When you feel like it, just cry. Go out and hunt down the wind." Peeling ourselves off of the beer-infused upholstery after being bounced back and forth, in first gear, from curb to curb, for twenty minutes, we finally get out near a church with a brick tower at the intersection of Saint Barbara and Saint Augustine Streets.
The last dregs of my energy leave me as we walk inside a plaster-coated compound separated from the street by an iron gate. Past that gate it's stuffy. My head is pounding. Flu pain clamps down on my muscles. Dragging my feet, I follow the oblate through the walled-in courtyard straight to the entrance to the convent. Thinking of Márquez's story "I Only Came to Use the Phone," which I had read in some literary journal before leaving home to come to college, I hesitate at the threshold of this order, but in the end I cross. We go through the vestibule and pass by another little booth, here inhabited by a porter woman. A woman the residents of this house call Mother Superior gives me a pair of wooden clogs and says I must absolutely wear them when I walk about the convent, then gives me a few further instructions. The sisters buzz around me like bees, collecting my soaked clothes and my boots that are too big for me that Ludmila gave me in the morning. Then they redress me in a linen nightgown and invite me down to the refectory, where a steaming krupnik, sprinkled with fresh dill, awaits.
When I finish eating, the Mother Superior makes me drink a bitter herbal infusion that reeks of black elderberry, fungus and cat pee, then leads me up the stairs to the attic, kicks aside the dried Advent wreaths sprawled across the doormat, and, cracking a door with the number eleven on it, she motions for me to go inside. In the warm, clean room, the roof creaks like a moored ship, the bedding smells like wind and starch, and the light green satin bedspread ripples like winter rye.
This is an excerpt from the novel "Accommodations" (2019) by Wioletta Greg, published in English by Transit Books, translated by Jennifer Croft.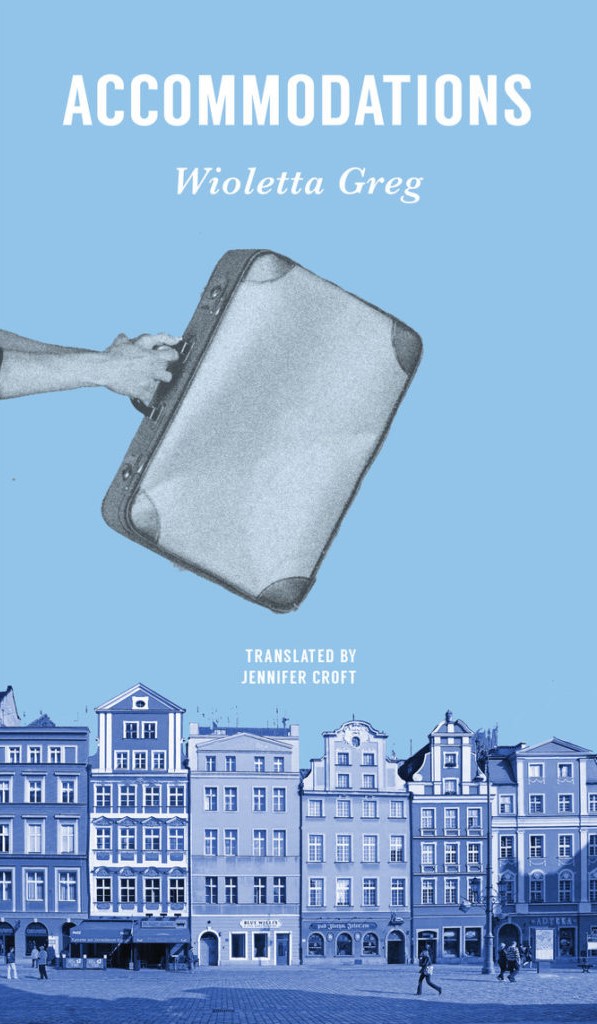 You can read our interview with Jennifer Croft here.
A high five for "Przekrój"? Or maybe a ten? By supporting PRZEKRÓJ Foundation, you support humour, reliability and charm.
Choose your donation