Art historian Ania Diduch and photographer Wojtek Wieteska talk with two curators of Helmut Newton about ...
2020-11-13 14:00:00
As long as people keep pointing out Helmut Newton's kinkiness, it means his vision is working: questioning points of view, laughing at clichés and individuals who make strong statements about how we should live and who we should love, forgetting that we should love ourselves first. Just like the women in Helmut's photographs.
Read in 13 minutes
On the occasion of Helmut Newton's exhibition at CSW Znaki Czasu in Toruń, which you can now visit online, we spoke with Dr Matthias Harder, chief curator of the Helmut Newton Foundation in Berlin, and Marek Żydowicz, founder of the Camerimage Festival and co-curator of Newton's show in Toruń.
When in doubt, ask the crocodile
Ania Diduch: I read somewhere that the nude in the photograph of the ballerina in the mouth of a crocodile is actually Pina Bausch herself. Is that true?
Matthias Harder: First of all, that is not a real crocodile.
AD: [laughing] No way!
MH: You would be surprised how people tend to take what they see as adequate. The crocodile is part of the scenography from the play Keuschheitslegende, which premiered in 1979. Helmut was sent by The New Yorker to make a feature about Bausch's theatre in Wuppertal. What you see on the photograph is a theatre scene with one of the dancers posing for Newton. It is not a ballerina, it's a male dancer. If you get closer, you can see the hair on his calves.
AD: That's unusual! You don't expect to see a male model all of the sudden in an exhibition full of female nudes.
MH: You really should not trust Newton's pictures! He worked in a pre-Photoshop era, but the uncertainty is always in power: is he playing with a cliché or fulfilling it? Showing the reality or making a joke out of the reality?
AD: Or making a point by making a joke.
MH: That he did a lot.
AD: The mentioned play Keuschheitslegende deals with nudity and sexual revolution. Just as much as contemporary dance is rich in forms of expression, Helmut also was working at the crossroads of a few genres.
Wojtek Wieteska: At first I didn't recognize him as a fashion photographer. My first contact with his work was in Paris, where I used to live for many years and studied history of art at the beginning of the 80s. I remember seeing the "Big Nudes" in a space next to Palais de Tokyo and the impression they made on me. I saw in them a reflection of Henry Matisse's famous bronze nude reliefs at the Centre Pompidou.
MH: Newton quoted art history at lot. We all know Francisco Goya's famous pair of paintings: Maya dressed and undressed, which is now on display at the Prado Museum. Newton had a similar idea. You will see a quote in the show here in Toruń about his "Dressed and Undressed" series: "I posed a question if women look better naked or dressed. The answer is for you to decide." And what is fantastic about the Goya painting and Helmut Newton's nudes is that they show regular women: not Venus, not Maria, beautifully built of course, but regular ones.
Marek Żydowicz: That is an important point to keep in mind for all of the critics and people who tend to see only controversy in Newton's work. Please, stop looking at it as a reportage! As far as art history goes back, artists were inspired by the naked body, especially women's bodies. Let's not forget Nicolas Fouquet's portrait of the Virgin Many with a face inspired by the king's lover. Nudity in art is something natural and should be perceived through aesthetic lenses.
"Helmut Newton: Lubię silne kobiety" exhibition at CSW Znaki Czasu in Toruń. Photo by Wojtek Wieteska

"Helmut Newton: Lubię silne kobiety" exhibition at CSW Znaki Czasu in Toruń. Photo by Wojtek Wieteska

"Helmut Newton: Lubię silne kobiety" exhibition at CSW Znaki Czasu in Toruń. Photo by Wojtek Wieteska

"Helmut Newton: Lubię silne kobiety" exhibition at CSW Znaki Czasu in Toruń. Photo by Wojtek Wieteska
MH: Women in Newton's pictures are very strong and self-aware, and this is a new way of presenting them since the 60s. You can make an experiment: go to a library and ask for fashion or lifestyle magazines from the 60s. Look how the women are represented there: standing in the kitchen, cleaning the house, surrounded by children. In his work, we see something completely different. But, if you speak about this encounter with the "Big Nudes" in Paris, it is so important that they are printed life-size. It is a trick on the one hand, but actually it is a great idea to create such a real counterpart via the picture size.
WW: Aren't they a little bit bigger than the real models?
MH: Sometimes they are. In our Berlin Foundation, for example, we have three-metre prints filling up the niches over the stairs. The building used to be a military casino and the niches previously presented five Prussian officers. We replaced the military aspect with beauty, body and sexuality. In a word, with something sensitive.
WW: That's funny! Also because I have a photograph of my two-year-old son in a stroller with those nudes hanging over him at the Foundation. Anyway, a while after Paris, I kept discovering more of his works and started to perceive him as an artist who is always on the edge and at the intersection of fashion, art and commercials.
MH: He created his photographic style in the 60s and the 70s of the 20th century, and then he kept repeating it on the one hand and refreshing it on the other; delivering something extra into the fashion industry and the magazine industry, so that from today's perspective people would say: "Wow, that was really visionary." It happened more than once and therefore he was booked till the end of his life. You look at his pictures from the 2000s and think: "He can't be 80 years old!" But Newton was still at this age very curious about almost everything – very fast and energetic.
A photo shoot with room service
WW: There was this famous Deligny swimming pool in the middle of Paris in the 80s at the river Seine. It was like a small French Riviera in the middle of France, so chic and expensive. I went there a few times. Newton was shooting there a bunch of his sessions.
MH: Newton was using the setting there, bringing two dressed models and photographing them with the regular people just bathing topless. So, he paired real 'found footage' nudes with evening cocktail dresses. This contrast is so special, because it tells us about the atmosphere of the epoch. Same with the shots he made for Saint Laurent with his tuxedo in 1975 – two famous pictures that we have here in the exhibition. It is a classic fashion photo shoot, but with a lot of ambivalence. The androgynous model is very cool and fashionable and elegant, but she could be also a prostitute, standing there in this street during the night just smoking a cigarette and waiting. Due to this particular tension and timelessness, this fashion picture is published till today.
My head is my castle
WW: Newton was working on the edge of something that really interests me as an artist: the link between moving and still images. To me, the best example of that is the "Dressed and Undressed" series. The movement is frozen and captured. I saw a documentary about this series where the models were repeating the movement of walking. To me, these photographs are exploring Duchamp's idea from the painting Nude Descending a Staircase.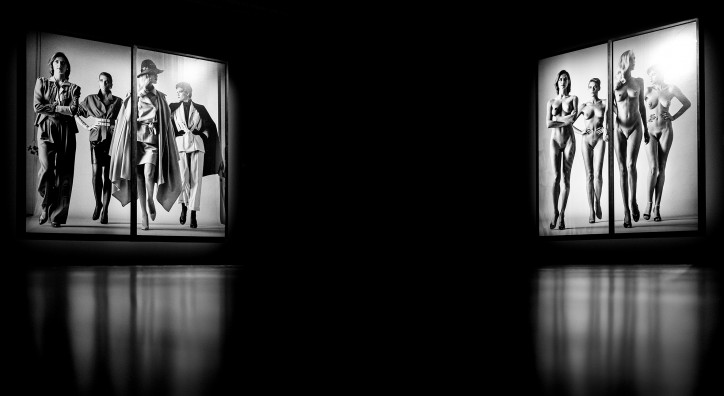 MŻ: In my opinion, the connection with film is not that obvious and clear here. Both frames – the dressed and undressed – must be captured in the same pose. So it looks like part of a movie, but the intention is for static display. To me, it is more intriguing to see the two 'frames' side by side. Like in this game where you have two pictures that look the same and the task is to find five differences.
AD: Yes, I do exactly the same! I start to compare them.
WW: So what would you point out as a central inspiration for the cinematographers here?
MŻ: It would be better if the guests of this year's Camerimage Festival answered that question. But the link is not that obvious, because working with still and moving images is way different. Even in his autobiography, Helmut talks about the distinction in working with fashion models and actresses who are posing for portraits. He emphasized that it is very difficult to work with the second group, because they are using body language and gesture differently – for a camera rather than a still image.
MH: There's actually a film with a direct inspiration from Helmut Newton's work. 14 years after Newton's series "Naked and Dressed", Robert Altman did Pret-a-Porter. In the last scene, you can see Newton's idea: the fashion models walking on a catwalk, just naked. It also has something to do with the famous novel of Hans Christian Andersen, but this is probably a unique, one-to-one situation of the influence between Newton and Altman's film. But inspiration goes both ways. There is a particular fashion photograph of a girl running in front of an airplane, which is obviously a quote from the Alfred Hitchcock movie.
MŻ: The inspiration is in aesthetic language: the light, the frame. Also, there are several examples of movies by, for example, Scorsese, which are set in New York and could be placed side by side with Newton's photographs. Then again, at the exhibition, we have portraits of stars like Catherine Deneuve or Isabelle Huppert, and of course the great double portrait of David Lynch and Isabella Rossellini.
WW: When I was teaching at the Film School in Łódź, that was the photograph I was showing the most as the best example of a portrait. It is a perfect photograph, but there is one thing that is missing from the point of view of technical standard: the right focus. It was made at a very narrow depth of field. Therefore, the focus is on the collar of David Lynch's shirt instead of his eyes or lashes. But it doesn't matter, because all of the emotions are there.
AD: So the lesson here would be that you don't need to be perfect to share emotions.
WW: Yes, but it also says something important about Newton: that he was a man of action. His 'toolbox' was simple: the harsh, mostly one point, light, simple, graphic scenery. The magic happened on the set, between him and the situation and the person.
MH: To me, this picture is congenial. Because there is this mysterious connection between them as a couple.
MŻ: I would very much like to use this photograph during the exhibition we will prepare about David at the European Centre of Cinematography, here in Toruń. We want to talk about him as a personality creating something like a 'museum of imagination'. This concept was created by André Malraux, who once said that the greatest museum is in our mind. I really wish for the Newton exhibition visitors to embrace those images into their imaginations and accept his vibrant vision…
MH: It's always a subtle elegance with a lot of provocation in it. I personally like this provocation a lot. He was against good taste. Finally, Newton created something visionary, and we all fulfill his ideas with our perception either standing in front of his images or just in our mind.
Curating the legacy
WW: What are your inspirations for such a complex narrative like in the exhibition at Toruń?
MH: It's a retrospective and on such occasions people expect to see all three main topics of Newton's work: fashion and nude photography, as well as portraits. His legacy is the core point of my curatorial work. At the Foundation, we've created exhibition scenarios out of a few shows from his lifetime or by translating his ideas for the books he published into exhibitions later on, among them Us and Them, a joint project with his wife June, a.k.a. Alice Springs, furthermore the Newton shows Sex and Landscapes, Archive de Nuit and Yellow Press. We transferred his books made in 1976, 1978 and 1981: White Women, Sleepless Nights and Big Nudes. In the 80s, he printed also for the art market, but nowadays we don't produce posthumous prints. We make customized exhibitions to show in Berlin and elsewhere, and that's it.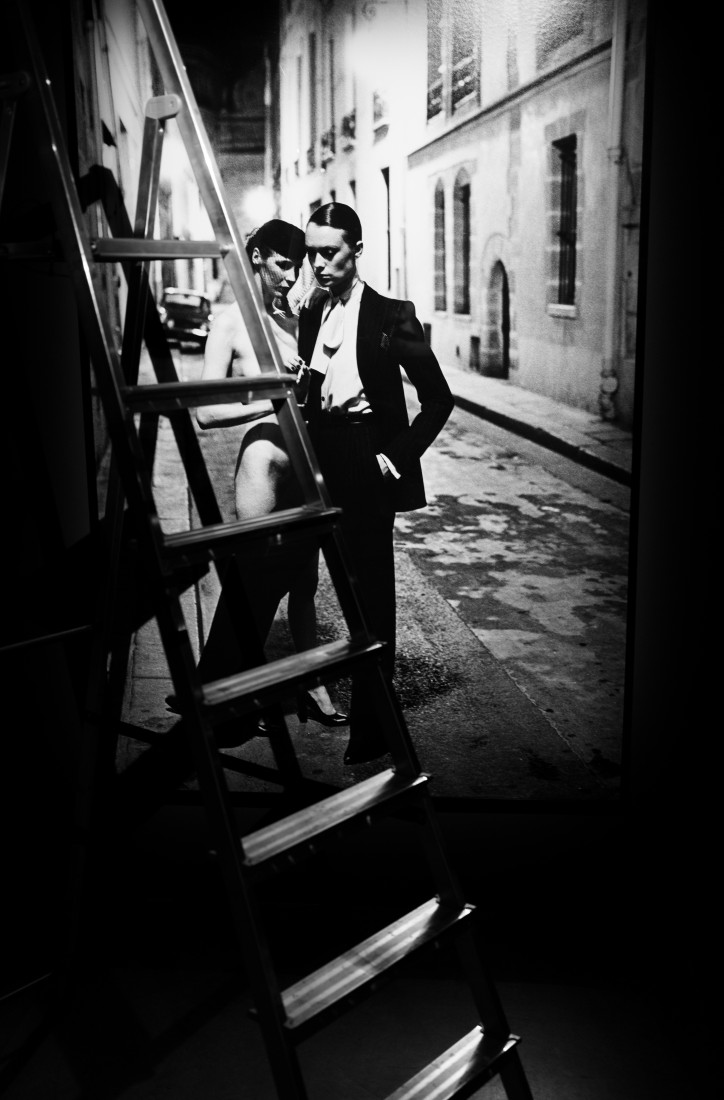 AD: What's your system of work then?
MH: If I find something special in the archive, I also check his contact sheet – we have them in-house as well – and double-check if the motif is marked by him. Sometimes I realize that no-one saw this picture except for the people who bought the fashion magazine in the 60s. That is the process in which I get the legitimization that I can use this material again.
AD: And what about the sizes?
MH: One has to be very careful about the size. There are certain technical limitations, for example. But what I really like about the large shows – like the one in Toruń – is that you see different sizes together, which might inspire you to think about the 'real' size, the 'appropriate' one. If the image is rather big and still catches your attention and absorbs you – then you know it is a great picture.
Strong women of the digital era
AD: What would be a new, fresh context for Newton's work in 2020?
MŻ: We can't speak about the body and sexuality before examining ourselves. If his photographs are provoking us, they are provoking us to speak about things like #MeToo. I am asking myself: what happened or didn't happen to society that even today we are talking about the nudes like they are something bad.
AD: Maybe the answer is in the title of this show, which is a quote from Newton: "I like strong women." And strong women own their sexuality. Newton once mentioned that he doesn't consider himself a strong man, but his mother was a role model of being strong when she had to take care of the whole family after his father was arrested by Nazis, a month after Hitler came into power. I thought: "So maybe he was portraying his mother over and over again?" But perhaps it is too obvious to be accurate?
WW: Maybe it's simple because it's true.
MŻ: That is exactly it: we need strong women.
P.S. [spoiler – don't read unless you want to know the ending of the show]
AD: I keep thinking about the ending of the show.
WW: It was crushing and shocking, but in a constructive way.
AD: How so?
WW: You don't expect – suddenly at the end of the show, in two photographs, black-and-white and life size – a kind of slip into an Inferno. After seeing all these naked bodies, the carnival of flesh and sex…
AD: Showing two anatomical models of blood streams – male and female – side by side, after all that nudity, works for me in two ways. First, it is classic joke by Newton: Don't trust what you see! There was this legend about those body models that they were real people skinned while still being alive. But it also kind of reminds me of this video for Robbie Williams's "Rock DJ" from the early 2000s, where he's giving a concert, stripping out of clothes, skin, and at the end he's just a skeleton and the audience is still bored! So on the one hand, it is about crossing lines in art, and on the other about how judgmental we are.
WW: They say the rest is history, but actually, in this case the rest might be eternity. Those two images make you want to view the exhibition again from the beginning with a new perspective in heart.
Parts of this interview have been edited and condensed for clarity and brevity.

A high five for "Przekrój"? Or maybe a ten? By supporting PRZEKRÓJ Foundation, you support humour, reliability and charm.
Choose your donation