Throughout the history of art, children are rarely depicted affectionately in paintings. Rather, they ...
2021-04-01 09:00:00
It took some time for children to appear on artists' canvases, and the earliest depictions may seem rather inept. Often, their portrayals show them entangled in the political and societal relations of their day, and are far from an obvious source of pleasure. More often than not, their immortalized images served political purposes rather than evoking tenderness and affection.
Read in 10 minutes
Felipe Próspero has an intelligent gaze and still babyish charm. In Diego Velázquez's painting, the two-year-old prince is wearing a long dress with an apron – this sort of outfit was worn by girls and boys between the 16th and 18th centuries. Unfortunately, the precious amulets decorating his clothes did nothing to help him – suffering from anaemia and epilepsy, Felipe didn't live to see his fourth birthday. That he seems full of life is thanks to Velázquez, whose artistry infused such feeling into a ceremonial portrait. It's worth comparing this painting with one that is in many ways similar, but a few decades older – the childhood portrait of Louis XIV. The young king has a chubby face but is already wearing ermine and standing in a majestic pose. These are not affectionate little portraits, but rather emblems of the stability of the dynasty. 300 years ago, children were not painted to preserve their charm.
The holy child
To tell the truth, for centuries the only child to feature in European art was Jesus. In mediaeval icons, he is the puer senex – 'the old boy', with marked furrows on his brow and hands raised in a gesture typical of an orator. This representation was by no means down to ancient artists' ineptitude: icon painters weren't interested in realism but in the theological message. Instead of fawning over the little tot, the faithful were supposed to muse on the dual nature of Christ, who was both divine and human. According to the conclusions of the Council of Chalcedon in 451 CE, Jesus was complete and perfectly formed at birth. He was therefore depicted as a small adult: sitting on the knees of Cimabue's wonderful Madonna in the Uffizi Gallery is not a child, but a small priest in a Roman toga.
In the 13th century, Saint Francis drew attention to Christ's 'human face', and artists began to take an interest in the motif of the nativity. Young Jesus was no longer a mature preacher, his face did not herald his suffering and death on the cross. The tender, humane Madonna dell'Umiltà feeds her baby – it doesn't matter that more often than not the portrayal of her breast was unnatural and rather uncomfortable for the disproportionately-sized child. The artists were hesitant to peek at scenes of motherhood, and alongside the gestures imposed by theology, there are also affectionate details: the child snuggles next to his mother's cheek, tugs on the hem of her shawl, he kicks his little feet.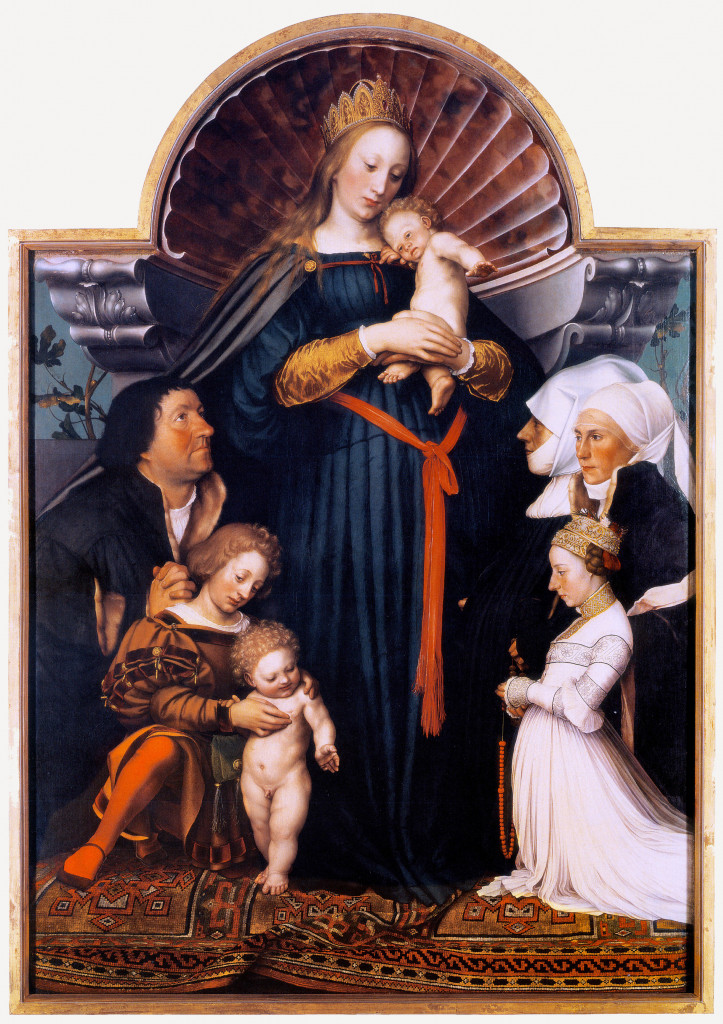 For instance, while addressing the theme of Mary's birth in one section of the altarpiece of St Mary's Basilica in Kraków, Veit Stoss used the motif of the new-born's bath-time. In it, a servant takes a tightly-swaddled girl from her mother while another fills a small tub with water.
Religious scenes became a pretext for including children. Angels were given delicate boyish features. By the 15th century, they are ubiquitous and sometimes naughty. A naked putto frolics on the edges of religious paintings – the mischievous winged boy is a new incarnation of the ancient Amor.
An unimportant episode
In Centuries of Childhood, Philippe Ariès put forward a striking argument: in the Middle Ages, the concept of childhood basically didn't exist. Artists didn't try to depict children – even when religious stories would require it. In an illumination in the Gospels of Otto III (around 1000 CE), the 'youngsters' whom Jesus the teacher embraces are small adults dressed in tunics. Sometimes it's actually hard to tell whether the artist was trying to portray a child or whether he reduced the size of the adults due to a shortage of space. "In the world of Romanesque formulas, right up to the end of the thirteenth century, there are no children characterised by a special expression but only men on a reduced scale," writes Ariès. But he draws very far-reaching consequences from it: "This undoubtedly means that the men of the tenth and eleventh centuries did not dwell on the image of childhood, and that that image had neither interest nor even reality for them. It suggests too that in the realm of real life, and not simply in that of aesthetic transposition, childhood was a period of transition which passed quickly. and which was just as quickly forgotten." Child mortality in the Middle Ages was very high – roughly one in four died in infancy. Ariès argued that parents tried not to get attached to a person they might so easily lose.
There was no sentimentalizing helpless babes; one just waited until they were old enough to work. Farmers' children picked stones out of the soil, hulled seeds, chased birds away from crops. The offspring of craftsmen were sent away from home at an early age to learn their trade. Young journeymen lived with their masters in a shared room (this is how artists began their career, too). As Ariès sums up: "The family fulfilled a function; it ensured the transmission of life, property and names; but it did not penetrate very far into human sensibility". Since childhood wasn't distinguished as a specific period in life, children were not considered innocent creatures either, nor were they protected from shocking experiences. This was still the case in the 17th century. Jean Héroard, the royal doctor who documented the childhood of Louis XIII, noted in his journal that the young monarch was "very happy and lively, ordering everybody to kiss his willy."
Since the publication of Ariès' pioneering study in 1960, historians have debated his theses. It's not true that parents were resigned to the death of their children – to realize this you need only read about the despair and extensive mourning of English king Henry III and Eleonor of Provence after the death of three-year-old, deaf-mute Katherine in 1257. Claiming that during the Middle Ages childhood was not identified as a distinct period in human development has a lot in common with the stereotype of the 'dark' ages as a barbaric, cruel and inhumane time.
Some of the best proof of mediaeval concern for children is the attention to their education. In church-run or monastic schools, boys from wealthy families took lessons in arithmetic and Latin. Literate mothers also taught girls. More affluent households had toys and there was no shortage of items for babies, such as bibs or walkers. Paradoxically, one of the symptoms of society's protection of young people was the establishment of orphanages and homes for foundlings. In the 15th century, Filippo Brunelleschi designed the Hospital of the Innocents in Florence. The arcades beneath which babies could be discreetly left are adorned with ceramic roundels by Andrea della Robbia. The nurslings in swaddling bands recall the baby Jesus.
Children in the early modern period
According to Philippe Ariès, attitudes towards children started to change in the Renaissance. They acquired a face, and not just in the figurative sense: they began to have their portraits painted. Among the 16th-century tombs in Westminster Abbey, alongside an effigy of the deceased marchioness of Winchester, there is her daughter's coffin. And Hans Holbein showed Jakob Mayer, the mayor of Basel, kneeling at Mary's feet together with his whole family, despite the fact that his first wife and two young sons had already died by the time the painting was made. Individual portraits of children were still quite rare, even among the aristocracy. But there are some moving portrayals of youngsters painted on the request of their affectionate or wistful parents. The great collector and patron of artists Isabella d'Este commissioned a portrait of her son, Federico Gonzaga, when the boy was a hostage at the Vatican. The papal courtiers liked Francesco Francia's artwork so much that they tried to steal it. There is also the touching portrait of Giovanni de' Medici by Agnolo Bronzino (1545). Cosimo de' Medici's youngest son would become a cardinal at the age of 17, but for now the 18-month-old boy immortalized on the canvas in a pink jacket is a chubby baby, with ruffled tufts of hair and a smile in which you can see his first teeth – to this day, it's arguable that no artist has ever produced an equally realistic painting of a young child. In the picture, the child has a coral-coloured amulet around his neck and a goldfinch in his hand (a bird symbolizing the passion of Christ).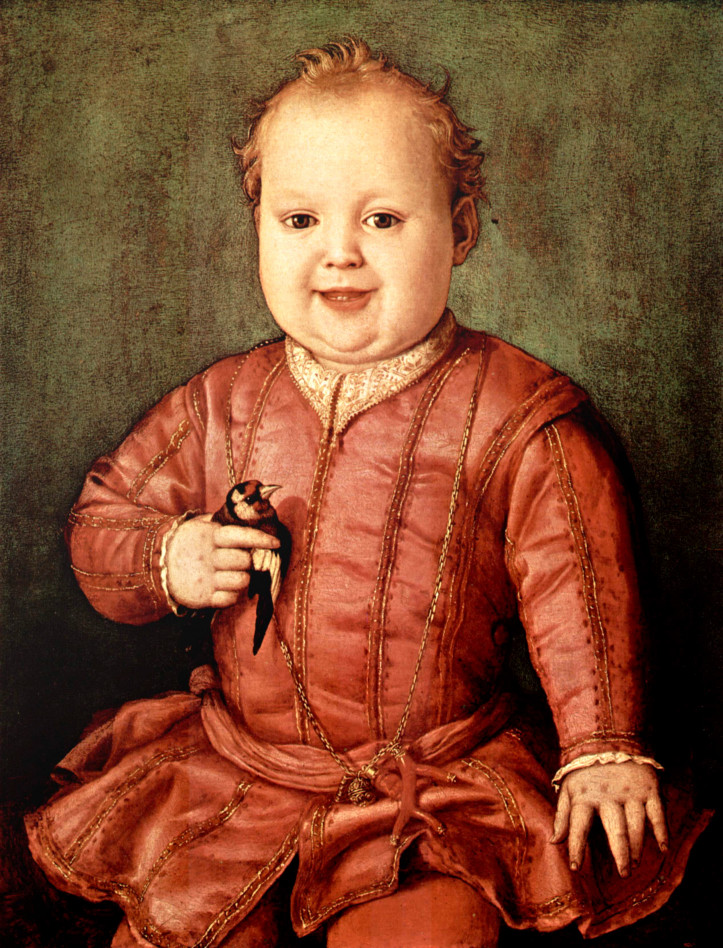 In Protestant northern Europe, wealthy townsfolk cared about the education of their descendants and taught them to be hard-working. That's also why they considered scenes of family life to be worth preserving. 17th-century Dutch masters looked inside homes and painted everyday scenes: a woman breastfeeding, a baby on a high-chair, a mother examining her child for lice. Children sing, read, help in the kitchen. Pieter de Hooch adds a moral dimension to these simple scenes – when he presents a loving mother, she is accompanied by her daughter gazing up at her. For the expressive Gerard ter Borch, what matters more than the painting's message is the depiction of the child's naïve curiosity, his intense presence. Children in his art are individuals, they have their own personalities.
The era of portraits
In the 17th century, portraits of children were by now de rigueur. Pierre Mignard painted Louise Marie Anne de Bourbon, the daughter of Louis XIV, after her death at the age of seven. In a sumptuous robe, posing like an ancient goddess, the girl is blowing bubbles (a symbol of the fragility of life), and her gaze is sad and mature beyond her years. Aristocrats commissioned official family portraits, in which finely dressed children demonstrated the strength and longevity of their line. In 1649, Philippe de Champaigne painted a masterful portrait of the seven children of the Habert de Montmor family. On the right stand twins in red jackets embracing one another, on the left is the oldest brother, leaning on one hip, responsibly watching over the whole group. In the middle, holding a bouquet of flowers, is the only girl. Her two younger brothers are dressed similarly, in dresses and caps. The masterful portraitist managed to grasp something more than the family's grandeur, he didn't treat the children as merely symbols of a dynasty. In 1637, Anton van Dyck depicted the descendants of King Charles I with dignity while still preserving their childlike charm. The heir to the throne is stroking a large dog – the gesture is tender and yet lends the future king gravitas.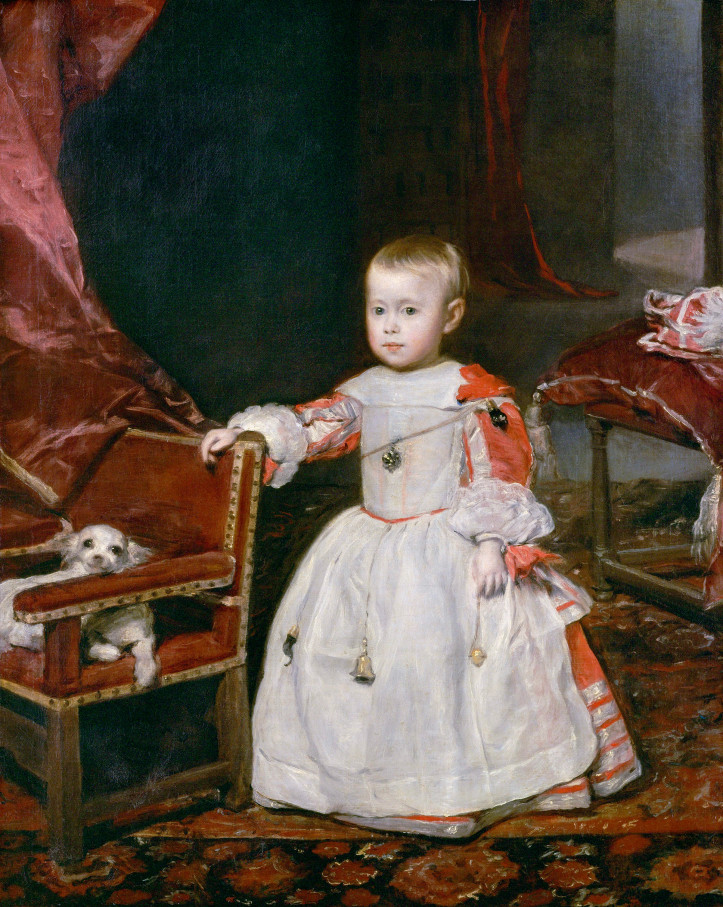 But it wasn't only the children of the wealthy who were subjects of paintings in the 17th century. The Le Nain brothers, for instance, specialized in painting poor, peasant rascals. The scruffy youngsters have a lot of charm. In these pictures, family life acquires a sentimental aura. Genre painters loved scenes involving children. In The Lacemaker (1656), Nicolaes Maes shows a mother busy embroidering, accompanied by a child in a red cap sitting in a high chair. Jan Steen in The Feast of St Nicholas (1663–1665) depicted a laughing girl clutching a figurine she has obviously just been given. And in the picture A School for Boys and Girls (1670), Steen shows rowdy pupils and whispering girls, a swot and a slacker who has fallen asleep in class.
The enlightened centuries
In his treatise, Emile: or on Education (1762), Jean-Jacques Rousseau said that children are innocent because they remain closely linked to primordial nature. The philosopher, who gave his own offspring to a foundling hospital, recommended breastfeeding to mothers and walks in the fresh air. Under the influence of his thinking, motherhood became fashionable in aristocratic spheres. In 1787, Elisabeth Marie-Louise Vigée-Lebrun depicted Marie Antoinette with her children. The queen is swathed in lace and velour, but the composition of the painting resembles Renaissance images of the Holy Family with John the Baptist. The queen has her youngest son on her lap, her daughter embraces her, and her oldest son points to an empty cradle that symbolizes a new-born who died while the picture was being painted. Sentimental visions of childhood continue to proliferate. Girodet shows a curly-haired girl, looking serious beyond her years, flicking through illustrations in a large book. Jean-Baptiste Greuze produced numerous cutesy portraits of girls cradling a little bird or lamb. But meanwhile, the children of poor families were set to hard physical work – in the late 18th century, David Allan painted child labourers employed processing lead.
In the 19th century, poor children worked in docks and brickyards. At the same time, bourgeois families became smaller and emotional ties grew stronger, while politicians made allusions to the rights of the child. The hard toil of young peasants is mythologized, also by artists. In 1882, Jules Bastien-Lepage depicted a daydreaming boy with a fishing rod over his arm. Fernand Pelez portrayed a young 'Martyr' (1885) – a teenage violet seller who has collapsed on the street from exhaustion. The realists drew attention to the exploitation of children, their poverty and hard labour. Meanwhile, the artistically daring French impressionists were social conservatives, preferring to stick to plush couches and lush gardens. Pierre-Auguste Renoir painted the wife of a brilliant publisher, Madame Charpentier, with her children. In the picture, both the boy and girl have long curly hair and identical lace-trimmed dresses. An oriental carpet can be seen in the living room behind them. With light brushstrokes, the artist conveys the texture of the lace and the softness of the carpet. This is a safe, cosy home where children are always as well-behaved as at a Sunday tea party.
While this painting is a masterpiece, the children in it are as important as the decorative pattern on the carpet. A generation goes by and in 1915, Henri Matisse paints his son during a piano lesson. This too is a scene from a 'good home', but it is also frugal artistry, based on the balance of stern geometric shapes. With a few brisk strokes, Matisse manages to show rebellion on young Pierre's face. Indeed, there are few images of children like it in the history of art. Adults commissioned portraits for themselves and for posterity, dressed their children in stately robes or showed them with a false, sugary coating. Perhaps that's why the best paintings of children are portraits of artists' own offspring. Reubens' chubby-cheeked son playing with a bird. Rembrandt's son, the dark-eyed, thoughtful Titus, who died before his father. And finally Cezanne's son – he painted him with love, as though breaking his own rules. For him, a face was the same artistic object as a bowl of fruit or a mountain. Yet he painted rosy-cheeked, pensive Paul Cezanne numerous times – and always with delight and affection.
---
Some of the sources I used include: Philippe Ariès, Centuries of Childhood: A Social History of Family Life, translated by Robert Baldick, Jonathan Cape Ltd 1926; Tzvetan Todorov, Éloge du quotidien: essai sur la peinture hollandaise du XVIIe siècle, Editions du Seuil, Paris, 1997; Dorota Żołądź-Strzelczyk, Dziecko w dawnej Polsce, Wydawnictwo Poznańskie, Poznań 2002.
Translated from the Polish by Zosia Krasodomska-Jones
Maybe we're being naïve, but we think that art can save the world. By supporting PRZEKRÓJ Foundation, you help us discover talented artists, illustrators, painters, graphic designers and photographers from the 'New East'.
Choose your donation