A writer channels the spirit of Virginia Woolf to reflect on the significance of a painting from her ...
2019-12-01 09:00:00
The editors at "Przekrój" asked their most treasured artist, Virginia Woolf – who has been dead for a while – about her favourite work of art. Luckily, the author of the website Nowe wiersze sławnych poetów (New Verse by Once-Famous Poets) was around to help in establishing spiritual contact with the writer.
Read in 8 minutes
Virginia Woolf lived among male and female painters – in fact in an almost literal sense, when you think about how much time she used to spend in Charleston at the house of her sister, painter Vanessa Bell, and her sister's husband, art theorist Clive Bell. It was also where painter Duncan Grant, painter Dora Carrington, and critic and painter Roger Fry often (or pretty much all the time) stayed. Woolf herself wrote essays about painting (much more frequently than about literature). Whenever she came to Charleston for a visit, she had many opportunities to observe someone working on a painting or a sculpture. So she must have had many favourite works of art that do exist, but I wanted to write about her favourite one that doesn't exist. Or rather, it only exists in the novel To the Lighthouse.
The book describes the Ramsay family and their friends who spend holidays on the Isle of Skye. One of the protagonists, Lily Briscoe, is working on a painting. She is not an accomplished artist, everybody sees her as an amateur and painting as her hobby. This is further emphasized by the fact that Lily is a woman – the novel is set some time between 1904 and 1910, and the views of the circle gathered by the Ramsays are mostly (quite in line with the times) terribly sexist, best expressed by another guest of the Ramsays, Charles Tansley: "Women can't paint, women can't write." This nice, friendly sentence keeps coming back to Lily throughout the novel. It is also a sentence that both Virginia and Vanessa must have heard many times and in many different forms. The two of them managed to overcome it: Virginia wrote one of the most remarkable novels of the 20th century, and Vanessa (even though she did not achieve artistic greatness comparable to her sister's achievements in literature) still became an excellent, widely-renowned artist. Lily Briscoe – at least during the time span of To the Lighthouse – doesn't earn recognition from the world, but she still manages to achieve a small success: she finishes her painting. What do we know about it?
It shows the Ramseys' house, most likely against the backdrop of the garden. Mrs Ramsey sits with her son James in one of the windows (presented in quite an abstract way, which we shall discuss in a moment).
The colours used in the painting are: green and blue, white, grey, red and purple. All are strong, sharp, garish. "The jacmanna was bright violet; the wall staring white. She would not have considered it honest to tamper with the bright violet and the staring white, since she saw them like that, fashionable though it was, since Mr. Paunceforte's visit, to see everything pale, elegant, semitransparent."
It is certainly not a realistic picture. Lily's friend, William Bankes (the only person who takes her painting seriously) asks what she wants to express through "the triangular purple shape, just there?" When he is told that the triangular purple shape is Mrs Ramsay with James, Lily senses "[...] his objection – that no one could tell it for a human shape". When William wants to know why she decided to use this particular shape, Lily gives him a symptomatic answer: "[...] that if there, in that corner, it was bright, here, in this, she felt the need of darkness." And again she stands by art focused on colour and shape, on its purely visual side and exploring it, as opposed to narrative art. Which matches Woolf's views, who, in her essay "Pictures", wrote the following: "A story-telling picture is as pathetic and ludicrous as a trick played by a dog."
Interestingly, William lets Lily persuade him that her approach makes sense (which promotes him – partly because of no worthy competition – to the position of the most open male character in the book). Their discussion is also a repetition – although it is a nice mini-version – of the commotion started in 1910 when Woolf's friend, Roger Fry, organized the Manet and the Post-Impressionists exhibition, the first of its kind in England. Many people reacted to the paintings by van Gogh, Gauguin and others much more harshly than Mr Bankes reacts to Lily's painting – there was even the classic argument of "a child could paint like that". Fry was sent drawings made by children with a suggestion that he should include them in the exhibition, since he was showing such daubs. But all in all, that was the beginning of the change in perception of art in England. Which is how Woolf saw it, too.
Lily's strategy is also (with all the differences between painting and literature) an expression of what Woolf herself does in the novel, portraying her protagonists and the setting without focusing on what the then readership considered realistic, and as a result giving us a book with very little in terms of a conventional plot. Woolf concentrates on close-ups – incredible close-ups, unparalleled in literature – of the thoughts and moods of the protagonists, in all their volatility and subjectivity. Subjectivity (and also a certain fellowship) of perceiving the world is one of the main themes of the book, with its constantly changing, glimmering viewpoints at particular situations. And here we go back to Lily Briscoe, for whom painting (in accordance with post-impressionist models that she probably doesn't know herself, at least not in the first part of the novel, which takes place still before Fry's exhibition) must be a reflection of the point of view of the particular person, i.e. the author herself. This argument often returns as her conclusive defence against numerous Charles Tansleys: "[...] to maintain her courage; to say: 'But this is what I see; this is what I see,' and so to clasp some miserable remnant of her vision to her breast, which a thousand forces did their best to pluck from her […] She could have wept. It was bad, it was bad, it was infinitely bad! She could have done it differently of course; the colour could have been thinned and faded; the shapes etherealised; that was how Paunceforte would have seen it. But then she did not see it like that. She saw the colour burning on a framework of steel; the light of a butterfly's wing lying upon the arches of a cathedral."
Lily paints her picture while spending time at the Ramsays', but she will only be able to finish it 10 years later, when Mrs Ramsay is already dead. We have a distance here, the time and processing of memories as a condition of art – Woolf would surely agree with Proust on that one (there is undoubtedly a lot that connects her to him as a writer). On the other hand, Lily finishes her picture in the same place on the Isle of Skye where she started it – which shows a (rather obvious) difference between literature and painting, often requiring a direct contact with a particular place or view.
Have you ever had the quite amazing experience of going back to a place close to your heart – for example, where you used to spend summer holidays as a child – and looking at it now, when you are older, without the people who were with you then (perhaps some of them are dead, for sure all of them have changed) and feeling with equal strength that you managed to go back and that you didn't and never will be able to? In this very situation (so important for Proust, who used it as a basis for the inward turn; conviction that in the end what we are looking for is in our own memories or, even more, in the subjective image/experience of the world), standing again in front of the Ramsays' home, with Mrs Ramsay dead and James almost a grown man, Lily finally sees her work, in a visionary spark, which Woolf describes many times, both in her novels and in her diaries.
"There it was – her picture. Yes, with all its greens and blues, its lines running up and across, its attempt at something. It would be hung in the attics, she thought; it would be destroyed. But what did that matter? [...] With a sudden intensity, as if she saw it clear for a second, she drew a line there, in the centre. It was done; it was finished."
And it remains exactly like that – finished, done – in the world of the novel (whatever that might mean), and therefore we can't put its photograph here, because (as we know) there no photographs taken there. It will instead be substituted by Vanessa Bell's Abstract Painting (Lily Briscoe's picture doesn't have a title, and therefore, let's say, a general title like "Abstract Painting" is quite fitting here, and anyway, Abstract Painting is beautiful).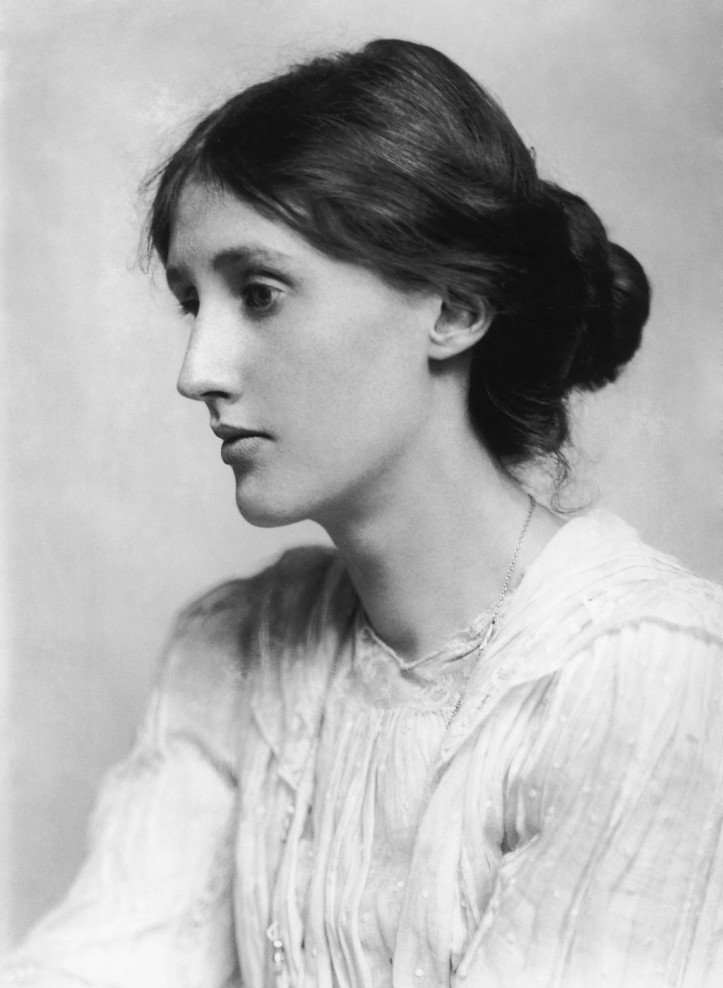 Virginia Woolf:
Lived from 1882–1941. English writer, author of the famous novel Mrs Dalloway. She struggled with mental illness throughout most of her life. She committed suicide.
A high five for "Przekrój"? Or maybe a ten? By supporting PRZEKRÓJ Foundation, you support humour, reliability and charm.
Choose your donation