The home of Swedish artists Carl and Karin Larsson, called Lilla Hyttnäs, was an inspiration not only ...
2019-12-25 09:00:00
Through the house they created together, Carl and Karin Larsson expressed a holistic idea of life, art and their mutual penetration. According to this notion, literature and contact with the arts (a rich collection of books, albums, European art magazines), as well as the interior of the house, furniture, dishes, clothes, everyday objects and even the food, are equally important for human growth. The Larssons loved to eat outside, and Carl Larsson's watercolours depicting breakfasts under a birch tree have helped promote this custom among the Swedes. The aesthetics and philosophy of Lilla Hyttnäs, the home of the Larsson family, may seem familiar to us. The couple are often called the precursors and inspiration behind IKEA's style.
Read in 14 minutes
The storytellers of Swedish history
The red wooden horse painted in folk patterns – one of the most popular souvenirs brought back from Sweden, nowadays available for purchase at every Pressbyrån kiosk – originates in the Dalarna region. There, several kilometres from the city of Falun, in Sundborn, one of the most famous houses in Sweden (and perhaps abroad, too) is located: the house of the painter Carl Larsson and his wife, Karin Larsson (née Bergöö). I saw its interior for the first time many years ago, on a postcard sent at Christmas by my aunt from Sweden. Carl Larsson, who lived at the turn of the 20th century (1853–1919) is, alongside Selma Lagerlöf and August Strindberg, one of the most important storytellers of Swedish history and creators of Swedish identity.
Lilla Hyttnäs – a house Larsson and his wife lived in and decorated in Sundborn – is a milestone in the development of Scandinavian aesthetics. Larsson's watercolours depicting its interior have inspired, among others, Astrid Lindgren. When Lisa, the narrator of Children from Bullerbyn, describes the most wonderful birthday gift she has ever received, she talks about her own room with rag rugs and white-painted furniture. The Larssons' aesthetics and philosophy have become – and still remain – the main inspiration behind IKEA's aesthetics, and an inspiration for all those who want to arrange their house, apartment or perhaps even life according to Scandinavian style.
The torments of childhood and youth
Carl Larsson's parents – peasants who moved to the city in search of work – lived in extreme poverty. "As a rule, there were three families in each room," Larsson writes about his childhood home in Stockholm's Old Town in the autobiographical book Jag. Misery, dirt and rats swarming the spaces between mattresses thrown to the floor – these were conditions conducive to the outbreak of cholera, which occurred in Stockholm in 1866. In this world, the word 'home' did not have positive associations, it meant something rather like a camp – one could not dream of privacy or cosiness. Little Carl often went hungry, and helped with heavy work: he carried water, chopped wood and shovelled snow. Fortunately, one of his teachers discovered the boy's talent for drawing, and at the age of 13 Carl begun his studies preparing for entry to the Academy of Fine Arts. He also began work as a photo editor and illustrator in weeklies – in this way, he was able to earn a living and help his parents financially for many years. After graduating from the Academy, he went to Paris – he was determined to succeed in academic painting. Larsson travelled between France and Sweden for several years. One of his paintings – a portrait of his colleague, Carl Skånberg – was even accepted for an exhibition at the Paris Salon in 1878. However, it was hung so high that visitors didn't have the chance to take a good look…
Just like other Swedish painters, Larsson distanced himself from the Impressionists and the experiments they initiated. For a short period, he painted outdoors in Barbizon, and later moved to the colony of Swedish painters in Grez-sur-Loing. Those were difficult years – despite constant work (Larsson illustrated, among others, Hans Christian Andersen's fairy tales and August Strindberg's, Svenska folket and helg och söcken [The Swedish People]), he was constantly in financial trouble. Vilhelmina Holmgren, the woman with whom he lived, died giving birth to their second child; both their children died. Depressed, Larsson fought suicidal thoughts. One of his paintings from this period, a gloomy still life, is entitled Résignation, c'est la dernière religion – it reflects not only the emotional, but also the artistic impasse in which the painter found himself.
A Swede studying painting in Paris
All this was to change in Grez-sur-Loing when he fell in love with the Swedish painting student Karin Bergöö, and mastered watercolour painting. Six years younger, Karin was born into a wealthy and progressive family. So progressive that at the age of 14 she lived independently (on a salary) in Stockholm and studied, among others, perspective drawing, engraving and watercolours at the Swedish Craft School. Later, she studied at the Royal Academy of Fine Arts and took private painting lessons from the popular Professor Malmström. One of Karin's paintings depicts his atelier. She continued her studies in Paris, on the way to which she visited Dresden, Prague, Graz, Vienna, Venice, Verona and Munich.
She wasn't the only art student from Sweden who moved to Paris. During the 1880s, dozens of young women from Scandinavia came to the capital of France to improve their painting skills. These include, among others: Eva Bonnier (from a famous family of publishers, and later an art collector) and Jenny Nyström (a pioneer of children's illustrations in Sweden and the author of images printed on countless postcards sent to this day). Académie Colarossi and Académie Julian were among the most popular places in Paris where women could study painting at that time. In 2017, the gallery in Sundborn (part of Carl Larsson's home) and the Royal Institute of Art in Stockholm organized the exhibition Karin – The Art – The Friends: Pioneer women painters in Sweden. On this occasion, 10 young painters created works that entered a dialogue with the works of Karin and her female contemporaries.
Family and career
With love and tenderness, Carl said that Karin's big, dark eyes resembled the "eyes of a cow". When they fell in love, Larsson's colour palette brightened. In a letter to Karin's parents, he wrote that he was not "someone special" yet, but that in time he would become worthy of Karin. Her father received him warmly, responding that Carl was "a man in the fullest sense of the word" and that he was happy for such a son-in-law. Meanwhile, in one of her letters Karin thanked him "that she could get engaged to him and no longer bother with painting." Karin's words should not be read as capitulation or reluctance towards emancipation. She gave up painting, but not creativity. While raising their children, she simultaneously designed and weaved fabrics, as well as designing and sewing clothes for herself and for children. It should be noted that it was Karin, several years before Coco Chanel, who first took off her corset and wore loose dresses of her own design. She also designed porcelain (including the chess motif-cups that can be seen in Larsson's paintings) and furniture (a rocking chair, table, children's beds – also known from his watercolours).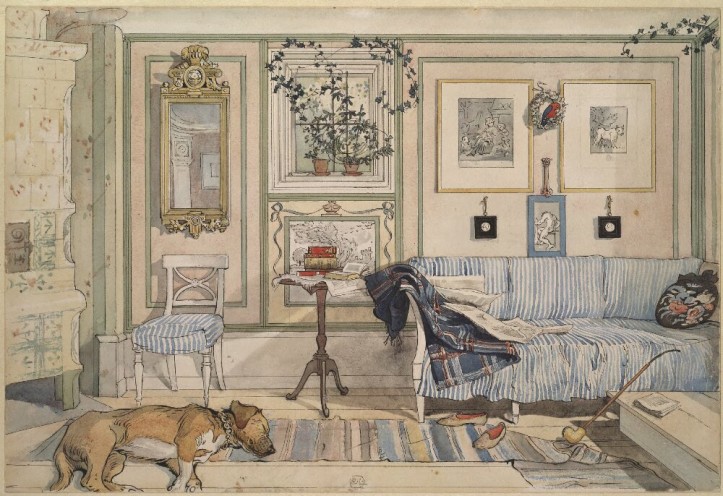 During the first few years of marriage, the Larssons travelled between France and Sweden. Carl's career was accelerating – he exhibited paintings, lectured in Gothenburg, created frescoes (e.g. for the Stockholm Opera and for the National Museum in Stockholm). He also painted portraits of, among others, the writer Selma Lagerlöf, opera singer Anna Pettersson-Norrie, and the banker and collector Ernerst Thiel and his family (Thiel's villa on the Stockholm island of Djurgården is now also the seat of the Thielska Gallery, where there is a room dedicated to Larsson's painting).
Suzanne, Ulf, Pontus, Lisbeth, Brita, Kersti and Esbjörn – we know the names of the Larsson children from subsequent watercolours. The portraits and names of the first four children are painted on the porch at the entrance to the house in Sundborn. In his paintings, Larsson depicts Karin, the children, sometimes friends or servants (such as the lovely Martina carrying a breakfast tray – the picture was placed on the cover of the Swedish Home Cookbook and reached hundreds of thousands of Swedish homes). There is also another protagonist in Larsson's paintings (and perhaps the most important one at that): their home. Lilla Hyttnäs, a cottage in Sundborn, was bought by Karin's father Adolf Bergöö for his two sisters. After the death of one and the relocation of the other in 1888, Bergöö gave Lilla Hyttnäs to the Larssons, who initially only spent the summer and Christmas there. However, they immediately began to transform the house to fit their sense of aesthetics. They ripped off the wallpapers, painted wooden boards in different colours, replaced some of the furniture or repainted it (they painted the chairs in the living room white and upholstered them in white and blue stripes; they painted the chairs and bench in the dining room red).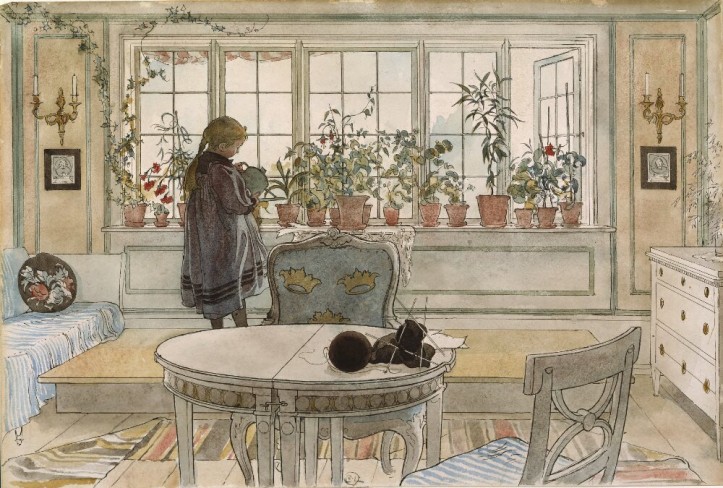 They expanded the house. First, they attached a painting studio for Carl, which in time would become a workshop used for Karin to weave. From 1901, the Larsson family lived permanently in Lilla Hyttnäs – it was not only their place on Earth, but also their life's work. Every part of the house, each of its features was an interesting subject for Larsson's painting. When running water was introduced to Lilla Hyttnäs, Larsson painted the bathroom: a bathtub with running water. All the time, Carl and Karin kept finding beautiful items that could further enhance the charm of the house, decorating it – each in their own way. Carl painted garlands, flowers and sayings on the walls; Karin designed and embroidered pillows, decorative fabrics, porters and furniture.
Aesthetics affecting the lifestyle
Through the house they created together, Carl and Karin Larsson expressed a holistic idea of life, art, and their mutual penetration. According to this notion, literature and contact with the arts (a rich collection of books, albums, European art magazines) – as well as the interior of the house, furniture, dishes, clothes, everyday objects, and even what we eat – are equally important for human growth.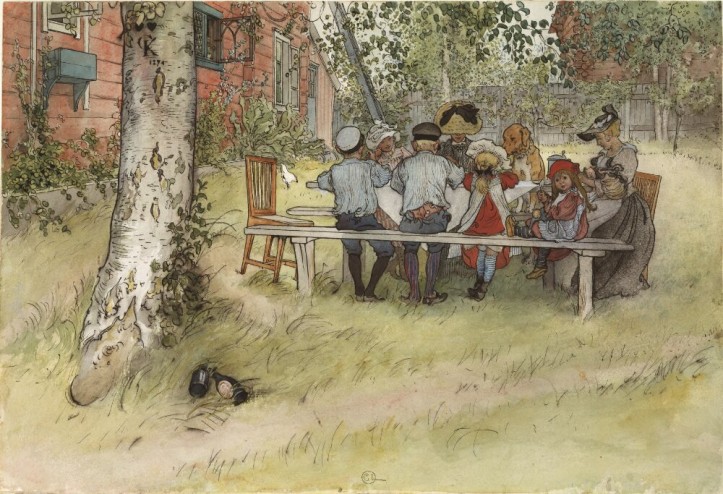 The Larsson family loved to eat outside, Carl's watercolours depicting breakfasts under the birch contributed to the propagation of this custom among the Swedes, as did the crayfish feast – such an important element of the Swedish summer today – largely popularized thanks to his watercolours. The Larsson family ate Swedish dishes (knäckebröd – Swedish crispbread that can be seen in the painting Crayfishing), as well as French soups and cassoulet (Karin learned to cook in France), and Italian pasta.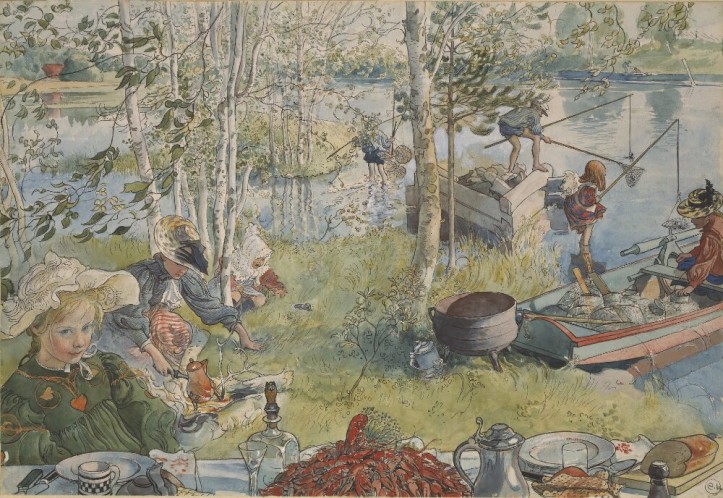 At the Larssons' there were no better or worse, no more or less important rooms. The house was filled with light, children, and dogs walking around freely (they were even allowed to hop onto Karin's bed). The homely mess is never concealed in Larsson's paintings – it is almost glorified. Children scatter their clothes and toys around, sometimes they run around the house naked, and Karin takes them to Carl's studio where, together, they shell green peas.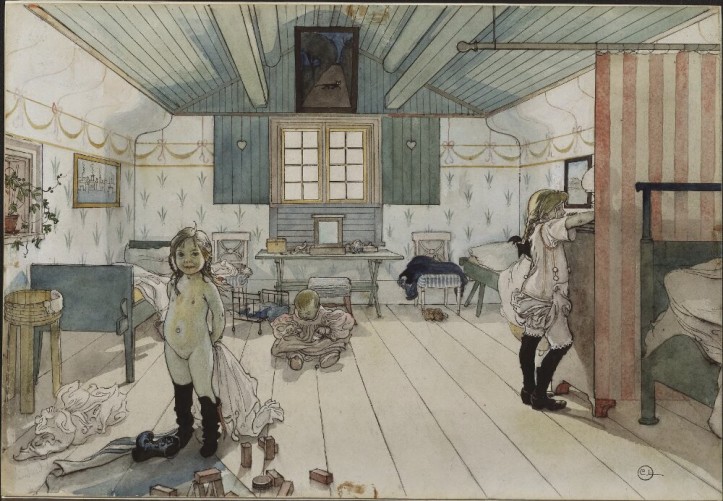 This approach is radically different to the Victorian aesthetics of the time, in which the residential public and private spaces were carefully separated, the living room was tightly filled with trinkets, and expensive drapes and curtains did not let in any light. The Victorian salon was only used on very solemn or sad occasions, such as funerals. Certainly no children could ever enter it, let alone dogs!
A clear change in philosophy and lifestyle was behind this change in aesthetics. Larsson's watercolours are not only a record of the changing interior design, not just a canon of beauty that affects us to this day, but also a record of social changes in which the beauty of the interior played a big role. The theoretical foundations of these changes were presented, among others, by Ellen Key, a Swedish author, feminist and theorist of family life, the author of, among others, The Century of the Child (1909) and the treatise Beauty for All (1899), in which she postulated that good design should be available to everyone. The Larssons followed the news from Great Britain; they were inspired by the Arts and Crafts movement. Making items by hand, respecting objects and using them repeatedly (for example, the embroidered children's clothes that Karin transformed into other garments once the children grew out of them) was of particular importance. The aesthetics and philosophy of the Larsson home may seem familiar to us – they bring to mind IKEA. They are seen as the precursors and inspiration behind the IKEA style. In 2016, IKEA dedicated the SÄLLSKAP collection to them. It included many plants, plant motifs, as well as an apron inspired by those that Karin designed for herself and the children.
Picture perfect Christmas
Lilla Hyttnäs is one of the major Swedish tourist attractions. In high season (between early May and late August), tours around the house take place all day, every 10 minutes. When I come to Sundborn at the end of September it is a bit calmer, but there are still a lot of visitors – in the shop and in the restaurant, having lunch (salmon with potatoes, and pancakes with blueberry jam). The house, painted in the famous Scandinavian red (the colour obtained from waste from numerous iron mines) with green elements, makes a great impression on fans of Larsson's paintings. To stand in front of this house and enter is to enter Larsson's paintings, as well as his private Arcadia. I am in good company, because the Larsson family always hosted guests – among them were Selma Lagerlöf, and the Swedish prince Eugen (art collector, painter, and patron of the arts). The prince's visit was immortalized in the painting Morning Serenade for Prince Eugen, in which the Larsson children wake him up with a concert.
Lilla Hyttnäs is still in the hands of the Larsson family, who make it available to visitors, but also continue to use the house: they cook in the kitchen and sleep in Carl and Karin's bed. This gives the space an extra dimension.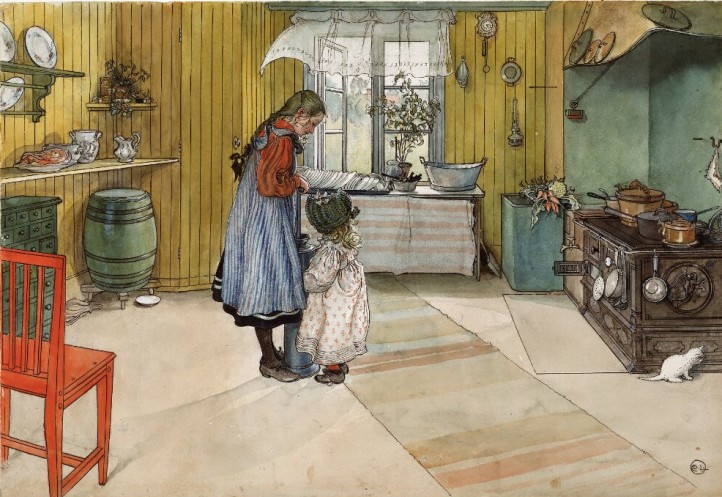 The museum tour leads through the workshop – Carl's first workshop, the place where Karin created fabrics, including the 'Sunflower' pillow, the 'Four Elements' fabric and the 'World in Flames' pillow, whose subject was World War I. The furniture and windows in the Gothic dining room are painted in a similar red to 'dragon's blood' – one of the colours used by William Morris – while the white-painted chairs and balustrade in the living room evoke associations with the interiors of houses of the famous architect of the time, Hermann Muthesius. A narrow staircase leads to the upper floor; a corner above the stairs served Karin as a writing space. Under the window, there is a green plant pot stand designed by Karin – very simple, modernist.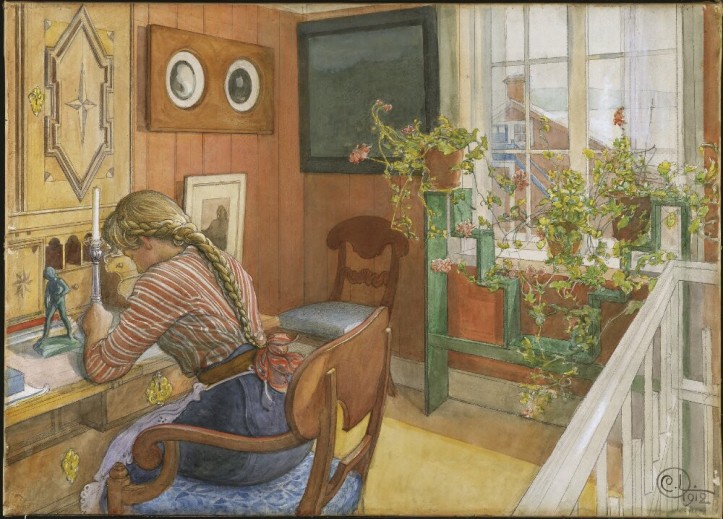 Although Carl wasn't keen on modernist aesthetics, thanks to Karin such aesthetics are present in their home. Larsson was also immune to Impressionist influences, but not necessarily the works that inspired the Impressionists – namely Japanese woodcuts, a large collection of which can be found in the library in Lilla Hyttnäs. "Japan is my spiritual and aesthetic homeland," Larsson used to say.
On the first floor, next to the library, is the 'old room' in which the Larsson family placed all their antiques and received guests (this is where Selma Lagerlöf and Prince Eugen slept). The spouses' two neighbouring bedrooms are particularly interesting. Carl slept alone, in a bed placed in the middle of the room, surrounded by shelves full of books. Lying in bed, through the woven curtain – the Rose of Love made by Karin – he could look into the room where his wife and the youngest children slept. The second studio – added to the house when the Larssons moved to Sundborn permanently and Carl needed space to work on his frescoes – is also open to visitors. In the studio, there's one of the pieces of furniture Carl was particularly proud of – an enormous panel cabinet from Schleswig-Holstein, depicted in, among others, the painting Mother and Daughter. Folk art was also an inspiration for the Larssons. In 1912, they even added the Lilla Aspeboda room (part of a rescued old country house with walls and ceiling decorated with religious and folk paintings) to their house.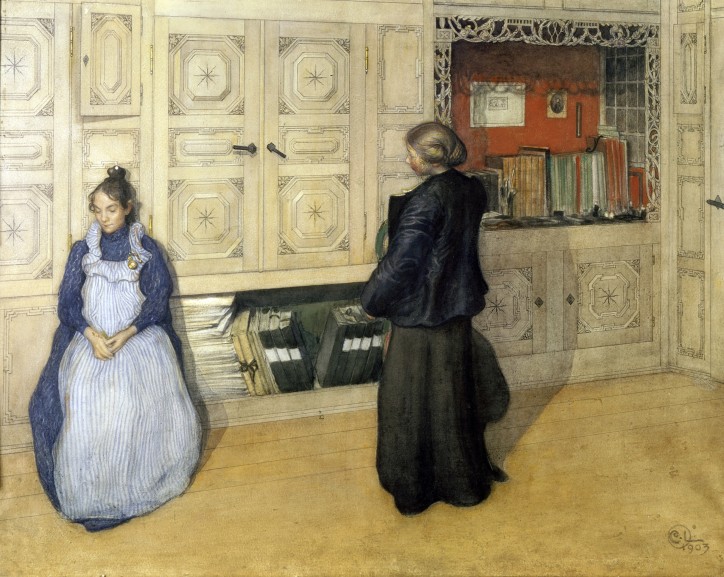 Lilla Hyttnäs is a kind of Arcadia, a place of happiness and refuge. Certainly this is what Carl needed, brought up in misery and plagued with depression throughout his life (which he suggests in one of the self-portraits, where he holds a doll of a clown – a symbol of his joyful alter ego). But not only he needed that. The need for a homemade Arcadia is widespread, as proven, among other things, by the popularity of Larsson's paintings. In the catalogue of the Carl and Karin Larsson: Creators of the Swedish Style exhibition published by the Victoria & Albert Museum, the author of one of the essays recalls the words of a Swedish friend who always dreamt of having a Christmas just like in a painting by Larsson. We often need a vision of Arcadia, although the desire to see beautiful, pleasant interiors can be associated with something offensive to consciousness or intelligence, as Alain de Botton notes in his book Art as Therapy. He adds that in art, we are often drawn to what we are deprived of. According to him, we are too depressed in our every day life to worry that beauty might "numb us and leave us insufficiently critical and alert to the injustices surrounding us." Elswhere, de Botton writes that "cheerfulness is an achievement, and hope is something to celebrate." Looking at Larsson's paintings, I agree with him.
The author would like to thank Urszula Pająk and Marek and Inger Gosenius for their help.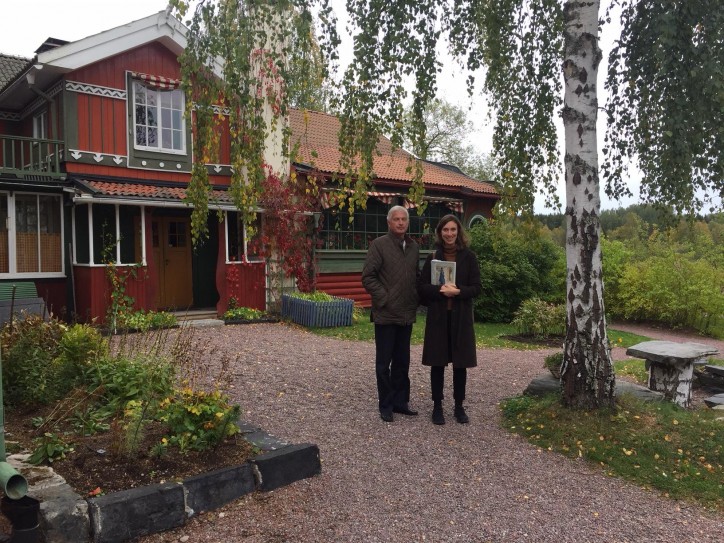 Translated by Joanna Figiel
A high five for "Przekrój"? Or maybe a ten? By supporting PRZEKRÓJ Foundation, you support humour, reliability and charm.
Choose your donation