Kōji Kamoji was born in Japan, but shortly after graduating from art school he moved to Poland, where ...
2021-03-29 09:00:00
Kōji Kamoji was born in Tokyo in 1935, but after graduating from the Musashino Art School he came to Poland, where he started to produce his art. It's also the country where he exhibited a work that caused a scandal.
Read in 9 minutes
The story of the Japanese man who became a Polish artist begins onboard a ship travelling from Yokohama to Marseille. In 1922, his mother's brother – a 23-year-old student of Zen buddhism – Ryōchū Umeda was on that boat, heading to Berlin to study philosophy with the help of a scholarship from the Buddhist University of Tokyo.
On that journey, he met Stanisław Michowski, the son of a Polish official working on the construction of the Trans-Siberian railway and the Chinese Eastern railway (also known as the South Manchuria line), and later a wing-commander and participant in World War II. Michowski, who had lived in Shanghai since 1920, spoke Japanese. During the trip he entertained Umeda, who was a year older than him, with information about his country, even though he only knew it from stories, hardly any more than his companion did. It must have been a very evocative account, however, because Umeda decided to postpone his trip to Berlin and visit the homeland of Frédéric Chopin. He stayed there until September 1939.
Quo Vadis, Japan?
Thus Ryōchū Umeda became the first Japanese-language lector in Poland at the University of Warsaw, and between 1926 and 1939 he occupied a similar position at Warsaw's Eastern Institute. He also translated literature, producing, among others, a Japanese translation of Henryk Sienkiewicz's Quo Vadis. He was involved in the Warsaw literary scene that formed around the avant-garde literary group Kwadryga [Quadriga]. He became friends with Konstanty Ildefons Gałczyński and Stanisław Maria Saliński. For some time, he lived in a partly-ruined house with a tower near the Wilanów road, on the edge of the Mokotów escarpment, where he had a kennel for hunting dogs (the distinctive building still exists and is now home to the Museum of the History of the Polish Peasant Movement). Gałczyński called it the 'Yellow Tavern'.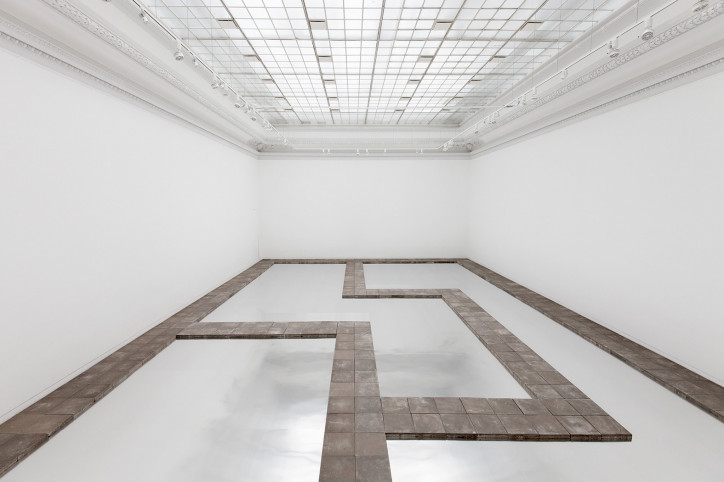 "There was no staircase up to the tower," wrote Saliński in his book Long-play warszawski [Warsaw Long-Play]. "You reached Umeda by climbing up a workman's ladder. Long journeys to Umeda, from Umeda, with Umeda."
After the start of World War II, Umeda fled to Bulgaria, never to return to Warsaw in his lifetime. But just before his death on 7th December 1961, he was baptised and took the name Stanisław. In his will, he asked for his ashes to be laid to rest in Warsaw, and one of his sons continued his mission in Poland.
The highlander from Tokyo
Yoshiho Umeda, who was born in the Japanese town of Mobara in 1949, brought his father's ashes to Poland at the age of 13 and moved in with the family of Konrad Jażdżewski, a professor of archaeology and friend of the Umeda family. Ryōchū's final resting place was Warsaw's Powązki Cemetery. Between 1968 and 1975, the young Yoshiho studied Polish philology and history of art at the University of Warsaw. He married Agnieszka Żuławska, a Japanologist and student of Professor Wiesław Kotański, to whom we will come shortly.
Later on, Yoshiho participated in the activities of the Workers' Defence Committee, the Committee for Social Self-Defence 'KOR', and, from 1980 onwards, the Solidarity trade union. He was, for instance, present at the First National Meeting of Delegates in Gdańsk, and helped establish Radio 'S', which broadcast in the Mazovia region. After the introduction of martial law, he was expelled from Poland but continued to support the underground Solidarity movement while in France, for example by organizing the smuggling of around 5000 stencil duplicators into the country. He returned to Warsaw in the late 1980s, working in business and advocating the introduction of the environmental Kyoto Protocol.
Better Warsaw than Paris
On 16th July 1959, when after a 2.5-month-long journey from Yokohama, the ship 'Stefan Okrzeja' sailed into the port of Gdynia carrying a young artist by the name of Kōji Kamoji, it wasn't Yoshiho who met him on the shoreline, as the neat film-script version of events would probably say. Yoshiho had only arrived in Poland a few years later. But Kamoji was met by Kazuo Yonekawa (a translator of Polish literature) and Wiesław Kotański (a Japanologist and the father of Marek Kotański, the future founder of Monar, an NGO). They were both students of Ryōchū Umeda, who the young Kōji had already met through his uncle.
24-year-old Kōji arrived in Poland with eight hefty suitcases filled with "absolutely everything that I needed for daily life", as he would later recall. He also had a five-year grant to stay in the country. As it turned out, he only returned to his homeland 14 years later.
Kōji Kamoji was born in Tokyo on 30th March 1935. He came from an artistic family. His father Torao Kamoji – Ryōchū Umeda's brother-in-law – made wigs for traditional Japanese kabuki theatre. The young Kamoji came to Poland having graduated from the private Musashino Art School. He had even held his first exhibition, which his uncle Ryōchū Umeda organized for him in his own apartment. At the time, many Japanese artists went to Europe to hone their skills, usually opting for Paris as the world's artistic capital of the age. Years later, Kōji himself used to say: "I was a little unruly and I thought that if everyone was going there, I'd go to Poland. And I also thought it wouldn't be that far from there to Paris." Nonetheless, it's easy to imagine that his uncle Umeda might have been behind the decision.
After a year-long course in the Polish language in Łódź, Kōji decided to continue his studies, now at Warsaw's Academy of Fine Arts in the workshop of Artur Nacht-Samborski. "I started in the first year," he recalled years later, "although Nacht-Samborski had suggested I start in the second one. I didn't learn technique so much as an attitude to work, commitment." He graduated from the Academy in 1966, but not before meeting a medical student named Wiesia Nowak in a train from Warsaw to Łódź, who became his wife in 1963. They married in church, both wearing kimonos. Their son Iĉan, also known as Jaś, was born soon after, followed by the twins Saciko and Jasuko, or Beata and Monika.
Kamoji the student had to start earning a living. For the next 20 years, he worked as a translator for businesses. As he said: "In the morning I put on a suit and was an office worker, and only when I returned home and took it off, could I focus on art."
The Japanese Foksal
Before completing his studies, Kamoji presented his work to the public of his new country for the first time in 1965. The exhibition was held in Kraków's Krzysztofory Palace. He exhibited alongside a coursemate from Kraków, Leszek Walicki, who organized the display. The exhibition included pieces that would later be part of his graduation show. The cycle was entitled On the Walls of the Temple (since 2008, when he again showed the works in public, they have also been known as the 'Pruszków paintings', because in the late 1960s Kōji and his family lived in that city, not far from Warsaw).
Kamoji's graduation exhibition in 1966 provoked controversy among the professors of the Academy of Fine Arts. The works were in the form of panels or boxes with holes scratched into their faces, and could be exhibited both hanging on the wall, leaning against it or lying on the floor. This sparked a long debate about whether it was painting or rather sculpture. But when Zbigniew Gostomski, then a lecturer in the Fabrics Department, saw them, he immediately offered Kamoji an exhibition at the newly-established Foksal Gallery. It took place in 1967, and since then Kōji Kamoji's works have been systematically exhibited there, allowing the painter to join the exclusive circle of artists associated with the gallery. He has befriended many of them. But he most valued Henryk Stażewski. "I met him before I'd turned 30," he recalled in an interview with Małgorzata Piwowar in 2018. "He was very friendly towards young people […] He didn't create distance, quite the opposite – he reduced it, treating artists who were younger than him as colleagues. But for me what was most important was his attitude towards work and the work he created itself. I made friends with Włodek Borowski, Andrzej Szewczyk, Edzio Krasiński, which later had artistic importance too. I met Erna Rosenstein. I've had a lucky life to be able to meet many good artists, including Alfred Lenica, who wasn't involved in my gallery."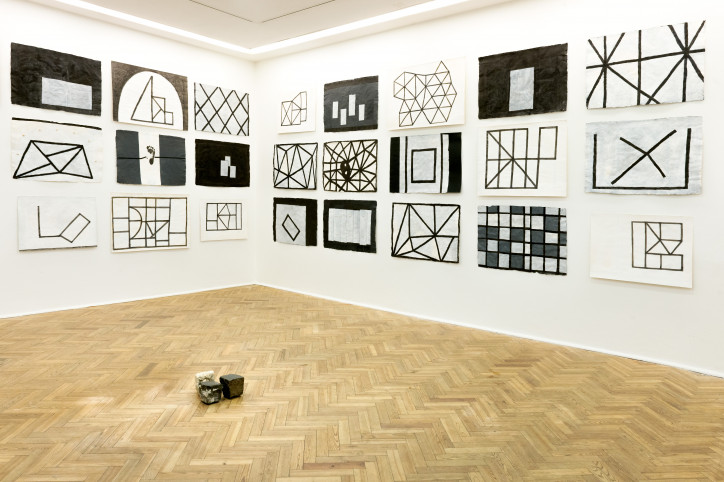 In the early 1970s, Kōji Kamoji started creating installations. He presented them almost exclusively in the Foksal Gallery. The first, from 1971, consisted in the empty gallery space and boards featuring the words: 'Air, interior, space. Door, Window – They May Be Open or Closed. Light – May Be Switched On or Off'. In 1975, he presented a series of four installations. The first – Draught – is composed of a series of sheets of Japanese crepe paper, suspended in the gallery space by black threads, with holes in the paper through which the eponymous draught blew. The next – Hole – consisted of a circular opening made in the wall and a construction of metal beams, positioned partly on the floor, dividing the space, with one of the beams reaching the ceiling. A line was stretched between opposite walls of the gallery over a large stone placed in the centre. A mirror was attached to the end of the diagonal line just above the floor, right across the middle of the empty space. The elements of these installations – empty space, lines, stone, mirrors and holes – would continue to appear in Kamoji's work.
A well in a library
In 1994, in a gallery run by Stefan Szydłowski in Legionowo Public Library, Kamoji created a work entitled Haiku – Water. It was a well dug in the middle of the gallery with a large metal sheet erected next to it that had been polished to become a mirror. Years later, in a discussion with Władysław Rokiciński, the artist said of the work: "We started secretly digging a real well in the small room of the Legionowo library […] First we cut out the floor. We brought in casing (eleven pieces) and over a few weeks, mostly on Saturdays and Sundays, we dug down to the groundwater, to a depth of around eight metres. Later we drank tea made with that water […] On the opening night and during the exhibition, people looked uneasily into the well, afraid that they might fall in."
Haiku – Water provoked a scandal that led to Szydłowski losing his post. "Later [the comedians Wojciech] Mann and [Krzysztof] Materna said on TV that it was the Japanese guy's idea, but they hanged the director," Kōji added. In 2002, he made a perverse reference to that installation in an exhibition at Szydłowski's new gallery in Warsaw, exhibiting an ordinary glass of water in place of the well.
Art of the Pacific Ocean
But Kamoji did not only build installations – he continued to produce paintings and drawings. Between 1978 and 1990, he created a cycle of 34 constructivist-style pictures, given the collective title Middle Ages. He returned to some of the works and revised them years later, something he has often done with other works as well. One example is Evening from 1997, which in a new version from 2008 was renamed The Wall of China with Stones. In 1995, recalling the suicide of a friend from his long-past Japanese years, he made a series of paintings entitled Sasaki's Moon. Between 2011 and 2014, he created over 80 works defined as drawings, which he presented in 2015 in an exhibition entitled A Prayer to Being, once again in the Foksal Gallery. The painting that most moves me is from 2012, 80-year-old Man. On white-painted plywood framed in aluminium sheeting there are three lines – a straight red one, a hand-drawn blue one below, and at the bottom a straight line drawn in pencil – a stone, and a white drawing pin. In the lower half of the painting there is a pencil inscription: "An 80-year-old man sailed alone in a yacht across the Pacific Ocean and reached the port of Shimizu, to see it once again and to bury the ashes of his wife who died seven years ago. December 2004."
Over his long artistic career, Kamoji has not only presented his work in the Foksal Gallery. His memorable solo exhibitions include Hole – Wind – Stone (1990) at the Łódź Museum of Art, A Reed Boat and other works 1963-1997 (1997) and Water (2003) at Warsaw's Ujazdowski Castle Centre for Modern Art, as well as Silence and the Will to Live at Warsaw's Zachęta gallery (2018).
Since coming to Poland, he has only had two opportunities to exhibit his work in his home country. "Once," says Kōji, "it was at an exhibition organized by Ryszard Stanisławski, in which he presented works by artists from Eastern Europe, with six artists from six countries. I represented Poland. The second occasion was a few years ago in Kyoto at the university art school. I went to Kyoto. Even though several thousand people visited the exhibition, it didn't garner much attention. My friends from my studies didn't know about it because I lost touch with them long ago." In Poland, however, Kōji Kamoji was awarded the 1975 Cyprian Kamil Norwid Critics' Award, and in 2015 he was honoured with the Jan Cybis Award.
To conclude, all that is left is to wish this master inner peace, so that he may continue to "change slowly", as Henryk Stażewski once advised him.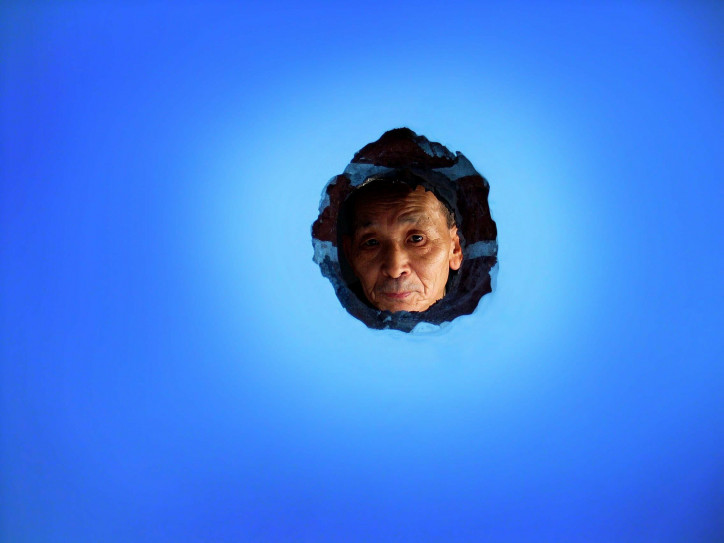 Translated from the Polish by Zosia Krasodomska-Jones
Maybe we're being naïve, but we think that art can save the world. By supporting PRZEKRÓJ Foundation, you help us discover talented artists, illustrators, painters, graphic designers and photographers from the 'New East'.
Choose your donation