"Hey Jude" is one of The Beatles' most well-known and popular songs. But who was the song originally ...
2021-02-12 09:00:00
For more than 50 years, the entire world has been singing "Hey Jude". But when it comes to this song, hardly anything is clear – we don't know even who Jude might be: John Lennon, his son Julian, Paul McCartney's sweetheart, or each and every one of us?
Read in 8 minutes
Repeat "na na na, na-na-na, na" 18 times, almost miss the moment the drums should come in, arrange an orchestral accompaniment, and write lyrics that seem to resonate with every listener – the recipe for a hit song appears as simple as this. All this made "Hey Jude" the most popular song by The Beatles – a band that has put 17 songs at the top of UK and US charts. Still, a nine-week run at number one on the Billboard Hot 100 is a unique achievement, even for The Beatles.
In the original version there was no Jude. There was Julian, John Lennon's son. "Hey Jules," the song's author hummed. "Hey Jules, don't carry the weight of the world on your shoulders. Hey Jules, take a sad song and make it better. Hey Jules, don't be afraid." The perfect song to comfort a five-year-old who didn't understand what was going on around him. The perfect song to comfort the child's mother, Lennon's wife Cynthia, who understood what was going on all too well, and had no doubts about how it would end. And yet, Lennon wasn't the author of these comforting lyrics; it was Paul McCartney.
"I've never really wanted to know the truth about how dad was with me," Julian said years later in an interview with the Tampa Bay Post. "There was some very negative stuff talked about me […] like when he said I'd come out of a whisky bottle on a Saturday night. Stuff like that. You think, where's the love in that? Paul and I used to hang about quite a bit […] more than Dad and I did. We had a great friendship going and there seems to be far more pictures of me and Paul playing together at that age than there are pictures of me and my dad."
Top secret
John Lennon married Cynthia Powell shortly before his 22nd birthday. The Beatles weren't famous yet, but in Liverpool girls were already going crazy for the handsome musicians. For this reason, Lennon's marriage had to be a closely-guarded secret. Whenever he was asked about John's wedding, the band's manager Brian Epstein rebuffed journalists, even though he was a witness at the ceremony. As soon as the marriage officiant uttered the first words, a pneumatic drill outside drowned out all that was said; when the registrar asked for the groom to step forward, Harrison did, adding to the farce. Because The Beatles were playing a show at a local dance hall that evening, there was only an intimate meeting at a restaurant. Less than eight months later, Julian was born. Lennon's family life was kept secret and Epstein made sure that John listed 'girls' as his hobby when giving interviews to the press. At the time of Julian's birth, Beatlemania was already at its peak. It was to become the mother of all fanaticisms.
Two weeks before Julian's birth, the band's first album, Please Please Me, was released. Unfinished and initially released only in mono, it followed the two hugely successful singles: "Please Please Me" and "Love Me Do". To cope with the madness that engulfed the UK, the release of the album was brought forward. Almost all of it was recorded during one session at the EMI studio in London. For the next 30 weeks, the album topped the list of best-selling pop albums – an unprecedented success, and equally extraordinary nowadays.
At the end of 1963, journalists eventually confirmed that Lennon had a secret wife and an equally secret child. At first, the couple lived with John's aunt. Later they moved to a flat in London. It was on the third floor, in a building without a lift. Cynthia would bring Julian up the stairs and then walk back down to get her shopping bags. Often pushing through crowds of fans who quickly tracked down where the star lived and loitered near the entrance. Cynthia received threatening letters; fans wrote how much they loved John and told her to leave him alone.
She enters the stage
When Julian was born, Lennon was on a concert tour. When he returned, he saw the child, and was – for a moment at least – quite delighted ("He's gorgeous, Cynth, he'll be a rock star like his daddy"). Then he told his wife he'd be going to Barcelona to rest. A few years later, Cynthia went on holiday to Greece and after returning home earlier than planned, she found Lennon in the company of an Asian woman. They were sitting on the floor in identical white bathrobes, looking each other in the eyes. "Good morning," said John, not particularly embarrassed by the situation.
Divorce was the only possible solution. Yoko Ono had a complete hold over Lennon. She was always by his side; she even went with him to the studio. Before they met, the band was a close-knit, hermetic circle of friends. McCartney had met Lennon, two years his senior, when he was 15. They shared a love of music and had both experienced grief at a young age – they both lost their mothers early. They were almost inseparable; they spent their free time together, played music and wrote songs. Most of The Beatles' songs – including "Hey Jude" – were created by the duo. Suddenly, she separated them – an eccentric Japanese artist, who began to speak on behalf of her partner, also during arguments within the band. John used to say: "There is no me anymore, we're one with Yoko."
"I thought it was a bit much for them suddenly to be persona non grata and out of my life," recalled McCartney in a biography written by Barry Miles. A month after Lennon and Cynthia decided to separate, McCartney paid her and Julian a surprise visit at their Weybridge mansion. He brought her a red rose and spent the afternoon playing with Julian, perhaps unusually for someone who had the world at his feet and was being followed by hysterical teenagers. It was that day, on the way back, driving an Aston Martin, that "Hey Jude" began to form in his head – initially with the words "Hey Jules". He wanted to comfort Julian and help him embrace the situation. Even a song. A sad song that needs to be improved – make it better.
A collective addressee
In the weeks that followed, McCartney, as one of the journalists writing about him put it, "tested this piece on everyone who was kind enough to listen to it, that is, on everyone." Everyone was impressed. Along the way, Jules was replaced by Jude – it sounded better and made the lyrics more opaque.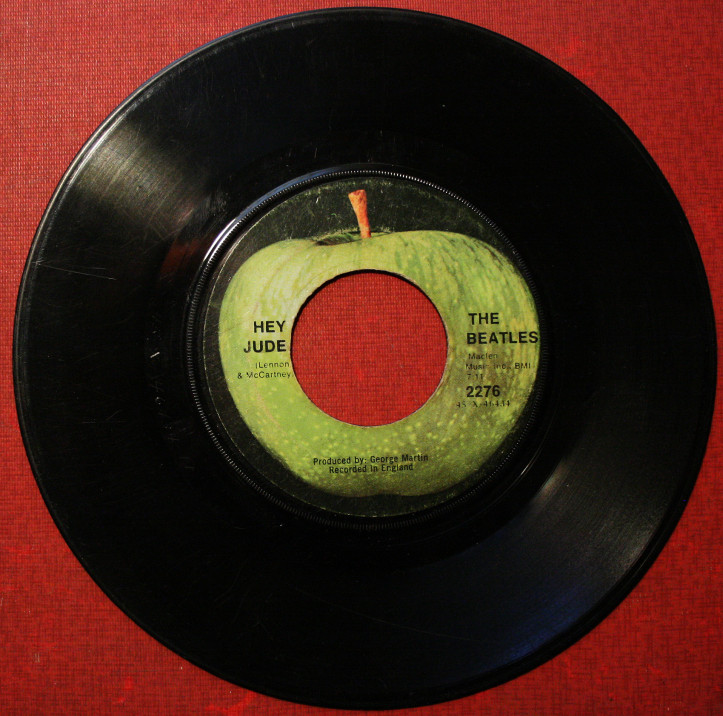 The trick worked. So much so that the elder Lennon was convinced that the song was written with him in mind and that Paul was excusing his behaviour – leaving his family and choosing Yoko Ono as his life partner. The second verse begins with "Hey Jude, don't be afraid / You were made to go out and get her." McCartney meant that Jude shouldn't be afraid, that he has to confront the world, face it ("go out") and reach for what's his. Lennon, however, interpreted it literally, and even years later he publicly said that he had read these words as an incentive to reach for Ono ("go out and get her"). In 1980, a few months before his tragic death at the hands of a madman, Lennon said: "I always heard it as a song to me. If you think about it… Yoko's just come into the picture. He's saying, 'Hey, Jude – hey, John.' I know I'm sounding like one of those fans who reads things into it, but you can hear it as a song to me. The words 'go out and get her' – subconsciously he was saying, Go ahead, leave me."
And he did. It took him a while; but at that point something began to break. The band existed for another two years, but a split was already inevitable. "Hey Jude" was released as a single and never appeared on a studio album. It was recorded at the same time as the White Album, and there were already violent arguments between the band members. The album was followed by Yellow Submarine, Abbey Road and Let It Be, but McCartney became more and more overbearing, and Lennon gradually drifted into drugs and Ono, who of course accompanied the musicians day in and day out in the studio, pissing off the other band members. She kept calling them "Beatles", while Paul kept correcting her, screaming that they were called "The Beatles."
Just before the final recording session of "Hey Jude", the band broke up for the first time. Ringo Starr couldn't stand McCartney's constant comments and walked away. He returned after two weeks. A few months later, during the recording of Let It Be, George Harrison did the same following yet another quarrel with Lennon. And he came back, even though the others had already found a replacement – Eric Clapton.
"Hey Jude"'s recording session wasn't the easiest. McCartney and Harrison argued over a guitar part that Paul didn't like despite several different interpretations. They started recording the final version without the drummer. Ringo was in the toilet when McCartney ordered the tape to be turned on and began playing the piano – the same one used by Freddie Mercury in "Bohemian Rhapsody", Elton John in "Levon", and Rick Wakeman when he accompanied David Bowie in "Life on Mars?" Fortunately, the drums come in so late that Starr managed to get back and sit at the drums, literally at the last minute.
The longest "na-na-na" in history
The single version of Hey Jude lasts seven minutes and 11 seconds. It's one of the band's longest songs. McCartney had doubts about whether it would be played on the radio in its entirety, and Lennon allegedly said: "They'll fit it all, because it's our piece." After three minutes, the lyrics comprise only "na na na, na-na-na, na, Hey Jude", sung by a choir and accompanied by an orchestra of 36 instruments: 10 violins, three cellos, two double basses, two flutes, two clarinets, a bass clarinet, a bassoon, a counter-bass, four trumpets, two horns, four trombones and a drum kit. The musicians were asked to clap rhythmically and sing along with the band. They didn't really want to, but they were offered double pay. One protested: "I didn't become a violinist to clap my hands and sing Paul McCartney's bloody song!" The "na-na-na" was supposed to be shorter, but Paul fell into a trance and, as he later admitted, just couldn't stop shouting "Jude, Jude, Jude – wow!", so the others sang and clapped with him. Despite constant clashes and the band falling apart, the song written for Lennon's abandoned family became a masterpiece that, more than half a century later, still lifts the spirits of successive generations of listeners. Hey Jude, Jules, John – or anyone for that matter – don't be afraid; don't carry the weight of the world on your shoulders. Na na na, na-na-na, naaa!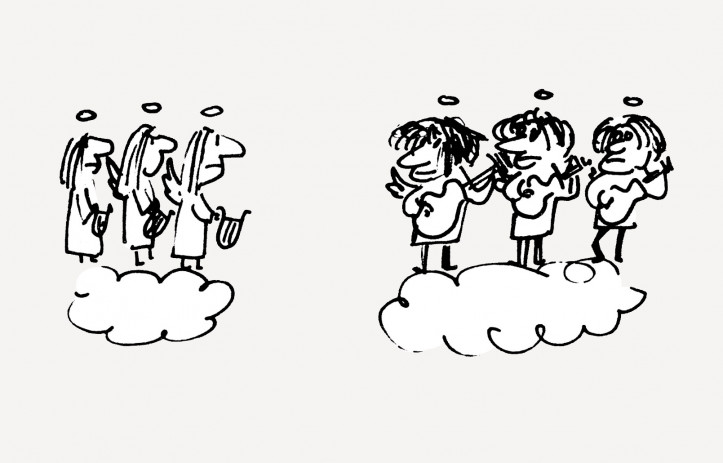 A high five for "Przekrój"? Or maybe a ten? By supporting PRZEKRÓJ Foundation, you support humour, reliability and charm.
Choose your donation