On 14th October 2019, the illustrator, drawer and graphic artist Bohdan Butenko passed away. We remember ...
2019-10-16 00:00:00
Once every three months, our editorial office welcomed a visit from a grey-haired gentleman with a youthful sparkle in his eye, charming smile and a large briefcase. He would open the briefcase and pull out a file with drawings, labelled Butenko pinxit. Moments later, the presentation of each picture would be punctuated with laughter, gasps of awe, or both at once. The sheets were populated with thickly-outlined characters that we have all grown up with (or used to bring up others), even if some of us don't realize it. Unchanged for the past 60 years, and yet still surprising. Drawn with the experienced hand of a master with a childlike imagination, they were filled with his playful and subversive approach to any topic on which he focused. And most importantly, he had plenty of tact and intuition that always made his jokes work.
Even though he didn't become a regular contributor to "Przekrój" until late, he took on the top position straight away; he was a Master. Thank you for supporting us with your talent and experience. You are one of the giants on whose shoulders we stood to create this magazine in its best form.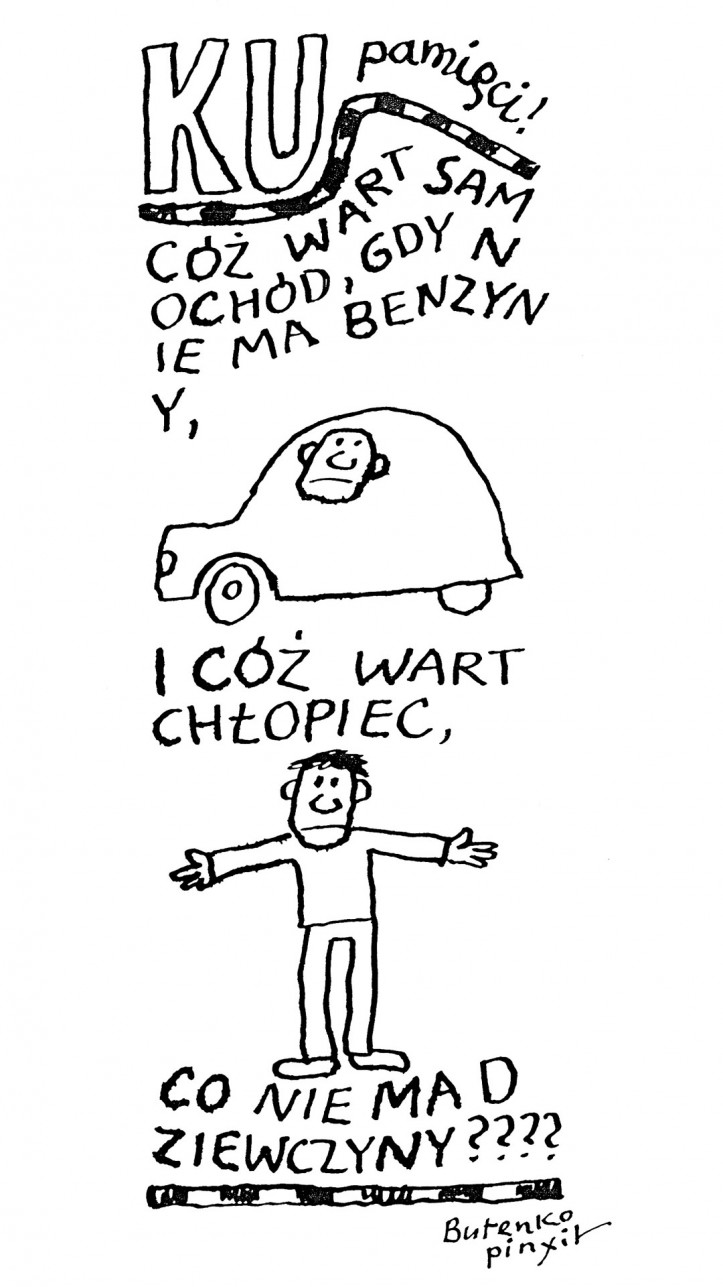 Before giving him any articles to illustrate, we made sure we were handing him the final version. Bohdan Butenko often chose to illustrate just a single sentence. Had we decided to edit the article later, his illustration would lose its meaning. It wasn't unusual for his images to cause controversy and questions: "What does this mean?" And yet, they had a way of hooking the reader into them, and even if it wasn't evident at first glance, they helped to extract new meanings from the text.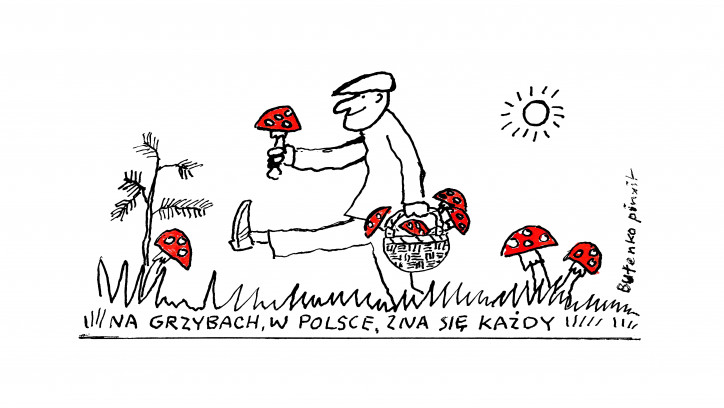 We used to have our little rituals. Bohdan Butenko would always sit in the corner of the same navy velour sofa and accompanied us during the typesetting of the pages with his illustrations. He watched the monitors, not without a little tension, while we set his drawings among the articles. Once it was confirmed that they were exactly in the ordered format (and they always were!), the tension evaporated, clearing up space for a chat and exchanging some curious facts. That's when we learned that Rembrandt used to paint with just a few selected pigments. Or how for the past few centuries, San Marino has been in a constant state of war with Sweden (if we remember correctly). The war, albeit declared, was never fought, and never formally ended with a truce or the signing of a peace treaty. And, of course, there was the story of the ancient tree in New Zealand that grows on the very edge of the North Island and from which the souls of Maori people leap straight into the Southern Ocean to begin their afterlife journey to the mythical land of Hawaiki.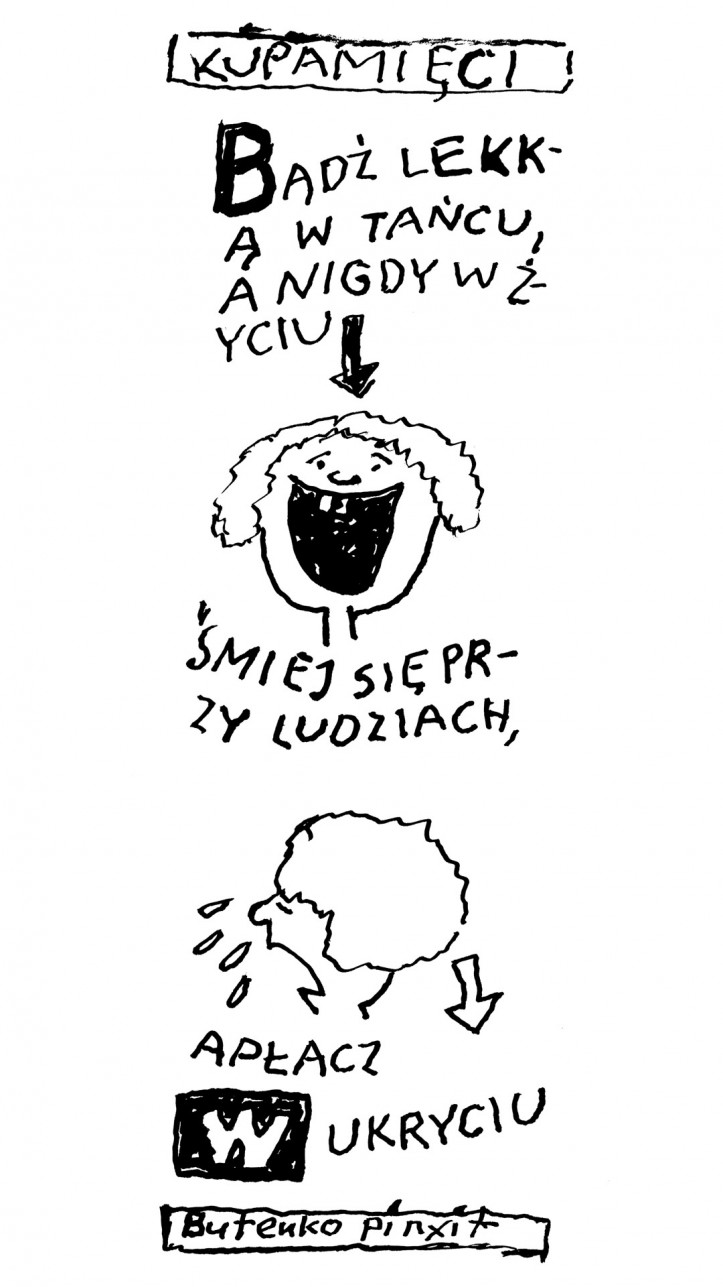 Dear Master, now you are resting on the meadows of some Hawaiki for great artists, perhaps together with Matejko, whom you considered your indirect teacher ("I am an indirect apprentice of Matejko. Mehoffer was his student, and Mehoffer's student was Szancer. And I was his.")
Did you arrive there on a whale's back?
Drawing by Bohdan Butenko

Drawing by Bohdan Butenko

Drawing by Bohdan Butenko

Drawing by Bohdan Butenko

Drawing by Bohdan Butenko

Drawing by Bohdan Butenko

Drawing by Bohdan Butenko
A high five for "Przekrój"? Or maybe a ten? By supporting PRZEKRÓJ Foundation, you support humour, reliability and charm.
Choose your donation