Naturally – for such a large country with such religious and ethnic diversity – the Indian calendar ...
2020-08-13 09:00:00
If you feel like you could use more opportunities to celebrate, here is a list of unique holidays brought to you straight from India.
Read in 4 minutes
The reformed Indian calendar is a solar one, divided into 12 months, each measured from full moon to new moon. It is used along with the Gregorian one by the local administration and offices. It also serves for marking the dates of public holidays, allowing the synchronization of the passing of time for people who follow different religions, inhabit many regions, and use various traditional solar and lunar calendars. The most important holidays are those that take place during the full or new moon nights. The year is divided into six seasons, called ritu. According to Hinduism, time is a cycle, a continuous process of creation and destruction, divided into four eras. Right now, we are going through the last stage of the cycle, known as Kali Yuga: the age of darkness.
Holi (10th March 2020)
A festival of colour, celebrating joy and love. It lasts one night and one day, starting with the lighting of a fire. Crowds of people go out into the streets, throwing coloured powder at each other as a symbol of the triumph of good over evil.
Rama Navami (2nd April 2020)
The day when the Hindu god Rama, the seventh avatar of Vishnu, was born (meaning that he took on a human form). The name Rama means 'the heavenly one' and 'he who brings joy'. Celebrations last for nine days, during which people can sing, fast and make pilgrimages to temples.
Vaisakhi (13th April 2020)
Formerly a festival of harvest, now it is considered the most important Sikh holiday. Vaisakhi was inspired by the legend of five courageous men, who were the first to be included in Khalsa, the Sikh community, by Guru Gobind Singh. On that day, bearded and long-haired Sikhs visit gurdwaras (temples), parade the streets in saffron-coloured gowns, and sing. In the evening, they meet for a holiday dinner with their families.
Ganga Dussehra (1st June 2020)
A 10-day-long festival of the goddess Ganga and the Ganges, the holiest and most important river for Hindus, as it has the power to wash down all sins. This holiday commemorates the mythical act during which the river's waters descended onto Earth. During the 10 days of Ganga Dussehra, people visit the shores of the Ganges, take a ritual bath, and in the evening, they float baskets filled with flowers and candles on its water. It is a lucky time for buying a new car or moving into a new home.
Ratha Yatra (23rd June 2020)
A celebration of the god Jagannath, his brother Balabhadra and his sister Subhadra. It is celebrated most sumptuously in Puri, in the east of India. Statues of the gods are paraded on enormous decorated carriages, built every year out of special types of wood. A procession of one million followers accompanies the parade. The festival is a celebration of equality and acceptance.
Krishna Janmashtami (11th August 2020)
A festival celebrating the god Krishna, the eighth avatar of Vishnu, observed with most grandeur in Mathura and Vrindavan, where Krishna is believed to have spent his childhood. Krishna was born at midnight. In the evening before this day, people fast, bathe figures of the god in milk and water, dress them in new clothes and sing worship. Temples are adorned with flowers, and followers bring sweets as offerings. Jugs of milk are hung from long poles, and young men form human pyramids to reach them. This custom is a commemoration of Krishna's childhood play, when he used to steal pots of curd.
Onam (31st August 2020)
Farmers and villagers celebrate the homecoming of the popular King Mahabali from the underworld. According to the myth, he was sent there by Vishnu, but once a year, his spirit is allowed to return and visit people's homes during the Onam holiday. Races of traditional narrowboats are organized in celebration, as well as dancing, plays and firework displays. Mahabali is a demon, but a benevolent and kind-hearted one, especially popular among the poor.
Durga Puja (22–26th October 2020)
A festival of the warrior goddess Durga, worshipped most fervently by the Bengali people. The celebrations last 10 days. Several months prior, the construction of colourful statues of the eight-armed goddess begin. Figures are then displayed in beautifully adorned tents, serving as temporary temples. Every district, village and community competes with each other to create the most glorious one. Everyone chips in for the collection to fund the construction, and the best craftsmen are hired to complete the works. The statues are visited at night, with offerings of flowers and treats. During the festival's finale, the procession takes the figures to rivers for drowning.
Diwali (14th November 2020)
Diwali symbolizes the triumph of light over darkness, good over evil, and knowledge over ignorance. It honours Lakshmi, the goddess of happiness, wealth, luxury and luck. The holiday is preceded by a time of general cleaning, repairs, renovations and home decorating. During Diwali, people visit their loved ones, bringing presents and sweets, wear their best clothes and light up their homes. The enormous amount of fireworks lit during the festivities causes a pollution disaster every year.
Sakat Chauth (1st January 2021)
A joyous day, celebrating one of India's most popular deities, Ganesha: an elephant-headed gourmand, portrayed with a bowl of sweets and a rat, his wondrous vehicle. Ganesha is a friendly god who brings luck and removes all obstacles. On this day, he blesses his worshippers with wealth and longevity. His painted statues are carried along the streets, welcomed by the ecstatic cheers of thousands of people. Married women fast for Ganesha and for the moon, in hopes of ensuring good health and prosperity for their children – especially their sons.
Paush Amavasya (13th January 2021)
A holiday to pay respects to the ancestors, observed during the new moon. It is the darkest night of the lunar month, when negative energy accumulates to the highest level. During this time, Hindus remember the dead and perform rituals that honour the generations that came before them. It is also an opportunity to perform a prayer that will protect us from premature death. In order to minimize the negative impact of dark forces that reign during this time, everyone should perform a good deed on the holiday: it is a good time to donate money, clothes and food to the poor.
Maha Shivratri (21st February 2021)
A night of celebration of Lord Shiva, one of the three principal Devas (deities) of Hinduism, who destroys and transforms the universe. This holiday is observed during the new moon. Hindus decorate temples, fast, sing, meditate, and adorn statues and Shiva lingams (egg-shaped stones). Ceremonial offerings include bay leaves and milk. It is a day to meditate on ethics and virtues: honesty, abstinence and forgiveness. Celebrations last until the morning.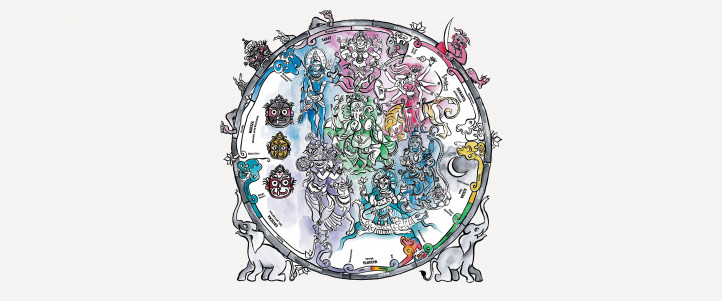 A high five for "Przekrój"? Or maybe a ten? By supporting PRZEKRÓJ Foundation, you support humour, reliability and charm.
Choose your donation