Yiddish cultural consultant and actor Eli Rosen talks about the changing Hasidic community in New York, ...
2020-04-10 09:00:00
"There's this burgeoning Yiddish Hasidic arts scene right now. They write their own novels, they make their own movies, they have their own theatre. There is a glot of Yiddish-language Hasidic magazines, newspapers and periodicals – something that didn't exist when I was growing up." Yiddish cultural consultant and actor Eli Rosen talks about the changing Hasidic community in New York, his role in the making of the Netflix series Unorthodox, and fulfilling his childhood dream of playing a rabbi. He also discusses his path to performative arts and explains why it makes sense to stage the classics of the European theatre of the absurd in Yiddish – Sławomir Mrożek included.
Read in 19 minutes
Mikołaj Gliński: First off, let me ask about the situation regarding the COVID-19 epidemic, which is particularly difficult in New York and specifically for the Hasidic community. How do you feel about it?
Eli Rosen: It's very difficult. My family and friends are all in Hasidic communities in Brooklyn and upstate – and those areas are particularly hard hit. Especially because these communities are so densely populated, and there's so much social and physical interaction between everybody. So the conditions were really optimal for the virus to spread. Plus, we've just had the Purim holiday – that was right before the quarantines were in effect. Ironically, that happiest time of the year, where everybody is visiting everybody, dancing and partying together, came at the worst possible moment.
What's the situation with your family and friends?
I'm now getting daily reports of people that I personally know from school – like my bus driver throughout my childhood or my old classmates – dying. It's very scary, it's very unsettling and obviously incredibly tragic. It does really cast a pall on what would otherwise be a very exciting time for me personally. It's very strange. But at the same time, I feel that our show has really touched a chord, and many people say that it's the first thing that has taken their minds off of the virus. People say they're grateful for that.
You're referring to the Netflix series Unorthodox, of which you are one of the creators. What exactly was your role in the production of the show?
I was hired early on before there was a script, more or less as soon as the deal was signed with Netflix. I was hired as, I guess the best possible title is, the Yiddish story consultant. I was essentially a consultant for everything Yiddish – both in the linguistic, cultural and religious sense. Anything that had to do with scenes that take place in Williamsburg, or that include Hasidic people, I was involved in. The script itself, consulting on the scenes, making sure that they're culturally accurate and that the story makes sense, translating the script into Yiddish, coaching the actors on their lines, overall demeanour and behaviour, the costumes, the set design. I was involved pretty much throughout: from pre-production to being everyday on set, to post-production in the recording studio and editing studio, ADR – all of that. It just goes to show how the writers and producers of the show took the subject matter and ensured that it was authentic and representative.
Yes, you can see it on screen. The show is certainly very compelling in its portrayal of scenes from Hasidic daily life.
It's kind of unprecedented in film-making. I've done jobs before where it's like: OK, we have a synagogue scene, so we'll hire somebody to consult just on that scene, without taking into consideration costumes, set, or anything like that. I think there's a little more awareness now, a little more sensitivity to portraying minorities – whether religious or ethnic – in film. That's a really good thing.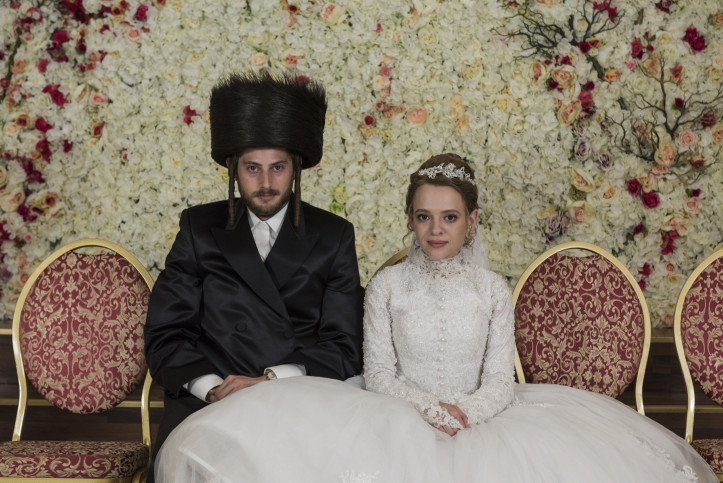 Your expertise in this field comes from the fact that, like the protagonist of the film, you were brought up in a Hasidic environment. Esty belongs to the Satmar community, which is a Hasidic community established in New York following World War II by Hasidic Jews from Hungary and Romania. Was it also your community, or did you belong to a different group?
I think if we – my family – would have belonged to any group, it would have been that group. We were a little bit more moderate. We were not really card-carrying members of the Satmar community, but very closely related to it. My parents come from the same region in Hungary. My mother was actually born in the province of Satmar, which is in Hungary, but very near the Romanian border and near the modern-day Satu Mare in Romania. We were very much under that influence. Satmar is rich in influences; it's really wide in the Hasidic world and in the Orthodox world overall.
Within Williamsburg, Satmar comprises 90-95% of the Hasidic population. Then you have many kinds of small splinter groups that could be described as adjacent and under the umbrella of Satmar, but they make their own little Hasidic communities.
What is most characteristic about this group?
Not everything is good and nice within that community, but there are many aspects that are just incredible. The social safety net in Satmar is unmatched. Nobody goes hungry, nobody is homeless, nobody goes without. They're famous for their acts of kindness and generosity, their support for institutions worldwide, feeding the hungry, sharing with the poor. Obviously there's a tremendous cost to that as well. Whenever you have a group that is that close and that co-dependent on each other, there is very little room for freedom and individuality.
Where did your family live?
I grew up in Boro Park, which is like a sister community of Williamsburg, but a little more moderate. Satmar is probably the majority of Boro Park, but there's a lot more Hasidic diversity there. There's also a lot of people that just don't belong anywhere. They may be similar in the way they dress and the way they go about their lives, but they don't necessarily belong to a specific Hasidic sect. They might pray in one synagogue Shabbat evening and pray in another synagogue Shabbat day, and then on holidays and other special occasions they might go to a third synagogue. They're a little more eclectic, and that's how my family was.
In Unorthodox, Esty decides to leave her community and abandon the traditional way of Hasidic life. You also moved away from the traditional lifestyle of your community. Was your story in a way similar?
It was very different. No two stories are the same, even though there were some elements that I drew on. I think the biggest difference is that I was raised in a happy home, I had a happy childhood and I have a wonderful relationship with my family. I talk to my parents every day. My experience was very different in that respect, and I consider myself very lucky.
Another big difference is that my leaving took 20 years. It was very slow and gradual. It didn't happen overnight. I became bit-by-bit a little more modern, a little more moderate, until one day I kind of found myself outside of the community. I realized I had travelled so far and evolved so much personally since my childhood that I just no longer fit in there. Then I sort of made it official, but there wasn't really a big exit, at least not in the same dramatic fashion as in the show.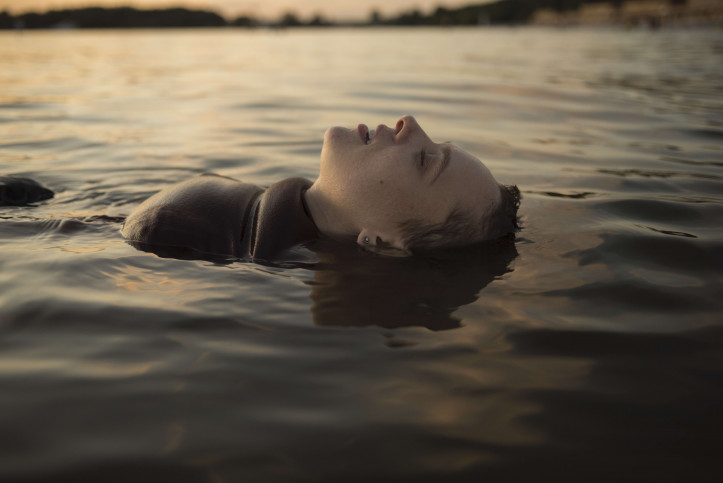 Did theatre and involvement in art play a role in your leaving the community?
In one respect, that was really the biggest and most dramatic step I made. While I was still in the community, I did go to an Orthodox college, and then I went to a Jewish law school and I became a lawyer, which of course – if you're going to leave the community and have a real professional career – that and being a doctor are the two careers that an Orthodox Jewish guy can actually be proud of. So I did that, but then being in the legal world and in a large law firm, I found myself identifying less and less with the community I came from. I also found my political views were very different, I was socially more and more progressive. It didn't really align with my Orthodox practices and beliefs anymore. One day, I kind of admitted to myself that I was no longer Orthodox. Slowly, I became aware of what else I had been taking for granted and doing, just because my life trajectory took me there. I started re-examining many of my life choices and came to the realization that I really didn't want to be a lawyer and I wanted to do something creative. I ended up taking a wonderful experimental theatre workshop with the French director, singer, choreographer Miléna Kartowski-Aïach (I believe she does theatre now with the Yazidi refugee population in France. Incredible things!). At the time, she did these workshops with ex-Hasidic Yiddish-speaking artists. I attended the workshop and I loved it. The artistic director of the New Yiddish Rep was there, and he recruited us all because he was desperate for young Yiddish-speaking artists. That was about three to four years ago, and slowly that has become my life.
Did you feel this knack for theatre and arts as a child? Does Hasidic culture allow for this space of self-expression?
I don't know that I really felt that. I have early childhood memories of acting and playing. I would create little scenes where I would play these very dark characters, like during lunch recess. I was a nerdy kid like that. So I did have fantasies in that direction, but I never seriously considered it. First of all, I wasn't exposed to any form of popular culture, like film and cinema, at that age. I didn't even know what it was I was doing. Even if I did, I never could have taken it seriously as a career path.
In Hasidic yeshivas, there's very little secular education at all and definitely no drama classes. But the one thing we, growing up, always did was we would love to emulate Hasidic rabbis. They were the celebrities, they were the movie stars – everybody wanted to be them, dress like them, talk and act like them. So we became, as kids, very proficient in imitating and doing impressions of Hasidic rabbis. I think every Hasidic boy dreams of being a Hasidic rabbi, because those are the superstars in Hasidic society. In a way, it was very interesting to play the rabbi in Unorthodox, because it was a kind of boyhood dream. Even the scene where the rabbi dances with the bride, that's something that I would have practiced as a child – I don't know how many times. Instead of playing house, that's what we would do. That was really interesting and fulfilling on so many levels.
Has the role of arts and theatre in Hasidic communities changed since your childhood?
Today, there's a burgeoning theatre scene in Hasidic culture. It started when I was growing up. There's this whole tradition dating back to shtetl called a 'Purim-shpil' – a Purim play. Purim is a holiday when people dress up in costume, are happy and party. It became a tradition that people would dress up as the characters of the Purim story [which recounts how Mordechai and Esther prevented the massacre of the Jews ordered by Haman, minister of Ahasuerus, king of Persia – ed. note] and re-enact it. And from that, people started coming up with scripts of other biblical stories. That's the origin of Yiddish theatre.
In the Hasidic community, they still do the old tradition of the Purim-shpil in some places. Actually, Satmar doesn't do it, but Bobov [a Hasidic group originating in Bobowa, southern Poland – ed. note] did preserve this tradition, and every year on Purim they stage this Purim-shpil. It's very different from the Western theatre we know, because in a way it's very primitive. It's a tradition from 200 years ago when theatre was very different. It's a little bit like the street theatre that you would imagine in mediaeval times, very melodramatic, with two-dimensional characters...
Are women and girls allowed to act in these plays today?
Absolutely not. It's also very mediaeval in that respect, and men play the female characters. It's a kind of community theatre, because there is no professional theatre; none of these actors are professional actors. But now there's this burgeoning industry – not on Purim, but on Passover, on Sukkot. Those are long holidays, and you have intermediate days when you're not in the synagogue, and you can go out and do things. The plays during this period are really incredibly high in production value. They hire Broadway designers, they use the latest technology in lighting, projection and set design. So it is really evolving and advancing, although it's not by any means at the level of a Broadway show. They can sell out houses of thousands of seats easily. I imagine that a child growing up today might dream of being an actor, but when I was growing up it wasn't a thing.
Would a child growing up in Hasidic culture today be more exposed to mainstream popular culture than when you grew up?
Yes and no. I think the community was a lot less insular when I was growing up. For example, we had certain literary classics in our house, although they were mostly very heavily censored. Actually, we were more likely to have English classics than Yiddish classics – like Sholem Aleichem, Sholem Asch, I.B. Singer – whose literature would not have been let into our home. Quite simply, they were considered heretical. My father also subscribed to Reader's Digest Condensed Books, where they would have the abridged versions of the classics – again, they too were heavily censored and edited, cleansed of any controversial material. So I did have access to some things, whereas today the subsequent generations of my family would not even allow that into their home.
On the other hand, there are much more Yiddish alternatives today than there were then. There's this burgeoning Yiddish Hasidic arts scene right now. They write their own novels, they make their own movies, they have their own theatre. There is a glot of Yiddish-language Hasidic magazines, newspapers and periodicals – something that didn't exist when I was growing up. You have people that run Yiddish art classes. There's a lot more of these kinds of outlets and extra-curricular activities available for a Hasidic child growing up today, but at the same time, it's a lot more insular and there's a lot less interaction with people outside the community. So it goes both ways.
You're the managing director of the New Yiddish Rep, which is a theatre in Brooklyn that stages plays in Yiddish. But from what I understand, Hasidic Jews would probably not come to your shows. Who is your audience then?
We would love to make inroads into Hasidic community, but obviously they are very suspicious of secular culture as a whole, and I think even more of secular Yiddish or Yiddishist culture, as we would call it. We have a lot less Hasidic people in our audience than you would hope for. I would say Yiddish speakers comprise maybe 5% of our audience on a given night. We use supertitles projected on the stage, just like a lot of European theatres do. Most of our audience is English-speaking, but when the occasional Hasidic person shows up, they really love it. They are really starved for high-quality entertainment. So the people that dare to venture beyond the walls of their community are very happy when they do so. But they are also afraid. The community is so insular and everything is dependent on your reputation and standing within the community.
For example, as you see in Unorthodox, romantic matches are arranged, and when a match is arranged, the only thing that matters is reputation. If you do anything that is outside of the box, it affects your reputation. If you dress differently, if you listen to music that's different, if you're seen in places that are not sanctioned, it affects your standing in the community, which affects your match potential. It reaches the point where pretty much everything you do will affect your prospects for marriage. And your prospects for marriage are everything. That decides your future. There is no future outside of marriage; there is no future for a single person in that community, which is also heartbreaking and part of the problem. I have friends and classmates that are still in the community and have never married. It is one of the saddest and loneliest existences you can possibly imagine. So everything you do is dictated by that. And, of course, when you are married you start worrying about your children's marriage prospects. That is the power of that kind of homogenous, monolithic society; the power of peer pressure.
So the Hasidic people who come to your plays would not talk about it with other members of the community?
That's true, they usually sit in the back. They come in when the lights are already black, and they leave before the lights come up [laughs]. They do it kind of secretly and privately. Of course, every once in a while you'll have a whole group that will come together, but those are the exception to the rule.
Again, I feel like there's been a lot of improvements within the society. 20 years ago, there was zero awareness around sexual abuse, for example. It would never be talked about; anybody who came forward would immediately be ostracized and punished just for coming forward. Now more people are actually aware of it and talking about it. It's still a problem – just like in any religious community – but it's not like it was. In many ways, the community is becoming less insular. Especially with the infiltration of the internet, as much as they try to fight it, it's a losing battle. More and more people are moving out of the physical confines of the community, finding the alternatives, and being more openly defiant of the norms.
But there's this give-and-take, the more people try to defy the norms, the more people become more entrenched and insular. That's one of the reasons why I think more shows and awareness around the subject are ultimately going to help the community itself and the people inside the community.
Even if those shows are not being watched by the members of these communities? Because, I surmise, members of the Hasidic community are probably not watching Unorthodox.
I'm getting inundated with messages from people inside the community who have seen it and loved it. The majority of people will not watch it, but a lot of people will. There is a strong correlation between the people who are stuck inside the community but understand and criticize the problems, and people who would watch the show. In many ways, they are the real target audience. On the one hand, it presents them an alternative, and on the other, it's something they can really relate to. Maybe this encourages them to try to fix the problems from within.
Can you say more about the repertoire of the New Yiddish Rep. It's not only Yiddish classics that you've been putting on stage...
We have become known for staging Yiddish translations of classics in other languages. We staged Death of a Salesman by Arthur Miller (before I joined the company), which was nominated for several theatre awards. We staged Waiting for Godot in Yiddish, which many people said is the first time they understood the play. English critics said that although they'd seen so many versions of it and in so many different languages, this was the first time they understood it. Because, as you can imagine, in many ways Waiting for Godot only makes sense in Yiddish. Yiddish is the language of existentialism, it is the language of waiting; waiting for salvation. Waiting for Godot is like waiting for the Messiah. The characters take on a whole different life in Yiddish. I got to do it last year and play Vladimir – that was an amazing experience. We also did Ionesco's Rhinoceros in Yiddish. That was the first play I translated, and I played Jean in that. I translated two plays by the very famous Israeli playwright Hanoch Levin – I know that the theatres in Warsaw really like to stage his plays. Both are wonderful postmodern absurdist masterpieces. You can start seeing a theme here. We really like to do postmodern theatre, a theatre of the absurd in Yiddish. So, of course, our next natural choice was...
...Sławomir Mrożek, the Polish playwright and satirist; the classic of Polish theatre of the absurd.
I'm half-way through translating his Emigrants [Mrożek's play from 1974 about two unspecified emigrants living in a rented room somewhere in Western Europe – ed. note] into Yiddish, and it's a play that lends itself wonderfully to Yiddish translation. First of all, those two archetypes translate really naturally into Yiddish: the kind of simple, provincial, working-class person, and the intellectual, the Talmudist, if you will. Every once in a while, I'll translate something, and then when I look back at it, it's as if Mrożek had written it in Yiddish.
How did you come across Mrożek in the first place? Here at "Przekrój", we are especially fond of him, as he was a "Przekrój" author for many decades – we have many of his drawings in our archive too.
It was not my idea – our artistic director David Mandelbaum has a wonderful sense as to what would work well in Yiddish. And part of this is for practical reasons: being a Yiddish theatre in New York is really difficult. Unlike in Europe, there are no national subsidies; we are not a national theatre. Most of us are working for free. We rely completely on private funding and ticket sales, and it's hard to sell tickets in New York nowadays – especially when you're doing non-commercial theatre. If you're doing postmodern, experimental theatre, it's really difficult. We're always looking for plays that have a small cast, and obviously you're not going to get much smaller than a two-person cast, as in Emigrants. It was also just a natural progression. We really love the postmodern masters: the Becketts, Levins and Mrożeks. So it was just a natural choice.
This interview took place on 3rd April 2020.
Parts of this interview have been edited and condensed for clarity and brevity.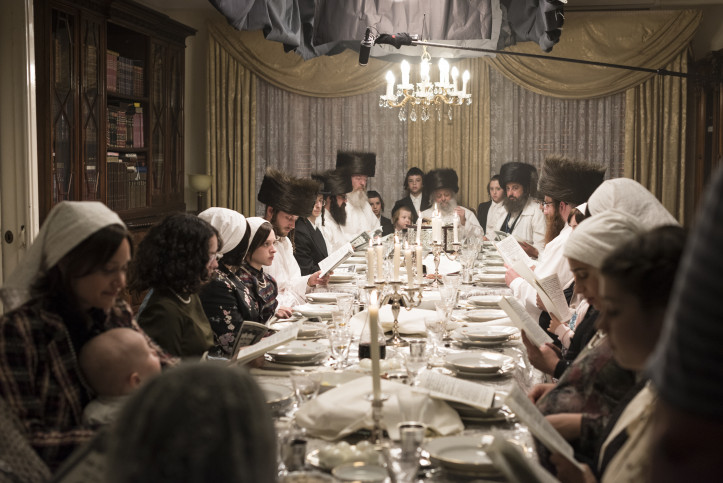 Eli Rosen:
A native Yiddish-speaker raised in the Hasidic community of Brooklyn, Eli now serves as the managing director of the New Yiddish Rep theatre, as well as being a Yiddish cultural consultant for film and television. Past credits include producing, translating and appearing in Hanoch Levin Squared, alongside appearing in Waiting for Godot, Awake and Sing!, the NYT Critic's Pick God of Vengeance, and Rhinoceros (in his own critically-acclaimed Yiddish translation). He also starred in his own one-man-show The Drunk Cantor, based on the monologues of Maurice Schwartz. Film and television credits include the upcoming Netflix series Unorthodox (2020), Minyan (2020) and The Binding of Isaac (2020).
A high five for "Przekrój"? Or maybe a ten? By supporting PRZEKRÓJ Foundation, you support humour, reliability and charm.
Choose your donation