Polyend began life in 2015 as a small, musical equipment start-up in northeastern Poland. By 2016, they'd ...
2019-06-17 10:00:00
How did Radiohead, Coldplay, Sigur Rós and The Chemical Brothers end up playing on equipment from a small company in Olsztyn?
Read in 16 minutes
"Hi, this is Richard, aka Aphex Twin. I've seen your kit, it's fucking amazing! Can I place an order?" The owners of Polyend, based in Olsztyn, received an email out of the blue.
Piotr Raczyński read the message out to his colleague, Czarek Fili, more out of curiosity than anything else.
"Nah, miracles don't happen," Czarek told him.
Piotr: "I was annoyed. I thought it was my brother taking the piss. A few months earlier I'd joked that if we ever sold an instrument to Aphex, we'd shut down the company on the spot, because there was nothing more you could achieve in this industry. He'd been my idol since I was a kid!"
"Is this a joke? Prove you're you!" they wrote back.
In response they received a photo with Aphex Twin holding a piece of paper.
On the piece of paper, which was turned at an angle so there could be no question of it being a photomontage, was a handwritten message: "HI PIOTR!"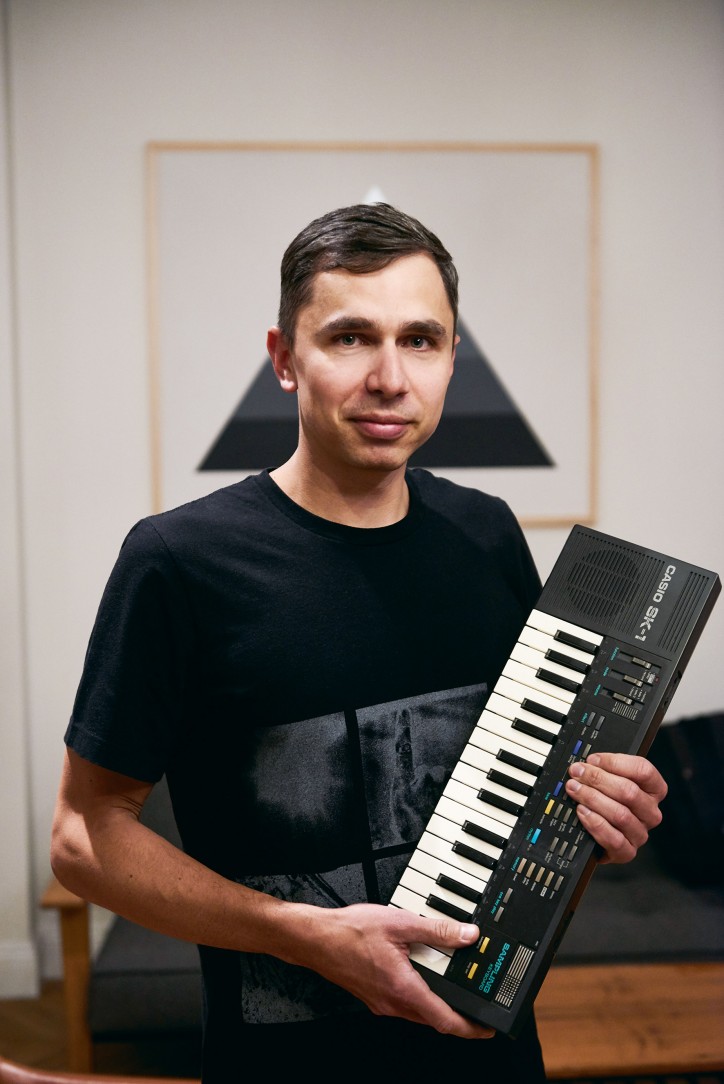 Music on a Walkman
At six years old, he already had a Casio synthesizer in his room. He's kept it as a souvenir. He grew up on a housing estate in Olsztyn. At the same time and in the same place, the metal group Vader was formed, but that wasn't Piotr's kind of music.
Piotr: "My first memories of music at home? Vangelis and Jean-Michel Jarre's records – I didn't like them then and I don't now, but at least I was exposed to electronic music. After the Casio, I got a guitar, and as a teenager I played in a band called Why Ducks."
In seventh grade, on his way to school, he'd listen to cassettes on his Walkman – The Chemical Brothers and Air.
"It started with the album Moon Safari. When I was 15, my parents let me go to Air's concert at the Stodoła club in Warsaw. I squeezed through to the front row, and I watched what they were doing, how they were playing technically, and most importantly, what equipment they had."
A few years later, he was a regular reader of Machina magazine and the short-lived Kaktus magazine.
"One of the issues had a free CD, which included an Aphex Twin track. I liked it so much that I bought all his albums."
"At Empik?" [Empik is a popular music and media store in Poland – trans. note]
"Of course not – at the 'Russki market' in Olsztyn! They sold pirated DVDs with recorded MP3s. The whole discography fit on one DVD."
Music-wise, there was nothing happening at that time in Olsztyn that interested Piotr, so he started going to concerts in Katowice. It was there that he saw his first live performance of Autechre, who became one of his favourite bands.
He copied the music making program FastTracker 2 – created in the 1990s with MS-DOS – from a neighbour. He made his first beats for local hip-hop artists. He subscribed to a specialist British music magazine. His parents were stumped by the cost – £10 per issue.
"Everything revolved around the world of music. At high school I made a friend who was similarly obsessed. We used to import CDs from music shops, taking it in turns so the other one could make a copy. Sometimes it would cost as much as £20 and we'd be waiting a month for delivery. But it was worth it: we were introduced to Jaga Jazzist, My Bloody Valentine, The Flaming Lips and hundreds of other bands."
After high school, he applied to study IT at the Polish-Japanese Academy of Information Technology.
"Why did you want to study there?"
"Because they had a music studio. I went to Leeds on the Erasmus programme. I was able to take a few subjects there that they didn't have in Poland, including acoustics and psychoacoustics."
"You learn about how the ear works, about the perception of sounds, the impact of speed and pitch on reception. IT studies enabled me to master the basics, including the synthesis of sound. Thanks to that course, I now know what the programmers at our company are talking about."
That company is Polyend, which has been operating for several years. I'm about to meet the whole team.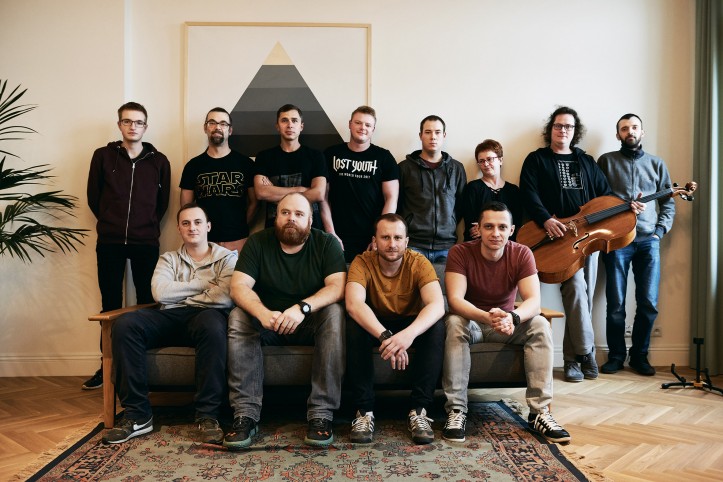 For now though, I'm in Piotr's office at their Olsztyn headquarters, looking at his collection of classic synthesizers and instruments. There's the Roland TR-808 – the legendary drum machine to which Kanye West dedicated an entire album – used by Marvin Gaye, Run DMC, Public Enemy and Whitney Houston's producers. Then there's the Juno-106 from 1984, used by Tangerine Dream, Underworld and Daft Punk.
Piotr: "I can't make amazing music on them, but I always had loads of fun with them."
After university, he returned to Olsztyn. He worked at his father's cheese production line company.
"You pour in milk, and after a while cheese comes out. Everything's automated using basic robots. I did the marketing, I was a project manager. I think Dad wanted my brother and me to take over the company. I had other plans."
On one occasion, following a work trip to a food fair in Cologne, he stayed on in Germany for an extra week. There was a music equipment fair in Frankfurt. "I'll be a supplier here one day," he told his wife. He returned to Olsztyn. Passing through the shop floor, he heard the rhythmic tapping of one of the machines.
This product is a sensation
"If you can program a machine to tap like that, what if you connected it to a MIDI controller…" Once he'd had that thought, Piotr was compelled to follow it through.
"I went to the automation department at my dad's company and asked whether there was anyone who knew the Arduino robotics platform and could write a program on it."
"Krzysiek Szulc. He now runs our group of programmers."
Krzysiek: "It was a day like any other at work. My first job, it was already starting to drag. I'd tinker with microcontrollers after hours. Piotr came in and said he had a secret project and he'd tell me about it in private."
Piotr: "First I asked if he'd be able to create something that would make a pen hit a table at regular intervals. We met up a few times, we chatted. We were joined by Mariusz, a construction engineer who played drums in his spare time. We tested our first models in secret, after work. I realized the guys could do anything I thought up. Mariusz designed the mechanism, Krzysiek did the electronics. Here's a photo, and a video, a sequencer controlling a drumstick on an electromagnet."
"Was that the prototype for the first device?"
"Not a prototype exactly, just a visualization of a new philosophy of operating. Playing used to be analogue, then it was digital using a computer and controllers. I wanted to use digital control for a device that would hit drums physically. That's how Perc was born. Not analogue, not digital, but a post-digital instrument."
"Can you explain what it is, in layman's terms?"
"It's a robot that hits what you want it to hit and generates a rhythm. It can be used to create a percussion machine with any physical object, or to play the drums without sticks or hands. You control it with an electronic controller."
Perc looks a bit like an espresso machine portafilter with a ball on the end. A bolt pops out from the ball and strikes the surface rhythmically. Nowadays, the bolt is called a 'beater'.
In the short video from a few years ago, a drummer is playing alongside a Perc – the device hits a box, the drummer hits a plate, and vice versa.
A month after Krzysiek's arrival, the group was joined by Czarek, Piotr's friend from junior school in Olsztyn, who used to play in a band with Piotr and his brother. He'd recently left a banking corporation.
Czarek: "I hesitated quite a while before joining. Magda, Piotr's wife, still reminds me of that. But no wonder, it was the great unknown."
In September 2015, they set up a partnership. Polyend's visual identity was drawn up by a graphic design friend, Grzesiek Niepewny, who went on to design the website, T-shirts, packaging, instructions and advertising. He is also the co-designer of the equipment.
Initially, the office was 42 square metres and was shared by Piotr, Krzysiek, Czarek and Maciej 'Adaś' Pancer, Piotr's former drum teacher.
They started with prototypes of Perc. They quickly learnt that plastic was a heat insulator which led the equipment to overheat, so they had to use another material. The next model was made of steel, which worked better but was too heavy. Aluminium turned out to be ideal.
They used slowed-down film to see what drumsticks looked like hitting drums. They analysed dynamics and deflections. Tests showed that if you limited the impact power, then the rebound force would automatically move the beater back to the point from which it was set in motion.
That was the key to Perc's great sound – not hitting with full force, just simulating human impact.
By the end of 2015, they were keen to display their invention at the NAMM Show in California the following January.
They didn't have their own stand, but among the exhibitors they found a Kickstarter drum project that turned a drumstick impact into a digital signal. They came to an agreement that allowed them to display Perc at the exhibitors' stand without authorization.
They had no promotional materials, but they quickly recorded a video ad at a studio in Olsztyn, 100 metres from their office. The ad showed Adaś playing the drums alongside a Perc. They organized a photo session with the band The Lollipops to show that a Perc can be used when a band doesn't have a drummer.
Undeterred by the fact that they had no equipment for sale, they flew to California with two Perc prototypes in their hand luggage.
The first problem they encountered was the airport security checks. "What's this? How does it work?" asked the customs officers. Perc looks a bit like a weapon, and the hand-packed controller with cables sticking out of it, like something out of MacGyver, is reminiscent of a bomb.
"Wouldn't it have been easier to put them in your checked luggage?" I ask Piotr.
"Then they definitely would have held us back and that would have been it. This way, each time we were able to take a Perc out from our hand luggage and show people how it worked. I'd show the video of Adaś playing the drums on my tablet, I'd explain what it was for and that it didn't pose a threat."
In California, they took some photos of themselves next to the palm trees, then headed to the trade show. They drew schematic designs on bar napkins for the Perc controller they intended to start working on.
Piotr was delighted to have the opportunity to meet his idols: the creator of the first hip-hop drum machines Roger Linn, and the 'Father of MIDI' Dave Smith. He spoke to both of them. He also recognized some of the industry journalists, and whenever he saw one, he'd strike up a conversation: "Hey, Nick, maybe you'd like to have a look at our equipment…" Piotr and Czarek gathered feedback.
They returned home and ran further tests. They measured impact strength and volume.
Trent Reznor improvises alone
They wanted to show Perc, and the sequencer designed for it, at the April Musikmesse in Frankfurt, but by March they still had nothing. Piotr sent a preliminary design to Grzesiek for him to add the logotypes. The sequencer had to look stylish; they wanted to make a large part of the casing out of oak. It was called Seq.
"On 31st March at Superbooth in Berlin, the design of Seq wasn't even off the ground yet, but we still believed we'd be going to Frankfurt with two devices a few days later."
"Why the fast pace?" I ask Piotr.
"We wanted to show that we weren't just a single product company, that we had development prospects. Especially since Perc isn't for everyone. It draws attention: 'Wow, cool, that's awesome!', but then some people ask: 'Actually, why do I need it?' Seq had greater potential, even though it was initially only meant to be a controller for Perc, because we couldn't find a suitable controller on the market."
When they connected the first Seq model to the power, just before the trade fair, Piotr was moved to tears.
"The fair had already started, and the guys were still finishing off the software. I sat and waited for them to send me a file from Poland to upload to Seq."
"Couldn't you have waited a year until everything was airtight?"
"We'd have been waiting for ever. I'd already had the company set up for months by then, I had to employ them and pay them properly. And to do that, I had to sell the equipment on a larger scale."
They brought a gadget from Poland – rubber stress balls, which looked like the end of a Perc. Whenever someone asked when Perc would be available to buy, they'd say: "Not for another six months, but here's a stress ball in case you get anxious while you're waiting."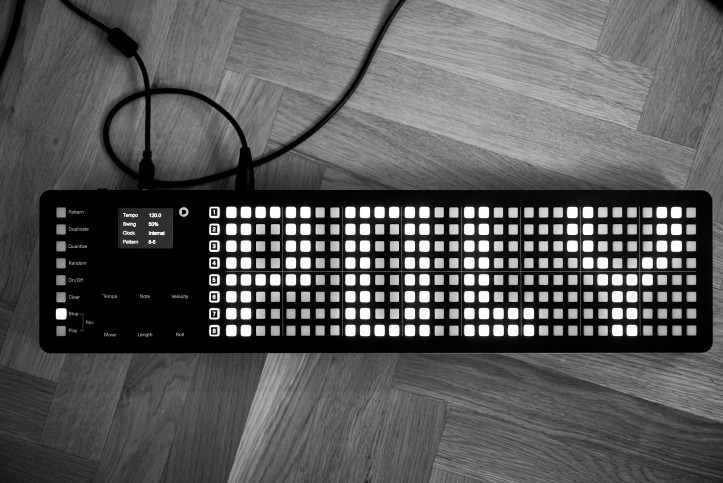 People told them they should make a Seq-like controller for a range of instruments, not limit themselves to Perc.
Their stand was visited by James from Synthtopia, a specialist YouTube channel. He recorded Piotr's first interview and posted it on Facebook – on the first day, it got 400,000 views.
The Frankfurt fair opened a week later. This time, they booked a regular stand with a TV set to present Perc and another, smaller stand to display Seq.
More magazines began to write about the Polish company. They received a review on the prestigious French music portal Audiofanzine.
That's when the memorable email arrived from Aphex Twin – the one with the piece of paper reading "HI PIOTR!"
Piotr: "I replied saying that he'd be the first in the world to receive the final version of Perc. When he got the delivery, he praised us for our great work."
The manager of Sigur Rós wrote to Polyend. The band invited them to meet at Open'er Festival, then in Iceland, where they were recording a video with a drummer.
A few weeks later, they heard from Jamie Woon. He wanted his drummer to use a Perc at a concert for the Mercury Prize gala.
Piotr: "Shock – the first time Perc had been used live at a concert, and it was a gala like that! I was so stressed."
Adrian Utley from Portishead invited Polyend to Bristol and made a song for them.
Trent Reznor from Nine Inch Nails emailed saying he needed a Perc as soon as possible. Sometime later, in a TV interview, he spoke about the device that enabled him to improvise alone with the sounds of live drums.
The idea is what sells
As we climb the stairs of the Olsztyn tenement house, which is over a century old, it's hard to believe that a start-up which sells its products all over the world is based here.
A plaque hangs in the entrance hall with the album covers of their customers: Coldplay, Radiohead, The Chemical Brothers, Portishead, Morcheeba, Jamie Lidell, Fleet Foxes, Dan Deacon, Nine Inch Nails, Daedelus, Gui Boratto, Venetian Snares, and session musicians for Herbie Hancock and Alicia Keys.
They even have The Beatles – according to the guys from Polyend, if The Beatles were still playing, they would be their customers.
Piotr: "Some celebrities want everything for free, they write asking us to send them our equipment. That's because the big American companies, the market leaders, send out products to anyone well-known, hoping they'll put them on Facebook or record a video. The coolest videos we've received were from people who didn't want anything from us – satisfied customers."
When Perc entered official distribution, Aphex Twin immediately ordered nine of them, followed by another four. Hundreds of Percs went out into the world.
In addition to Perc and Seq, the company now offers two other devices.
The first is Medusa, created in collaboration with Greek company Dreadbox. It's a synthesizer, a musical instrument that allows you to generate a colour palette and sound effects using electronic circuits. The second, Poly, translates digital MIDI messages into an analogue signal.
Piotr: "The Chemical Brothers bought the full set. They're getting another one to have as a backup, in case the first one fails. One day we got a message from Coldplay saying that their producer Rik Simpson needed all our equipment right away. A week later, we heard from another guy who said he was Coldplay's producer and he was interested in our equipment.
'But we're already working with Coldplay's producer,' we wrote back, because it looked like a scam.
'Ah, with Rik! No, no, I produce their concerts, I work behind the control panel. I need your gear for the concert tour.'"
We walk around the company. A dozen or so employees meet once a month to discuss what stage they're at with the projects. On a day-to-day basis they work in subgroups.
"How do new products come about?" I ask Piotr.
"When I think up a new device, I go to the guys and say: 'What do you reckon, if this does this and this?'; I sketch something. I go to Marcin."
Marcin Borkiewicz is part graphic designer, part constructor. He was persuaded to come to Polyend by the fact that the drummer of Pearl Jam was using their products. That, and the cool sofa in the office.
Marcin figures out how to turn a vision into a construction. He works closely with Michał Piłat at the next desk, who produces electronics and PCBs – the green, rectangular metal boards inside computers and electronic devices.
They show me shelves with dozens of backup boards. When Marcin does a draft, he prints it in 3D – it's the easiest way to check if something's going to sit correctly inside. You can drill holes, pre-assemble things.
Before mass production begins, around 20 prototypes are made. Michał draws up the wiring diagrams and then designs the board based on the diagrams. He works on a highly-magnified computer screen. It looks a bit like a map of some non-existent city: a load of paths and green points, little crossings between the paths. But the end result is much smaller – the integrated circuit fits on a board the size of a pack of cigarettes.
The guys at Polyend say they could do a PhD in PCBs and aluminium.
Piotr: "Wood, on the other hand, we've learnt enough about to know that we don't want to work with it anymore. It looks incredible, but it's difficult to work with and it costs as much as the rest of the device combined."
All new devices have to go through a testing phase. Unfortunately, not everything can be predicted.
Piotr: "In this industry, everyone has a unique combination of equipment, instruments and programs, different setups, different environments in which the device will operate. There are an infinite number of combinations. We can't test devices 100% in two or three combinations, so we release equipment that works 95%, then we work on alterations."
They send their customers updates in file form to upload onto the devices. On the back of the devices there's a hidden reset button to press after uploading updates, which can't be pressed accidentally.
"So how do you reset them?" I ask.
They laugh. "With a paper clip."
The Polyend team work on the principle that devices should be simple and intuitive.
They show me a photo of the four-button controller for Perc.
Piotr: "It's a lesson I repeat once a month: 'Guys, remember how Perc was meant to have an extra controller?' It's easy to go too far and add more features that no one will use, but there are thousands of controllers on the market. In the first Percs, there was an option to change the sound by tilting the device. We got rid of it. Sometimes I'm prouder of what Perc doesn't do than what it does."
They have several distributors in Japan, Western Europe and the US. In Poland, however, nobody uses Perc, and only a few people use Seq. Prices are given in euros and US dollars.
"How can you price it if there's nothing similar on the market?"
"We're still learning." Piotr smiles. "At some point we were making a device that was going to cost 1300 euros. I sat down and started playing on it, and I thought: 'Cool, but would I buy it for 5000 zlotys? No way!' We lowered the price. We ask people from the industry, friends: 'Would you buy this for 500 euros?'"
Last year's product, Medusa, was created in partnership with Dreadbox, a Greek company that specializes in analogue synthesisers.
As usual, they worked fast. The day before the opening of Superbooth 2018, where it was due to premiere, they hadn't finished the presets (the device's factory-set parameters that enable demonstrations). Their partner was anxious that they wouldn't be able to show people all the features.
"Don't worry, Yannis, first and foremost we're selling an idea," they told him. "You don't need to show how a particular slider works, or that the fourth oscillator doesn't affect the seventh oscillator. Talk about what this changes, then we'll worry about the rest."
The idea caught people's attention. Even a representative of the legendary firm Roland visited their stand to ask if they could lend him some equipment for his stand.
When Jamie Lidell himself posted a summary of the event online, he put the Medusa's premiere among the top happenings of the fair.
Their products soon appeared in the industry magazines Electronic Musician and Future Music, which gave Perc a rating of 9/10.
Orders came in from Sony Entertainment and Google Ireland.
One night, Piotr was woken by a phone call from an employee at Microsoft. They needed a dozen or so Percs for a project they were working on with a man who suffered from amyotrophic lateral sclerosis. Jeremy Best, once a rock musician, now communicates with the world using eye movements alone.
Thanks to the Percs and the system created by Microsoft, he has been able to play the drums once again.
Eight tracks in autumn
When I visit the company, one of the coders is working on a continuation of Poly. The other three are developing a new device.
"What's it going to be?" I ask Piotr.
"A tracker. A device that enables compositions to be made from samples. You upload samples and compose an entire song without using a computer. You'll be able to upload the sample or record it through a microphone. It's a return to basics – I first saw a tracker program in 1995. My mate lent it to me on floppy disk."
Piotr explains that the strength of trackers is their minimalism. These days, with Ableton and other music production programs, you can work on hundreds of tracks at the same time, but none of them properly.
"That never used to be possible, and people still made amazing things. Restriction is the future, because it's creative. One of Radiohead's albums was recorded on eight-track. When you only have eight tracks at your disposal, you have to be focused from start to finish, because each one is important. We're doing a similar thing, our tracker will have eight tracks too."
"It's not too conservative?" I ask.
"A device that doesn't need to be connected to a computer – in other words, distracted by e-mails, social media, hundreds of processing possibilities – that can be a new quality. Before the piano and grand piano were invented, there was just the harpsichord, which couldn't be played quietly or loudly, and yet great songs were created. I can't wait, because it's going to be fun to use. But I'm also waiting to see what we learn from it. We come away wiser after each device."
"The coolest thing is becoming a small part of the creative process of your musical idols. They used to inspire me, now they're using my equipment," says Piotr.
"How did you do it? Plenty of your customers have sufficient budgets to have equipment made to order by subcontractors," I ask.
"Aphex told us he once commissioned something similar, but Perc is better. Johnny Greenwood from Radiohead sent us a video showing a prototype of a similar percussion device. Everyone's up to something, searching for new gear. We approached it very much from an engineering point of view, to make the best product we could. Business plans, promotion – that's what we're not so good at. But we want to win with the quality of our products. Will it pay off? I don't know. Anything can happen."
Piotr explains that that's what the company name is about: 'Poly', as in polyphony, meaning 'many', and 'end', signifying many endings. Because what they like most about their work is the fact that they never know how things will turn out in the end.
April 2019. Piotr posts on Facebook that The Chemical Brothers have just released an album on which they used three of Polyend's devices. And all those years ago, on the way to primary school, he used to listen to them on his Walkman.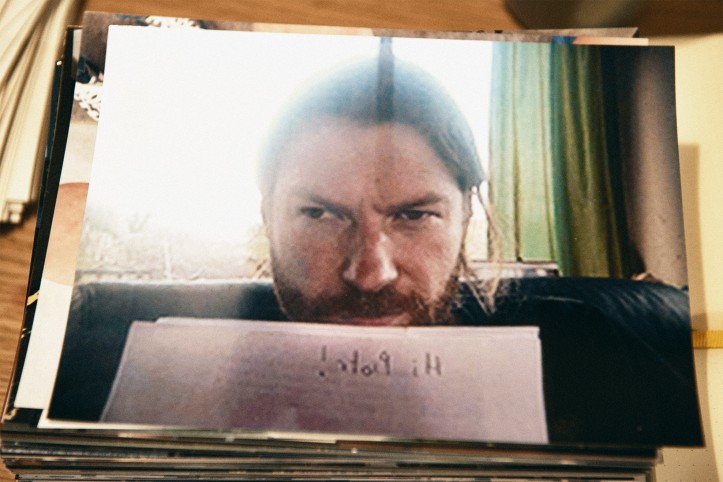 Piotr: "Aphex recently told us that he loves trackers. It turned out we'd been watching the same old YouTube videos of trackers at the same time, including the one I had on floppy disk as a kid. We're doing a project together in the autumn, for a premiere. I'm so excited."
But shh, don't tell anyone!
If you like reading our authors and would like to have a positive impact on the quality of journalism in the 'New East', please support PRZEKRÓJ Foundation.
Choose your donation