Boyd Tonkin
is a British journalist, author and critic who writes on books and arts for international media including "The Economist", the "Financial Times", "The Guardian", "The Times", "New York Review of Books Daily" and "Wall Street Journal". His Anglophone reader's guide to global fiction "The Hundred Best Novels in Translation" was published in 2018. He chaired the Man Booker International Prize in 2016, and served as Special Adviser to the Prize 2016–2019. He was previously Literary Editor at "The Independent", where he re-founded and judged the Independent Foreign Fiction Prize, and was then the newspaper's Senior Writer. He is also a Trustee of the Orwell Foundation.
Czytaj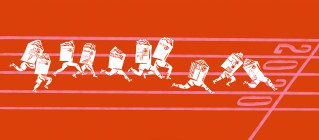 Our Favourite Books in Translation from the 'New East'
Top 10 of the Decade
Reading / culture
As we reach the end of the 2010s, "Przekrój" looks back on our favourites of the last decade. Here, we give a subjective overview of the best books in translation from Central and Eastern Europe.