Anna Świrszczyńska
was a Polish poet born in Warsaw in 1909. She attended Warsaw University where she studied medieval and baroque Polish literature. She began publishing poems in the 1930s. During the Nazi occupation of Poland, Świrszczyńska joined the Polish Resistance and was a military nurse during the Warsaw Uprising. This experience became then the subject of her book "Building the Barricade", published for the first time in 1974. Świrszczyńska died in Krakow of cancer in 1984. Her poems (published as Anna Swir) were translated by among others Czesław Miłosz.
Czytaj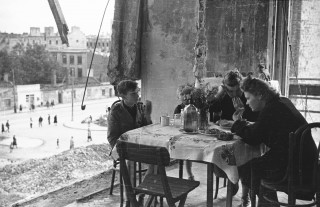 Three Poems on the Warsaw Uprising
Reading / literature
"I'll hide in the wall, I'll go into the wall / like a centipede. / Everyone will die, and I / will survive." Three poems by Anna Świrszczyńska (Anna Swir) from her 1974 collection "Building the Barricade".