In her latest book "10 Minutes 38 Seconds in This Strange World", Turkish novelist Elif Shafak tells ...
2020-04-27 09:00:00
Read in 6 minutes
Her name is Tequila Leila and she is dying. She chose that name for herself, but not the circumstances of her death. She lies in a rubbish bin somewhere on the outskirts of Istanbul, where she reminisces.
The time she has left is 10 Minutes 38 Seconds in This Strange World, as the title of Elif Shafak's new novel reads. The brain gives up more slowly than we used to believe. Canadian researchers have come across a case in which the process of the brain's individual functions 'switching off' took over 10 minutes from the moment death was called. This intriguing fact allowed Shafak, currently the most renowned Turkish writer, to create a vibrant tale about life after death, but also about the life of the outcasts and undesirables who every day teeter on the brink of non-existence. Nobody cares about them, nor their happiness – nobody will claim their desecrated bodies. Leila was a prostitute. Or rather, she is one: as long as her memory serves and while she can still take us on a journey through her tragic and reckless life story.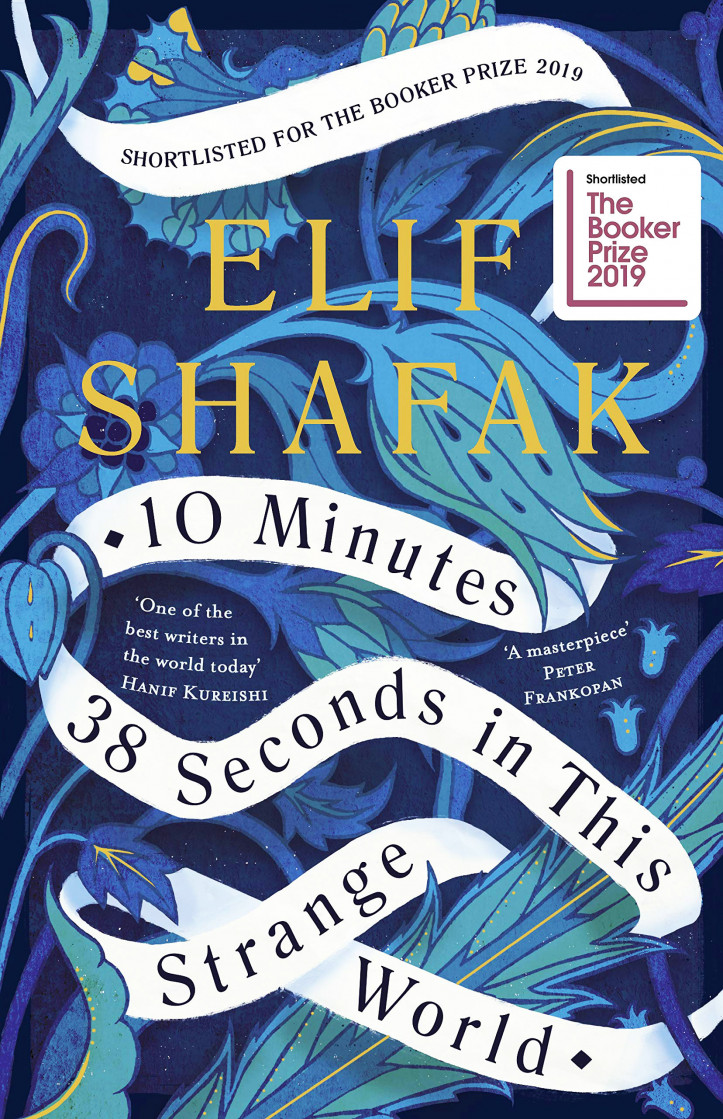 She was born in the east of the country, among fields and hills, in one of those conservative places; in one of those patriarchal families that try to stick to their own and never change shape. She was taken from her biological mother and handed over to the care of her father's second wife. He was a polygamist, they lived in one house, so she was raised by two women – two loving non-mothers. Shafak shows Leila's family as a system of care and oppression: both included in the package, on inviolable terms. When evil strikes, and Leila becomes a victim of sexual violence in her most immediate environment – an environment outwardly projecting love and care – no one stands up for her. The family decide to stick together to preserve what they call their honour. Leila decides to protect herself. She sets off to the big city, in which she replaces her biological, or 'blood family', as Shafak calls it, with her 'water family': close friendships, the power of which the novel extols.
Time passes as Shafak counts down the minutes and seconds from the moment Leila's life ended. She uses memories accidentally appearing in Leila's still active mind as pretexts to narrate subsequent episodes of her fate. Those take us back to the past of Istanbul, which is one of several key characters in the story. Like many Turkish artists and poets throughout history, Shafak gives this city a female identity. Istanbul is a she – surrounded by water and spread on the border between two continents – an extraordinary land of old, tangled streets and overlapping life stories. A great, hospitable bosom that receives a variety of newcomers and allows them to be reborn. The author draws on her own experience here. She was born in Strasbourg, and following her parents' split, she arrived in Istanbul with her liberated and well-educated mother. They lived with Shafak's grandmother – a conservative and superstitious woman, a believer in genies, but wise in her irrational wisdom. Over the years, successive waves of immigrants and representatives of minorities settled down on their street: Armenians, Jews, transgender people.
Each of those waves leaves a trace – a handful of locals who persevere, who still tread on to the same old shop to buy a warm börek. They are like sediment at the bottom of the ocean, the most precious particles giving life to a huge ecosystem. Shafak perceives Istanbul as a fluid city: on the one hand subject to constant social tides, on the other, allowing its inhabitants not to freeze in one pose, granting their situation, convictions and choices a dimension of constant flux and changeability. In them, the author sees the essence of life.
Leila is unlucky. Once she reaches the big city as a young girl, she is swallowed by the first monster she encounters: a random pimp and a random brothel, boasting the name of the oldest and first ever legal sanctuary of bliss anointed by the Sultan's authorities. These claims to prestige reflect the city's energy – a giant body in which everyone wants to ascend, tweak their status and co-create collective legends. Everybody has courtly ambitions here, even a common madam in a musty corner of a paved street. Leila has something else – an awareness of her position and the ability to preserve her dignity in spite of unworthy circumstances. She also has a healthy and loving heart, which she gives to other colourful peacocks similar to herself. In the cosmopolitan Istanbul of the second half of the 20th century, even prostitution is marked by worldliness. Leila has the opportunity to meet women of various cultures, beliefs and horizons. This is how her 'water family' comes together, eventually to include: Jameelah, smuggled from Africa and kept in an underground dungeon with other women, now hiding her heavily scarred wrists under layers of colourful bracelets; Zaynab122, a dwarf and ex-diviner claiming to be able to write her name in 122 different ways; Hollywood Humerya, who knows by heart and beautifully tells fairy-tales and myths of Mesopotamia; and Nostalgia Nalan, who, despite her courage, constantly yearns for her homeland in the countryside. The incredible five are later on in the novel completed by the only man in the friend group: Sabotage Sinan, Leila's childhood friend. He alone knows all her secrets and her wounds, and when she is leaving for Istanbul, he promises he will find her there. They meet after many years. Sinan is already married with children, and he begins to lead a double life: he sees Leila regularly and only her death gives him enough courage to become free and move to Istanbul for good.
To these 'dirty five' of underdogs and misfits, counting a trans woman and a cabaret dancer, Leila was like a flame, an inspiration, the navel of the world. Unwanted and ill-adjusted, they fostered between them intimacy, trust and loyalty – priceless in an urban melting pot. Their bonds are strongly seasoned with a sarcastic sense of humour, as well as uncompromising honesty. Shafak depicts an ideal family: readily accepting, never imposing its own expectations; a family you want to spend time with. Intimacy by choice, free from conventions, without judgement.
By describing friendship among outcasts and how on the margins of social norms appear small, private republics of the ill-adjusted, the writer fulfils the mission of lending voice to matters and people passed over in silence. In this, she joins the Spanish director Pedro Almodóvar, the Indian novelist Arundhati Roy, and Hanya Yanagihara, the author of the American bestseller A Little Life – three bards of the excluded and marginalized. On the outskirts of the official order, these artists perceive the most interesting protagonists of modern times: people as if doomed to a reckless life filled with imagination, determination and risk. Those who have known rejection and have lost their illusions, and who no longer seek acceptance or recognition, but instead construct a different, intimate system of values on their own.
In Shafak's writing, friendship proves stronger than death. It does not merely provoke the five oddballs to a tragicomic trip to the Cemetery of the Companionless located outside the city to recover Leila, who lies buried there in a nameless grave. The sudden absence of their friend brings the members of the squad even closer together and becomes a trigger to the realization of their long-delayed dreams. "Silver linings…", the author seems to be saying, clearly fascinated by palimpsest cities, and within them the constantly rewritten stories of their future, past and present residents. We all make up a fictional biomass, leaving its traces in the complex history of the city. Leila's biography is intertwined here with important historical events – large and unknown – such as the Korean War, or the introduction of a law in Turkey that reduces the punishment for raping a prostitute. You shall not wholly die, provided that someone tells yours story, someone is there to hear it.
10 Minutes 38 Seconds in This Strange World is also an expression of the author's longing for her beloved city and country, one she was exiled from. She currently resides in London, while in Turkey she is under investigation, ironically, in a case of spreading obscene content and paedophilia. Turkish law does not differentiate between the context of content related to sexual violence, it simply prohibits its publication. Shafak, by describing the sexual abuse of her heroine, can therefore be accused and convicted. In this she shares the fate of many writers who are currently censored in Turkey (although she emphasizes that journalists thrown in prison are in the most difficult situation). And yet, Shafak's status is unique: on average, over 750,000 have bought her books over the Bosphorus, while on the River Thames she is one of the brightest literary stars in Europe. She used to write in Turkish, the world only knew her works in translation. She wrote this novel in English – the Turks are already enjoying a translation, and Poles will have the opportunity to read the novel in June, translated by Natalia Wiśniewska, courtesy of the Poznań Publishing House.
Translated from the Polish by Karolina Sofulak
A high five for "Przekrój"? Or maybe a ten? By supporting PRZEKRÓJ Foundation, you support humour, reliability and charm.
Choose your donation